Above stove microwaves are generally viewed as outdated these days, but they still have value. When you want to heat up leftovers or a meal for yourself in a hurry, having an above stove microwave can be the difference that allows you to better fit meals into your busy schedule.
For consumers looking to be economical with their use of kitchen space, having an above stove microwave can allow you the convenience of a microwave without taking up bulky counter space. It can be installed to fit the buyer's personal height, an especially convenient option for consumers who are especially tall or short. It will also save counter space and allow for more room to put appliances, decorations and cooking materials. Below are five great choices for affordable above stove microwaves under $300.
| Image | | | | | |
| --- | --- | --- | --- | --- | --- |
| Name | Frigidaire FFMV1846VB 1.8 cu. ft. Over-The-Range Microwave Oven | LG LMHM2237BD 30-Inch Over-The-Range Microwave Oven | Bosch HMV8053U 800 Series Microwave Oven | Amana AMV2307PFS Stainless Steel Over-The-Range Microwave Oven | GE JVM6175DKBB 30-Inch Over-The-Range Microwave Oven |
| Manufacturer | Frigidaire | LG Electronics | Bosch | Blomberg | GE |
| Capacity | 1.8 cu. ft. | 2.2 cu. ft. | 1.8 cu. ft. | 1.6 cu.ft. | 1.7 cu. ft. |
| Wattage | 1,050w | 1,000w | 1,000w | 900w | 1,000w |
OVER THE RANGE MICROWAVES
Frigidaire FFMV1846VB 1.8 cu. ft. Over-The-Range Microwave Oven
You can't talk about the best appliances brands in the world without mentioning Frigidaire. Frigidaire gained global popularity with the production of high-tech kitchen appliances including refrigerators, cooking ranges, and microwave ovens among others. Its FFMV186VB over the range microwave oven is one of the best ovens in the market today and the 1.8 cu. ft. capacity microwave is packed with exotic features, all of which make it stand out among other products of its kind.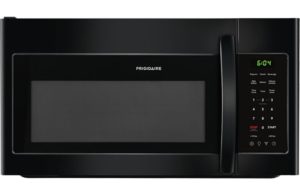 FEATURES
SENSOR COOKING
Cooking might be tedious sometimes which is why this sensor cooking option will come in handy when it's time to adjust power levels. This feature makes the microwave adjust power levels automatically to help cook different types of food without stress.
POWERBRIGHT COOKTOP LED LIGHTNING
The microwave oven features a cooktop LED lightning which helps make cooking easier by offering a clear and bright view of your cooktop. Preparation of food has never been made easier!
ADJUSTABLE TIMER
This adjustable timer gives you the chance to adjust the cooking time of what you're cooking while it's still being processed by your microwave. You can now either add or remove 5 seconds to your cooking time via the adjustable timer.
POWERPLUS 4-SPEED FAN
This microwave oven features 4 levels of ventilation which can be set to; turbo, high, medium, and low – depending on your needs. The fan has a maximum capacity of 400 cu. ft. of air per minute.
EFFORTLESS REHEAT
With this microwave oven, you don't have to worry about whether or not you can reheat your food.
FEATURES
ENERGY SAVINGS KEY
When your microwave oven is not in use, the energy saving feature will help turn off the display so the machine doesn't consume more power than it should. The display automatically goes off when your machine is not active for up to 5 minutes. Also, when this feature is turned on, the power consumption by the machine drops below 0.1W.
EASY CLEAN INTERIOR
Cleaning and maintaining your microwave machine has now been made easier as this microwave is built in such a way that it'll always resist stains. Clean with ease, and with no added chemicals or hard scrubbing.
ONE-TOUCH SETTINGS
With just one touch, you can now cook or warm different types of food ranging from chicken nuggets to cups of coffee.
QUIETPOWER VENTILATION SYSTEM
LG is known for packing their products with tech-inspired features, and this microwave oven is not an exception. It features a ventilation system that does not only provide easy ventilation, but does it quietly.
Bosch HMV8053U 800 Series Microwave Oven
Bosch HMV8053U is a UL-approved microwave oven which features a 1.8 cu. ft. capacity, coupled with 385 CFM blower and 10 power levels. Also featured are LCD display, automatic defrost, and time. Let's take a look at some of the other features.
FEATURES
SENSOR
Sometimes, you need more than an ordinary microwave oven to look after your food even when you're slightly busy with some other things. This sensor ensures that once your food is done cooking, the cooking process is automatically stopped to prevent the food from getting burnt.
MULTI-SPEED VENT
The microwave also features a multi-speed ventilation system that helps remove unpleasant odors, steam, smoke and grease from the machine.
TIMER
The timer is packed with a cooking function feature that allows you to set your microwave to any time of your choice, depending on what you're cooking. Once this timeframe elapses, your microwave automatically shuts down, leaving both your microwave and food protected always.
Amana AMV2307PFS Stainless Steel Over-The-Range Microwave Oven
This American electronics brand is quite popular for its longevity (over 80 years), exploits and achievements in the electronic space and that's one of the reasons why millions of people can confidently vouch for their products. The AMV2307PFS is a popular microwave oven; loved by many because it is packed with amazing high-tech features like sensor cooking, steam cooking, CleanRelease Interior, and many more.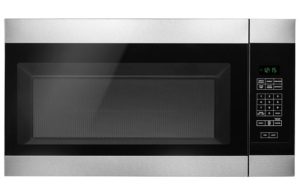 FEATURES
SENSOR COOKING
Track your cooking progress and have no fear of your food getting burnt as this feature will automatically adjust heat and shut down the microwave oven when necessary.
PULL HANDLE DOOR
This handle door is easy to use, and makes the overall usage of the microwave convenient and safe.
GE JVM6175DKBB 30-Inch Over-The-Range Microwave Oven
Designed to adapt to three different ventilation types; Vertical, Horizontal, and Recirculating, GE JVM6175DKBB is more than an ideal microwave oven for every home and even business. Just like most microwave ovens featured on this list, the GE JVM6175DKBB microwave features sensor cooking controls that help adjust both time and temperature to get the best cooking results.
FEATURES
MELT FEATURE
If you ever want to melt your butter, chocolate, caramel, and the likes; you have direct access to that feature via this microwave oven. It's as easy as that!
WEIGHT AND TIME DEFROST
Known as a fully automated microwave oven, the machine features a weight and time defrost control that allows you to simply enter the weight of your food after which it will automatically set a defrosting time and also power level. Alternatively, you can also set this defrosting time yourself.
While also thinking about affordability, you have to also consider other factors when buying an above stove microwave. You need to consider:
Size
When considering size, you need to look at something that will fit in that space over your stove. Get something to measure the dimensions of the space you want to use and then go to a professional so they can tell you which options you have to select from that will fit your personal dimensions.
Appearance
The first question when thinking about appearance is thinking about the theme of your home and your kitchen. Are you more modern and love the stainless steel look? Are you more old-fashioned and love the classic white microwave to go in your kitchen? Looking closely at how the microwave reflects your personality while also complementing your home is very important.
Cooking Time
This is a very important factor when considering which above stove microwave to purchase. If you want to have food on the go, you have to have an appliance that will cook food fast, but also thoroughly. Undercooked foods have all sorts of health risks, and making sure that the type of meals you intend to microwave are compatible with your choice is essential. You wouldn't want a microwave that needs another 20 minutes to properly cook your food right as it's time to pick up the kids from school.
Heating Performance
This also speaks to how long the microwave you purchase will be able to cook your food. If the heating performance is poor, then it will directly correlate into a longer wait time for your meal. If you don't realize that your above stove microwave has low heating performance, then you will have meals that won't be cooked thoroughly and again, could cause safety and health issues.
Construction
You want an appliance that was built to last for a price you can afford. Especially when purchasing a new above stove microwave, always look for customer reviews and ratings because getting the opinions from people who have tried the product first is often the most helpful tool in deciding which above stove microwave could be right for you.. Research the manufacturer you plan on buying from and see how they value their customers and price their products.
Remodeling Options When Purchasing Above the Stove Microwaves
There are remodeling options if you don't want the microwave to take away from the overall look of your kitchen, according to Remodelista. Contrary to popular belief, it is still quite possible to own an above stove microwave and have a pleasing kitchen atmosphere simultaneously.
You can hire someone or perform a do-it-yourself project (DIY) where you place the microwave in a cabinet above the stove and that way you can close the cabinet and still have more space. It is another way to make your kitchen space pleasing to the eye while still maintaining optimal functionality.
Extra Tips To Think About When Making A Purchase
You should only keep a microwave oven for nine years before having to replace it. Always read the directions before using your microwave to ensure safety, according to US News.
Linda Thomson of Top Ten Reviews has other tips for those who want to purchase an above the stove microwave.
Make sure it is installed properly.
Follow the manufacturer's directions.
Don't use single-use plastic containers:

Styrofoam containers
plastic tubs for dairy
plastic bowls
plastic utensils
plastic cups

Regularly clean microwave

Use water with lemon juice or vinegar and place in a bowl.
Put the bowl in the microwave oven on high and let the steam fill the interior.
Let it cool down and then wipe out your appliance.
Safety Tips When Using Your Microwave
Once you make your purchase of an above the stove microwave, you need to follow certain tips to keep yourself safe and protect your purchase, according to Samsung:
Avoid placing metal or foil items in the microwave.
Stir your food periodically as you heat it in the microwave.
Don't microwave your food for too long to avoid flame hazards.
Keep the cord away from water or other liquids.
Ding! Your advice is ready.
When thinking about purchasing an above the stove microwave, consider all the variables we've discussed in this article such as: pricing, customer rating, manufacturer values, color options, performance options, cleaning needs, safety measures, and fire hazards. Life isn't going to suddenly get less busy and purchasing the right above stove microwave could benefit you in countless ways. Try one for yourself and see!
Getting Started Shopping for your hot dog cooker specialty kitchen appliances can be confusing, especially with the wide variety of options to choose from! Being able to properly identify what you want from your hot dog cooker is the first step in purchasing a hot
Sometimes, appliances are better off with decorative stickers but not everybody understands that, especially people with young kids at home. In this article, we'll be looking at how to easily remove these stickers from your stainless steel appliances. The new appliances coming through the ranks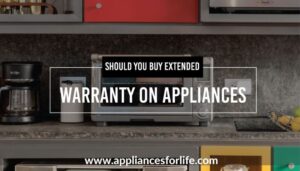 Should You Buy Extended Warranty on Appliances
If you're purchasing appliances, warranties are not something you should overlook as they're very important. Should you buy an extended warranty on appliances? Let's find out in this article. Also in this article, we're going to be looking at the difference between an extended warranty
Read More »