There is a huge difference between cooking on a gas cooktop and an electric stove top. Many people choose to have electric stove tops because they are safer and cleaner to use and many homes don't have the option to install a gas line in. Throughout our research we have come up with many great brands that have designed unique stove tops from the most traditional to the most modern, there is no best rated kitchen appliance brand because it all depends on what you are looking for and what your specifications are. Everyone also knows that after a few cooking sessions your cooktop won't look as brand new and shiny as it did. We have based our reviews on maintaining looks and their overall performance. If you are looking for some inspiration then read on to find out all you need to know about the best electric stove tops.
Choosing The Right Cooktop For You
When changing your kitchen, choosing the right cooktop is a vital point in making your kitchen work for you. There are many things you need to consider first before purchasing. The stove area is the most focal point of the kitchen so you will want to choose a stove top that is sleek in design and fits into the allotted space perfectly. When thinking about the look consider the worktop color and the cabinet color as well because you can choose to have a cooktop in stainless steel, black or even white. The overall look will be one of the things which make or break a modern and contemporary look. Think about the size you really need because if you do a lot of cooking a two top stove might not be enough for what you need. Do you want to go with the smart touch technology or do you want the traditional cooktops with knobs to turn? There are so many to choose from in so many sizes it can become quite overwhelming sometimes. Here is what we consider to be the best.
The Best Electric Stove Tops
We have made a list of the best electric stove tops to help you decide on your next purchase. See the chart below:
| Image | | | | | |
| --- | --- | --- | --- | --- | --- |
| Name | LG LCE3610SB 36-inch Black Electric Smoothtop Cooktop | Miele CS1112E240V 12-inch Electric CombiSet Double Burner | Bosch NET8668UC 800 Series 36-inch Electric Cooktop | Bosch NET8068UC 30-inch Black Electric Smoothtop Cooktop | Frigidaire FGEC3648US Gallery Series 36-inch Smoothtop Style Cooktop |
| Color | Black | Stainless Steel | Black | Black | Stainless Steel |
| Manufacturer | LG Electronics | Miele | Bosch | Bosch | Frigidaire |
| Number of elements | 5 | 2 | 5 | 4 | 5 |
| Weight | 44 lbs | 15 lbs | 37 lbs | 37 lbs | 40 lbs |
| Special Feature | Smooth touch controls | Power on indicator light | Childlock | Two-level heat indicator | Sleek Front Controls |
| Editor's Rating | ✸✸✸✸✸ | ✸✸✸✸✸ | ✸✸✸✸✸ | ✸✸✸✸✸ | ✸✸✸✸✸ |
| | | | | | |
LG LCE3610SB 36-inch Black Electric Smoothtop Cooktop
We really love LG's design when it comes to stove tops and we are really in love with these Smooth Touch controls. It has a child lock and indicator lights which make it really safe and has five different sized burners helping you bring out the professional cook inside of you! If you want something that matches your LG fridge and microwave then you should go for this. A little on the expensive side and will probably be out of your budget but in the long run it is worth the investment because this cooktop gives a clean look to your kitchen and will hide away with the countertops. LG have made their products easy to install and easy to use. Their power options on this cooktop are like no other model before and they strive to prove excellence which they have clearly done with this appliance. It distributes heat evenly and makes every meal a perfect meal.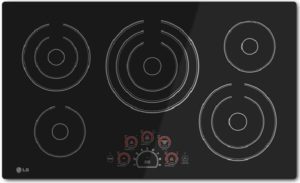 FEATURES
STEADY HEAT TECHNOLOGY
Brands, these days, build their names around technology and there's hardly any product you'll see out there without tech integration. For this electric cooktop, there's a steady heat technology that fills the cooking elements with even temperature for precise controls. Also, these cooking elements respond swiftly to adjustments in the power settings.
RADIANT
This electric cooktop is one of the most talked-about electric cooktops out there because of the tech-inspired features it's packed with. There's a reason why so many people rave about it, and perhaps you'll also get to witness how good it is when you opt for one.
SMOOTH TOUCH CONTROLS
These centralized controls are integrated into this cooktop to make usage more convenient. With these controls, you can tell which cooking element is currently in use and to cap it all up, the surface is easy to clean.
OTHER FEATURES
Hot surface indicator

Auto shutdown

Ceramic glass cooktop

Power control

Warm function
Miele CS1112E240V 12-inch Electric CombiSet Double Burner
If you want something cheaper, then go for this Miele. This sleek stainless steel cooktop will do all the hard work for you, despite possessing only two cooking elements. It has beautiful controls which were designed with true elegance and precision. It also features a patented Peacock control sliding bar for power-level selection and fast boil with automatic power reduction. In comparison with the LG cooktop, it has a similar style but less features which is why you are paying less. We love both and both have great customer reviews but if you want to cook less then go for the Verona which gives you a different kind of cooking. If you want a larger stovetop that allows you to cook more and one that maybe matches similar appliances then go for the LG.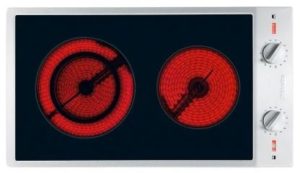 FEATURES
PLASTIC CONTROL KNOBS
This electric cooktop features plastic control knobs that are easy to turn and easy to use. Consumers can be rest assured that controlling this cooktop won't be as difficult as it may seem with other electric cooktops.
POWER ON INDICATOR LIGHT
This indicator is one of the many safety features this cooktop is packed with. Being an electric cooktop, you'll barely see flames. So how do you know when your cooktop isn't safe to touch? There's a light that helps show when the cooktop is in full operation.
OTHER FEATURES
Stainless steel frame

Heat warning indicator light

Easy-to-clean ceran
Bosch NET8668UC 800 Series 36-inch Electric Cooktop
We really love Bosch as an appliance brand and they seem to make reliable and long lasting products. Bosch has a few cooktops that we love and the one we have chosen to discuss is one of the most talked-about cooktops in the market. This slimline stovetop has chrome and stainless steel trimming which really finish the edges off. It has five different cooking zones and one of them has a bridge element. It has a zone countdown timer and a heat indicator and we love the controls and the smart display pad. It is easy to use and is a cooktop that is used by beginners and professionals.
This cooktop has a modern look and keeps in with tradition with the knobs and controls which are all detachable and dishwasher safe. We also like the price and think it is good value for money. Really, you can count on Bosch for all your appliances which is why we always recommend them and their cooktops are simply modern and sleek and we can't get enough of them.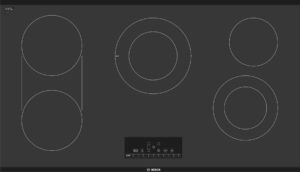 FEATURES
CHILD LOCK
This is one of the most featured features in every cooktop, and one which every brand loves to integrate into their products. Bosch would be compromising on their values if they hadn't included this feature, but now, we can say they have done themselves a great good by putting the Child Lock as one of their safety features, which also includes a two-level Heat Indicator. This feature helps prevent the cooktop from accidental engagement when it's in use.
COUNTDOWN TIMER
Each cooking element has its own built-in timer that doubles as the general kitchen timer. You can't lose track of time when cooking with these timers.
SPEED BOOST
When you need to speed up your cooking process, just turn on the SpeedBoost, and you'll witness how effective this feature can really be on days when it's most needed.
OTHER FEATURES
Two-level head indicator

Clean lock

Precise select

Accommodating cooking elements
Bosch NET8068UC 30-inch Black Electric Smoothtop Cooktop
If you want a compact cooktop in black then go for this Bosch model, the second Bosch cooktop to feature on this list, and it is easy to use, easy to clean and will give your kitchen that airy and contemporary look it deserves. Unlike the other Bosch cooktop though, NET8068UC only has 4 cooking elements but its popularity in the market is still great, despite the other model having 5 cooking elements. This is in the mid price range and we think it is also great value for the quality you get. If you want something a little more regular without all the fancy smart displays then it is worth looking at an appliance like this. It has just four elements to cook on but is practical and sleek.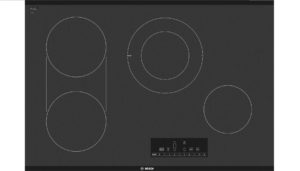 FEATURES
DUAL ELEMENTS
With these dual elements, your cookware won't determine whether or not you can cook the food you really do wish to cook. In other words, these dual elements provide the cooktop with the capability to use different cookware, regardless of their sizes.
BRIDGE ELEMENT
This cooktop also features a bridge element that helps it to accommodate larger cookware and even griddles. This bridging element combines two circular elements to give you a much larger cooking area to accommodate larger pots and pans.
PRECISE SELECT
This is one of Bosch's exclusive features, and it has 17 different settings for precise control. With this feature, you can select up to 17 cooking levels using the brand's traditional numerical controls which has proved to be better than scrolling through the menu, which can sometimes be confusing.
OTHER FEATURES
Countdown timer

Clean lock

Speed boost

Child lock

Heat indicator
Frigidaire FGEC3648US Gallery Series 36-inch Smoothtop Style Cooktop
If you want something in the average price range and something a little more futuristic looking then go for this model in stainless steel by Frigidaire. At 36 inches, you will have enough space to do everything you need to do. This brand is a well-known brand and well we simply can't help but notice the amazing customer reviews this stovetop has received either. It has five coil heating elements, a brushed chrome surface and ready select controls which are easy to clean.
This model is really easy to clean and really easy to install which is why we suggest it. If you are looking for a stainless steel worktop then this is the one to get and we really can't find fault with it. We also love the overall look this top emanates and well let's be honest it is really modern-looking as well.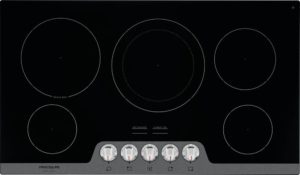 FEATURES
QUICK BOIL
There's a cooking element specially designed for this purpose and it features a 3200 Watt cooking power which lets you boil water faster than any other element in the cooktop.
FRONT CONTROLS
The cooktop features easy-to-use controls that are positioned right at the front side of the cooktop to make you easily adjust temperatures without putting your body in harm's way.
CERAMIC GLASS
Apart from this ceramic glass being easy to clean, it adds a different kind of touch to your space and makes it look more beautiful.
OTHER FEATURES
Spacewise expandable elements

Express-select controls

Hot surface indicators

A.D.A compliant
FREQUENTLY ASKED QUESTIONS
1. Are induction cooktops the same as electric cooktops?
Most people think both types of cooktop are the same, but there are slight differences between them. Although they both provide heat through the same channels (the coil which are beneath the surface), induction cooktops provide their own heat as a result of electromagnetic radiation.
2. Can I replace my glass cooktop?
When your glass cooktop gets faulty, you do not need to opt for replacement, especially when the damages can be fixed. Usually, melted items and glass scratches are some of the issues you're likely to be faced with the most but the good thing is that they can be repaired by professionals.
3. The glass of my cooktop is cracked. Can I still cook on it?
This is extremely dangerous and you shouldn't try to do it. You're putting yourself in the harm's way if you ever try this as it poses a risk of electrical shock.
White, Stainless Steel or Black?
If you can't decide on which color and style to go for then check out similar kitchens and have a look round for some inspiration. If all your appliances are white then go for white. If you have a modern kitchen with black and stainless steel then go for either one. You will also want to make sure it doesn't clash with your countertops and the color of your cabinets. If you have a traditional wood kitchen then white would go best, if you have granite countertops with sleek cabinets that are one color then go for black to make it pop. As we said it all depends on personal specifications and needs and there is no one top stovetop but we really like the ones we listed above. They are all trustworthy, durable, reliable and handsome. All these stove tops are great value for money and all the brands are brands which we love overall for appliances. Don't forget if you can't install it yourself then call in the professionals as it will save you a lot of headache in the long run.