In the age of smart gadgets and wifi, being left in the dark during an outage can feel like a death sentence. 
In the age of smart gadgets and wifi, being left in the dark during an outage can feel like a death sentence. 
We live under the shadow of global warming. There has been an upsurge in natural disasters that have caused power outages for several days. It makes sense to have a generator to provide power to your home/business during times of crisis. How many appliances can a 10,000-watt generator run? 
A 10,000-watt generator will give you enough juice to run large appliances, various tools on a job site, or many RV accessories.  You will need sufficient fuel to keep the generator powered and guarantee relative comfort during a power outage. Later in this article, we will take you through the best 10,000-watt generators.
Will a 10,000-watt generator run a dryer? You bet it will. With a 10,000-watt generator, you can comfortably operate lights, a refrigerator, a freezer, most small appliances, a water or sump pump, a window air-conditioner, and a furnace. And we are being conservative here. The standard circuitry for these items will likely be the one for 110 volts.  Remember that there is a direct correlation between power and fuel; the more power (wattage) you draw, the more fuel your generator will consume.
To determine what generator capacity you require to match your consumption, it is necessary to consider the critical components that will run during a power outage.  For illustrative purposes, an electric range or central air conditioning unit running on a 220-volt circuit will consume more wattage for starting up, sometimes1,000 watts over the running watts.  You have to calculate how many appliances are drawing power at any given time to estimate how much leeway you have for the starting watts or surge watts before maximizing the 10,000 watts of your generator.
What size generator do I need for a four-bedroom house?
In the age of smart gadgets and wifi, being left in the dark during an outage can feel like a death sentence. You have probably more than one time considered your options for a whole-home generator to guard against being stuck without power anymore. What size generator do I need for a four-bedroom house?
To adequately determine what size generator you need to power your whole house:
Calculate the starting wattage, also referred to as the "surge" wattage of the appliances and fixtures you want to power.

Identify a generator whose power output exceeds the combined wattage of everything that needs electricity in your house.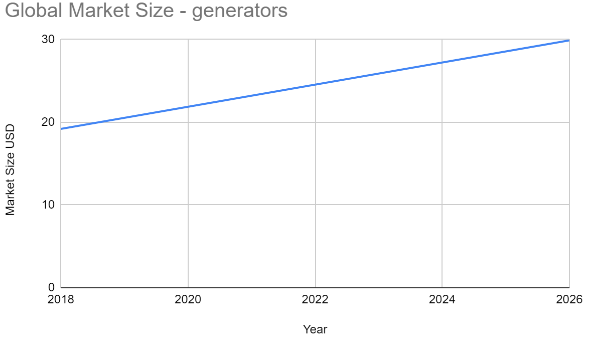 The graph above shows global market size for generators. Between 2018 and 2026, the global market for generator sales is anticipated to grow at a compound annual growth rate of 5.79 percent to reach just under 30 billion U.S. dollars by 2026. Diesel generators account for the largest share of generator sales.
What can I run with a 10kW generator?
What can I run with a 10kW generator? The short answer is quite a bit. A 10kW generator can comfortably run a refrigerator, a heating system (gas, oil, or propane), a sump pump, several lights, a water well pump, a small air conditioner, and kitchen appliances (coffee maker, toaster, etc., one at a time), and even a 2000-watt heating element on a cooktop. In addition, a TV and multiple battery chargers for cell phones and laptops.
Electric heaters will easily consume 10,000 watts; therefore, it is important to balance the power consumption to avoid overloading your generator.
A 10kW generator is usually connected directly to a breaker box that is then isolated from the main box with a transfer switch (or directly into the main box with its isolation switch). For an abundance of caution, you may need a cord that is long enough so that the generator can be operated at a safe distance from any structure to avoid the risk of carbon monoxide.
Always remember that you need to manage the generator's load for optimum operation. For example, the A/C might need to be shut off when the cooktop is on.
A 10kW Generator will smoothly support one refrigerator or freezer (energy star), one microwave oven, five incandescent lights, one television, one coffee maker, one radio, one air conditioner, one computer, one monitor (LCD style), one printer, and 1 DVD player.
A key point to note is that this is just one combination of appliances. You can have a different combination of items from those listed above in your house. The constant is that your appliances' total wattage does not exceed 10 000 watts. Will a 10000-watt generator run a dryer? Or another appliance not mentioned in this list? The easiest thing to do is to use a wattage calculator. Calculate the wattage that you need here.
Different manufacturers supply generators with power capacities ranging from 7000 watts to 150,000 watts, and many fall somewhere in between. A standby generator represents a substantial investment in equipment and installation costs by the perimeter of cost alone. As a result, buying the right generator to meet current and future needs must be done right.
It is the norm to invest in home standby generators for backup emergency power that operates automatically on an as-needed basis. Much in the same way, a water heater or furnace runs automatically whenever needed. The system senses the outage in real-time when there is a power outage. Smart systems will deploy a short wait that confirms the outage isn't momentary. The generator motor is then ignited and comes up to speed. The automatic transfer switch will then isolate the electrical system from the utility lines and connect it to the generator to give the home power. The entire process happens in seconds.
7,000 TO 9,000 WATTS
Within this range, you will find air-cooled standby generators that provide enough power to keep essential home systems operating. Powering a sump pump, freezer, refrigerator, and furnace will use about 4000 watts. You may throw some lights, a small television, and a microwave oven into this load, and your 7500-watt unit will be working close to its continuous capacity. If you deploy a larger 9,000-watt standby unit, it could probably handle the additional load of a 1-ton air conditioner.
This is a minimum case scenario, though. As it typically depicts a home operating with only the bare essentials. You will have sufficient power to keep the home safe from flooding and the food in the fridge from going bad while at the same time providing the means for minimal lighting, some outside communication, and to heat some soup for dinner.
10,000 TO 13,000 WATTS
The generators in this range can power the essentials and larger loads. The middle ground standby generators that supply 10 to 13 kilowatts will power well pumps, electric water heaters, and a larger central air conditioning unit. Deploying a transfer switch with a managed power option will extend this capability to several appliances. If you use a quality 13kW appliance, you will have enough power left over to keep the kids busy with a video game or a desktop computer.
14,000 TO 15,000 WATTS
This generator size gives you the flexibility to add multiple kitchen appliances such as electric fry pans, coffee makers, hot plates, and toasters. These appliances normally consume 1000 to 1500 watts, so be careful about your power use, so you don't overload the system. If too many of these devices are operating, you'll find that your A/C unit won't start or the water pump doesn't run.
16,000 TO 22,000 WATTS
Generators this powerful will give you the leeway to keep all the essential appliances operational and some additional conveniences. Transfer switches can now manage power intelligently, meaning that several high-voltage appliances can operate. Remember that the generator isn't the nearly-limitless supply that the electric utility offers. The backup provided will be nearly all-encompassing to the extent that most people in a house won't notice that the power is out once the generator is running.
16kW to 17kW standby generators are what you must have if you need to power several large air conditioners alongside water heaters and water pumps. Bigger homes may be better served with the additional power of generators that supply 20kW to 24kw of air-cooled power.
22,000 WATTS AND MORE
We are now entering the realm of liquid-cooled standby generators, which can supply more power than the largest air-cooled models. These generators offer solid reliability.
Liquid-cooled generators are fitted with automotive-style engines with a radiator, cooling fan, and coolant that circulates to keep the engine cool. Residential units of up to 60 kilowatts are available to keep even large luxury homes supplied with power. Commercial standby generators supply up to 150,000 watts of power if you need more.
The possibilities are almost endless. You can operate several air conditioners simultaneously; use your electric range and the electric dryer. You will not have to worry about the lights being on or everything else running, including the pool pumps and hot tub.
At the minimum, before you make up your mind about which generator you will purchase, conduct your power audit to size your generator, consult the electrician who will install it, and confirm your plans with your local building and code enforcement agency.
What is the quietest 10,000-watt generator?
Top Quietest 10,000 Watt Generators 
The 10,000-watt generator is the standard when you are looking for a lot of power. These machines come in handy in many different ways, including powering large and small appliances during a power outage, working with tools on a job site, taking care of power for a huge RV, running a food truck, and more.
All that power will come with a lot of noise, and although some units are louder than others, if you do not want the distraction that comes with noise, it is advisable to look for the quietest options possible.
What is the quietest 10000-watt generator? We took our time to prepare a list for you made up of machines that are quiet and provide great value. These units are dependable, portable, and fuel-efficient.
Duromax XP12000EH Dual Fuel
This Duromax has continued to enjoy ratings as one of the top options for those needing around 10,000 watts of power at certain times. It will give you a maximum output of 12,000 watts but can comfortably run for about 20 hours at 50% output. This makes it a perfect option for those who want versatility with propane fuel and gasoline.
This unit gives you different power outlets making it highly versatile. The outlets will smoothen the setup when power is needed. You have the option to add additional converters, but that is usually not required. In total, the generator automatically comes with four different types of power options.
You will find that propane will last longer than gasoline, but both work well depending on what a person wants to go with. Reviewers find the Duromax to be a durable and dependable generator.
This generator is one of the quietest options while it is running. It is set up in a way that does an excellent job of controlling the sound and ensures that it is as much as possible.
Pros
Gives you great fueling options.

Lightweight enough for transportation.

Durable casing.
Cons
Warranty is not the best.

Wheels might need to be replaced with a lot of transportation.
Pulsar PG10000B16
This Pulsar comes with dual fuel options and has been designed with operational convenience. Amazingly, you can switch from propane to gasoline without shutting down completely, which helps speed up the entire generator operation process.
If you are handling a big project, this is a useful feature, or if the power goes out for longer than people initially realize. Keep in mind that shutting everything down due to operational hiccups causes unnecessary delays, which is why an option like this is attractive for some consumers.
Expect to incur an additional cost due to this extra benefit, although most reviewers do not seem to mind since this is something they will have gotten a lot of use out of.
The Pulsar provides convenience as a dual-fuel generator and cutting-edge technology, including multiple outlet options and monitoring displays. Fuel efficiency and power production are all conveniently displayed on the screen.
A 420cc 15 HP OHV engine powers the generator and is a favorite for many people, as it comfortably purrs at 74 decibels. This is a quiet machine by normal standards and if that is too loud for you, take comfort in the knowledge that the generator can sit a little further away than most.
Pros
Versatile fueling options for continuous use.

Electric start.

Pretty easy to move around.
Cons
Fuel source switch costs extra money

Gets a little loud when up close
Duromax XP12000E
The Duromax has three unique features that set it apart from the competition. For one, it has some of the best runtimes and benefits from reaching a peak of 12,000 watts. In practical terms, this means that at 50% power, this allows for 10 hours of continuous use. That is no mean achievement for a generator of this size.
Two, this machine succeeds in being one of the quietest generators of its size. By keeping all of the noisy moving parts enclosed as much as possible, the Duromax does wonders in keeping noise levels down. The noise and vibrations that are common with other machines are alien to this unit. All this is achieved while being very efficient with fuel.
Finally, the cost of this generator always comes as a pleasant surprise to many clients. For those who want to stay within budget, it is one of the cheapest options you will find on the market, making it a huge selling point. It definitely is worth the sacrifice, and you will find enough reviews to make this a very solid company. Though the warranty is humble, it does offer some protection for those shoppers who might feel like they could be a little vulnerable.
pros
Very powerful.

Quiet

Inexpensive
Cons
The warranty could be better.

Run time can vary significantly.
Frequently Asked Questions:
Q: Do I need an electrician to connect a generator to my house?
Yes, you do. Have the connection done by a qualified and certified electrical installer so that you are assured of quality work.
Q: What happens to the unused power capacity of a gas or diesel-powered generator?
Here's something you need to understand about how this machine works. Even though it may seem that the revs of a generator are constant, the fuel is automatically increased and decreased as the generator's output matches the load.
A 5000-watt generator bearing a 1500-watt load only outputs 1500 watts. As a result, its fuel consumption corresponding to the load is 1/3 of what it would be if it were outputting its maximum of 5000 watts.
This is similar to your car's cruise control set to 60 mph. It adjusts the throttle and fuel flow up and down as you go up a hill versus on the level to maintain that constant speed. The controls on a generator do the same thing to maintain the required power output.
Q: Where do you place a portable generator?
A portable generator is designed to be highly mobile, so it can be placed anywhere. You can mount it on a pick-up truck if they are going to do work requiring electricity on site. It will sit in your garden, balcony, terrace, or other open space. Ensure exhaust gases can be prevented from entering closed spaces wherever you place your generator because these gases are hazardous. Remember; Portable generators should not be exposed to the elements, be it rain or any other severe weather conditions.
Conclusion:
In summary, generators are sized depending on their electrical output, not their physical dimensions. A generator's output is measured in watts (W) or kilowatts (kW), both of which are a measurement of electricity (1kW = 1,000W).
It's important to get the right generator size for your corresponding consumption. For the following reasons:
If your machine is too small, you will likely cause overload or force it to supply more power than it can handle. This will trigger the generator to either automatically turn off or overheat, frying the generator and your costly appliances.

If the generator is too large, you will overpay for the unit and its operating cost.
ESTIMATED TIME DESIGNING AND UPLOADING THIS ARTICLE
ESTIMATED TIME RESEARCHING AND WRITING THIS ARTICLE