A dishwasher filter is the first line of defense. It retains food particles that could otherwise clog the dishwasher drain.
The dishwasher performs a critical cleaning task in the kitchen. Being the cleaner makes it easy to forget to clean your bosch dishwasher until you become overwhelmed with an odor. Should I clean my dishwasher? Today, we remind you to schedule frequent cleaning sessions with your appliance. Bosch Appliances. For various reasons, the biggest of which is that cleaning is an important part of dishwasher maintenance and because you want your dishwasher to perform at its peak, it is in your best interests to prioritize cleanliness. Proper use and care will go a long way in extending the life of your Bosch dishwasher. Another key reason is that bacteria and mold will not hesitate to colonize your machine if it does not meet cleanliness standards.
Cleaning a Bosch dishwasher:
The following are the steps to follow when cleaning a bosch dishwasher:
Detach the dish racks

Clean filter

Clean the tub

Clean the spray arms

Examine and clean the drain line
You are undoubtedly interested in the most efficient way to clean your dishwasher, or tough stains give you a headache. Take a look at our dishwasher cleaning guide; we've covered you. It is advisable to arm yourself with the following items: rubber cleaning gloves, an all-purpose cleaner, baking soda, a sponge, vinegar, microfiber cloths, and stain rust remover. And here are tips for cleaning a bosch dishwasher:
Carefully detach the lower and upper racks from the appliance to easily access the drain, filter, and spray arms.
A dishwasher filter is the first line of defense. It retains food particles that could otherwise clog the dishwasher drain. The good thing is that cleaning a Bosch filter is a simple DIY. You do not need any special tools. 
The filter Bosch uses for its dishwashers is designed with three levels of filtration that enable the trapping of food particles unleashed during a cleaning cycle. This process serves two purposes; it prevents food particles from clogging the drain pipe and ensures that only clean water circulates within the dishwasher. 
The dishwasher filter system only works if it is regularly cleaned. You have a clogged filter when you notice your dishes are covered with a film, or your bowls and cups come out of your dishwasher after a cycle with food scraps settled at the bottom. Another symptom of a clogged filter is your dishwasher having standing water that is slow to drain when the process is complete. 
To clean the filter, you first detach it from the machine, twisting the cap counter-clockwise and pulling it up and out of its position. It comes with a mesh screen. Pull down on the bottom part of the filter to separate it from the other parts. 
Once you have the filter in your hands, check if there are any visible food particles or debris, and dump these in the bin. Rinse the filter and mesh screen in warm water. Use a small brush or an old toothbrush to remove any last bits of food particles or debris stuck on the filter. Avoid using hard brushes because they could damage the filter. Refit the filter back to its place in the machine by inserting the bottom part back into its place under the square flat filter. Turn it clockwise until the filter's arrows and the bottom dishwasher align. Bosch advises that, depending on usage, you should clean your filter every 3-6 months; however, if you use your filter daily, it is advisable to stick to a monthly filter cleaning routine. Potatoes, pasta, or other starches lining the dishes will quickly clog your filter. When it comes to dirty bosch dishwasher cleaning, the recommendation is to clean the filter soon after you wash a load of starch-loaded dishes.
Bosch has a specially formulated cleaner for its dishwashers to remove greasy residues that you can use. Add a box of cleaner to the bottom of the dishwasher. Ensure the dishwasher is empty, then run the longest, hottest cycle. 
Descaling your dishwasher: Your dishwasher will accumulate hard water deposits and build up limescale. Should you notice a hard, whitish film forming on your dishes and the sides of the dishwasher, that's mineral-laden hard water right there. Traces of limescale are also left behind when that water evaporates. Bosch has a specially formulated descaler to deal with these. Without adding detergent to your dishwasher, start the longest, hottest cycle. After 30 minutes, add a descaler box to the bottom of the appliance and let the process go on. Run another cycle once that cycle ends. 
A vinegar bath is also effective in descaling your dishwasher. Just running your appliance with no detergent or dishes inside, just a bowl of white vinegar sitting on the top rack. 
If you have no Bosch cleaners, you can also use a mild, all-purpose cleaner. Take a damp microfiber or cleaning cloth and wipe inside the dishwasher. There are several options you can pick from when it comes to a mild cleanser:
Vinegar: You can use white vinegar to clean the inside of your Bosch dishwasher safely. Spray the vinegar in your machine, put the vinegar in a plastic cup, and set it on the top rack of your dishwasher. Then fix the dishwasher on a heavy clean cycle. 
Bleach: Bleach can also be used to clean your dishwasher. You can only use bleach if your dishwasher is plastic. If your dishwasher is stainless steel, do not use bleach. Bleach is especially good at getting rid of bad odors. 
Baking Soda: This is a well-known odor absorbent and will come in handy for cleaning your dishwasher. Sprinkle one and a half cups of baking soda inside your dishwasher and let it sit for 4-8 hours or overnight. After that, run the dishwasher on a full cycle. 
Spray arms become clogged with small food particles, grease, and detergent residue. Overloading the dishwasher is the main culprit. With the spray arms blocked, you can forget about your dishes getting a good cleaning. Mold and mildew will also build up on the components, causing persistent odor.
To clean the spray arms, remove the lower racks of the dishwasher. Twist the knob on the upper arm, enabling you to lift the lower arm. Detach the arm and examine their holes.  Soak the components in warm soapy water to soften any food stuck in the arms. Use a toothpick to clear the gaps if you see clogging. Rinse the arms under warm water, dry them with a clean cloth, and then reattach them to the dishwasher. 
Examine and clean the drain line:
Food particles will inevitably get stuck in your dishwasher's drain line, causing a stench. Here is how to clean the drain line:
Use a screwdriver and pliers, and detach the drain hose from the garbage disposal or air cap. 

Disconnect the drain line and run it under a water tap or bathroom faucet to clear any food blockages. 

If you notice any stubborn obstruction, insert a straight, strong enough wire (straightened wire hanger or plumbing snake) to push out those clogs. 

Attach it back to the dishwasher drain when it is clean and clear.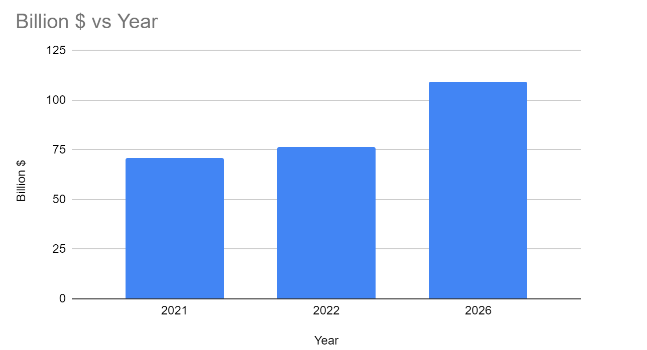 Global dishwashers projected growth from 2021 to 2026 in billions of dollars. 
https://finance.yahoo.com/news/dishwashers-global-market-report-2
Bosch:
The Bosch Group is a German conglomerate founded by Robert Bosch in Stuttgart in 1886 and headquartered in Gerlingen; it is a leading global supplier of technology and services. Bosch Global. It operates in four business niches: Mobility Solutions (hardware and software), Industrial Technology (including drive and control), Consumer Goods (household appliances and power tools), and Energy and Building Technology. 
Mobility Solutions: The major areas of operation that fall under mobility solutions are injection technology and powertrain peripherals for the internal combustion engines, power-train electrification, steering systems, safety, and driver-assistance systems, infotainment technology, vehicle-to-vehicle, and vehicle-to-infrastructure communication, repair-shop concepts, and technology and services for the automotive aftermarket. Mobility | Bosch Global
Of particular interest for the sector is transforming the powertrain and expanding the business in electrification, automated driving, new electrical and electronic architectures for vehicles, accessing close market segments, and developing more services.
The Powertrain Solutions, a brand new division, was formed in 2018 to develop powertrain technology Bosch products for any energy source. The new division was born from the former Gasoline Systems and Diesel Systems Divisions merger. This division develops Bosch products for powertrain technology, from gasoline and diesel direct injection to electrified powertrains with battery systems, and in the future, it will offer fuel-cell technologies too. 
Industrial Technology: This encompasses the Drive and Control Technology division with Bosch products such as customized drive, control, linear motion for factory automation, plant construction and engineering, and mobile machinery.
Packaging Technology, its second division, provides process and packaging for the pharmaceutical and foodstuff industries, including stand-alone machines, systems, and services.
The Bosch Connected Industry business unit is a part of the Industrial Technology business sector responsible for software development and carrying out Industry 4.0 projects for in-house and outside clients. Industry and trades | Bosch Global
Consumer Goods: This unit supplies power tools, power tool accessories, and measuring technology. The Bosch products include hammer drills, cordless screwdrivers, and jigsaws. It also produces gardening equipment like lawn mowers, hedge trimmers, and high-pressure cleaners. The division focuses on convenient, high-performance cordless tools and web-enabled tools and services. 
The Consumer Goods department is responsible for modern, energy-efficient, connected household appliances like washing machines, tumble dryers, refrigerators, freezers, stoves, ovens, dishwashers, vacuum cleaners, coffee makers, and food processors. At home | Bosch Global
Energy and Building Technology: This unit has two areas of business: the global product business for security and communications and the regional integrator business. Energy and Building Technology offers services for building security, energy efficiency, and building automation, focusing on commercial applications. The Bosch products are video surveillance, intrusion detection, fire detection, voice alarm systems, access control, and professional audio and conference systems.
The Thermotechnology division specializes in systems for airconditioning, hot water, and decentralized energy management. Providing heating systems and energy management for residential buildings, water heaters, and commercial and industrial heating and airconditioning systems.
The Bosch Global Service Solutions division provides outsourcing for business processes and services, basically for clients in the automotive, travel, and logistics industries and information and communication technology. It also offers in-house shared-service functions within Bosch.
Frequently Asked Questions:
Q: Do you recommend a Bosch dishwasher?
Bosch is one of the best brands from which you can purchase a dishwasher. It has dominated the global dishwasher market with quality products. Bosch dishwashers are renowned for superior build quality and warranty terms. 
Q: What brand of dishwasher would you recommend, GE or Bosch?
Both brands perform well, offering competitive features and quality. GE has sprays designed to clean bottles, and Bosch has a spray that can clean items up to 22 inches tall. Both have a third rack, popularly referred to as the cutlery rack, that you will love.
Q: Do Bosch dishwashers come with a power cord?
Yes. Bosch dishwashers do come with a power cord as standard. 
In conclusion, a dishwasher is a household electric appliance used to clean utensils. The working population is projected to rise in the coming decades; this, in turn, will increase the demand for dishwashers and widen the market. The working population is plagued by a busy lifestyle, which means that they have less time for household chores like cleaning and washing. 
ESTIMATED TIME DESIGNING AND UPLOADING THIS ARTICLE
ESTIMATED TIME RESEARCHING AND WRITING THIS ARTICLE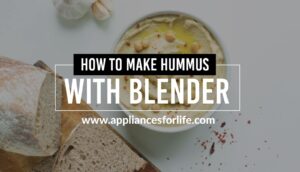 How to Make Hummus With Blender
Being a popular snack in the United States, hummus has now become something everybody wants to make from the comfort of their homes. In this article, we'll be putting you through how to make healthy homemade hummus with a blender. We'll also be talking about
Read More »