The radiant gleam of a new appliance brightens up your kitchen and home when it first arrives, and the same applies to a new sink and a newly bought cookware. However, you may very well notice that this brightness dims after a short while due to finger stains, water spots, grease splatters, and some necessary wear and tears. The good thing is, When your stainless steel appliances lose their shine in these, there are a few ways in which they can be restored.  Hence, if you are new to stainless steel appliances and are wondering how to clean them without leaving streaks on their surfaces. This article takes you through the process of keeping your stainless steel appliances smudge-free and further prescribes some cleaning solutions to make them squeaky clean- This is how to clean that KitchenAid dishwasher or any other stainless dishwasher you own. 
How to clean stainless steel appliances 
Stainless steel gets marred easily, and keeping them clean is challenging; it shows fingerprints and can easily look streaky. As a result of streaks, it is important to wipe that stainless steel surface in a particular direction and go with the grain while cleaning. If you're unsure which direction to go, start in a small area and test things out. I find that a clean microfiber cloth works best, though you can also use paper towels.
Cleaning your stainless appliance can be quite easy if some necessary precautions are taken to that effect. This article will take you through some necessary steps to cleaning your stainless steel appliances, but before doing this, you must know that there are different types of stainless steel materials. Hence, you may need to experiment to discover what exactly works for your stainless steel appliance. In fact, if you have several stainless-steel appliances, each one might require a slightly different cleaning routine. For an effective cleaning experience, Tim Conn, the president and co-founder of Image One, recommends the following procedures for cleaning your appliances. Hence, follow these steps to master the cleaning of your Maytag dishwasher and in fact, every other appliance you own.
1. Assess the damage 
In a vivid description of a stainless steel appliance's clean and dirty state, Tim Conn says, "Stainless steel is like that sleek black car: beautiful when it's clean and shiny, but often looks dull and dirty if it's not properly maintained,". He further adds that it may be difficult for you to maintain that showroom appeal for your stainless steel appliances if you don't understand how they must be cleaned.
When it comes to stainless steel stains, they vary a lot; detecting the particular stain you are dealing with is exactly what damage assessment is all about. Different stains require different cleaning approaches. For example, smudges and hard water stains may come off easily with a simple wipe-down, whereas caked-on food or more intense build-up may require a more serious product—and more elbow grease on your part. So make sure you know what you're up against before grabbing all of your supplies. If you must get rid of grease from your appliance, this is how to get rid of grease from your stainless steel home appliance. 
2. Ready Your Cleaning 'Agents'
Stainless steel cleaning agents are inevitable for effectively cleaning your stainless steel appliances. You can opt for a simple DIY cleaning agent or ready-made solutions. Ron Shimek, a co-founder of Image One, also adds that for a simple DIY cleaning solution, you'll need white vinegar, lemon juice, and tap water. "Fill a spray bottle with equal parts water and white vinegar,". You can add a few drops of lemon juice to make the mixture smell better. After you've made your solution, be sure to grab some olive oil, dish liquid, and microfiber cloths because you'll be using those too.
While dealing with a tough and seemingly indelible stain, like caked-on grease, you may need to explore different methods. Stock up on either a store-bought stainless-steel cleaner or some baking soda. Whatever you use for this cleaning, avoid abrasive scouring powders, scrubbers, bleaches, and ammonia if you want to preserve the smooth finish of your appliance. Moreso never wipes stainless steel against the metal's grain. Always wipe with the grain to prevent streaking. After cleaning, stainless steel appliances are quite prone to streaks, especially if allowed to air dry. Hence, try not to allow your stainless steel appliances to air dry after cleaning. Buffing them with a clean microfiber cloth minimizes streaks and spots and restores the shine.
3. Go With The Grain
You must go with the grain when cleaning your stainless steel surfaces. Going with the drain simply means wiping the surface of your stainless steel appliance along the direction of the grain. The best way to do this is to spray your vinegar and water solution on the surface of your appliance, then wipe following the material's grain. The grain spoken of is the linear mark found on the surface of your stainless steel. This linear grain is often quite easy to spot but if you ever have trouble removing spots, rub the appliance with a clean microfiber cloth horizontally and vertically. If you are rubbing it in the wrong direction, you will feel some resistance as you rub on. On the other hand, it will glide smoothly if placed in the correct direction.
This routine should perfectly take care of daily messes like finger smudges and water spots. And, if you've got a residue on that surface that will not come off, sprinkle a bit of baking soda on it, then apply white vinegar. Once this is done, wipe the surface mildly with a soft cloth or paper towel and rinse it with warm water.
4. Touch with Some Dish Soap  
"Once all fingerprints and grime have been removed, wet a second microfiber cloth with water and apply a few drops of dish soap," Shimek says. You'll want to wipe this dishwashing liquid solution across the surface gently. After, rinse out the soapy cloth and wipe the surface once more to remove any lingering soap. "This extra step will remove the acidic residue that white vinegar leaves behind, and it will ensure that the vinegar doesn't interact poorly with the metal over time," Shimek says.
5. Seal With Olive Oil 
Now is the time to try to make your stainless steel appliance remain clean after you must have gone through all the pain to clean it up. Something as simple as Olive oil helps you keep your stainless steel surface clean. "Olive oil acts as a protective coating that can help to protect in between deep cleaning sessions," Shimek says, noting it can help repel smudges and mask previous scratches. You'll want to put a small amount of olive oil on a microfiber cloth and wipe it gently back and forth along the grain.
6. Buff and Polish
With regards to the proper management of a stainless steel surface, Conn had this to say; "There are two parts to managing stainless steel: the actual cleaning stage, and the polishing stage," – He further adds that polishing the surface of your stainless steel material will not only make it clean but also shining. You can achieve this polishing by using a microfiber cloth and some olive oil. Conn emphasized that polishing is done in a circular motion to achieve the desired effect. This implies that there is not much implication with going against the grain. Try this polishing by taking a small amount of olive oil on a microfiber cloth and buffing it into the appliance, working in small circular motions. Your appliance will be sparkling in no time. It is important also to mention that this is how to prevent your stainless steel appliance from rusting. 
DIY Spot Cleaners for Stainless Steel Appliances
In case you are not predisposed to finished cleaning products at the time of cleaning, you can also clean your stainless steel materials using some improvised means;
Mineral Oil: To quickly erase and deter fingerprints, apply a very, very light coating and buff very well to avoid any tacky buildup. Whatever you do, avoid food-based oils, including vegetable and olive oil, as they can turn rancid.
Window Cleaner: You can also improvise by using your window cleaner. Spray a dry cloth with an ammonia-free and vinegar-free glass cleaner, like Safely Glass Cleaner, and then wipe the surface clean. Buff with a clean, dry cloth.
Dish Soap: Lastly, dish soap can also clean your appliances. Mix a teaspoon of dish-detergent, preferably the grease-cutting type like GH Seal star Dawn, and one-quarter of hot water. Dip a microfiber cloth into the solution and rub the marks with the metal's grain. Rinse with clean hot water only and dry immediately with a clean cloth. This technique can also be used to remove any buildup left behind by other cleaning products.
How To Get Streaks Off Stainless Steel Appliances
While it is possible to locally clean off smudges or other marks from a stainless steel surface using dish soap or mineral oil, the easiest way to do this, while experiencing better effects, is by using cleaners formulated specifically for stainless steel. More importantly, one can look for a cleaner with a protectant ingredient to help prevent soil and fingerprints in the future. That way, you may not have to clean your appliances as frequently.
Regardless of what kind of stainless steel cleaner you're using, make sure to apply it according to package directions and wipe it in the direction of the metal's grain. Streaks are usually the result of wiping against the grain or in a circular motion, using the wrong or a dirty cloth, not using enough cleaner to dissolve greasy film, or not buffing thoroughly enough after cleaning. For added shine, buff the entire surface well afterward with a clean microfiber cloth.
This formulated cleaning agent comes in two pieces. It effectively removes fingerprints, residues, watermarks, and grease from stainless steel surfaces- It works greatly on Ovens, Grills, Dishwashers, and Refrigerators.
The Weiman is a trusted cleaner brand for most of your delicate and difficult-to-care-for surfaces. Hence, it does not only clean stainless steel surfaces but also a range of other surfaces in the home. This product is equipped with a pH-neutral formula that quickly cleans, shines & protects any stainless-steel surface. Our product works great for black stainless steel. 
Its pH-neutral formula also effectively eliminates surface fingerprints, haze, smudges, grease, streaks & residue build-up. It also contains properties that serve as a barrier to stains.  Polish leaves a protective barrier that repels dirt and dust. Our wipes are easy to use – simply wipe in the direction of the metal grain, and buff with a soft, dry cloth
To get your stainless steel surfaces sparkling and shining as the day you brought it new into your home, it is necessary that you procure a Sparkle stainless steel cleaner for appliances- just the right one for all kinds of grime, dirt, and fingerprint smudges. This magic stainless steel cleaner Aerosol removes fingerprint residue and watermarks. It even cuts through grease quite easily. It is very much compatible with refrigerator, dishwasher, and oven grill surfaces.
More importantly, polishing your stainless steel surfaces with this cleaner creates a transparent and protective coating to repel dirt, dust, fingerprints, and watermarks. Hence, if you are bothered about what to put on stainless steel to make it shine, a regular cleaning with Magic stainless steel cleaner keeps surfaces shiny, clean, and looking "like new" longer.
This Weiman fiber cloth is designed specifically for cleaning stainless steel surfaces. It is equipped to safely trap and remove dirt and oil from the surface of your stainless steel appliances. This microfiber cloth also effectively traps grime, thus protecting the surface of your appliances from scratches. It is so effective for trapping grime because its material consists of 80% polyester and 20% polyamide. 
This material is also dual-sided. Hence you can utilize both sides of the cloth for cleaning. You may clean the surface with one side & use the reverse side for polishing and buffing. Finally, the Weiman Microfiber cloth can be used on all stainless steel kitchen appliances, countertops, sinks, range hoods, backsplashes, grills, and much more.
This is quite a high-performance aluminum cleaner. It protects and shines on stainless steel surfaces. Rock Doctor Stainless Steel Cleaner & Protectant is the ultimate product to use with all stainless steel, chrome & aluminum. Rock Doctor stainless steel cleaner and protectant is effective because it is a proprietary blend of natural oils and solvents designed to clean and protect metal surfaces. The best part of having shining appliances is using them. Rock Doctor Stainless Steel Cleaner removes kitchen spills while eliminating
FAQs
How do you make stainless steel look new again?
One of the major maintenance difficulties faced by home appliance owners is keeping. It is as new and clean as it looked when newly bought. Fingerprint smudges and grime are inevitable when you use your kitchen appliances. Hence, it is necessary to clean it up as often as possible. Hence, it goes without saying that frequent cleaning and using the prescribed cleaners will go a long way to make it look new for a very long time. 
What should you not use on stainless steel?
Avoid using abrasive scouring powder, scrubbers, bleach, and ammonia to avoid damaging the appliance's finish. Moreso, never stainless steel against the metal's grain. Always wipe with the grain to prevent streaking.
ESTIMATED TIME DESIGNING AND UPLOADING THIS ARTICLE
ESTIMATED TIME RESEARCHING AND WRITING THIS ARTICLE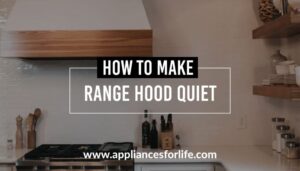 How to Make a Range Hood Quiet?
How does a range hood work? That's one of the few questions you'll get to ask yourself while you're exploring many ways to maximize the functionality of your range hood. In our ultimate guide on how to make a range hood quiet, we'll be looking
Read More »