You'll get reliable results and high-quality juice from most of the best commercial juicers. 
Many outlets allow you to rent a juicer. The need for enabling is mainly driven by a steady increase in juice fanatics who throng a mushrooming movement that believes they can make a difference in promoting healthy drinking habits in adults and kids. On the flipside buying an automatic juicer is a big decision that can be tough on your wallet. That is why you may consider financing options to give you every tool to stretch available resources and, if you are in business, to increase your profits, enhance your brand image and bring more patrons to your store.
Where to rent a juicer?
There are available financing packages that give you a choice between rental and lease options:
RENTAL OPTION – #1 This is a profitable rental option for any establishment juicing more than three glasses per day. The requirement is a five-month rental term. You can convert the contract into a lease/purchase or a straight purchase.
RENTAL OPTION #2 – This is a rental option that is calculated on a per squeeze basis. You start profiting from the first cup you squeeze every day and share a bit of the profit with the financier to cover the cost of providing you the equipment for free. Like rental option #1, you can convert the contract anytime into a lease/purchase or straight purchase.
LEASE-TO-OWN OPTION – This offers up to 12 months of financing with no interest or financing fee. This package depends on your company's business type, location, length of time in business, and credit. 
The Best Commercial Juicers
Commercial juicing machines possess the superior ability to produce reliably more significant volumes of juice yield quicker than manual or household juicers. They achieve this without burning out or needing to be thoroughly cleaned in between juices, meaning you can efficiently run the machine the whole day. Your home juicer can only handle small amounts of fruit and vegetables and is usually more fragile. On the other hand, a commercial juice extractor is made with higher health and safety standards in mind, enjoys longevity, and though compact in size, can handle much larger volumes of juice.
I want to rent a juicer.
You'll get reliable results and high-quality juice from most of the best commercial juicers. The machine you choose is critical, as some types retain nutrients better than others. Masticating and slow juicers will provide the most nutrient-rich juice. Some devices will produce juice faster, which may serve your business better. 
Is it good to rent a juicer? Here's a brief buying guide for some things to consider when you are on your way to juicer renting
What to consider:
As a small or medium-sized business proprietor, finding a good commercial juicer for your needs can be an arduous task. Information is power, so having a clear idea of the types of juice machines available and the functions of each will make the selection process manageable.
Juicer Speed
When it comes to juice-making machines, the rule of thumb is that the higher the juicer's speed, the greater the heat produced. The juicer's heat will increase oxidation and shorten the juice's shelf life. In a chain reaction of sorts, this impacts the level of nutrients and the taste of the liquid in a detrimental way. From an operational perspective for the business, the effect of heat can be ignored because it is not all that noticeable, and it makes business sense to want a quick and immediate juice turn-out. A slow juicer will give you higher quality,  even as it consumes more time, since your bottled products will last longer, and you have the leeway to charge more for the product as they will also be more nutrient-rich.
Juicer Material
Make sure to assess the type of material used to fabricate the machine. Stainless steel or solid cast iron makes the best commercial juicers. These materials are sturdy, durable, easy to clean and look attractive on the counter or in the kitchen space. Juicers made of plastic are also available in the market and come at more pocket-friendly prices.
Commercial Juicer Noise Level
The noise level of the juice machine will be a decisive factor in making a choice between which different models you should purchase. This will also depend on where in your store you will place your commercial juicer. Centrifugal juicers are generally noisier than masticating juicers, known to be the quietest. Overall, it is a good idea to select a juicer with noise levels lower than 60db, especially if your juicer will be close to seated dining customers.
Juicing Ingredients
The type of ingredients you commonly use to make juice will also dictate the kind of commercial juicer you need. A masticating juicer will be your overall best choice when extracting juice out of most ingredients. The downside is that by design, masticators are slow juicers, and it might not make business sense to wait for the slow production of these machines. Note that even though some ingredients may give the best results with masticating juicers, others could get more juice out with a centrifugal model.
Pulp Capacity
You want a juicer with a large and spacious pulp container. This will save you the hassle of continuously removing the pulp from the juicer's storage bin. A task that can prove arduous and time-consuming, especially at peak times when you have many customers to serve. Commercial juice extractors will also process your food, with the ability to collect the pulp (subject to proper cleaning) and make them into baby foods, frozen fruit sorbets, or ingredients for baked goods such as cakes and muffins.
Juice Machine Size
You are likely to consider the size of the juicer you are going to acquire, be it a commercial juicer for your business or even a professional-grade item for home use. You might want to give your customers a view of their juice being freshly squeezed if the juicer is at your juice bar or on the counter at your restaurant, in which case a giant machine could be an added advantage. Remember seeing is believing, and just seeing the device will motivate customers for a glass. If the appliance is for home use, or even in a professional kitchen where space is a luxury, it may be prudent to have a smaller machine that is easy to store away when not in use.
Juicer Warranty
Make sure to assess the type of warranty from different manufacturers. A good warranty makes good business sense on the things you buy, and this is especially crucial for machinery like a commercial juice extractor intended for everyday use. It is common practice for manufacturers to give a 10-year warranty on the motor, the essential component. Different companies design their warranty packages differently; as such, there may be warranties covering other parts of the machine, not just the motor. 
1. Best Overall Commercial Juicer—Omega Juice Extractor
The Omega juice extractor and nutrition system uses a three-stage masticating technology designed to squeeze the maximum amount of juice and nutrients from the minimum possible amount of fruits, vegetables, and greens—despite its compact design.
A feature that makes it stand out from most commercial juicers is its ability to serve as a food processor that can extrude pasta, prepare fresh baby food, grind the coffee, and prepare fresh soy milk for your customers or for home use in a flash.
This juicer, though slow, is fitted with a powerful motor of 2 Hp that operates with an electronic gear reduction. It is easy to clean since all its parts are removable and can either be rinsed under the tap or put in the dishwasher. This slow juicer comes with a 15-year manufacturer's warranty covering all aspects.
2. Best Commercial Centrifugal Juicer—Breville 800JEXL Juice Fountain
This Breville is a centrifugal juicer that works by chopping up the ingredients put in the machine by rotating at extremely high speeds. The centrifugal force then separates the juice from the pulp, and voila! Your drink is ready very quickly. Commercial machines of this caliber are fitted with an additional automatic pulp ejection tube that can be attached to an under-the-counter waste container.
This juicer is powered by a 1,000-watt motor that spins at 13,000 revolutions per minute. It is built from stainless steel that is easy to clean, and with more than 40,000 filtering pores, your juice will come out smooth and delicious every time.
This machine can juice whole fruits and vegetables without having to pre-cut them because they can easily fit in the big 3-inch comprehensive chute feed, which can take an entire apple inside. The centrifugal juicer outer cover, stainless steel filter bowl, purée disc, and juice jug are all dishwasher-safe.
3. Best Commercial Masticating Juicer—Omega VSJ843QS Juicer 
Mastication juicers produce juice by chewing up their ingredients. The Omega VSJ843QS masticating juicer operates at a slow speed of 45RPM, which keeps the heat and foam produced at low levels. True to masticating form, this enables the preservation of more nutrients, vitamins, and antioxidants, resulting in a healthy glass of juice.
Whereas a slow juicer's production process is time hungry, the product's shelf life lasts longer, so you're able to prepare juices in advance for your customers—something that juice bars with centrifugal juicers do not enjoy. Masticating slow juicer machines  are robust, making it possible to produce maximum extraction from a small amount of produce: you can expect an increase in profit. 
This masticating juicer operates at two speeds, and you will enjoy its unique reverse function, which allows you to stop clogs and clear them fast so that there is hardly any downtime. All accessories are dishwasher safe, and the appliance is easy to clean.
4. Best Commercial Triturating Juicer—Greenstar GSE-5000 Juicer
This machine has got surprises for you. The Greenstar triturating juicer is fitted with bio-ceramic magnetic twin gears, grinding your ingredients into pulp. It is a heavy-duty commercial juicer that operates at higher speeds to ensure less oxidation in your final product. This Greenstar can handle hard fruits as a grinder to make noodles.
Just when you thought that was all it could do, we've got news for you! This appliance differs from most commercial juice extractors because of its versatility as a commercial reamer and food maker, equipped with four different screens. The fine screen extracts juice with little pulp, and the coarser mesh squeezes a small amount of pulp into your product. It is fitted with a homogenizing blank for food processing and a breadstick maker accessory that will produce rice cakes. 
This juicer will work wonders for leafy greens, among many other ingredients, and its other capabilities will give you the freedom to produce a wide variety of foods. It comes equipped with a glass juice pitcher, a wooden plunger, and a cleaning brush.   
5. Best Commercial Citrus Juicers—VEVOR 110V Citrus Fruits Juicer
The Vevor 110V is a commercial orange juice machine that sits on a pedestal as one of the giant juicing machines on the market. It is among the best commercial devices for producing large amounts of fresh citrus juices. It is automated to remove the skin off of citrus fruits, predominantly oranges, but can also peel lemons, limes, and grapefruit. It will then filter the flesh of the fruit, pulp, and juice to produce fresh juice quickly.
This commercial citrus juicer is in the big league and can produce a high turnover. It will be well suited to a more significant business such as a hotel at breakfast, a high-traffic juice bar, restaurant, supermarket, or juice factory. It has a large-capacity storage basket and can squeeze up to 30 citrus fruits per minute. 
This Vevor is a product of outstanding quality; it is durable and built to last. It comes with a heavy-duty and durable stainless steel outer casing and PP cover that is easy to wipe clean. It features a built-in pull-out filter box that can be removed, together with the water box, for easy cleaning after each use.
Frequently Asked Questions:
Q: Which is the best juicer for commercial use in a small juice stall?
You should consider a commercial juicer. There is a massive demand for slow juicers, so a commercial slow juicer is recommended. 
Q: How quickly can one make a juiced beverage, from starting the juicing to cleaning the machine?
This will be determined by how much juice you intend to make, the kind of juicer you have, and what ingredients you plan to use. For simple citrus juices, it can take you between 20 to 30 minutes to make one glass. For a mixed fruit juice where you have to prepare the fruits and vegetables, you can spend up to 45 minutes, sometimes an hour.
Q: When making pineapple juice on a juicer machine, do you need to peel it?
You should peel the pineapple. The outer skin is tough and there is a risk that this could damage your juicer's blades. The pineapple's scaly bits can also irritate the skin and tongue.
Conclusion:
Maintaining a diet high in fresh fruits and vegetables is ideal because of the importance of these nutrients for health and wellness. Because of the difficulty in preparing and consuming all the fruits and vegetables we need, juicing has gained popularity because it makes it possible to get your required total daily serving of fruits and vegetables in a single glass of juice. This makes juicers a key cog in the wheel of good health. All juicers will give you fresh fruit and vegetable juice so you should choose a juicer that works best for your lifestyle and budget.
ESTIMATED TIME DESIGNING AND UPLOADING THIS ARTICLE
ESTIMATED TIME RESEARCHING AND WRITING THIS ARTICLE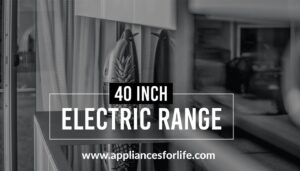 40 Inch Electric Range To Fit Your Cooking Needs
Getting Warmed Up A 40-inch electric range is a great thing to have when you need to cook dinners for your family or special events. For those who love to cook and love something that helps with the efficiency and quality of your food, these
Read More »