If you've been looking for high-quality tankless water heaters, you may have encountered Rheem. Rheem is a household name with decades of experience in water heating, and this article explores some of the best Rheem professional classic Rtex electric tankless water heaters.
A standard Rheem electric tankless water heater is better than most water heaters on the market. This is because Rheem has dedicated many years to providing quality water heaters to its customers. One of Rheem's most popular lines is the Rtex series, which includes several powerful tankless water heaters for residential and commercial applications.
As much as we may be used to traditional tank-style water heaters, tankless water heaters are much more efficient and require less maintenance. These tankless water heaters are slowly replacing their tank-style counterparts because of their efficiency and convenience.
According to a study by ReportLinker via ACHR News, the global tankless water heater market may hit $6.8 billion by 2030, with a compound annual growth rate of 8.7%. These numbers only show how much people are opening up to the convenience and efficiency of tankless water heaters.
Let's delve into the best Rheem professional classic Rtex electric tankless water heaters without wasting time.
The Best Rheem Professional Classic Rtex Electric Tankless Water Heaters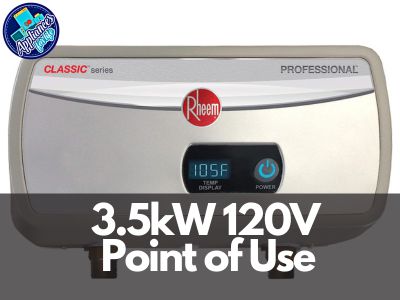 The Rheem RTEX-04 is a compact and energy-efficient tankless water heater designed specifically for point-of-use applications. Its compact size makes it ideal for installations in small spaces such as under sinks, cabins, or remote handwashing stations. Furthermore, this model features durable copper immersion heating elements that ensure rapid heat transfer and longevity.
With its external digital thermostatic control, this electric Rheem tankless water heater allows users to set and adjust the desired water temperature easily. The intuitive interface displays the current temperature, providing real-time feedback. This precise temperature control ensures optimal comfort and eliminates the need for manual mixing valves.
Despite its small size, the RTEX-04 offers impressive energy efficiency, reducing standby heat loss and saving on electricity costs. By heating water only when needed, this tankless water heater eliminates the need for a storage tank, further enhancing energy efficiency.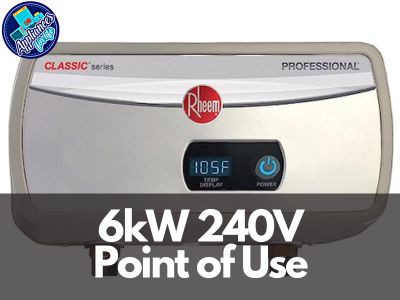 The Rheem RTEX-06 is another point-of-use electric tankless water heater with a slightly higher capacity than the RTEX-04. It offers a maximum flow rate of 1.5 GPM, making it suitable for small sinks, handwashing stations, or low-flow fixtures. This model features a self-modulating power control, allowing it to adjust the energy consumption based on the hot water demand.
Featuring a self-modulating power control, the RTEX-06 adjusts its energy consumption based on the hot water demand. This ensures efficient operation and minimizes energy wastage. This intelligent feature optimizes performance while providing cost savings.
The external digital thermostat enables precise temperature control, allowing users to easily set and maintain the desired water temperature. The LED display provides clear and intuitive feedback.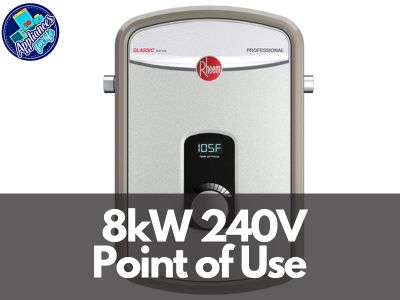 The Rheem RTEX-08 is a versatile electric tankless water heater designed to cater to multiple applications with a maximum flow rate of 2.0 gallons per minute (GPM). Whether providing hot water to multiple sinks or a low-flow shower, the RTEX-08 delivers reliable performance.
Users can easily set their preferred water temperature for optimal comfort with an external digital temperature control. The LED indicators provide clear feedback on the current operating status, ensuring effortless monitoring.
The compact design of the RTEX-08 allows for flexible installation options, fitting conveniently in small spaces such as utility rooms or under sinks. This model ensures energy efficiency by heating water only when needed, eliminating standby heat loss associated with traditional storage tank water heaters.
With its durable construction and advanced features, the RTEX-08 offers reliable and consistent hot water delivery. It is an excellent choice for small to medium-sized households or low-demand commercial settings.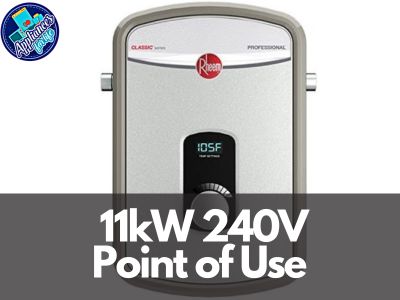 The Rheem RTEX-11 is a mid-range electric tankless water heater that balances capacity and compactness. With a maximum flow rate of 2.7 gallons per minute (GPM), it can simultaneously provide hot water for a shower and sink.
This model features a durable copper heat exchanger that ensures efficient heat transfer. The digital temperature display and adjustable thermostat allow for easy and precise temperature control.
The RTEX-11 is designed to deliver optimal comfort and convenience. Its compact size allows it to be easily installed in various locations. Whether you need hot water for multiple bathrooms or a combination of showers and faucets, the RTEX-11 offers a reliable solution.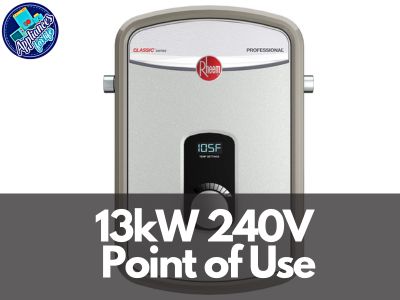 This Rheem performance tankless water heater is designed to meet the hot water demands of small to medium-sized households. With a maximum flow rate of 3.17 GPM, it can simultaneously provide hot water for multiple showers or faucets. This model offers advanced self-modulating technology, a digital thermostat, and easy-to-use push-button controls.
It also has a compact design, making it easy to install in tight spaces, and is Energy Star certified for efficiency. The tankless design means it only produces hot water when needed, which can save on energy costs compared to traditional tank water heaters that constantly store and heat water even when not in use.
With its reliable performance and energy savings, this Rheem tankless water heater is a great choice for any household looking to upgrade its hot water system.
Conclusion
Rheem tankless electric water heaters are a great choice for anyone looking to save money on energy costs. They're also very convenient, which makes them ideal for anyone who wants to avoid hassles. The electric tankless water heaters in the Rheem professional classic Rtex series are becoming increasingly popular thanks to their unrivaled capabilities and energy efficiency. If you're looking for quality tankless water heaters to invest in, we've reviewed the best Rheem professional classic RTEX electric tankless water heaters in this article. We hope you make the right choice!
Frequently Asked Questions
Is Rheem water heater a good brand?
Rheem is regarded as one of the best water heater brands in the world. With a century of constant production of good heaters and boiling devices, Rheem deserves all the credit.
What is the flow rate of Rheem RTEX-13?
The RTEX-13 has a flow rate of 3.17 GPM.
What country is Rheem made in?
Rheem is an American company with facilities in Alabama, Arkansas, California, and Minnesota.
How long does a Rheem water heater last?
According to Same Day Hot Water, a Rheem water heating unit can last between 5 and 15 years, depending on the water heater type and maintenance.
What is a good flow rate for a water heater?
A good water heater should have at least 2.5 GPM.