One of the biggest advantages you will enjoy, especially if you're able to cut your wood, is that you can heat your home for free.
An airtight heater is designed with carefully fitted seams, it comes with a door that seals tightly, and is equipped with an air inlet that controls the burn rate. This is to be distinguished from a free-burning stove that has a loose-fitting door and is without good air regulation. A free-burning stove can be operated with the door open or closed. Apart from safety issues with concerns to fires, a wood-burning stove should preferably be airtight because it is more efficient in providing heating if the airflow into the stove is effectively restricted.
Air-Tight Heater – Maier Hardware
This wood-burning airtight heater gives you simplicity and economy when heating small spaces such as hunters' cabins or ice fishing shacks since it will readily get packed into remote locations. It is body built from top quality heavy gauge steel, pressed top and bottom and rolled seams. The Maier is surrounded by a full corrugated lining for longer heater life, pressed steel dampers and legs, and a draft check control.
The Best Airtight Heater On The Market
Using a wood stove as your heat source has plenty of advantages.  On the market you will find that the majority of models have a high-efficiency rating and will give you value for money in comparison to oil, natural gas, or electricity. One of the biggest advantages you will enjoy, especially if you're able to cut your wood, is that you can heat your home for free. An open fireplace suffers from significant heat loss up the chimney while wood-burning stoves, particularly newer models that meet EPA standards, can operate at up to 80% efficiency. An airtight heater provides low carbon and low emission heating, and for this reason will appeal to environmentally conscious consumers. 
Wood stoves are made in an array of sizes and can be used to heat every conceivable space from workshops and mobile homes to sprawling living spaces. For a stove to provide sufficient heat in your home, it is useful to take note of its heat output and coverage area. A wood stove's heating capacity is measured in British Thermal Units (BTU). The higher the BTU rating, the larger the space that the stove is capable of effectively heating. The stove market is awash in attractive styles from contemporary designs to more rustic-inspired wood stoves. 
In our quest to help you find the best Airtight heater on the market, we've rounded up the best products in various categories. Here is our selection. 
Best Overall: Englander 2,400 sq. ft. EPA Certified Wood Stove
The Englander 2,400 sq. ft. wood-burning stove is a workhorse and by extension, an excellent choice for larger spaces. Made of cast iron and steel this stove comes to the market in a durable and classic design. Energy-conscious individuals will find this attractive for thereason that it's highly efficient and EPA-certified. This freestanding wood stove measures 30 inches tall by 31 inches deep, allowing for all-round placement options. It handles logs of up to 20 inches long and will heat rooms up to 2,400 square feet.
This unit is equipped with a high-tech firebox for a long-lasting burn, a blower to improve air circulation, and nickel handles that remain cool to the touch. The large viewing window has an air wash system that helps clean the glass. 
You Will Smile
Durable construction

Powerful heat output
You Will Frown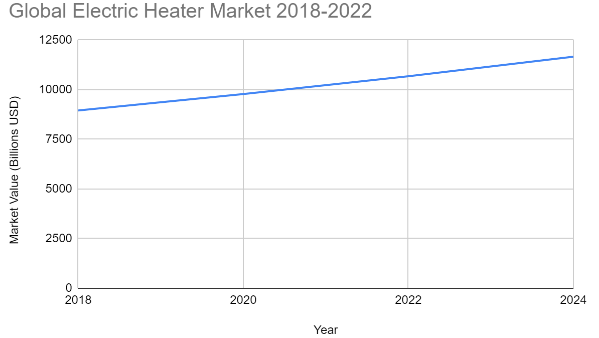 The graph above illustrates the global electric heater market for the years 2018 to 2022
Best Electric: Duraflame DFI-5010-01 Infrared Quartz Fireplace Stove
The Duraflame Infrared Quartz Fireplace Stove might glow like a burning fire, but in reality, this is an electric heater designed to resemble a wood stove. You will not use any wood here; you simply plug it into a standard wall outlet. Reviewers agree that though the three-dimensional flame effect is realistic, the small size of this appliance makes it harder to pass as a fireplace.
The heater discharges 5,200 BTU, meaning that this electric wood stove can warm rooms up to 1,000 square feet in size. Because it has lower heat capacity and a compact design, it works well in smaller spaces, and can be used with or without heat for year-round operation.  Among the key features are an adjustable thermostat, five flame levels, a timer, and remote control. The plug is fitted with a built-in thermometer. For additional peace of mind, the unit will shut off automatically if it overheats. Note that the upper part of this unit gets quite hot, so it advisable to take the necessary precautions.
You Will Smile
Attractive design

Small form factor

Simple setup
You Will Frown
The top is too warm to display items

Somewhat expensive
Best Pellet Stove: ComfortBilt HP22 2800 sq. ft. Pellet Stove
The ComfortBilt HP22 Pellet Stove is king of the wood pellet stoves. This appliance stands out from the crowd thanks to its sleek and modern design. The HP22 is EPA-certified, which is a plus if you are energy-conscious. You can get heat within minutes with a super easy, one-touch ignition. It is fitted with an easy-to-access ash pan and an air wash system that automatically cleans the ceramic glass window. You can control the 5 different heat levels either manually, or with the programmable thermostat, which can preset rooms from 61 to 82 degrees.
This ComfortBilt will adequately handle rooms up to 2,800 square feet in size. The stove is designed to operate without a chimney or flue, but direct ventilation will be required for safe operation. Remember that pellet stoves are powered by electricity, and won't provide heat if the power goes out.
You Will Smile
Easy to clean

Highly programmable

1-touch ignition
You Will Frown
Expensive

The Pellet hopper door could be bigger
Best for Large Rooms: Drolet HT-3000 Wood Stove DB07300
Manufactured with a staggering heat output of 110,000 BTU, the Drolet HT-3000 will warm up to 2,700 square feet of space. It has a large firebox that can handle logs as long as 22 inches long. When fully loaded, this stove will discharge heat for up to 10 hours. This appliance is highly efficient, it is EPA-certified, as well as is certification for use in mobile homes and alcoves. This makes it a versatile option. Body built with heavy-duty steel and featuring an insulated top panel, this unit is incredibly durable. 
The Drolet HT-3000 comes with a lifetime warranty to ensure customer satisfaction. Options such as a fresh air intake kit, firescreen, blower, and thermo disc are available at an additional cost. 
You Will Smile
Highly efficient

Extremely durable

Comes with a lifetime warranty
You Will Frown
Options/accessories cost extra
Best Insert: Ashley Hearth AW1820E 1,800 Sq. Ft. Wood Stove Insert
For those who want to improve the efficiency of their fireplace, the Ashley Hearth AW1820E is an airtight wood stove insert that meets EPA standards. This fireplace insert will burn logs up to 18" long and heat rooms up to 1,800 square feet in size. The vintage design of the AW1820E will spruce up your existing hearth. This unit is fitted with a durable cast iron door and cool-touch wood handles. The large ceramic glass window provides an ambient view of the burning fire. 
The AW1820E is accompanied by a hearth surround to fully enclose your existing fireplace and a spring-loaded automatic adjustment for easier installation.
You Will Smile
 Powerful and efficient heat

Easy to install
You Will Frown
Best Soapstone: Hearthstone Heritage
The Hearthstone Heritage Soapstone Wood Stove is an upscale model that it comes with a hefty price tag. This appliance has some advantages over other products. The cast iron construction and soapstone lining will still radiate heat long after the fire has gone out. Radiant heat directly heats objects and people in a room, as a result, this stove maintains a consistent, comfortable temperature. 
This Heritage is EPA-certified and enjoys a reputation as one of the cleanest wood-burning stoves on the market. While it is undeniable that this Hearthstone Heritage has a higher upfront cost, it uses less wood and heats more efficiently, saving you money in the long run.
You Will Smile
Highly efficient

Provides long-lasting radiant heat
You Will Frown
Extremely heavy

Very expensive
Best Airtight tent stove
An airtight tent stove is an irreplaceable companion when you are out in the wilderness, providing you much needed warmth as well as for cooking. The importance of choosing a good stove cannot be underestimated. Our list below will work well for car camping or glamping. 
Best For: Cabin Tents, Yurts, Teepees, and Tiny Homes

Material: Stainless Steel

Weight: 21.3 Pounds

Fuel Type: Wood
The Woodlander is portable and with reasonable weight making it ideal for car camping and glamping. It is fitted with three collapsible legs, and is therefore both portable and sturdy. It works well if you set it up on a flat stretch of ground, however, a few dips in the earth or poorly placed rocks won't upset the balance of this product.
The stove sits nine inches above the ground, and with three windows on different sides of the structure, you have the ability to look inside the stove. The windows will inevitably and frequently get dirty, but they clean up easily if you observe regular maintenance. This Winnerwell is quite durable and does not break easily even with all the glass on it. Its beauty lies in the fact that it allows light from the fire to illuminate the inside of your tent with an ambient glow.
The design allows you to remove a panel from the top of the stove, exposing a grate that can be cooked on. It comes with winged shelves on either side of the stove making it possible to store various items.
Pros:
– Small and portable
– Can be used for cooking
– Plenty of windows into the chamber
– Durable
– Emits a good amount of heat
Cons:
– The metal is a bit thin
Solo Stove Bonfire Fire Pit And Stand
Best For: Car Camping

Material: Stainless Steel

Weight: 20 Pounds

Fuel Type: Wood
You might not think of the Solo Stove as your traditional tent stove, but it still works wonders when it comes to providing warmth and light. Sadly, this unit can only be used outdoors because it lacks a chimney to redirect the smoke. It makes a great campfire so if you just need a way to cook and don't need the stove to heat your tent, then this is it.
It is as heavy as lead, but, this wood-powered stove is perfect for channeling heat into a cooking surface. It lacks a way to prepare food, but you retain the option of buying a grate separately that you can put a pot or pan on. Once lit, your fire will last about 4 hours, enough time to warm up and make dinner.
It is made with several vents strategically placed at the top and bottom of the stove which work well to maximize the amount of airflow being fed into the fire. The Solo comes with a stand that is used to raise it off the ground allowing for amplified airflow. It is designed in a way that prevents flames from licking at the earth, which is great for protecting the environment and reduces the risk of wildfires.
Pros:
– Comes with an ash pan
– Can maintain a fire for 4 hours
– Well-ventilated design
– The stand lifts it off the ground
– Sleek
– Low amount of smoke
Cons:
– No chimney
– No cooking apparatus
Best For: Car Camping/Glamping

Material: Stainless Steel

Weight: 21 Pounds

Fuel Type: Wood
The One Tigris Tiger Roar is a heavy duty appliance that is versatile at the same time. This is one tent stove built for longevity. The body is durable stainless steel, it is put together with a minimal amount of glass, thereby reducing the number of parts that could be broken. In the event of damage, the manufacturer has been considerate enough to supply the unit with a replacement glass that you can use instead. Also included in the box are leather gloves, a pipe for the chimney, and an ash scraper.
Even though you will not find a specific spot for cooking, the stove top is perfect for resting a kettle or frying pan. The Tigris produces sufficient heat to easily boil your water or sauté something. Don't be surprised if the inside of your tent gets so hot that you'll be forced to open the door.
This stove is large enough to handle a good amount of wood. In fact, it's got enough space to store all of the other components inside it, including the pipes for the chimney. It is very portable, and therefore perfect for small hikes out to the campsite.
Pros:
– Large interior
– Durable
– Throws off a lot of heat
– Adjustable air intake
– Chimney damper
Cons:
– Some of the edges are sharp
– No spark arrester
Frequently Asked Questions:
Q:How do you install a wood burning stove?
Wood-burning stoves must be connected to a proper ventilation system. How you instal the ventilation will depend on the model; some units will undoubtedly be more complicated to set up than others. Most freestanding stoves can be installed in front of an open fireplace and vented through the existing chimney. In the majority of cases, the chimney has to be fitted with a stainless steel liner. Pellet stoves, on the other hand, are vented through an exterior wall or roof.
Q: Are wood stoves safe?
A wood stove is safe to use if it's properly installed and ventilated. Make sure to follow the manufacturer's recommendations as well as local building codes. It is prudent to ensure that the stove is placed a safe distance away from any combustible materials. Do install protective noncombustible surface coverings. 
Q: Can you get carbon monoxide poisoning from a wood stove?
Yes, you can. There will be a build-up of carbon monoxide if your wood stove is not properly ventilated. The most effective prevention is to make sure your wood stove is installed correctly and that you maintain properly to keep it clean and functioning normally. It is safe to install carbon monoxide alarms to help detect if there's a leak.
Conclusion:
How good is an Airtight heater? In a nutshell, if you love winter camping to enjoy the amazing views, or the shoulder months get extra cold in the nighttime, staying warm will be a priority. There are heaters that work well if you have access to electricity or gas, but sometimes these aren't available. In that case, what you need is a good tent stove.

ESTIMATED TIME DESIGNING AND UPLOADING THIS ARTICLE
ESTIMATED TIME RESEARCHING AND WRITING THIS ARTICLE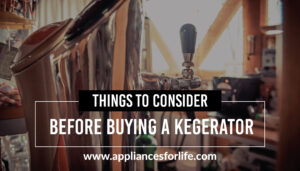 Things to consider before buying a kegerator
If you're considering getting a kegerator, there are a lot of kegerators on the market to consider. In this article, we'll be looking at some of the things to consider before buying a kegerator. Not many people are familiar with what kegerators are and what
Read More »