Throwing a backyard party in the United States comes with a lot. You have to ensure the guests have enough to eat, and the drinks must be very cold, especially the beer. You also have to make sure that the music is loud enough to hear but not so loud that you wake up the neighbors. This is usually a lot of work, and it can be difficult to find time to do all the little things you need to do to make the party successful.
If it's a BBQ party, there are some machines you can't do without. The best way to ensure that you have enough is to ensure that you're well-provisioned and have plenty of fuel for your grill. A great way to do that is to buy a couple of cases of beer and extra hamburger buns, so you can share with your buddies or bring them to a tailgate party. Drink a frosty mug of cold beer with your friends and family on a hot day, and you'll remember it for a long time.
There's one way to ensure you enjoy cold beer if you don't want to go through the stress of going in and out of the house trying to get the bottles from the refrigerator, and that's having a kegerator at your party. A kegerator is a device that dispenses cold beer, just like the system you buy at the bar. You can buy a basic model, which is usually enough to serve a few people, or you can buy a fancier model that can hold a lot more beer, usually serving anywhere from six to twenty people. The fancier models usually have a tap for pouring beer from the keg, and some even have a tap for serving from the bottle. Most models are fairly easy to set up and use, and they're a great way to avoid being stuck with a few warm bottles of beer when you could have had plenty more cold ones instead.
A kegerator is a refrigerator that is designed to keep beer cold, and they're becoming increasingly popular for that purpose. Some people like to build their own, and you can buy them new or used, just like you would a refrigerator. You can also buy ready-to-go kegerators from companies like Beverage-Air, which is a great option for parties because they're insulated, easy to use, and will keep your beer ice cold. They have a variety of kegerator designs, including ones that are customized with your logo, and they ship them right to your door.
Kegerators are refrigerators that allow you to dispense cold beer and sometimes other drinks from the tap. They are a great way to save time and money by not having to buy bottles or have the hassle of going in and out of the refrigerator, and they're kind of fun to use. You can find various styles, sizes, and brands to purchase, and they're fairly affordable compared to buying beer on the go. You can also find kegerators with tap towers, which allow you to pour your own beer without lifting the tap tower, while some have digital tap towers that allow you to tap your beer without lifting the tap tower.
Knowing how to be the best kegerator is now a walk in the park; it comes with a lot of research, including the type of kegerator you need and how much you're willing to spend on it. There's no better way to save money than to buy a kegerator. You might think you have to sacrifice the ability to brew as much beer as you want, but kegerator brewing is still doable if you're willing to spend the time. There are many different models of kegerator out there, so you must pick one that fits your style and brewing needs.
There are important factors to consider when buying a kegerator, whether new or used. You'll want to consider the type of kegerator you'll use, its capacity, and whether it's a draft or full system. If you have a limited budget, keep in mind that a draft kegerator can only dispense 5 gallons of beer at a time, so you'll only ever be able to drink one or two beers at a time, and only when you're in a location where it's possible to have line-of-sight. A draft system has no optics and provides no line-of-sight for the user.
As a general rule, if you're going to be using beer as a carbonation agent, you should choose a kegerator with CO2 tanks that hold at least five, 6, or 10 bags of the gas. Prices vary widely, with some 1,200-pound kegerators costing well over $5,000 while those under 500 pounds can cost under $1,000. What all kegerators have in common is the ability to be refilled with CO2, usually in 1,000-pound batches from a nearby gas station.
Haier is one of the few brands that manufacture quality kegerators, and its exploits in this market have earned it quite a good reputation. It has nearly every size imaginable kegerator, ranging from the 1.5 gallons (5 liters) mini kegerator to the mammoth 10.5 gallons (40 liters) universal kegerator. The company also offers a wide variety of keg sizes, with one-liter, two-liter, and four-liter kegs being the most common. The smaller kegerator is ideal if you want to offer a limited amount of beer at your bar or taproom, while the larger model is great if you want to offer a more expansive beer selection. Both the mini and universal kegerators have gas lines built-in, so you don't have to worry about purchasing a separate regulator if you want to offer a high volume
While most other kegerators are refrigerators that serve as beer coolers, Haier's kegerators are fully-functional mini-kegerators that can be used to serve beer. In fact, some of the best kegerators on the market today are manufactured by Haier.
It is also one of those that can claim to be one of the largest kegerator manufacturers in the world, with the capacity to manufacture thousands of units yearly. Most of its products are also made in the United States, which is a big plus for those who are concerned about the environment. Most of its products are also energy efficient, which is good news for those looking to save energy. Most of its products also come with a warranty, which is also good news for those who want to save money on their repair bills.
Types of Kegerators
If you're looking to purchase a kegerator, you should know they are available in different types and sizes, so you need to assess your needs and budget before making your decision. The most common kegerators are the chest style and the beverage tower style. The first style is the most traditional option, as it's designed to hold a large amount of beer and keep it cold. The second style is a more modern option, as it's designed to keep your beer cool without the large amount of space required by a traditional kegerator.
Let's quickly go over some of the types of kegerators and how each type is designed to work.
Under-the-counter Kegerators
As the name implies, under-the-counter kegerators are kegerators that are located beneath the counter. Undercounter kegerators are often used in bar-like settings, such as in a tavern or a sports bar, where the kegerator is placed beneath the counter at the same level as the bar itself; usually, the kegerator sits at least knee height. Undercounter kegerators are generally used for beer kegs or, rarely, for wine or cocktails.
Undercounter kegerators provide many benefits, such as quick access to cold beverages, but they also have their drawbacks. The main one is that they are difficult to clean properly since it is often difficult to remove the ice and water from the kegerator when it is needed.
Freestanding Kegerators
You can opt for a freestanding kegerator if you want a kegerator that doesn't need to be installed below or above anything in your kitchen. Getting a freestanding kegerator isn't always difficult because it's the most common type of kegerator and can be bought at a budget-friendly price. Freestanding kegerators also have their vents located at the back, so you may need to place them a few inches away from the wall to ensure good ventilation. One thing people love about freestanding kegerators is that they're mobile – they usually have wheels and casters that make them very easy to be moved around.
Countertop Kegerators
Countertop kegerators are simply installed on the counter to dispense beer or whatever you have in the keg easily. The best part is that these kegerators are designed to fit in with your existing kitchen décor, so you can easily keep things looking normal while serving your beer on tap. The best part is that you can use your existing tap and keg system, so there's no need to buy a new one. Just make sure your existing tap system can handle the higher pressures of serving beer on tap, and you're good to go. The freshness is part of why you want to serve your beer on tap.
This is a great way to save space and maximize space efficiency when entertaining. They are also a great way to keep your beer fresh, which is often a problem when storing your beer in the fridge. They also come in various styles, so you can find one that best suits your needs. Some models can be converted to use as a refrigerator, while others are designed to be used only as a kegerator, so look around and find the model that best suits your needs.
How About Maintenance?
Most folks think having a kegerator in their space will require a lot of work, including hard routine maintenance, but that's not the case. Kegerators are one of the easiest ways to improve your beer's quality; they're also a lot of fun to use. They provide a unique experience compared to traditional methods of storing and serving beer, providing a unique way to impress your guests.
There are a few maintenance and upkeep tasks that you can regularly complete to keep your kegerator in top shape. Most of these simple tasks can save you a lot of time and money in the long run. Chief among these tasks is ensuring your kegerator is properly maintained, cleaned, and sanitized every week, depending on how often you use it. This will help keep your kegerator in good shape and prevent it from developing problems like mold and corrosion.
All you need to keep your kegerator working properly are a few simple supplies and some basic knowledge on how to maintain it. First, you'll need to make sure your kegerator is clean. Regularly clean your kegerator with a soft brush if you have one. If not, grab a clean rag and some hot water to sanitize your keg.
What To Look For When Buying A Kegerator
Knowing how to buy a kegerator is a big deal because you must be well-informed about choosing the best one. You don't want to waste your hard-earned money, and you want your kegerator to keep your homebrew safe, cold, and tasty. This section provides an overview of some of the key things to look for when buying a kegerator, including how many beers it can hold, the best types of kegs to buy, and more. Part of being a great brewer is knowing how to buy the best equipment, so take some time to read through this article and learn the ins and outs of buying a kegerator. You'll be glad you did when you're serving your delicious homebrew to your friends and family.
Your Budget
One of the most important things and what people are most interested in when it comes to buying a kegerator is the cost. The kegerator is not cheap, but the cost is worth it for the quality and the amount of enjoyment it provides. There are a lot of different brands out there, so when it comes to buying a kegerator, it is important to do a little research to find the best kegerator for your needs and budget. Long-term, the kegerator is a great investment, making it easier to enjoy your favorite beers at home and saving you money. In the short term, the kegerator can provide a cool place to store your beer so that it stays fresh and doesn't spoil.
There are so many different options for kegerators, and they range in price from a few hundred dollars to over a thousand. It largely depends on the features of the model and the brand. Generally speaking, the more brands involved in a kegerator, the more expensive it is. This is because the brand has to make a profit, so they charge more for their products.
The good news is that a kegerator is a relatively inexpensive piece of equipment to buy and operate. The bad news is that the market for them is extremely competitive. Because of this, you'll often find that the prices for kegerators are high. This can make it difficult to find the best value for your money.
Configuration of the Tap
To get the ideal kegerator for your needs, you need to find a kegerator with the right tap configuration you need. The most common kegerator configuration you'll find is the Cornelius tap, which has two taps: one for serving beer and one for serving soda. The Cornelius tap is the most common because it's easy to set up, but if you want to use other types of taps, you can easily do that too. Some people like to use a faucet for serving soda, but the Cornelius tap is the way to go if you're looking for a more traditional kegerator. The Cornelius tap is also easy to clean and maintain because it uses a closed system.
If you are looking for a tap and ball tap kegerator, you will need to find one with both taps. This will allow you to serve different beers on tap and clean your beer lines. You will also need to consider the amount of space your kegerator takes up in your bar. Most taps and kegerators are too large to fit into traditional bar space but can be set up in a corner or against the bar's back wall.
Size of the Kegerator
The size of the kegerator you need in your space is one of the biggest things to put into consideration when buying a new kegerator. Of course, this is the most important factor to you, but you should also consider the capacity of your kegerator and how frequently you will use it. Do you plan to have people over often or not at all? Do you plan to serve many keg cocktails on one kegerator or a few on different ones? This will help you determine if buying a smaller kegerator will be adequate or if you will need the larger kegerator and will have to upgrade later.
Small kegerators will give you a smaller beer-dispensing capacity and require more frequent refills. Larger kegerators will provide a larger beer-dispensing capacity but require less frequent refills since they have a bigger reserve of beer to dispense over time.
Other factors to consider
Functionality

Accessories and features

Durability

Ease of cleaning

Assembling

Ventilation
Frequently Asked Questions
What is the best kegerator?
While it's hard to say this is exactly the best kegerator because it's mostly down to preference and needs, any kegerator that fits your needs should be good enough. Before buying a kegerator, you should assess your needs, and if the kegerator ticks almost all the boxes, you should go for it.
Is kegerator a useful appliance?
You may not know how useful a kegerator is until you need one. If you own a bar or a restaurant, having a kegerator will save you a lot of time and stress.
Wrapping Up
A lot of people don't know how important the kegerator is until they are in need of one. A kegerator is a great way to kick off the party, create an atmosphere, or serve when company comes. To start, a kegerator is a great addition to any basement, bar, or bar/restaurant. It can be used as a bar or a restaurant, and it's a great addition to a bachelor pad or any other space for entertaining.
If you're buying a kegerator, you need to take that extra step to find out if it's what you need before making any financial commitment. If you purchase a kegerator that won't fit your needs, you'll only be wasting your money. In this article, we've discussed a list of things to consider before buying a kegerator.
ESTIMATED TIME DESIGNING AND UPLOADING THIS ARTICLE
ESTIMATED TIME RESEARCHING AND WRITING THIS ARTICLE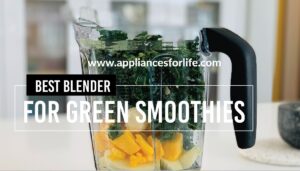 Best Blender For Green Smoothies
The one question asked all the time is what are the best kitchen appliances to buy? When it comes to choosing a blender which makes silky, smooth smoothies it can be a difficult choice. There are hundreds of models to choose from with prices ranging
Read More »