Get ready for a pleasant surprise when it comes to good juice yields
The Bagotte juicer is easy to assemble and disassemble, and you can clean all parts except the central unit. You can find the Bagotte juicer manual here. It is available online for download and use. This appliance is equipped with a safety locking arm that ensures the cover is on tight while operating; this gives you peace of mind about your safety and secures the juice from spilling. Its 65mm wide mouth ensures whole fruits can be put in without the need for slicing. 
How good is Bagotte juicer?
Big names dominate the kitchen appliances niche. Bagotte is, therefore, a brand you're likely unfamiliar with. Still, the home appliances manufacturer has fixed its eyes on giving more familiar names such as Philips and Ninja a run for its money with competitive kitchen gadgets. Buy it on Amazon.
The DB-001 is Bagotte's entry-level juicer, one of the most compact centrifugal juicers we've ever tested. It is attractive if your preference is petite and you don't have the space for a bigger and bulkier model. In addition to juicers, Bagotte makes air fryers and a range of floor care appliances, including robot vacuums. If you're more at ease in the comfort zone of established brands, then you are best advised that Bagotte is not a brand with a stronghold in the juicer market, but it's worth considering if you're in the market for a juicer and at the same time you desire something that is low budget. 
How good is this Bagotte juicer? Fitted with a 600w motor, this unit comes with two modes; one for soft fruit and vegetables and a second to extract juice from leafy vegetables such as Kale. It comes with a 0.37-quart / 0.35-liter juice jug, one of the smallest we've seen on a juicer, and a 1.27-quart / 1.2-liter pulp container. 
Bagotte was not looking to achieve blue-ribbon status when they built this, and unsurprisingly, for the price, it doesn't have a premium appearance. The small size also means it doesn't stand out and is simple to assemble and use. Get ready for a pleasant surprise when it comes to good juice yields. Even though it can't match up to the more expensive models, expect it to out-perform some of them.
Is it good to use this Bagotte juicer? This juicer costs $39.97/ £44.99 and is an excellent opportunity if you're just learning the ropes of juicing because you don't have to spend a fortune on a more premium model. A downside is that it has a small juice container and restrictions on usage times; this means that you will be frustrated if you're looking to make much more than one glass of juice at a time.
This juicer stands out from the crowd because of its size; it's one of the most compact juicers available, measuring 11 x 6.7 x 9.3 inches / 28 x 17 x 23.5cm (h x w x d), making it a perfect fit for smaller kitchens. Fitted with a stainless-steel exterior, this unit is not eye-catching, but rest assured the compact size means it's subtle, and it'll sit neatly on your countertop. Weighing just 4.9lbs / 2.2kg means its lightweight enough for easy lifting, especially if you're planning to store it in a cupboard or drawer when not in use; it will not be a struggle to lift it in, and out.
Expect frustrations galore when you're making more than one glass of juice at a time because the 0.37 quart/0.35-liter juice container is small, and you'll need to empty it regularly even though the 1.27-quart / 1.2-liter pulp container is a good size. The saving grace is that the spout can be tilted upwards to stop drips, which is handy when emptying the juice container.
How do you use this Bagotte juicer? Bagotte gets full marks on ease of use since, as you will notice, there's minimal assembly required, and the only extra included in the package is a cleaning brush. With only two-speed settings to choose from, this appliance is super simple to get up and running. Take note: There is a sticker on the juicer that states it shouldn't be operated for longer than one minute at a time, with a minute's rest in-between each use, and that after three minutes of use, you should switch it off for 15 minutes.                                                 This machine is not designed for lengthy juicing sessions and is best used to produce a single glass of juice at a time.
Cleaning this piece is easy with detachable parts that are dishwasher safe, although the Bagotte juicer manual doesn't give you this info, so we had to find it for you online.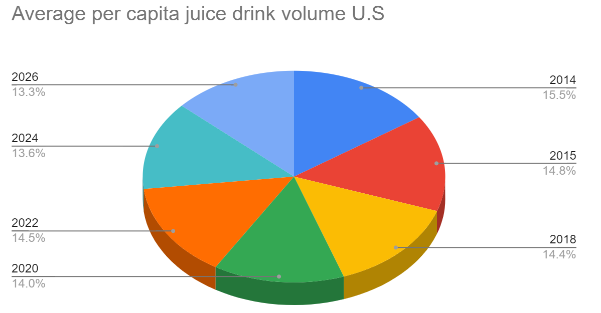 The pie chart above shows average per capita juice drink volume in the US from 2014 to 2016
Is it good to use the Bagotte juicer?
This Bagotte juicer is compact and straightforward to use, with a wide feed chute. That means you might not have to undergo the pre-prep of cutting fruits and vegetables into small pieces, although it isn't quite wide enough to fit a whole apple. When you get over the hurdle of size and fit, and you have your fruit ready, it juiced an entire apple in just 17 seconds, making it one of the quickest juicers we've used.
We put the Bagotte DB-001 to the test by juicing five large oranges, the juice container filled quickly, and we had to empty it halfway through juicing. During our test, we noticed that despite having rubber feet, the juicer was not fixed in one spot and moved around on the counter quite a bit. When the orange juice came out, it was frothy, but with a smooth texture and just a tiny amount of very fine powdery pulp. The juice yield was above 60%; although this is less than you'd get with more expensive juicers, it is still within the acceptable range.
When we tested with kale, the result was somewhat ineffective, with lots of whole unjuiced pieces left in the pulp container. There's a lot of waste with a juice yield of just 16%. The kale juice made was fairly smooth with a slightly powdery texture.
Juicing carrots is the forte for this machine; with a juice yield of 55%, it performs much better than many centrifugal and slow juicers. The final result had only a tiny amount of foam on top of the juice and a slightly gritty texture but a good, sweet flavor.
We ran a test with a mixed juice made of apple, pear, celery, parsley, broccoli, and ginger. Frustratingly, we had to stop making juice to empty the juice container. Nevertheless, this machine handled all of the ingredients well, except for parsley which left lots of unjuiced pieces in the pulp container at the end of juicing. Result? The juice was quite bubbly with a slightly gritty texture, and the juice yield was a respectable 68%.
During tests, this juicer registered a maximum of 84db on the decibel meter. While this is as loud as a diesel truck traveling at 40 mph, it is still not the loudest juicer we've ever tested. And because the noise level is only experienced for a minute at a time, this is acceptable. This Bagotte is simple to disassemble and clean, and if you're cleaning it by hand, the manufacturer has included a brush that is useful for cleaning the mesh strainer.
Pros:
Compact size

Easy to use

Very affordable
Cons:
Small juice jug

It can only be used for one minute at a time

Some movement when juicing
Top 10 juicers
Fruits and vegetables pack more fiber and are whole compared to juices; still, many people find juicing to be a simple and delicious way to boost their intake of essential vitamins, minerals, and antioxidants. The task is simplified further when you realize that you can purchase a juicer and make your juice from the comfort of home.
If you're considering a juicer, the key factors to consider include price, style, size, and how you plan to use it. This will enable you to make a balanced final selection.
Let us walk you through some of the best juicers and the factors you should consider before buying.
Kuvings B6000P Whole Slow Juicer: Best for Beginners
The Kuvings Whole Slow masticating juicer will juice various fruits and vegetables like a hot knife goes through butter. Be it celery, leafy greens, or wheatgrass.
This machine is powered by a quiet 250-watt motor and a single drill, all wrapped in a stylish, low-profile design that won't take up too much counter space.
Even though at 60-RPM it's a slow juicer, it's outfitted with several time-saving features, making it an excellent choice for those just starting out in juicing.
The feed chute, for instance, is a generous 3 inches (7.5 cm) wide, making it able to handle sizeable chunks of fruit and saving you the time you would have spent prepping your produce before throwing it into the juicer.
This Kuvings is made with just a few parts to disassemble. An added bonus is the rounded cleaning brush that makes cleanup quick and easy and a separate attachment for making sorbet and smoothies.
This model is not the cheapest tool in the shed, but the manufacturer gives you a soft landing with a 10-year warranty.
Some online reviewers have experienced challenges with the pulp filter and other parts clogging, which may be something you want to cross check.
Pros:
You get a wide feed chute to minimize prep time

Comes with additional attachments and a rounded cleaning brush.

You will love the 10-year manufacturer warranty
Cons:
More expensive than the competition

You may have to endure clogging of other parts as well as challenges with the pulp filter, according to some reports
Hamilton Beach Big Mouth Pro Juice Extractor: Best Budget-Friendly
The Hamilton Beach Big Mouth Pro is a centrifugal juicer oozing quality and cost-effectiveness and that can juice various fruits and vegetables.
It's fitteded with a high-powered motor and the extra-wide feed chute will help you to minimize prep time with less cutting and chopping.
The manufacturer had ease of use in mind when making this appliance. You will notice that it is easy to assemble, and all removable parts are dishwasher-safe for faster cleanup.
It may produce some foam, this is according to some users, though you have the option of quickly stirring the foam into the juice or scooping it up and discarding it before drinking.
Other reviewers have noticed that it sure can pump out the decibels making it quite loud and it rattles when in use because it is lightweight, meaning that you need to hold it steady. However, it scores highly in user-friendliness and budget-friendliness on the market, making it a good choice for beginners looking to try juicing without making a significant investment.
Pros:
It is affordable

It comes with a 3-year limited warranty

It has an extra wide chute

It is user friendly, easy to assemble and dishwasher safe.
Cons:
It could be noisier than the competition

It is lightweight and therefore unsteady

Juice may come out foamy.
Frequently Asked Questions:
Q: Can the Bagotte DB-001 extract carrot, celery, oranges and bananas?
This unit is suitable for most fruits and vegetables. Include on this list oranges, carrots, ginger and celery. However, it is not suitable for sticky bananas.
Q: Is the DB-001 easy to clean?
This juicer is made of a compact structure, the design emphasizes simple installation and disassembly therefore making it easy to clean. 
Q: Can I put a whole fruit in the Bagotte DB-001?
This appliance comes with a feed chute of 65mm. For best results it is recommended that you chop your fruits.
Conclusion:
In summary, the Bagotte DB-001 juicer is an affordable centrifugal juicer available in the market. This appliance is super compact, making it a great solution both for people on a budget as well as those with limited space. It scores highly in simplicity of use and extracts juice yields that are better than some other more expensive models available on shelves. Take note that it can only be used for short bursts of juicing and comes with a small juice container so it's most suited to making a single glass of juice at a time.
ESTIMATED TIME DESIGNING AND UPLOADING THIS ARTICLE
ESTIMATED TIME RESEARCHING AND WRITING THIS ARTICLE