Starting With Dishwasher Installation 
Before I was able to pull off the daunting task of installing my dishwasher by myself, I'd always considered it a herculean task. But indeed, it is possible to carry out some dishwasher installation all by yourself. Hence, if you are wondering, like I once did- Can I install a dishwasher in my apartment?, then you have come to the section of this article where you will learn to effectively install an article without the intervention of a professional. 
Before you learn how to install a new dishwasher. You should have some knowledge on the replacement of your old dishwasher. Essentially, you can learn how to hook up a dishwasher when it's time to replace the old one in your kitchen and you may be glad to know that the project does not require some advanced plumbing skill or some degree in engineering. Installing a dishwasher successfully does require the proper know-how and equipment, including a dishwasher installation kit that has a 90-degree fitting and water supply line. This guide outlines how to install a dishwasher.
Note strongly that it is pertinent to always go through  your dishwasher manual, to understand and execute tailor-made instructions for your dishwasher, as you are aware that they are made of varying features. Regardless of some minor differences in features build, there are some major similarities which the general instructions provided below will help facilitate. 
Step 1: Disconnect from power source 
This is pretty much the first thing to do when you are dealing with any electrical appliance. Always have it at the back of your mind that safety is first- It is key and primary. You can cut your appliances off from the power source by flipping the switch when it is plugged, cutting out the circuit breaker and/or unplugging the appliance itself. You see, that is quite convenient to do, and you really do not need a textbook manual to get that one right.
Step 2: Turn off Water Supply
Your dishwasher water supply system keeps running and supplying water into the dishwasher for running, so far it stays connected. Before unhooking your dishwasher, you need to disconnect it from the water source, if you don't want to make a mess of your kitchen. To disconnect from the water source, you can turn off the water supply at the shut-off valve under the sink. 
Step 3: Use a screwdriver to remove the front access panel near the floor.
Step 4: Disconnect the old wiring connections located in the terminal box.
Step 5: Disconnect the old water supply line from the dishwasher using an adjustable wrench.
Step 6: Place a shallow bowl underneath the connection to collect any water that leaks after you remove the nut and thereafter, disconnect the drain hose from the dishwasher.
Step 7: Remove the screws from the brackets that anchor the dishwasher to the bottom of the countertop and to adjacent cabinets.
Step 8: Place a drop cloth or piece of cardboard on the floor in front of the appliance to avoid marring the floor.
Step 9: Pull the old dishwasher out and move it from the area.
Step 10: Tape the existing electrical cable to the floor so that it is not disturbed when the new dishwasher is moved into place.
On To The New Dishwasher
Unpackage the new dishwasher near the installation location. Keep any cardboard – or use another drop cloth – to protect your floor during the installation project. Thereafter, tip the new unit onto its back to have easier access to the plumbing and electrical connections and remove the front access panel. Lastly, attach the 90-degree elbow fitting from the installation kit onto the dishwasher water valve, following the manufacturer's instructions.
With a new dishwasher, you get a new kit container which contains nearly everything you need for proper installation. The installation kit of your new dishwasher contains a new water supply valve. To install the new water supply valve, disconnect the old supply line from the shut-off valve. Lead the new supply line through the hole between the sink cabinet and the dishwasher installation location. Temporarily secure the new water line of your dishwasher to the floor with tape or anything that'll efficiently serve the same functions, to prevent movement when the new dishwasher is pushed into place and finally connect the new water supply line to the shut-off valve.
The next part of the new dishwasher, for installation is the drain hose. You will find other new parts in the new kit, so will you discover the drain hose. To fix it, disconnect the drain hose from the  sink tail pipe or garbage disposal unit and thereafter, route the new drain hose through the hole between the sink cabinet and the dishwasher. Just like you did with the supply valve, temporarily fasten the new drain hose to the floor and attach the new drain hose to the sink tail pipe. 
Connect Water, Drain and Electric Lines
It is necessary to facilitate the constant flow of water into the dishwasher. Without water, washing is completely impossible just like the machine will not run without electricity. Drain lines and drain pipes are also useful for collecting dirty water from the dishwasher. To connect these lines, position the dishwasher upright and slide into its space. Thereafter, get on the floor to connect your lines to the dishwasher.
Connect the water supply line to the 90-degree fitting, using pliers to ensure a tight fit. It is necessary to  ensure a tight fit here, otherwise, water may drip from  this spot. Thereafter, proceed to turn on the water supply and inspect for leaks and tighten connections. Proceed to connect the drain hose immediately after but make sure this is done according to manufacturer's instructions, as it is the only way to guarantee that it is done right. Lastly, complete the electrical connections using wire nuts and following the installation guide.
With the water supply, drain and power lines are attached, turn on the electricity at the circuit breaker and check the dishwasher's operation before securing it into place. Make sure that the front of the unit is flush with the cabinet fronts and Use a level to ensure that the appliance is level and plumb so that it drains properly. Further adjust the level of the legs of the dishwasher and tighten the locknuts. After getting the locks on, confirm your dishwasher's placement and make necessary adjustments. Finally, use the included brackets to secure the unit, the countertop and the cabinets, then replace the front access panel.
Best Appliances For Your Rental Property 
It is important to have a discourse on the best appliances for a rental property because these attachments, so to speak, go a very long way to determine the value of the property to be rented and the quality of tenants attracted, hence commanding higher rents. To put this into perspective, improving your property's condition by buying a $900 dishwasher may allow you to increase your rent by at least 10%. This will become possible because the value of the property in question would have increased. 
However, you need to realise that while investing in your property adds a lot of value to your rental property and increases your rent, that investment does not come cheap. New appliances can cost between $350 and $8,000, with refrigerators on the higher end of that range. So before you upgrade your appliances, know which ones are the best for your rental property.
Things to Consider For a Dishwasher Rental Property
Just like most home appliances, installing a dishwasher helps you add significant value to your rental property. It is just a vital amenity that prospective tenants would love to have. Hence, if you are a landlord and you are presently looking to make renovations to your rental property, it is the right time to install your built-in dishwashers, if need be. This further begs the question of which  dishwasher is right for rental but to ascertain this, you need to consider the following factors;
Capacity:

In a small kitchen or studio, a compact dishwasher should suffice. But if there's space or multiple tenants, a standard-size dishwasher is best.
Energy:

Look for a dishwasher that has an Energy Star symbol. If you include electricity in the rent, you'll save money. If not, your tenants will.
Garbage disposal:

Some dishwashers have self-cleaning filters for removing food residue during the cleaning cycle, but others require manual cleaning. Either way, this is important to know for long-term maintenance of the dishwasher.
The Best Dishwasher For A Rental Property
Having a dishwasher in a rental property is both beneficial to the landlord and tenants; for a tenant, using a dishwasher helps save a lot of time and cost of hand-washing. While for a Landlord, the appliance adds to the value of your property; as already discussed. It's important to invest in a quality dishwasher that can sustain continuous use without malfunction. In this article, we'll discuss dishwasher options for a rental property.
The options are suitable for all kitchen sizes since they're portable. For a tenant, you can easily move out with your appliance once your stay has lapsed.
This Farberware  is a portable Countertop dishwasher with 6 place settings and silverware basket. It measures approximately 22.8 inches in height, 25.6 inches in Width and 22.8 inches in depth. It has a six-place setting capacity that allows you to wash a variety of large dishes up to 10 inches in diameter with an adjustable bottom rack shelf and a cutlery basket.
The installation of this dishwasher is quite easy and if the procedures provided above are followed, this installation is even easier. It has a quick connect assembly with accessories and adapters included to easily connect directly to your faucet. More importantly, when it comes to having several washing options, this dishwasher has you covered- It has programs like; Normal, baby care, light, glass, Speed 45 min, self clean. Hence, it is guaranteed that you will get a full size dishwasher cleaning in a countertop sized compact unit that offers seven wash programs, when you make this dishwasher your choice.
With this compact countertop dishwasher, you get to enjoy a quick dry because it has an extra-dry feature that adds extra heat to the final rinse, to enhance drying results but it can only be used with the following programs – heavy, Normal, light, glass, baby care. Just like it dries dishes quickly, it also cleans pretty quickly,  if you need dishes cleaned quickly, The speed cycle lets you get items clean in only 45 minutes. The self cleaning program provides an effective cleaning of the dishwasher itself because it is advisable that you clean your dishwasher often enough 
It is important to take some safety precautions when using a dishwasher. For example, there are things that should never be washed in your dishwasher. All safety precautions including that may not be observed by children, hence, it features an option that allows you to lock the buttons on the control panel so children cannot accidentally start the dishwasher.
If meal-making is not a problem, then dishwashing should ever be hassle-free. Whether replacing a machine that no longer works effectively or building your kitchen from the ground up,  smart homeowners know to go for none other than the Bosch SHEM63W55N Dishwasher. Some of the reasons why this is a great choice are that this dishwasher is equipped with recent technologies like the Precision wash, the sensor cycles, and the Aqua Stop, which is basically for leak protection. The machine itself uses smart sensors and multiple spray arms to target stuck-on food and debris. Instead of a simple hot water bath, your glassware, plates, and utensils are individually targeted—leaving all of your equipment squeaky clean every time. Use the third rack to clean any extra serving spoons and flatware that won't fit below. Also, this dishwasher will serve you a long time as long as you use the best dishwasher detergents and take other precautions; it is built to be for durability 
This dishwasher's effective volume cancellation technology is coupled with this power cleaning function. Hence, instead of the clatter of the pan against pans or a high-noise water jet system, the Bosch SHEM63W55N dishwasher puts out a quiet hum at just 44 dBA, the noise level equivalent to light rain or a quiet library.   With this technology, you need not be apprehensive about holding a quiet conversation right in your kitchen while your dishwasher runs. As a plus, it is also easy to clean; all you need do is find out how to clean a Bosch dishwasher
Another interesting feature of this dishwasher is the AquaStop leak protection feature that ensures any potential spill is taken care of and stopped before it even begins. This technology kicks in by automatically shutting down immediately after any leak is noticed. It does not stop here; it goes on to pull water residue already deposited in the system.
This dishwasher is also built with a third rack to meet your loading needs. You can save time by doing all your sets at once. The third rack of this dishwasher affords at least 30% extra space in the leading area. This third rack has ample space for flatware, large utensils, and measuring cups.
This compact dishwasher from Black and Decker measures approximately 21.7 x 21.5 x 17.2 inches in Length, Width and Height, respectively. It also weighs 46.2 pounds. It also has 6 place settings.Its size makes it perfect for a variety of storage options when not in use. You can place the portable dishwasher on a shelf, cupboard, pantry, or countertop. This dishwasher is one of the electric appliances that emerged in the post war era 
It has a sleek design with components made from stainless steel material. A handle is in place to aid in gripping when loading and unloading the dishwasher. The BCD6W dishwasher has a stellar capacity with six place settings for your utensils.  The appliance securely accommodates bowls, plates, cups, wine glasses, mugs, and cutlery.
FAQs
What Appliances Often Come with a Rental Property?
The most common appliances you're likely to find in a rental property include a dishwasher, stove, and refrigerator. The reason is because all three appliances can be permanently installed in your kitchen space. Hence, depending on a tenants preferred home appliance type, it is advisable to have it fixed when home construction and renovation is being done.
Should I put a dishwasher in my rental property?
Depending on its brand, a dishwasher can increase the cost of rent. So, it's possible the landlord would spread that cost out over several years. "All in all, landlords who invest in a better quality dishwasher will find that the system breaks down less, which means fewer complaints from tenants," she says.
ESTIMATED TIME DESIGNING AND UPLOADING THIS ARTICLE
ESTIMATED TIME RESEARCHING AND WRITING THIS ARTICLE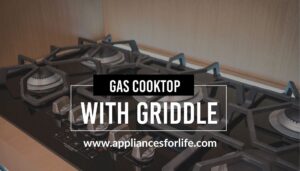 Gas Cooktop With Griddle To Make Delicious Meals
A gas cooktop with a griddle can be utilized to make breakfast, lunch, or dinner. This flexibility means that purchasing a new gas cooktop with griddle could significantly increase your meal options on a daily basis. Of course, there are many things to consider before
Read More »