Introduction
Whether you are a wine connoisseur who can separate the wheat from the chaff with regards to the best of wine brands or know nothing beyond the pleasant feeling that comes with relishing wine, one thing is certain: the importance of a wine cooler cannot be understated. Failing to store wine in a cooler can adversely affect the flavor of your wine: it can make it more zesty, austere and tart than it should be. No one wants that to be the experience their guests will be leaving with after a night of fun and laughter that was only ruined by failure to serve cooled wine. For the reasons stated above, we've deemed it necessary to compile a list of the best thermoelectric wine coolers for your home. Before we get to that though, let's address a few basics. 
The Basics of Storing Wine
For the average wine consumer, it isn't prudent to store wine for more than a year in anything less than a top of the range cellar. While the best thermoelectric wine coolers may do a decent job on the same, cellars are sufficient and are built to specifically aid in wine maturity. Here are a few basics you need to adhere to when storing wine. 
1. First things first: cool and level
Maintaining temperatures of not more than 65° F and not less than 45° F will keep your wine as fresh as it's intended to be. Tolerances of a few units won't do your wine much harm, so don't stress when you see your cooler get warmer or cooler than the aforementioned temperatures. 
Secondly, maintain level temperatures throughout the storage period to prevent seepage from the bottle that's as a result of expansion and contraction of the wine. Sporadic fluctuations in temperature may also affect the flavor of the wine in the long run. 
2. Natural and Artificial Light
We often see the phrase, "Store in a cool dark place" and assume it. When it comes to storing wine, don't. It is crucial to find a dark area for your wine cooler especially if it doesn't have a UV glass panel for its door. The best thermoelectric wine coolers have this feature. True, light makes wine mature, only, it often yields undesirable off flavors. Same thing happens when wine is exposed to fluorescent lights especially in the case of white wine. Although red wine is normally protected with the dark glass, it can affect quality. 
3. Positioning
Unknown to many, wine glasses are stored horizontally- on their sides- for the sole reason of preventing the cork from desiccating. Dry corks contract, crack and allow entry of air into the bottle. Air equates to oxygen. Oxygen alters the drink's flavor through oxidation. 
4. Exclusivity
Store your wine exclusively: away form perishables. If you have to, the rule of thumb is to avoid food or drinks with strong aroma which may seep in through the cork and affect the wine. 
5. Humidity
Optimal humidity levels for wine storage is between 55 and 75 percent; for the same reason of having a dry cork which causes shrinkage which is an entry point for oxygen that will oxidize your drink. Too much humidity provides an ideal environment for mold growth on the cork. You don't have to be a novice in rocket science to increase the levels of humidity in your storage area. Simply place a bowl of water therein.
6. Timelines
To master the appropriate storage period, it takes for wine from different brands to mature is, as is expected, not a breeze. You need to work at it and may have a couple of misjudgments to fully understand the workings of wine maturity. A general criterion would be to store white wine for a maximum of 3 years and red within a period of 2 to 10 years. If in doubt, seek professional help from wine connoisseurs. You'll be shocked that some can take up to 20 years to mature. Most moderately priced bottles of wine won't mature over time. 
If you cannot afford building a wine cellar or purchasing a wine cooler, fret not. Store your wine in a cool dark place. A closet in your basement would do. Be sure to keep all the parameters mentioned above in check. 
Importance of having a wine cooler
The best thermoelectric wine coolers are an inexpensive alternative to refrigerators which besides being pricier, may not necessarily offer an optimal environment for your favorite bottle. Cellars are ideal for people who are keen on storing wine over long periods of time. Normal refrigerators are at times too cold for wine. The best thermoelectric wine coolers offer ideal temperature and humidity levels for storage of wine. 
They also take up small space and have lower maintenance costs than standard refrigerators and cellars. Some are no larger than your average coffee table offering you much needed portability. You can easily place them in your car boot when packing for a family outing. Others fit perfectly in your kitchen cabinets- although they need to be well ventilated- there by offering flexibility that wouldn't be achieved by cellars and standard refrigerators. Better still, when using thermoelectric wine coolers as opposed to compressor-based wine coolers, you are taking a step towards environmental sustainability. I'll delve deeper into that as we proceed. 
Thermoelectric Wine Cooler vs Compressor Coolers
A common question many shoppers ask is whether they should purchase a thermoelectric wine cooler or the compressor variant. Technically, none is better than the other. Of great importance though, is that you understand the advantages and drawbacks either has. This is the only sure way to help you make an informed choice before making your purchase. 
Thermoelectric wine coolers:
Thermoelectric wine coolers work by transferring heat- produced by an electric charge and controlled by a cooling device- from one point to another. It is a simultaneous system that works by transferring heat from the hot side to the cold one of the device. Since there are no mechanical parts, you can barely hear any sound emanating from thermoelectric wine coolers when in operation. That it employs heat transfer means it utilizes less power and is therefore energy efficient. It's the reason thermoelectric wine coolers are recommended: they are environmentally friendly. 
Compressor wine coolers:
Ever walked into your kitchen and wondered where the subtle vibrations are coming from? Your refrigerator is suspect. Luckily, this shouldn't worry you if you decide to use a thermoelectric cooler. Periodic vibrations are a common phenomenon of compressor coolers which operate similarly to standard refrigerators; a refrigerant is used to cool the wine. Compressor wine coolers are loud when operational but this drawback is compensated by a greater cooling effect and higher storage capacities.
How Do These 2 Manage the Heat?
That compressor wine coolers adapt to shifts in environmental temperatures and handle greater heat loads, is a bonus that would make anyone settle for them over thermoelectric wine coolers which aren't the best fit for such environments. The latter handle only small capacities and have higher operational costs: they have to be on at all times. Compressor wine coolers don't. That said, maintaining an ambient temperature range of 50° to 80°F, leaving at least a 5" clearance on all sides of the thermoelectric cooler and placing it on a level surface are great solutions that optimize the use of your thermoelectric cooler. 
Which One to Go With? Confused? Let's Make it Simple:
I'd bet you still might have some trouble choosing what you should settle for between the two. Simple. Think longevity of storage, number of bottles you'll store and space. Thermoelectric coolers will serve you well when you only need to store a few bottles while their counterparts, compressor wine coolers fit a larger collection for a longer period of time. Secondly, the best thermoelectric wine coolers take up less space and are normally stand-alone while compressor coolers are normally built-in and take up more space. These three parameters are sufficient enough to help you make the right decision. 
Zeroing in on the Specifics
Wine coolers in general fall into two categories: single and dual zone cooling. Single zone cooling has only one cooling compartment and one temperature control unit. Such are perfect for rookies and those who want to store one of either white or red wine. Dual zone cooling, as you've probably figured by now, has two cooling compartments. You'll have to part with a few more dollar bills for the latter though. 
The other general categories have been mentioned in passing but are a no-brainer: built-in, countertop and stand -alone wine coolers. 
Factors to consider when buying a Thermoelectric Wine Cooler
Besides the obvious consideration of a single or dual cooling zone and built-in, stand-alone or counter-top wine coolers, other important factors to consider include: 
Storage Capacity-

Much as you may think you'll only store a couple of bottles, you'll find it hard to resist the temptation of adding more. Think of this before purchasing one. We recommend going for limited storage only if you are new to wine storage and are experimenting your way to understanding how it works. 

Shelf size-

Different wine bottles have different sizes. Some have longer necks than others. Insignificant as it may seem, you'll be totally disappointed when you buy a bottle for storage only for it not to fit. Save yourself the trouble. 

Adjustable stands-

Wine coolers which aren't parallel to the floor often experience higher levels of vibration which isn't good for the wine. 

Additional features-

Features such as built-in locks to keep the bottles safe from children are important. The color of lighting is also of huge importance to different customers. 
The Best Thermoelectric Wine Coolers
Now that we are done with the headaches of the basics of wine storage, the importance of having a wine cooler and the differences, operational or otherwise, in thermoelectric and compressor coolers, read through the comprehensive list of the best thermoelastic wine coolers in the market.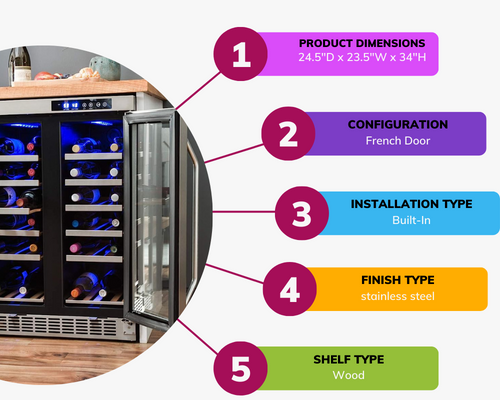 This is arguably one of the best thermoelectric coolers out there. It's the most recommended option for those willing to go all out on wine storage but still want the convenience and flexibility of a decently sized cooler. This cooler packs a lot of features that seem pretty obvious but aren't incorporated in most of even the best thermoelectric wine coolers.
Not yet convinced? You'll be once you realize that it's "smart".  It has a temperature memory function that adjusts to ideal temperature after the lights turn back on after a power outage. How cool? A tempered glass that protects your wine from UV rays just adds to the awesomeness of this cooler. It's stainless steel finish on every part of its enclave bar on the front, which is silver, makes it a perfect fit for most spaces. 
FEATURES
Soft LED interior lightning
Stainless steel trim French doors
Matching slide-out stainless steel shelves
Tinted glass door
Digital temperature display
Intuitive touch controls
Shelf bottle arrangement
Auto defrost
Security lock on each door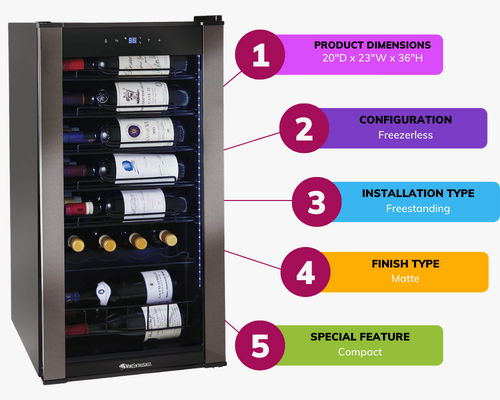 For most people, always having a well-refrigerated set of wines at home is more like a hobby while for some, it is more like a way of life; a reflection of who they are and how they live. For this reason, getting a top notch wine cooler that will give them the kind of groove they need to kick on has now become a necessity. To bring this dream to life, Wine Enthusiast has made a wine cooler that can take up to 28 bottles of wine. It features a compact interlocking racking system that can hold up to 28 Bordeaux-sized standard bottles. It won't even be a problem if you want your wine cooler to perfectly match with the decoration of your home as it features a black glass exterior door which is complimented by a black trim and a really cool LED lightning.
Wine Enthusiast VinoView has a black finish that compliments most spaces and a different option with curved doors. I like to think that the curved door was designed as such just so that it can spice things up. And they succeeded at it. You are more likely to hear a pin drop than this cooler produce any sound when operational.
FEATURES
Double-panel glass door with UV protection
Adjustable thermostat
Quick and effective cooling
VinoView shelving design
LED display lightning
Black stainless steel trim
Black cabinet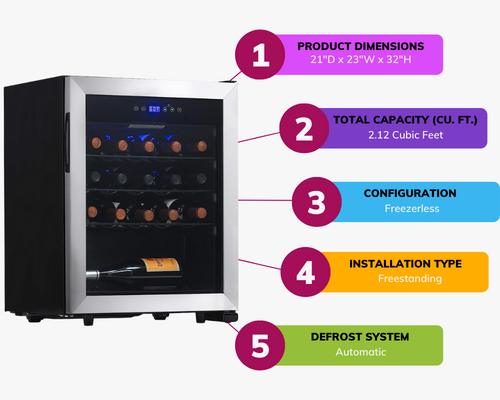 It easily is one of the best thermoelectric wine coolers for a number of reasons. With a 23-bottle storage capacity, it gives you more storage than most average consumers would wish for and is narrow enough to fit in tight spaces. A digital display for easy observation of the temperatures which can be set between 36 to 56 degrees Fahrenheit and a blue LED lighting offers adequate illumination for the bottles placed on slide-out shelves that are sturdy enough when you pull it out and add to it.
It has a black finish with silver-colored door handles that easily blend in with the rest of the enclosure. Setting it up isn't as difficult as it seems. You'll only need to screw-in your door handles, plug-in the power cable and you're good to go. The former requires little to no skill.
FEATURES
Single temperature zone
Front-venting design
Triple-pane glass
Fan-cooled compressor
Smooth wine racks
Precision temperature control
Safety features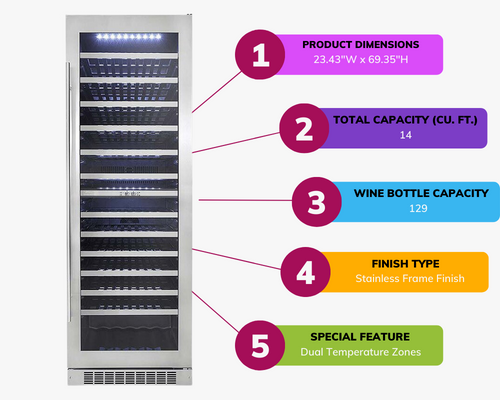 It's hard not to include the 129-bottle Danby in the list of best thermoelectric wine coolers. Its design resembles that of your standard refrigerator. Only long enough to accommodate 129 bottles, as its name suggests. Its glossy finish coupled with its sleek design makes it seamlessly blend in with most color schemes and fit perfectly in narrow spaces. 
One reason it ranks low on the list of the best thermoelectric wine coolers is because of its different cooling zones feature. It has polished wine racks that keep your bottles perfectly positioned and radiate seamlessly with the light. It doesn't produce any sound when operating. Isn't it one of the reasons we are purchasing a thermoelectric cooler as opposed to compressor coolers in the first place?
FEATURES
Maximum space installation
Staggered shelf
Additional storage space
Ideal storage temperature
Full size countertop wine cooler
Adjustable racks
Digital controls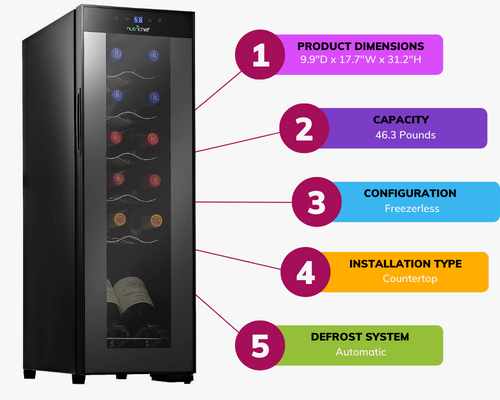 This is a great choice for wine lovers who are for a wine cooler for their kitchen countertops. Since it only holds 12 bottles, it would be a big ask to ask for two separate compartments: it sports a single cooling zone. That, however, doesn't take anything away from its performance: it takes an equal amount of time- one hour- to cool. It's simple in design and functionality with the ability to switch between Fahrenheit and Celsius. Its light weight makes it portable enough for travel or for those who constantly change their kitchen arrangement. You'd easily confuse it for your microwave. 
It's not uncommon to draw out one bottle only to place it back because it wasn't the one you had in mind. The white light that radiates from the roof of its enclosure is an ingenious way to solve this problem and helps you specifically pick out which bottle you want.
FEATURES
Ventilation grill
Built-in circulation fan
Child safety auto-lock feature
Adjustable temperature
Compact design
Quiet operations
Strong and smooth wine racks
FAQs – Thermoelectric Wine Cooler
Why are thermoelectric wine coolers good?
These wine coolers are highly regarded in the market for their efficiency and extreme quiet operations. They give your wines the protection they need to retain both their nutrients and tastes so these wine coolers are highly recommended.
Do wine coolers consume a lot of energy?
The answer would be 'no'. Thermoelectric wine coolers are one of the most efficient household appliances, thereby, consuming less energy.
How long do thermoelectric coolers last?
Unlike a fridge, a thermoelectric cooler doesn't have moving parts and that's one of the reasons why it usually lasts longer than a fridge.
Signing Off
The details provided in this article are sufficient enough to help you make the right choice when purchasing a wine cooler. All wine coolers listed herein are stellar and will serve you for a couple of years and even come with warranties that may be helpful down the line.