What are wine cellar cooling units?
This question also answers why most wine cellars need cooling units. A wine cellar cooling unit is an appliance that regulates temperature and humidity levels within a wine cellar for the sole purpose of providing perfect conditions for wine storage and maturity. Yes, your wine cellar may be adequately insulated but is it susceptible to fluctuations in temperature and humidity? If so, you desperately need a wine cellar cooling unit. Considering the average cost of building a wine cellar and the amount you'll spend on your reds and whites, a wine cellar cooling unit will save you a lot of money. 
Wine Cellar Cooling Unit vs Air Conditioner
A common question among newbies to wine storage is: why should I spend that much money on buying a wine cellar cooling unit when I could just run a duct from my standard air conditioner to my cellar? Great question that, on the surface, seems very logical. 
First, standard air conditioners for your home can only reach a specific temperature on the lower side, mostly 65° F. As mentioned above, most bottles of premium wine mature well when stored at 55° F. 65° F won't be ideal for your white bottles of wine. A 5-degree variation may just be the difference between good and great taste.
Secondly, standard air conditioners operate by swiftly extracting air from a room and in the process, draws out humidity too. Wine cellar cooling units operate by slowly cooling cellars and in the process, maintain appropriate humidity levels. We've already established that wine needs favorable humidity for perfect maturity. It's therefore not prudent to substitute wine cellar coolers with standard ACs. 
Think of a wine cellar cooling unit as a stone that kills two birds. One, it cools your cellar down to the favorable temperature of 55° F. Two, it maintains the right levels of humidity. 
What's a Wine Cellar Humidifier? 
When researching appropriate wine storage conditions and cellars, you are probably going to bump into a wine cellar humidifier. Cellar humidifiers are devices used to increase humidity in residential or commercial cellars. There are relatively inexpensive ways to raise humidity levels. You could place a bowl of water in your cellar or moisten your racks. Most wine coolers maintain ideal humidity levels. It's only judicious to purchase a humidifier if you are certain about perfect temperatures but uncertain about humidity levels. Even so, a $10 humidity gauge, most of which measure both temperature and humidity, should be handy before you decide to spend a couple of dollars on a humidifier. 
Types of wine cellar coolers
There are three types of wine cellar coolers: 
Self -contained through-the-wall Wine Cellar Cooling Units
These wine cooling units host a compressor and an evaporator in one enclosure. They function similarly to window air conditioners. (Note that only their operation, and not the desired result, is synonymous to window air conditioners.) It supplies cold air into the cellar and extracts hot air to an adjoining room. The adjacent room has to be well-ventilated and rarely used because that end of the cooling unit produces noise. The importance of ventilation and air flow is so that the cooling unit doesn't have to maintain a higher temperature difference than it was designed to attain. For example, if a cellar is kept at a temperature of 55° F and the cooling unit designed for a 40-degree differential, your ventilation room cannot get over 95° F. `
These are the cheapest cellar cooling units and should be bought by those who are operating on a low budget.  Be sure to check the installation manuals since most through-the-wall cooling systems have specific installation requirements on wall placement location requirements and structural integrity of the wall. The latter ensures that the wall doesn't buckle under the weight of the cooling unit. These cooling units are usually sealed by the manufacturer hence can be difficult to service and maintain. 
Split Wine Cellar Cooling unit
As their name implies, they contain two separate components: a compressor that also houses the condensing fan and coil and an evaporator. The two are connected by a refrigeration line (normally made of copper) and an electrical one.  The condensing fan can be placed outdoors or in an attic while the evaporator coil enclosure is installed in the wine cellar. Ensure that the condensing fan is housed in a protective enclosure when placed outdoors to protect it from the elements. 
This unit is quiet when in operation and offers you great installation flexibility. It also has a ductless variant. Both ducted and ductless units of the split wine cellar cooling unit will serve you for many years without any need for servicing and maintenance but are quite expensive. 
Ducted Cooling Unit
Ducted cooling units are great because they offer you greater installation location flexibility because they can be ducted as far as 50 feet away from the cellar in an attic or mechanical room. Here's how they work: both the compressor and evaporating units are housed within the same enclosure but have a venting duct that runs from the cellar to the enclosure and returns ducts for air circulation through the system. Some include a humidifier.
Factors to Consider When Shopping for A Wine Cooling Unit
The following factors are to be considered when shopping around for a wine cooler. 
The cooling capacity of a wine cellar cooling unit is arguably the most crucial factor. A cooling unit that will meet your cellar size requirement should be chosen based on the size of the room in cubic feet, type of insulation used in the cellar, length of ducting and the installation location. All cooling units come with information on the appropriate size in cubic feet the cooler can efficiently cool the cellar. 
You could use thermal load as a way to select a unit size. Thermal load is the amount of energy needed to cool an area in an hour to the desired temperature. Most wine cooling unit manufacturers offer to calculate your thermal load for free. A common unit of measurement is BTUH which defines a cooling unit's performance. 
A "large" cooling unit servicing a small cellar may cool the cellar swiftly and lower humidity levels. A "small" one doesn't offer sufficient cooling power and will be worked up as it struggles to keep constant room temperature. The result is fluctuations in cellar temperatures. 
You don't want a wine cellar cooling unit that will inflate your budget, but you also don't want one that won't meet your requirements. You have to strike a balance between the two. The price includes service and maintenance costs, shipping costs and the cost of hiring a licensed HVAC technician to install it if you aren't technically gifted to go about it. 
This is part of operational costs. You need to know whether running your cooling unit will increase your power bill and to what extent. Purchase those that have Energy Star rating: you are certain of lower electricity costs and less impact on the environment. 
Thanks to the internet, you can now easily DIY an installation. However, if in doubt, do yourself a favor and hire a licensed HVAC technician mainly when installing a self-contained cooling unit. A HVAC technician, heating ventilation and air conditioning, is one whose work is to install, maintain and repair refrigeration and air con appliances. These are the guys you should hire when unsure about your technical installation skills.  
Loud cooling units should be installed in unused rooms or an attic. Ducted and split wine cooling units produce low levels of noise and are an excellent fit for those looking for wine cellar cooling units with low decibel ratings. 
This applies mostly to through the wall cooling units. As mentioned above, the temperature differential shouldn't exceed the intended design range. The cooling unit needs to provide an adequate counterbalance between the heat generation and absorption. 
Return Policy and Warranty
The importance of a return policy agreement cannot be overemphasized. It offers you a safety net that might save you if you aren't satisfied with what's on paper vs what the product delivers when in operation. Warranties, on the other hand, depending on its validity period, might save you money should your wine cellar cooling unit break down.
This is crucial but often ignored when making a purchase. Cellars located in areas with ideal ambient temperatures for wine storage and minimal fluctuations may not need a wine cooling unit in the first place. 
The materials used in the cellar design may not offer the right insulation needed to ensure optimal cellar conditions. Materials such as glass, stone and concrete are suspect. For this reason, consumers are advised to purchase wine cellar cooling units with slightly larger capacities. It's the only sure way of compensating for the limitations mentioned above. 
The Best Wine Cellar Cooling Units
We have spent hours researching the best wine cellar cooling units. This list will make it easier for you to choose from a wide range of wine cellar cooling units in the market currently.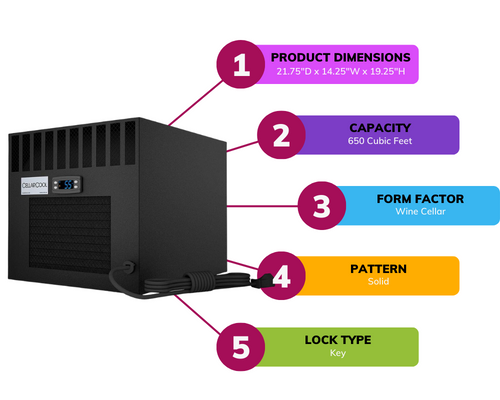 The CellarCool CX3300 ranks among the best wine cellar cooling units for many reasons: the most important ones being the plethora of features its packed with that make it ideal to maintain ideal temperature and humidity levels. Features which include: 
Features:
A backlit display that doesn't necessitate your entry into your wine cellar

Capacity up to 650 cu. ft. 

Multiple levels of vibration reduction systems that protect the sediments in your wine from disturbance. 

A warning system that alerts you when temperatures and humidity exceed the maximum limits. 

Easy installation

No-noise when in operation.
Customer Reviews
This product hasn't been reviewed yet.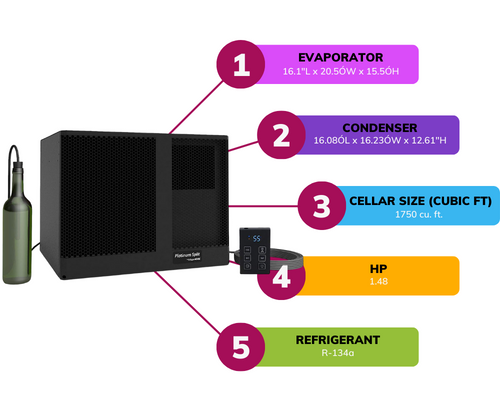 The WhisperKool Platinum Split System 8000 easily finds its way on the list of the best wine cellar cooling units for reasons that combine both design, functionality and ease of use. According to the manufacturers of this cooling unit, everything was built based on the feedback from both customers and installers. It only needs a single piece bracket for mounting which negates the need for a support shelf which at times, interferes with the overall cellar design. It also fits between normal-sized wall studs.
Features
A liquid bottle probe that measures the precise temperature of the wine and also prevents on and off cycles which affects the longevity of the system. They control your cellar's temperature based on the liquid rather than the cellar's temperature. 

State of the art digital controller that makes it easy to monitor temperature changes. It also has an alarm system that's sounded when temperatures are high. 

Dynamic airflow makes it possible to maintain consistent temperature in the cellar by improving air circulation. The cooler achieves this by mounting fans at a 45° angle. This way, air circulates upwards. 

A through the wall installation

A 1750-cu. Ft. capacity.

A coated evaporator that prevents corrosion which simply means the cooling unit will last longer.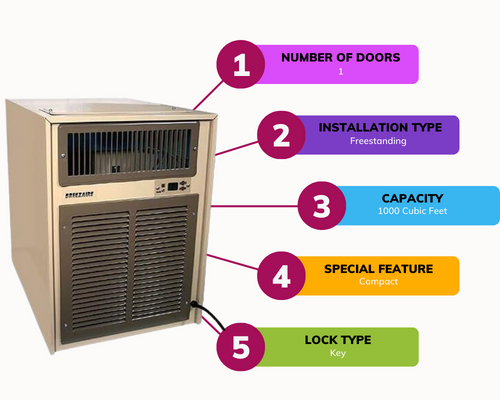 Breezaire WKL4000 Cooler Unit with Sentry III ticks all the boxes for maintaining your cellar's temperature and humidity levels which are vital for the fine ageing and maturity of wine. They are calibrated to ensure accurate temperature readings, durability and longevity. 
Features
Advanced dynamic airflow made possible by angled fans. The advantages of having the two have been mentioned above. 

Continued LED digital temperature display which shows an accurate reading coupled with an easy-to-adjust temperature set points.

An advanced digital controller. 

Through the wall installation that is so simple, it can be installed without the help of a technician

Advanced cooling system of choice for standard applications. 

A flexible mounting bracket.

1000 cu. ft. cooling capacity.
Customer Reviews
"Five Stars!", a verified customer reviewed. "We got this up and running very easily. So far, doing exactly as advertised", the reviewer concluded.
Another verified customer spoke highly of this cooling unit. "Pulled the old unit and plugged the new unit. Works great. The old unit was 15 years old with little maintenance."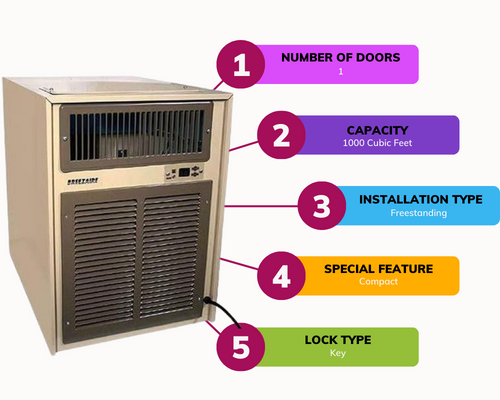 Breezaire WKCE 2200 is a self-contained cooling system that is great at what it does: maintaining 50-70% humidity and a 50-65°F temperature range made possible by a digital control unit and a condensate drain tray ideal for controlling humidity levels. The cooling unit is made to be installed in cabinets and credenzas with an advanced cooling system of choice for standard applications up to 1000 cu. ft.
Features
Reasonably noiseless when in operation. 

Alarms that are sounded when something isn't right.

1000 cu. ft. storage capacity. 

An optimized flow of air for ideal temperatures. 

Simple installation.

Dual air exhaustion options: top or rear.

A continuous LED display that reveals accurate reading

Breezaire's exclusive Sentry III control system that helps provide power outage and also blocks air flow protection.
Like most wine cellar cooling units, it has alternatives with greater cooling capacities that are obviously more expensive. 
Customer Reviews
"I purchased one of these around 8-9 years ago (old WVK 3000) and I have not had one problem in all that time. No digital readout, just a screw to turn! Set it and forget it! W/an exhaust room, it keeps the small cellar at a constant 58. Will definitely purchase one if this one gives up on me. Much better value than other units of the same size."
FREQUENTLY ASKED QUESTIONS
Is any of these cooling units a split system?
Absolutely, yes. The WhisperKOOL Platinum Split System 8000 Wine Cellar Cooling Unit featured on this list is a split system wine cellar cooling unit and it is absolutely regarded as one of the best money can get.
Without doubts, a cooling system is almost completely useless if the temperature falls below the control set point. The best cooling systems always have an integral heater coil and work off the same thermostat.
Conclusion
While customer reviews are a great way to source for real user information, you are likely to get some that are severely critical and negatively so, you need to understand that not all customers adhere to the rules of wine storage. Even the best of wine cellar cooling units might be on the receiving end of scathing attacks if not accompanied by proper wine storage practices. The list of wine coolers that have been listed herein are the best wine cellar cooling units in the market. Hope this list will make light of your load of choosing one.