Portable Air conditioners are appliances that are essential and must-haves. With this review, you will be provided with all the details you need to know about the cooling system and to enable you to make the best decision.
It is quite difficult to select the best portable air conditioners because of the various factors involved. You might prefer stationary products, or want to be able to move the air conditioner around the rooms; in the case of the latter, a portable air conditioner is an ideal choice to consider, but due to their efficiency, it is important to know what you are in for if you purchase one.
That is the reason why we created this review, to assist you in making an informed decision when shopping for the air conditioners that suit your needs and interests.
Air Conditioners?
Air conditioners as most of you know are machines that help to maintain the temperature of a building by keeping it cool or dry. Air conditioning systems ensure the reduction of heat and humidity and help us to perform and complete work tasks effectively. The low temperatures created by air conditioners go a long way in reducing dehydration as well as lessening excessive sweating. If you live in very hot climates, you will agree with us that a day without an A.C. will be a much harder one.
How Many Types are There?
It is quite difficult and could be stressful selecting a new air conditioning system for your workplace or home. Due to the numerous varieties of units available in the marketplace, it might be overwhelming. The good thing about competition and the availability of so many manufacturers is a lot of good products in the market but based on this, you might not have enough time to peruse through all the models available,  and to ensure you make the right decision, make sure you read these factors and our review of the best portable air conditioners for you.
As an Amazon Associate we earn from qualifying purchases. We may earn a small commission for our endorsement, recommendation, testimonial and/or link to any products or services from this website. Thank you, your qualifying purchases help support our work in bringing you real daily gift ideas.
Best Portable Air Conditioners
| Image | | | | | |
| --- | --- | --- | --- | --- | --- |
| Name | Whynter ARC-122DS Elite Dual Hose Digital Portable Air Conditioner | SereneLife SLPAC8 Portable Air Conditioner with Built-in Dehumidifier | Frigidaire FFPA1022UI Cool Connect Smart Portable Air Conditioner | NewAir AC-10100E Ultra Compact Portable Air Conditioner | Black + Decker BPACT14WT Portable Air Conditioner |
| Manufacturer | Whynter | Sound Around | Frigidaire | NewAir | Black + Decker |
| Product Dimensions | 17 x 29.5 x 16 inches | 13.8 x 27.2 x 14.68 inches | 15.19 x 18.6 x 27.8 inches | 12.1 x 15.1 x 29.8 inches | 17.1 x 13.8 x 28.1 inches |
| Cooling BTU | 12,000 | 8,000 | 10,000 | 10,000 | 14,000 |
| Wattage | 1000 Watts | 900 Watts | N/A | 909 Watts | 1450 Watts |
| Weight | 60 pounds | 46.3 pounds | 65 pounds | 60.5 pounds | 28 pounds |
| Special Feature | Three Operational Modes | Low Noise Level Motor | Ready-select Controls | Self-evaporative Technology | Quiet Operations |
| Editor's Rating | ✸✸✸✸✸ | ✸✸✸✸✸ | ✸✸✸✸✸ | ✸✸✸✸✸ | ✸✸✸✸✸ |
| | | | | | |
CENTRAL AIR CONDITIONING
Among the other cooling systems, most people prefer this system over others. It is also used for larger homes due to its high rate of cooling. The circulation of cool air is through the register and supply ducts attached to the Central air conditioner.
Warm air is first pulled from outside through the ductwork by a motorized fan, then the refrigerant does its work to cool the air and then the cooled air is pushed through the vents. However, we don't want to bore you with too much 'technical' detail so we would be moving on.
The installation of a central air conditioning system requires lots of preparation and planning as sizing is vital to the operation of the system. If you make use of a system that does not fit properly, even if it can generate energy efficiently, you will end up spending so much on utility bills.
DUCTLESS, MINI-SPLIT AIR CONDITIONER
Ductless, mini-split systems are mostly used in parts of the home that have been renovated or retrofitted. This system is similar to the central air conditioning systems due to the incorporation of an outdoor compressor/condenser and an indoor handling unit.
If your main purpose is to cool individual rooms in your house, this might be the ideal system for you. Majority of these systems are designed with at most four indoor handling units, which are all attached to the outdoor unit.
Each of these parts have their own thermostat, which allows you to adjust the room temperature accordingly. This will be of huge benefit if you are looking to cool a particular section of the house.
WINDOW AIR CONDITIONER
While deliberating on this, consider it as a compact unit used to cool only one particular room or areas. Also referred to as a "unitary unit," this system is mostly installed in windows.
Window units ensure the removal of warm air from the back and the flow of cool air into it. These categories of units are suitable for those who reside in small spaces. It would not be suitable for a larger home as you will later discover that it doesn't work at an optimum capacity in that kind of environment.
PORTABLE AIR CONDITIONER
These air conditioners are regarded as the 'next generation' of air conditioning because their mode of operation is quite high-end compared to other window units. They are known for turning the air that exists in the room into a fresh air and then circulate it round the room. Any warm air from the outside is expelled, thanks to the exhaust hose attached to the window.
It has a similar operation like the window air conditioning units as they are designed to cool smaller spaces or a single room. They are versatile, easy to install and an affordable option. Due to the portability of this system, you will enjoy your summer period by staying cool always.
HYBRID AIR CONDITIONER
Similar to hybrid cars, hybrid heat pump systems make use of fossil fuels and electricity to run and can alternate between the both of them. The system automatically chooses between the two sources of power in order to save energy and money. You won't be affected by the high increase in energy prices.
In the summer, the heat pump works in the normal way, extracting heat from your home and transmitting it outdoors. In the winter, your system works in reverse, and it is characterized by the extraction of heat from the outdoors and circulating it around your home. If you understand the concept of Second Law of Thermodynamics from high school, you will attest to the fact that heat is transferred from a hot material to a cold one. When the temperature of the refrigerant drops lower than what is obtainable outdoors, the outdoors' heat is thereby transferred from the coil of the heat pump into the refrigerant. After this, the extracted heat is transformed into conditioned, warm air for your home.
GEOTHERMAL ENERGY
Geothermal energy is durable, sustainable and energy efficient. Since the ground temp underneath us measures around 55 degrees regardless of the temperature of the atmosphere, geothermal technology has the capacity to extract the heat underneath and circulate it around your home. A geothermal coil ("wells" or "loops") is installed in the underground and can be used to cool and heat your home. In the winter, heat is exhumed from the earth; while during the summer season, it works by extracting heat from your home and distributing it back into the ground.
Other Necessary Factors to Consider
We have described the various kinds of air conditioners available in the marketplace but there are some other factors to take into consideration before making your final decision.
Single-hose AC units
It makes use of the same hose to perform both intake and exhaust operation for air. Though single hose units will still provide a cooling effect, they will have to do a lot of work to achieve this task. This implies that they are less efficient compared to the dual-hose air conditioner. The upside is that they are more affordable and provide a perfect fit for smaller rooms, such as studio apartments or a small bedroom.
Dual-hose AC units
It is designed with one exhaust hose and one intake hose. Due to the two separate hoses incorporated into the unit, these particular types of portable air conditioner generate more energy, and cool a room faster than single-hose units, and they are the better choice if you desire to cool a larger room or area.
Power cord
Manufacturers don't recommend the use of an extension cord with your air conditioner. In fact, the manuals clearly warn against using it and state that the use of this will void your warranty. Portable cooling units require a lot of power to operate, and your extension cord may not perform the task effectively, posing a fire risk or overheating. Endeavor to consider the area where the portable air conditioner will be placed in relation to the power supply unit to avoid getting short cords.
Remote control
We are in the technology world where everything has become computerized. Therefore, the use of the remote control is handy due. You can also get information about the room temperature with the use of this equipment. You also have the opportunity to set timers and automatic modes for simple and easy life. In addition, the LCD display allows you to see the temperature status without leaving your position.
Operating Modes
Heat, cool, dry, fan only or automatic mode are the basic operating modes of this unit. Automatic or "smart" mode means that the temperature can be adjusted to a particular level and will automatically switch to cooling mode (or the heat mode for reverse-cycle models).
On/off timers
These are used to control the unit to either shut down or turn on at specific times, for instance, to cool the environment before returning from work. Sleep timers are beneficial in the night period as they put off the unit after a specific period rather than working all night and are usually designed with an automatic temperature adjustment. This sets the temperature to a comfortable state suitable for the environment, so the air conditioner is usually quiet and works less when you are asleep.
Louvers to direct airflow
Most are designed with manually adjustable louvres while others come in fixed louvres. The few remaining ones have automatically oscillating louvres, which ensures the proper circulation of the cool air rather than circulating in a straight direction.
Window kit
These are designed with filler panels to restrict the space of an open window and ensure the removal of hot air to outdoor using an exhaust hose.
Noise
Some units can create lots of distraction due to their loudness, especially when set on full blast.
Water drainage
Portable air conditioners usually come with a collection tank specifically for water; many new versions of the product use the water to aid the cooling system without the need for the removal of water from the tank.
Ease of use
If you are required to move the portable air conditioner from one place to another, look for the best way to access handles as well as the good clearance between the surface and the base of the unit. Using smaller wheels on pile carpet can be annoying and irritating.
Portable Air Conditioner Reviews – The Best of the Best in the Market
The best high-end portable AC –
Whynter ARC-122DS Elite 12000 BTU Dual Hose Digital Portable Air Conditioner
There are very many reasons why you should go for this product, we could go on and on but we will just let you see for yourself.
Pros
The unit is very portable; it also has a compact size which helps with better space utilization.

It has a strong cooling system which is as a result of its dual hose system keeping you efficiently cooled.

It is an eco-friendly product, we 'gotta' protect the planet.

It is a powerful and durable product

With its patented auto drain function, every condensate in the immediate environment is fully and automatically exhausted
Cons
It is quite expensive but then again, it's wonderful features are worth every dollar.
If you like a product with class and elegance, this product is specifically made for you.
The best portable AC on a budget –
SereneLife SLPAC8 8,000 BTU Portable Air Conditioner with Built-in Dehumidifier
For the features it has and its functionality, this is one of the cheapest of such range out there. If you are on a tight budget and don't wish to spend so much on a portable cooling unit, this is the best small portable air conditioner you can get.
Pros
This air conditioner can provide a variety of operating modes, such as cooling, dehumidification, fan and sleep mode, which is suitable for apartment, dormitory and office use.

It provides ample airflow to cool spaces up to 225 sq. ft and it does so efficiently, you also don't have to insert hose for drainage sake.

The portable air conditioner operates on three different modes and they include; 3 cooling modes, fan, and dehumidifier.

It is programmed for safety with features such as the 24-hour programmable timer, auto condensate circle, super intelligent temperature sensor, water-full control and warning.

You don't have to buy its parts to make use of it, everything comes at once all together for its cheap price.
Cons
It makes a lot of noise.

While not using a hose may be a pro for some, it can be a con for others. It makes use of a tray and you have to dispose of the water by yourself when it's full.
Without a doubt, this is a wonderful product, get this and be cool.
The Best Portable AC for small spaces – NewAir AC-10100E Ultra Compact 10,000 BTU Portable Air Conditioner
Need an AC for that tinnie-tiny area in your home or office? Look no further. The NewAir AC-10100E Ultra Compact 10,000 BTU Portable Air Conditioner, one of the top rated portable air conditioners on this list, cools rooms with a size of about 325 square feet. Designed specifically for smaller spaces, this portable cooling unit can be easily moved from one place to another.
Pros
The device is multipurpose, can dehumidify, heat, cool and even work as a fan.

It makes use of an environment-friendly coolant.

It also comes with two fan speeds and adjustable louvres that offer various cooling options coupled with a remote control to make programming easy and effective.

When compared to the other versions, it is more compact and portable.
Cons
It is not yet certain that it will last for an extended period of time, although we have customers that have used it for up to two years.
If you are looking for the best portable AC for small spaces, I assure you that this is the best product out there.
The best portable AC For Bigger Spaces –  Black + Decker BPACT14WT Portable Air Conditioner with 14,000 Cooling BTU
Black + Decker is one of the biggest electronics brands in the world and they always try to integrate quality into every appliance they produce, including this powerful portable air conditioner with a huge 14,000 cooling BTU. It can cover a large area which is why it's featured in this category as it can efficiently cool a room up to 350 sq. ft. This is the quietest portable air conditioner on this list and that's one thing a lot of people appreciate the most about it.
Pros
This air conditioner is very affordable and it is cheaper than some models which have lesser capacity and features.

Easy setup –This particular model comes with the simplest installation.

Easy to clean – you can make use of the filters without any complication and it doesn't require a drip pan.

It cools very fast and some users commented that its reach is more than what is advertised by the manufacturer
Cons
The unit does not generate too much sound, but it is loud during the alternation of the thermostat between AC and fan.
Without a doubt, this is a wonderful product, get this and be cool.
The best portable AC with great features – Frigidaire FFPA1022UI 10,000 Btu Cool Connect Smart Portable Air Conditioner
This product is smart. Let's take a look at the pros and cons, shall we?
Pros
It comes with smart features like built-in air purifier, stylish design, various programmable settings, and smart notifications.

The unit is four-wheeled, which means it can be moved around the house easily and conveniently.

With just a touch of a button, you have access to the different electronic controls on the portable air conditioner.

It doesn't make a lot of noise.
Cons
It consumes lots of energy.

Although it is portable, it is also quite heavy.
This product is specifically made for you if you want to go straight into smart digital. Other important things to note is that it is aesthetically pleasing with app and scheduling tools that work effectively well.
Frequently Asked Questions
1. What are the best cheap portable air conditioners?
Most of the portable air conditioners featured on this list are affordable and the good thing is that they also work efficiently. These are air conditioners you can really trust to serve you well because they're worth every buck spent on them.
2. What are the things I should look out for when buying a portable air conditioner?
We've earlier talked about this but for the sake of those who missed it, we'll briefly mention it again. Usually, when you're buying a new appliance, you put a lot of things into consideration; the same thing applies to portable air conditioners. Some of the things you need to look out for are the size, cooling capacity, wattage, weight, energy usage, installation process, and most importantly; price.
3. How long does a portable air conditioner last?
If properly maintained and used, a portable air conditioner should last for about 10 years.
What Next?
Now that you know all the details about the portable best Air conditioners as well as the best AC for different places, including the affordable ones, all that is left for you is to purchase one.
We are very sure that with the in-depth knowledge that you have gained from this review, it will guide you in making an informed decision.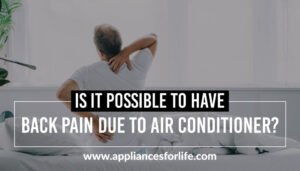 Health Defects of Excessive Air Conditioner Exposure
The answer to whether or not Air Conditioners cause back pain is rather an easy one. Air Conditioners drop the temperature to produce cold weather artificially, and cold weather, on the other can cause back pain because it causes our muscles and ligaments to tighten.
Read More »