This appliance is unique as it is among the few air conditioners from the factory with the gold fins anticorrosive treatment to prevent rust.
Sankey is a leading brand that manufacturers refrigerant-based equipment and high-quality home appliances. On the Sankey menu of products, you will find highly efficient inverter-type split Sankey air conditioners, refrigerators, freezers, beverage coolers, water dispensers, washing machines, LED Flat Screen TVs, microwaves, and ventilation fans.
Is the Sankey air conditioner good?
The average buyer doesn't give much thought to the Air conditioner they are acquiring. The result is that frequently you will find yourself with an air conditioner that is too large, thinking it will provide better cooling. It is essential to know that an oversized air conditioner is less effective and wastes energy simultaneously. Air conditioners work by removing both heat and humidity from the air. If you find yourself with too large a unit, it will cool the room quickly but only remove some of the moisture. This process will leave you with a space that is damp and clammy. A properly sized unit will remove humidity effectively as it cools.
Regarding the quality of the Sankey air conditioner, the consensus among reviewers is that they are suitable units providing value for money. A client looking to buy three 12,000 BTU split A/C's who was previously looking at the Miller (now sold as Westinghouse), and the Daikin and Panasonic inverters calculated the total cost of ownership for five years (capital cost, electricity & other recurrent costs). They realized that the Sankey was working out a lot less expensive. Of note was that Sankey had the best offer on servicing ACs per unit. The manufacturer provided servicing alongside the standard 5 yrs warranty on the compressor, a one-year warranty on parts and labor. 
Sankey 12000BTU Split Air Conditioning Unit
With this easy-to-use air conditioner, you should enjoy the comfort of a temperature-controlled room. The Sankey Split 12BTU Inverter A/C is touted as an efficient workhorse that makes minimal noise while performing to standards. It comes equipped with the most efficient inverter technology that betrays this unit's secret. It is easy to install and gives your home an aspect of additional well-rounded comfort.
Sankey Split Inverter Air Conditioner 18,000 BTU
This Split air conditioner from Sankey creates a cooler and more pleasant environment.  The model ES-18R410B5 has a capacity of 18000 BTU. It is fitted with silent airflow, a timer, automatic restart, and sleep mode. You can quickly flip through any of these functions with its remote control. This unit comes with an anticorrosive / Eco-Friendly coating, a carbon filter, and an antibacterial filter.
Mini split air conditioner Sankey with Japan technology
This appliance is unique as it is among the few air conditioners from the factory with the gold fins anticorrosive treatment to prevent rust. Sankey bundles it with a 5-year warranty. It is on the market with the following capacities: 12,000 Btu, 18,000 Btu, 24,000 Btu, and 36,000 Btu.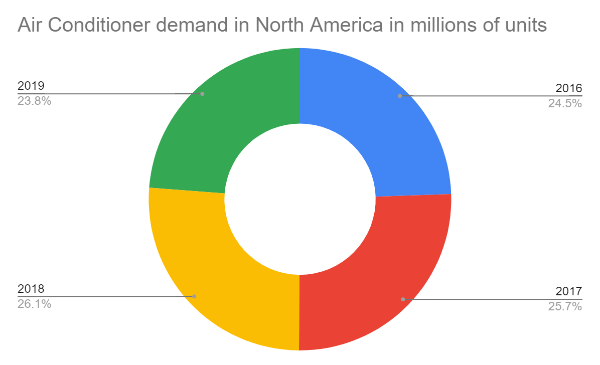 The pie chart above shows AC demand in North America from 2016 to 2018
The Best AC Brands
Which company has the best AC brand? It is well known that most households differ when it comes to tastes and preferences. For this reason, the main things homeowners will want to consider when deciding which of the best AC units they should install in their homes are bound to vary. The common factors for most homeowners will be the total cost, the unit's lifespan, the warranties offered, energy efficiency (SEER ratings), and the size of the machine you need for your home's square footage (TONS) to cool your home efficiently.
American Standard Air Conditioners
American Standard air conditioners are one of the business's best major air conditioning brands. These units, on average, cost between $3,575 to $6,178  to install for a 14 SEER American Standard AC. The company brags that it gets far fewer repair calls for its AC systems than its competition. Expect to pay a premium for this AC.
Carrier Air Conditioners
The Carrier AC unit is considered a top air conditioner brand. Their HVAC systems are industry-leading and built with strict quality standards. Installation of a 14 SEER Carrier Comfort Series air conditioner would cost upwards of $4,892. This brand offers more options than most manufacturers, so expect to find the central air unit you need for your home's heating and cooling needs—Carrier supplies up to a 21 SEER rating, which is the highest available on the market. Carrier repairs are usually reasonably affordable compared to the rest of the HVAC industry. Carrier is also known for having highly qualified installers trained in installing a Carrier air conditioner. The company also offers heat pumps, gas furnaces, and other HVAC systems.
Goodman Central Air Conditioners
Goodman air conditioners are another top brand of HVAC AC though not quite as revered as Trane or Carrier. They are known for being cheaper but reliable. A Goodman GSX 14 SEER AC unit costs upwards of $3,188 to install. The company's products have a solid build and quality, and you can count on warranty programs. They're a real value overall for one of the best ac units on this list.
Trane Central AC Units
Trane central air conditioners are famous for upholding warranties. This brand offers a standard 10-year warranty covering parts and labor. A Trane XR14 with a 14 SEER rating in energy efficiency would cost anywhere from $3,267 to $6,100 to install. Trane manufactures premium products, so it is no surprise that their units are often pricier than other HVAC brands.
Which AC brand is best in Dubai?
Are you looking for the best split AC in UAE?
Because of the high temperatures in this desert metropolis, an efficient-working air conditioning system is a must-have. UAE's hot weather demands a commensurate AC unit suitable for use. While some may consume too much electricity, some may deliver sub-par cooling performance. Here is our list of the best split ACs in the UAE.
Gree Split Air Conditioner 1 Ton B4 Matic-R12C3
The Gree B4 Matic-R12C3 is an excellent budget-oriented air conditioner with many unique specialties. It is a 1-ton AC powered by a rotary compressor, delivering superior cooling performance in even the hottest summers. The Gree comes with a 3-dimension airflow, ensuring uniform air distribution throughout the room.
X-Fan Function: This split AC model by Gree has a built-in X-fan function. The X-Fan process is an auto-cleaning technology where the unit's blowers work to prevent moisture and bacteria from accumulating on the machine and inside the coils.
Gold-Fin Coating: This coating keeps the coils in perfect condition for years. 
Cold Plasma: Cold plasma technology prevents odors and keeps your room's smell neutral.
Turbo Mode: The Turbo Mode makes the air conditioner deliver double the cooling performance. It is very effective in the hottest hours of the day.
Gree offers an unbeatable 10-year warranty for all the electronic parts and the compressor.
Super General 18000 BTU 1.5 Ton Split Air Conditioner
Super General 18000 is rated among the best split air conditioners in the UAE's electronics market. Weighing 1.5 tons, this split AC takes the lead in the market due to its cooling performance, easy maintenance, and a host of functionalities, including the 4-direction airflow blower and a built-in LED display. This unit is fitted with a Rotary Compressor that runs with minimal noise, consumes less energy, is easier to maintain, and uses the readily available R22 refrigerant (also known as Freon).
Aftron Split System Air Conditioner AFW-24095BC
The Aftron AFW-24095BC has got what it takes to beat the summer heat in UAE. With its efficient compressor, this split AC will cool your room down in the shortest amount of time. You can look forward to an odor-free and bacteria-free room because of the inbuilt plasma air filters. 
Midea Ultimate Comfort Split Wall AC 2-Ton
The Midea Ultimate features a unique inverter technology that optimizes the output of the rotary compressor to provide maximum performance and reliability even in sweltering weather.
The unit has advanced wind spray technology that releases deep air circulation through hundreds of tiny holes for supreme indoor cooling convenience and uniform airflow. The company also offers a smartphone control app for cooling changes from 1% to 100%, providing personalized cooling comfort.
This split AC has super silent service and the revolutionary 'Air Magic' technology that keeps the environment free of airborne diseases, pathogens, viruses, and microbes.
This Midea Split AC comes with a self-cleaning feature, where the device will spin the indoor unit fan in reverse motion, expel condensed water and remove bacteria from the system.
For those keen on savings, you have to know that this AC is fitted with an iECO energy-saving technology that ensures maximum coolness while dramatically lowering energy usage by up to 50%.
Which is the best AC in Nigeria?
PANASONIC AIR CONDITIONERS
Panasonic ACs are popular and are sold in all electronic markets in the country. Considered among the best air conditioners in the country, this brand offers quality, durability, and efficiency. Other factors that make Nigerians prefer Panasonic Air conditioners include ruggedness, strength, and easy-to-use features.
Panasonic models include;
Split Unit.

Standing Unit.

Window & Ceiling Unit.
The Panasonic 1Hp Split Air Conditioner Yc9Mkf  is an indoor unit uniquely designed to provide Whisper Quiet operation while delivering comfort throughout the room. It comes with an odor-removing function, automatic operation mode, and wireless remote control with LCD.
The Panasonic Split Unit Air Conditioner Kc12Nkh 1.5HP is fitted with ECONAVI intelligent sensors that detect waste of energy using human activity sensors and sunlight. It can locate where you are, monitor your movement, detect your absence, and also how intense the sunlight is at a particular time. This machine has an Odor removing function, Removable/washable panels, AUTO COMFORT mono sensor, Quiet Mode, and powerful mode. 
Panasonic standing and window units are Energy saving, Quick cooling, Eco-friendly, Powerful, and Super quiet.
Haier Thermo Cool Air Conditioners
Haier has been providing quality solutions to the home appliance market for decades. Haier Thermocool air conditioners are reliable, affordable, and durable. Easily identifiable by their classy designs and neat finishing, they come in different shapes and sizes, including Standing Air Conditioners, Split Air Conditioners, and Ceiling Air Conditioners.
Haier Thermo Cool Cassette Ceiling 3HP: This ceiling air conditioner has optimal air distribution with powerful airflow that can reach every room corner from the vantage point of a ceiling as high as 4.2m. It is perfect for large spaces. This unit features a Plasma air purifying system that reduces smoke particles by 95%, bacteria and virus particles by 99.9%, and neutralizes odors allowing you to breathe clean, healthy air into your lungs.
Haier Thermo Cool Floor Standing Air Conditioner HPC-18CYWC: This appliance delivers cooling guaranteed to make your environment comfortable in hot weather. It is fitted with a Healthy Intelligent Air function that allows you to adjust airflow easily, so it doesn't blow directly to the human body.
Haier Thermocool air conditioners help you to be more comfortable and productive, creating an environment where you can work better and more efficiently. These appliances raise the bar with high-capacity air conditioners offering unrivaled performance and energy efficiency.
LG AIR CONDITIONERS
LG is one of the world's most highly regarded air conditioner brands. LG manufactures quality appliances that are durable and unique. Considered the kings of energy efficiency, LG supplies easy to maintain and install machines. Their air conditioners also come in different shapes and sizes, including window and floor-standing air conditioners. The standing air conditioners are stylish and designed with superior technology offering a sophisticated way to cool your space.  LG offers Artcool changeable panels and innovative features, like allergy reduction filters, that help provide a more pleasant and comfortable environment for the user. Smart Diagnosis allows users to check setup, install, and conveniently troubleshoot directly from a smartphone.
The LG inverter floor-standing AC features gold fin technology,  which accelerates the defrosting process, thereby increasing the heat efficiency while protecting the condenser coils from rust and increasing durability. This intelligent air conditioner uses the LG innovative ThinQ feature that allows you to quickly start or stop the air conditioner with your phone via an app. LG ACs provide significant energy savings, powerful cooling, and true comfort.
Frequently Asked Questions:
Q: Can the water from my AC drain be used for watering?
Yes. The water from the AC drain is actually water vapor condensed from the humid air into a liquid.
This doesn't mean you can drink it because it will have a musty/moldy taste due to molds growing in any continually damp location and could potentially be a source of the bacteria Legionella.
How does the dry function of air conditioning work?
The compressor usually runs full on, while the indoor fan runs at low speed. This has the effect of increasing the time the air is in contact with the cold coils and, as a result maximizing condensation.
Q: Can you duct cool air from a portable air conditioner outlet to an adjacent room?
Theoretically, a portable air conditioner can cool several rooms. Note that this will not be as effective and efficient as individual AC units for each room. When using a single machine to cool several rooms, the size, how they are set up, and the power of your portable AC are key parameters that will come into play. 
Conclusion:
On the whole, we rely on air conditioners to make our environments comfortable in the heat, and it is therefore essential that this units are able to deliver performance and reliability. Homeowners are wont to prioritize functionality over appearance when it comes to purchasing and installing an AC unit. 
That fact will ultimately make selecting a brand a bit challenging. You will have to crunch numbers and sift through a lot of information to make an informed decision. Among the things to consider will be consumer ratings, price, efficiency, warranty, and other factors to ensure that you have all the necessary information before shopping.
ESTIMATED TIME DESIGNING AND UPLOADING THIS ARTICLE
ESTIMATED TIME RESEARCHING AND WRITING THIS ARTICLE