A space heater is a must have, mostly in winter when it's important to stay warm at all times. With this review, you don't have to worry about surviving in cold weather and can go camping no matter how low temperatures are.
Deciding on the best heater for you can be nerve-racking, there are so many factors to consider. People have heard some bad stories about the use of heaters, such as houses or portions of houses burning down. Using heaters leads to increased electricity bills, which results in spending a lot of money. The heater can cause harm to kids or pets if they come in contact with it.
That's why we are here for you, to help you make the best decision when getting one and get the best for your space without sustaining an injury in the process of using it. Whatever you need, we have got you covered.
As an Amazon Associate we earn from qualifying purchases. We may earn a small commission for our endorsement, recommendation, testimonial and/or link to any products or services from this website. Thank you, your qualifying purchases help support our work in bringing you real daily gift ideas.
Space Heaters
| Image | | | | | |
| --- | --- | --- | --- | --- | --- |
| Name | DeLonghi HMP1500 Mica Panel Heater | Dr. Infrared Heater DR-988 Garage Shop Heater | Auzkin Portable Electric Oscillating Space Heater | Dimplex Fan-forced Enclosed Motor Construction Space Heater | DeLonghi EW7707CM Safe Heat 1500W ComforTemp Portable Oil-Filled Radiator |
| Manufacturer | DeLonghi | Dr Infrared Heater | Auzkin | Dimplex | DeLonghi |
| Product Dimensions | 27 x 10 x 22 inches | 12 x 12 x 15 inches | 6.69 x 5.12 x 5.91 inches | 7.4 x 9 x 12.7 inches | 13.8 x 25 x 5.9 inches |
| Weight | 8 pounds | 12 pounds | 1 pound | 9.7 pounds | 23.2 pounds |
| Editor's Rating | ✸✸✸✸✸ | ✸✸✸✸✸ | ✸✸✸✸✸ | ✸✸✸✸✸ | ✸✸✸✸✸ |
| | | | | | |
What Are Space Heaters and Why Are They Important?
When it comes to heaters, there are two types – the central heating and the space heating.
Central Heaters
This set of heaters are used when you want to cover many connected areas at once with only one system, it could be the whole house, a full office building or a portion of the building. While they are must-haves, they are not exactly cost efficient since they make use of a lot of energy to run smoothly. They are also too much if you only want to warm up a smaller area such as a dorm room, tent, living room or one room in your home.
Space Heaters
This set of heaters are needed when you only want to warm up a little area such as your dorm room, basement, office/cubicle, a room in your house, garage or have a warm camping experience.  They are cost efficient, can get you warm fast and some models are portable for easy movement from one area to another to keep you warm all day long.
Deciding on The Type
There are so many types out there, in terms of how they make heat, the components and fuel used in making the heat and how the heat is distributed. You need to know this because they all come to play in how much money you end up using in buying it, operating it and maintaining it.
Everyone appreciates extra cash so we are looking to help you save money in the long run.
Radiant/Infrared Space Heaters
These heaters generate heat quickly using infrared rays to warm-up things. They cannot pass through obstacles and only heat up whatever they come in contact with. They are the best heaters for spot heating. The good thing about them is you can carry them outdoors and still feel the heat, use it for patio heating or for a very small gathering as long as it is placed right. 
Some models are able to heat up to 1000 square feet as opposed to the typical fan-forced heaters that warm up only 400 square feet at average. There are also portable heaters under this category for easy movement and there are also others that can serve as furniture. The downside is they bring out a warm orange light as a result of the infrared rays and this may be disturbing, most especially in the bedroom. We will help you decide on the best infrared heater for large and small rooms to buy.
Convection Space Heaters
Convection heaters sometimes use a fan to circulate heat and the most efficient of them are filled with water and oil that mostly never need to be refilled. They are also easy to clean. Although they heat up slowly compared to the radiant heaters, they are usually quieter and the heat they generate last for a much longer time. They are the best heaters when it comes to heating up large spaces and as long as quick heat is not your priority, they are great most especially for home heating and office heating due to their silent nature. One disadvantage though is that a majority of models that are convection heaters are not kid or pet friendly because their surfaces are hot to touch but it can be used in your basement, living room, and any space you have as long as kids or pets are not involved.
Ceramic Space Heaters
More often than not, ceramic space heaters have a short body that can be placed on almost anywhere from a table to a bench to a chair, etc. They are lightweight heaters that are very easy to carry around. They use radiant heating to secrete warmth and some of them are fan-forced and this version is the most popular in the market. The fan-forced ceramic heaters provide very quick heating, you will get warm air within seconds of putting it on and this feature will also help you save on energy cost but they can be quite noisy. They are usually cool to touch and are therefore kid and pet friendly.
Hybrid Space Heaters
Hybrid space heaters make use of 80% convection and 20% direct radiant heat. Many models are created to be wall mountable and are usually lightweight. They are silent, put off no light and use the natural flow of air to give you heat but are not kid or pet friendly. Most models can be mounted in the bathroom without accidents.
Powering Component
Heaters make use of two types of power – electricity and gas/fuel. Under the latter category, we have propane powered heaters, natural gas heaters, fuel, oil and wood pellets. Portable space heaters can use either power method.
In the end, it's up to you to decide which is best for you in cost, efficiency and safety, we will show you the advantage and disadvantage of using heaters powered with either of the power components.
Gas-Fuel Heaters
This set of heaters can be cheaper to make use of since gas is relatively cheaper than electricity however if saving the planet and convenience are a priority for you, it is not what you need. They need an outlet to let out carbon monoxide and this could be an exhaust pipe or chimney. However, some manufacturers create models that don't expel too much carbon monoxide that you wouldn't even notice. A gas furnace is complex to install and you will need professional assistance to put them together. Heaters in this category are cheap to maintain but have a shorter lifespan compared to electric heaters. They make the best camping heaters.
Electric Heaters
Electric heaters can be portable or wall mounted. They are easy to plug in and you can set it up all by yourself which means you save money on installation cost. At the point of purchase, you will notice that they are cheaper to get but in terms of cost of operation – in this case, electricity use – you will spend more money. They have a longer lifespan, are simple and cost effective in maintenance and are safer than the propane powered heaters in terms of gas leaks and carbon monoxide but high-power electricity still has the risk of starting a fire.
If you live in a really frigid climate, you may find using electric heaters a bother since they take time to heat up but once they do, you can stay toasty for as long as you want.
Other Necessary Things to Consider
We have described the different types as well as powering methods but there are also other things to think of before you can decide on which space heater you will be getting.
Heating Capacity
You definitely will not want to purchase a heater that will not warm up the entire space you want it to warm up. One of the most important things to consider is the heating capacity of the heater you are looking at; how far and wide can it go in warming your space and how big the space is in relation to the capacity of the heater. To determine the best heater for you, check out the heat wattage rating. For each square foot of space, a portable heater will use 10 watts of heating power. However, this low wattage space heater guideline does not apply to every model.
Radiant/infrared heaters are generally made to cover more space than fan heaters but overall convection heaters tend to get farther than most, this is not the case for all models though.
Cost
Money is sometimes the first thing that comes to mind when you decide you are going to purchase new equipment, furniture or a heater for your space. Most electric heaters are not too expensive to buy but considering electricity cost, they may rack up high bills for you. Some manufacturers have put this into consideration and have set in certain features that will help you save money. They include:
Energy saving modes.

Adjustable thermostat.

Programmable timers.
Safety
Heaters can easily become fire hazards mostly when you buy the wrong one or you don't use the right one appropriately. A lot of heaters these days are made with cool-to-touch surfaces. Some also come with an internal switch that will automatically turn off the power if the heater is knocked down or tipped over accidentally. You need to also put down overheat protection on your list of must-have features. This ensures that the heater will turn off automatically if the internal components reach an unsafe temperature and this will save you from fire outbreak.
The place the space heater will be placed will also determine how safe it will be. Always ensure you check the manual out after making a purchase so your heater can be placed in the right place, away from any combustibles in your home. If the space you have is so small that you can't get it placed at that feet range, then get a heater that is stated to be safe to keep at a closer distance.
You need to also check if the manufacturer has safety certifications, the presence of safety certifications means laboratory testing is certified.
Noise Level
You may be able to handle noise in the garage but may not be able to tolerate it inside the house. fan-forced heaters produce some noise during operation that can be unbearable for some. Heaters that use the natural flow of air to disperse heat tend to make lesser noise.
Furniture or Heater?
Some heaters come as hardware cabinets, you can use them as coffee tables or lamp stands while they still serve their purpose in warming up your space. They are very attractive to look at and are most time more expensive than those that are not made as alternative furniture but do not provide anything more in heating than the other types.
If you are looking to buy a coffee table or any little stand/table in your home and need a heater at the same time, why not save cost and get this two-in-one product.
Space Heater Reviews – The Best of The Best in The Market
Best in the Home Heating Category – Delonghi HMP1500 Mica Panel Heater
This slick space heater is perfect for any décor, space, and application. It can fit in anywhere and has so much to offer you and your folks, let's dig in.
Pros
It's slim; very slim which means even if you don't have so much space, it will still fit in. You don't want to put your heater on the floor? It has you covered, it has a convenient wall mountable option. This makes it convenient for you to place it anywhere, even out of the reach of your pets and children.

It has an inbuilt automatic shut off and an adjustable thermostat. You can program it to run for a certain number of hours and it shuts off all by itself once that time is over helping you conserve energy even if you go out with it on.

It has tip-over and over-heat safety measures. If it becomes unstable, there are also power/caution lights making you know if anything is wrong at any point with the heater.

It uses a panel heater instead of a fan which makes it silent. You have added peace and quiet and can have a nice rest.
Cons
For the first few times you put it on after purchase, there will be an unpleasant odor which is common with most heaters. It shouldn't be a problem and you can get it out faster by letting it run high and long for the first time.

In our customer survey, some users complained of a low hum.
Best in the garage/shop category – Dr. Infrared Heater DR-988 Garage Shop Heater
Need to heat up your garage, shop or basement? Look no further. This solid heater is specially designed to heat up a large space in a short time.
Pros
Some users stated that it was able to get a 1000 square foot area comfortably, though it was created to blast in heat to a 600 square foot space.

It has an adjustable thermostat giving you your desired heat in your workspace.

This solid heater is all about safety. It comes with a tip-over and over-heat protection, it also has finger-proof intake and discharge grills as well as a high-temperature heating limit. You can mistakenly touch it and not get burned.

It covers your heating spreading needs by using infrared heating and a fan-forced element to offer widespread heat.

It is durable and can be moved from area to area easily without damage.
Cons
It is not energy efficient. This is expected though as a result of the way it blasts heat.

It is not the best heater if you don't want noise.

It uses 240v which you may not have in your space and you will have to take care of that to use this which means additional cost. Most Users also noted that you will have to change the plug also – it's sort of archaic. However, if you have a good 240v and the recommended plug, you will be on a good heat plane.
Best in the more for less category –

Auzkin Portable Electric Oscillating Space Heater with Tip-over Protection
With PTC Ceramic Heating Element that heats up this space heater within 1 second of being powered on, you will be warmed up easily. It can be placed in almost every area of your home and can serve in your office as an under-table or table placed heater.
Pros
It saves you money on electricity costs.

Overheat safety is guaranteed as it automatically shuts off when its internal components are getting to the over-heat stage.

It is lightweight and has an inbuilt handle for easy portability. It can handle movement from place to place without any visible wear and you can even lift more than one at once.

There are three operational modes that help you adjust to any type of weather. High and low heat which are ideal for the winter season, and the fan mode that helps provide cool air during summertime.
Cons
Unlike some other models, it doesn't shut off automatically when the room is warm enough so if you mistakenly leave it on and leave that area, you will end up spending extra money on electricity.
Best in the Camping Category – Dimplex Fan-forced Enclosed Motor Construction Space Heater
Safety is a top priority when you're camping, and even more so if you'll be needing a space heater, which is why we have included this Dimplex space heater, considered to be one of the safest space heaters out there.
Pros
It can heat up your tent in a very short time.

It features a stainless steel tubular element.
Cons
It has only two temperature settings but this drawback is irrelevant when placed against the quality of the heater's operation.

The igniting knob sometimes requires a couple of pushes to get it up.
Best in the saving money category – Delonghi EW7707CM Safe Heat
For heaters, cost is always a big issue, most especially operation cost. The Delonghi EW7707 was built to give satisfaction both in heating and in money. It uses an oil-filled radiator which you don't have to ever refill. Even if you choose to run it at 1500W non-stop (which we don't recommend anyway…well except if you want to turn your space into a sauna), your daily electricity cost is still on the low side.
Pros
It saves you cash on electricity bills by maintaining optimal room temperature with its ComforTemp button for energy saving. If you desire anything warmer than that, you can also have it without being too fearful of cost. You can save up to 27% on heating bills with this product.

It has three heat settings to enable you to control the heat as much as you would like.

It is very lightweight, you can move more than one at once, it also has wheels for easy movement.

It is perfect for family use, kid and pet friendly. It has thermal shut-off that prevents overheating and it is not hot to touch.

It is a silent product.
Cons
Some users have complained that the wheels are flimsy.

It is not a quick heater but it makes it up by maintaining the heat for long once it finally gets up.
Frequently Asked Questions
1. Can I leave my space heater on overnight?
You can leave your space heater on overnight if you're going to be in the room. However, it is highly advised not to ever leave a space heater in an empty room. If anything goes wrong, there won't be a quick reaction, especially if you are not close to the room.
2. Is ceramic heater better than infrared heater?
Both types of heater are good and they work very efficiently, providing you with the warmth your body needs in the cold season.
3. Which space heater consumes the least energy?
All the heaters featured on this list are energy efficient but if we were to choose the one that consumed the least energy, we would opt for the Lasko space heater.
What Now?
Now that you know everything there is to know about Space Heaters as well as the best heater for various places such as your home, workplace, and for saving money, all that's left for you is to purchase one.
We know you are armed with the knowledge to get the best for you and keep it warm and toasty at all times.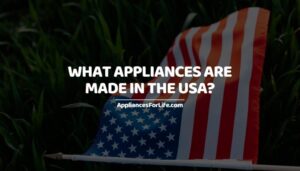 What Appliances Are Made in the USA?
The United States of America doesn't often get the credits it deserves when it comes to the production of kitchen appliances. Some of you might have noticed that most of the appliances you have in your homes often come with the "Made in China" tag,
Read More »