In an ideal world you don't get what you pay for. Saying this though you can get some blenders under $50 which really give competitors a run for their money. Although these blenders which we have come across are great value for money they do also get the job of blending done. It is true that if you pay more you get a better quality product but most of the time you are paying more because you are buying a famous name. Blenders under $50 aren't going to give you the professional use of one that costs hundreds of dollars but you might actually be surprised at what you can get in the $50 price range. When buying an inexpensive blender make sure you look carefully at these following things because this is what makes an ordinary blender a brilliant blender.

The Lid
For countertop models a tight fitting lid is the most important. This will help avoid splatter and leakage and regardless of how much you spend the lid was a deciding factor when we chose these top blenders under $50.
Easy to clean
When you are browsing for the perfect blender choose one that has detachable dishwasher safe parts because this will make the cleanup process much easier.
Warranty
Most blenders come with at least six months warranty. If you can then find one that has two years warranty on it. If a manufacturer won't insure it for more than six months then logically it might not last longer than that.
Materials 
Always pay close attention to what the blender is made of. Make sure the blade is stainless steel and see what the components like the frame and control panel are made of because if they are made from cheap plastic they probably won't last that long let alone endure a lot of blending.
We have made a selection of these blenders under $50 based mostly on customer reviews. If you don't find something that catches your eye in our list then don't worry because these aren't the only models available at this price. We have carefully chosen our products so that you can get the most of your money.
As an Amazon Associate we earn from qualifying purchases. We may earn a small commission for our endorsement, recommendation, testimonial and/or link to any products or services from this website. Thank you, your qualifying purchases help support our work in bringing you real daily gift ideas.
Check out these awesome, best blenders under $50 in the market today:
| Image | | | | | |
| --- | --- | --- | --- | --- | --- |
| Item | Ninja QB900B Blender For Frozen Blending with 48-ounce Pitcher | Oster BPC-T02 6-Cup Glass Jar 2-Speed Beehive Blender | BLACK+DECKER BL2010BP Crush Master 10-speed Blender in Black | Hamilton Beach 59765 2 Speed Hand Blender | Oster BLSTPB-WBL My Blend 250-Watt Blender with Travel Sport Bottle, Light Powder Blue |
| Manufacturer | Ninja | Oster | Black+Decker | Hamilton Beach | Oster |
| Color | Silver | Brushed Stainless | Black | Silver | Blue |
| Material | Plastic | Glass | Plastic | Plastic | Stainless Steel |
| Standout Feature | 48-ounce Pitcher | 6-cup Boroclass Glass | 4-point Blade | 2-speed Kitchen Multi-tool | Built-in Fuse |
| Weight | 4 pounds | 8.13 pounds | 4.35 pounds | 2.7 pounds | 1 pound |
| Wattage | 400 Watts | 1000 Watts | 400 Watts | 225 Watts | 400 Watts |
| Editor's Rating | ✸✸✸✸✸ | ✸✸✸✸✸ | ✸✸✸✸✸ | ✸✸✸✸✸ | ✸✸✸✸✸ |
| | | | | | |
Ninja QB900B Blender For Frozen Blending with 48-ounce Pitcher
All under $50 there are four different types that you can choose from. The 400 watt version, the 450 watt version, the express chop version and the professional version. This blender comes with an array of features which are yet to be seen in other inexpensive blenders and can be used for a wide array of tasks. It has quad blade technology and is capable of blending frozen food which is why this blender is unique compared to others on the market at this price. It crushes ice cubes, has an easy pour spout, a non-slip bottom, a 48 ounce pitcher, a 16 ounce master prep bowl and an anti-spill splash guard.
All parts are removable and dishwasher safe and the actual blender itself is easy to clean. We love the style and design which offers a modern look and unique features. The only one downer to this blender is it only has one blending speed but for the price it is great value for money.
FEATURES
2 moderately-sized jars
Anti-spill splash guard
Easy flip pour spout
One-touch pulsing
400-watt power pod
Storage lids
48-ounce pitcher
16-ounce chopper bowl
2-cup processor minces
Stacked blade assembly
Oster BPC-T02 6-cup Glass Jar 2-speed Beehive Blender Thi
We are in love with this range of blenders from Oster and not only because you can buy in other colors but because it also comes with a 6-cup glass jar. So all you need to do is make your smoothie and away you go. Its powerful motor will also crush ice and frozen food so you can get smooth results each and every time. If you want to blend hot foods then the resistant jug is perfect for that job. It has a single button operation which includes a touch pulse feature for customised results every time. This blender takes up minimal space on the countertop and is easily portable so you can move it about your kitchen to wherever needed.
It is BPA free and all parts are dishwasher safe which makes the cleaning up super easy as well. For simple and stress free blending we recommend this popular and efficient Oster blender.
FEATURES
1000 power watts
600 blending watts
2 speeds with High/Low toggle switch
6-cup boroclass glass jar
2-ounce filler cap
16-inch cord length
Crush pro 4 stainless steel blade
All metal drive
4-point design
Black+Decker BL2010BP Crush Master 10-speed Blender in Black
We chose this blender as one of the top blenders on our list because it offers simple use at a unique price. It comes in a black color, which is the most popular color among blenders of any type and is from the maker of kitchen gadgets which everybody loves. You know you are getting an appliance that is powerful, practical and super durable when you buy Black+Decker.
Aside from this blender being compact and great for smaller kitchens it features two speeds for your blending needs, dishwasher safe blending shaft and beaker and comes with a three year warranty.
FEATURES
Lightweight 6-cup jar
4-point blade
Measuring lid
Dishwasher-safe parts
10 speeds with pulse
400 blending watts
550 power watts
PerfectPour Spout
Hamilton Beach 59765 2-Speed Hand Blender
When it comes to the best blender manufacturers, Hamilton Beach is right on top of that list. Not only does the brand make powerful and efficient blenders but they also make affordable products. One of the best blenders is the 59765 2-speed hand blender. This blender is highly regarded in the market for so many reasons. 
(1) It is one of the few powerful blenders you can get for less than $50 and (2), it is packed with many powerful features which help make the blender super efficient when it comes to blending.
One thing customers have most raved about in this blender are the parts that are dishwasher-safe. You do not have to worry about having to manually clean these parts as you can easily wash them in your dishwasher without having to worry about their general condition.
FEATURES
2 speeds
Hand mixer with 3 attachments
Stainless Steel Blending wand
Stainless Steel whisk attachment
3-cup chopping bowl attachment
Stainless Steel blades
225 watt motor
Simple cleanup
Oster BLSTPB-WBL 250-Watt Blender with Travel Sport Bottle
The last blender on this list is another product from Oster, and perhaps that's to further confirm how highly rated the Oster brand is in the market. 'Simplicity is genius', that's a popular phrase and perhaps that's what Oster put into great consideration when making this blender. without the base, all you'll see is a sport bottle but this is more powerful than some high-ended and costly blenders. Let's talk a little 250-watt powerful motor which cuts through frozen fruit and ice to give you your desired smoothie result; what's better than that?
Part of the package is a 20-ounce plastic sport bottle we talked about earlier. This bottle is BPA-free and the good thing is that it is dishwasher-safe so you can wash it in the dishwasher alongside some of your other kitchen items.
FEATURES
400 power watts
250 blending watts
Built-in fuse
Recipe book
20-ounce BPA-free plastic sport bottle
One-touch settings
Inspiration on How to Use your Blender
If you have a blender already but you just want some inspiration on how to use it then check out our recommendations of these amazing recipe books which we believe every cook should own.
The Perfect Blending Cookbook
This hardcover book comes packed with more than 30 unique recipes to try with your blender. From breakfast to dinner and even snacks and desserts you will be sure to find something in here for everyone in the family. It also includes some neat tips and tricks on how to use your blender. Some of the tasty recipes are Pork Tenderloin with Plum Chutney; Carrot- Ginger Soup; Spinach and Tomato Frittata; Pico De Gallo; Frozen Margaritas; Pulled Pork Sliders with Coleslaw and Chicken and Cheese Enchiladas.
LifeEnergy Recipes: Blending Your Way to Optimum Health
Yvonne Tolstoy really shows you how you can blend your way to a healthier lifestyle. With step by step instructions she shows you how to create smoothies and superfoods and well really, make the most out of your blender. If you want to start giving your body a burst of healthy goodness then there is no better place to start than with the food you eat so take a look and try it today.
Frequently Asked Questions –
best blenders under $50
What are the things I should look out for when getting a new blender?
When you're getting a new appliance, there are some things you should generally look out for and in the case of blenders, the process is very much the same. Some of the things you should look out for are the; size, power wattage, blending wattage, blade type, material, and other important things.
Why are blenders so noisy?
Blenders can be so noisy at times and this might annoy you but why do they make so much noise (although it is different with some blenders, especially high-ends)? The noise is mostly caused by the vibration which intensifies when your blender is on a counter. Experts have advised to reduce this noise by placing a folded towel underneath the blender before making use of it.
Is a blender really for me?
A lot of people ask themselves the question, will I use a blender and is it really for me? If you haven't thought about purchasing one then think again because there are so many uses for a blender that we can't name them all. Starting with the obvious like smoothies and juices you can move on to homemade baby food, silky soups packed full of veggies and even dips and salad dressings. You can make mayonnaise and even ketchup which when made at home is a lot healthier than the shop bought stuff. You can get everyone in the family involved and experiment with fun recipes and a blender will get tasks done that you wouldn't have been able to do before.
Blend essential oils in your blender to use for therapy at home and there are even people who buy blenders to make their own home products such as shampoo, face masks and body rubs. The sky is your limit and with our help we can help you choose the right blender for the right money. So, if your budget is below $50 then have a look again at the models we showed you.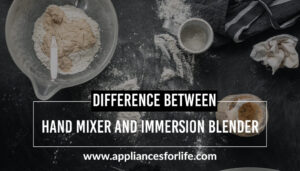 Differences between hand mixers and immersion blenders
Immersion blenders and hand mixers are built for separate purposes. And it is important to understand the function of each of these kitchen tools in order to properly use or appreciate them. Immersion blenders are essentially blenders immersed in a bowl of recipes. They differ
Read More »