What is a kitchen without a microwave? Most of the general daily tasks that you do in your kitchen can be done with a microwave and with ease. You might need to defrost meat, reheat food or just warm something up. Let's be honest – you just can't substitute such an appliance. Although saying this many people don't want to spend hundreds of bucks on a microwave. That is why we have researched the top models that can help you save some money and get the best out of your investment. Check out our cool microwave meals as well if you want to dish something up in a hurry!
A good, powerful microwave can make all the difference in how a kitchen works. Usually high-end priced microwaves can offer a lot of functions for the modern day kitchen. If you can't afford the more expensive models then there are still some sleek, practical and affordable options available on the market. Today we are going to walk you through some of our favorites which are reliable and under the $100 budget. We have come up with a list of the top microwaves and our team of expert tries to test the products out before we actually post our reviews so you can trust us if you are looking for an honest opinion.
As an Amazon Associate we earn from qualifying purchases. We may earn a small commission for our endorsement, recommendation, testimonial and/or link to any products or services from this website. Thank you, your qualifying purchases help support our work in bringing you real daily gift ideas.
The Best Microwave Ovens Under $100
| Image | | | | | |
| --- | --- | --- | --- | --- | --- |
| Item | Toshiba EM925A5A-BS Microwave Oven With Eco Mode | Farberware 1.1 cu. ft. Stainless Steel Countertop Microwave with 6 Cooking Programs | Panasonic NN-SB458S 0.9 cu. ft. Compact Microwave Oven | Walsh WSCMSR09BK-09 0.9 cu. ft. Countertop Microwave | Black+Decker EM720CB7 Digital Microwave Oven with Turntable Push-button Door |
| Manufacturer | Toshiba | Farberware | Panasonic | Walsh | Black+Decker |
| Color | Black Stainless Steel | Stainless Steel | Stainless Steel | Black | Stainless Steel |
| Standout Feature | Eco Mode | 6 One-Touch cooking functions | Popcorn button with 3 control levels | Kitchen timer | Large LED digital display |
| Wattage | 900 Watts | 1000 Watts | 900 Watts | 900 Watts | 700 Watts |
| Weight | 27.3 pounds | 25.75 pounds | 30.40 pounds | 30 pounds | 23.9 pounds |
| Editor's Rating | ✸✸✸✸✸ | ✸✸✸✸✸ | ✸✸✸✸✸ | ✸✸✸✸✸ | ✸✸✸✸✸ |
| | | | | | |
Toshiba EM925A5A-BS Microwave Oven With Eco Mode
When you buy Toshiba you know you can't go wrong. This microwave just squeezes into the under $100 budget but it is designed by a company that the world has been trusting for decades for kitchen appliances. The overall design in white and black is sleek and modern and is compact in size but offers just short of a foot of size inside. It is really powerful and pumps out 900 watts of power over different pre-programmed menus. For an even heating experience your food will be exposed evenly thanks to the rotating glass dish. It is 10.6 inches in diameter and dishwasher safe so you can easily clean up any spills.
Despite the price, Toshiba won't let you down with this microwave. If you don't like it in black stainless steel, you also have the option of just stainless steel. It is also packed with the popular power-saving Eco mode. The Eco-mode helps cut down some bucks on your electricity bill when the microwave is not fully functional. We also love that it has child lock and defrost settings plus a neat LED display! You really get your money's worth with this modern microwave from Toshiba.
Blueberry Muffin in a Mug (Recipe)
Try out this healthy and tasty muffin in a mug which can be whipped up in minutes. This is great for a quick breakfast option or for something sweet after dinner. It is packed full of protein and is great with whipped cream on the top.
Ingredients:
1 egg

2 T golden flax meal.

½ t aluminum free baking powder

2 T almond flour

2-4 t of Stevia (Truvia or Gentle Sweet)

1 flat T coconut oil

¼ C blueberries (fresh or frozen)

butter (optional)
Directions:
Crack 1 egg into a coffee cup and whisk it well with a fork.

Add 2 T golden flax meals.

Now Add 2 T almond flour.

Add 2-4 t of Stevia (Truvia or Gentle Sweet)

It's time to Add ½ t aluminum free baking powder

Add 1 flat T coconut oil

Stir vigorously with a fork until mixed together.

Fold in ¼ C blueberries.

Microwave on high for 1 minute.
Farberware 1.1 cu. ft. Stainless Steel Countertop Microwave with 6 Cooking Programs
The Farberware microwave has everything you need packed in one sturdy and reasonably sized appliance. It comes with a glass turntable which again the most important part – is dishwasher safe. All the functions can be chosen with a breeze and it is so easy to use thanks to the single touch options. As well as having different settings for food it has a defrost option which you can set by the weight of the food and it even has express cooking features. It has a digital timer and a digital clock and some of the settings are pizza, popcorn and even frozen dinner! With 10 adjustable power levels you can get everything done in this heating box. It also comes with a child lock to make it safe for little fingers. For durable and long lasting, sleek and modern and of course practical and inexpensive – this Farberware microwave is the ideal one to get.
Microwave Lemon Garlic Broccoli
For a fast fix vegetable side dish which goes with just about anything try this juicy, tasty lemon and garlic broccoli dish which we personally love.
Ingredients:
1(14 ounce) bag frozen broccoli florets or 2 heads of fresh broccoli, cleaned and cut into florets

1⁄4cup water

2tablespoons olive oil

1tablespoon lemon juice, bottled is fine

2 garlic cloves, minced or 1 teaspoon garlic powder

1 teaspoon red pepper flakes(optional)

1 teaspoon salt, adjust to your liking
Directions:
Microwave broccoli and water in a covered bowl on high for 6 minutes or until crisp and tender.

Use this little time to mix the remaining ingredients together.

Put the cooked broccoli in a different container and drain well.

Pour your garlic mixture on the cooked broccoli and mix until you get a fine coat.

In case of fresh garlic, you'll have to cover the dish for about two minutes and cook so you'll have to get rid of the garlic's raw taste. However, if you're using the garlic powder, you can just proceed to serve.

Match it up with some beef brisket cooked in the pressure cooker and some boiled tatties!
Panasonic NN-SB458S 0.9 cu. ft. Compact Microwave Oven
When we recently talked about the best kitchen appliances to buy we found that Panasonic was one of the top rated companies as of yet. To add to this revelation we found a neat microwave which comes under the $100 budget. With this microwave you can enjoy faster cooking and heating times with the 900 powerful watts of power. With the inverter technology you can enjoy even and seamless cooking results every single time and it even has a turbo defrost option which speeds up defrosting time. We are in love with the automatic sensor which adjusts time according to food and the simple, tactful controls are easy to clean and even easier to use.
Aside from these great features we love the stainless steel, black design which will give any kitchen that modern look. This countertop compact microwave can also be installed above countertops in cabinet spaces using the optional trim kit which you can buy separately. It has a keep warm feature which will keep your food warm until you open the door and a child safety lock as well. You can really take the guesswork out of your cooking tasks. This panasonic microwave is durable, long lasting and just great value for money. We really recommend this microwave, especially if you want to do a number of tasks with it.
Leeky Salmon in a Microwave Parcel
If you really want to try your hand at gourmet cooking then why not try it in your trusty microwave? This dish will give you something tasty to make when you are in a rush and well, we all love salmon!
Ingredients:
2 salmon

fillets, 140g/5oz each

1 medium or 2 small leeks

about 200g/8oz in total

50g frozen petits pois

4 heaped tbsp crème fraîche, plus 2 tbsp to serve

1 tbsp chopped fresh tarragon
Directions:
Firstly, season the salmon fillets then go ahead to slice the leeks in thin pieces.  Put each fillet in 40cm square sheets of greaseproof.

Add leeks and peas to each fillet with an additional 2 tablespoon of creme fraiche the sprinkle with salt and pepper.

Use the paper you have at your disposal to make up parcels then put them in a tray or plate that can survive in a microwave. Run your microwave on full power for about 5 minutes then put the content of the parcels on one plate, or two just in case. You can serve with new potatoes and creme fraiche.
Walsh WSCMSR09BK-09 0.9 cu. ft. Countertop Microwave
Although this is a low-priced model it has been made with durable and high quality materials. This is average in size and will fit onto any kitchen top with ease. This has actually been designed by the company Walsh with a powerful 900 watt motor. The powerful motor allows you to go for even defrosting large amounts of frozen meals.
In white or black, this microwave oven offers a different design for any kitchen decor. This model has 11 variable power levels which you can cook and heat various types of food in. The door can be opened with the traditional simple push-button and there is even a top rated feature, multi stage cooking. We fell in love with this model by Kenmore because they offer a modern design, easy to clean buttons and controls and have all the functions one looks for in a microwave.
FEATURES
11 different power levels
6 cooking functions + defrost
Cook by weight
Interior light
LED lightning
Push door button
Popcorn button
Child lock safety
Speed defrost
Kitchen timer
Black+Decker EM720CB7 Digital Microwave with Turntable Push-button Door
If you're well familiar with Black-Decker, then you'll know they make some of the best kitchen appliances in the market. Apart from the price (which is generally affordable), people talk mostly about its sleek design and how it has been able to stand out so highly in a very competitive market. All credits to Black+Decker for manufacturing a microwave that has provided solutions to the cooking problems in so many homes.
The pre-programmed buttons featured in this microwave oven include; pizza, frozen vegetables, popcorn, potato, dinner plates, and beverage. There are other amazing features to help you cook more conveniently. Let's take a look at some of them below;
FEATURES
6 pre-programmed functions
Popcorn button
Push-button door
Kitchen timer
10 power settings
30 seconds express cooking
Large LED display
Cook or defrost option
Finally Making The Choice…
We chose these five microwaves out of about twenty because of a number of reasons. We based our choice on design, function, power and other customer reviews to offer equality when it comes to reviewing products and we also try to not listen to the negative reviews. Our experts go into the process open minded so they can offer their readers an honest opinion. If you are now finally making the choice then trust our picks which will give you the best value for money with modern design to your kitchen. 
#Tip: A lot of hotels and bed and breakfasts like these more affordable versions and next time you drop into a hotel then check out to see if the room has a microwave. More often than not you will find one of these models there – this is a great way to try before you buy!
We do think that if you increase your budget to $200 then you will probably get an even more modern, reliable model microwave and sometimes the thing to do is pay more to save more in the future. Many people like to buy the cheapest appliances they can find but end up disappointed. Don't forget that the more you pay, the more you get. A microwave needs to be durable because of the heating process, it needs to be made of high quality materials so it doesn't warp or even explode. Be assured though that all electrical appliances have to be certified before being set on the market so you know you and your family will be safe with whatever choice you make. We hope our article today has been of use and don't forget to come back because our next posts are even more interesting!
Frequently Asked Questions
Is 900 Watts microwave enough?
The best microwaves are always packed with wattage between 600 and 1100. If your microwave oven has 900 watts, then it should heat up your food evenly and quickly. The reason behind it has more than average of what an efficient microwave should have.
What are the signs I'll see if my microwave is going bad?
Just like every other electronic appliance, the microwave gives numerous signs. These signs can be popping smoke, not cooking your food properly, making funny sounds, the buttons not functioning properly, and many more. The sooner you realize these faults, the better you fix it on time. Apart from damaging the machine itself, it might result in some health problems as a result of your foods not getting cooked properly, or some of the harmful substances in the smoke.
What is the difference between a 900-watt microwave and a 1000-watt microwave?
As said earlier, the main difference between how many watts some microwaves have is the time taken for them to properly heat up foods. The difference between two microwaves with 900 watts and 1000 watts is the time it takes for them to heat up food. A 1000-watt microwave will heat up food faster than a 900-watt microwave; although, the difference in time might just be a few seconds.
Is it worth it getting my microwave repaired?
It depends how deep the damage to your microwave is. The average cost for the repair of high-end microwaves usually ranges from around $70 to $100; which is almost half of the price you can spend purchasing a new one.
Does my microwave oven get powerless with time?
Time is an important factor for anything in life and even an appliance like a microwave oven is not immune to that factor. With time, the microwave's magnetron tube begins to diminish in power and becomes less effective. This affects the general output of this microwave.
Wrapping Up –
Best Microwave Oven Under $100
We hope we have inspired you to make the right choice on purchasing a microwave which is under $100 and we hope we have given you some ideas on some amazing meals and snacks which can be prepared and cooked in the microwave. Who said cooking has to be difficult and lengthy? Make every task easier with the simple use that a microwave gives us.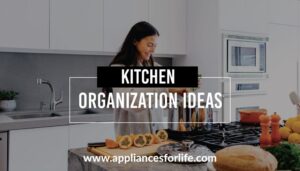 61 Effective Kitchen Organization Ideas
Our kitchen organization ideas will help you know where to put things in the kitchen, and how to organize kitchen appliances. The kitchen is one of the busiest places in the house, and a lot of people spend so much time in there that they
Read More »