There has been a lot of talk about blending recently and people all over the web are asking and posting questions about blenders. Are they really good for you? Our expert team members have come up with the answers so you can get some peace of mind when blending your next breakfast smoothie. Blending is a great way to make foods smoother and more edible, like smoothies and through blending you can introduce toddlers to foods they might not otherwise eat. We love blenders and we love that they can get a load of jobs done in one go, blenders are so multifunctional and you can make so many different types of food and drink with them but it all comes down to the fact of what you put in your blender as to how healthy it is!
As an Amazon Associate we earn from qualifying purchases. We may earn a small commission for our endorsement, recommendation, testimonial and/or link to any products or services from this website. Thank you, your qualifying purchases help support our work in bringing you real daily gift ideas.
Top Rated Blenders for Smoothies
Image

Title

Ninja Professional Countertop Blender 1100 watt bae (BL660)

Hamilton Beach Power Elite Multi-Function Blender with Glass Jar (58148A)

Ninja Professional Blender with Total Crushing Technology (BL610)

Oster Core 16-Speed Blender with Glass Jar

Oster Versa Blender with Low Profile Jar

Color

Grey

Black

Black

Brushed Chrome

Black

Features

Total Crushing Technology crushes ice, whole fruits and vegetables in seconds / XL 72oz. capacity to create drinks for the whole family / (2) Professional Nutri Ninja cups with To Go Lids for nutrient-rich juices on the go

Unique, no-mess pouring spout
Wave Action system. 40 oz. dishwasher safe glass jar

Makes drinks and smoothies in seconds with total crushing technology
Includes a safety feature that keeps the blades from spinning unless lid is secured

Powerful 450 watt motor of ice crushing power with 8 speeds. Makes preparing everyday meals and snacks easy, perfect for smoothies, salsa, dips and more.

Pre-Programmed Smart Settings™ Technology takes the guesswork out of blending with easy, one-touch controls for expert results

Weight

7.60 pounds

5.62 pounds

7.00 pounds

9.00 pounds

11.80 pounds
Why We Love Blenders
Blending is fast
As compared to juicing, blending is an ultra fast process. It can take a lot of time to chop, cut and prepare foods for juicing so blending is the quicker option. Speed is really important to people who are busy, in a rush for work or have ten smoothies or juices to make for their family in the morning. Blenders do exactly what they say they do, they blend, they merge, they chop and they mix so all tasks can be done with efficiency.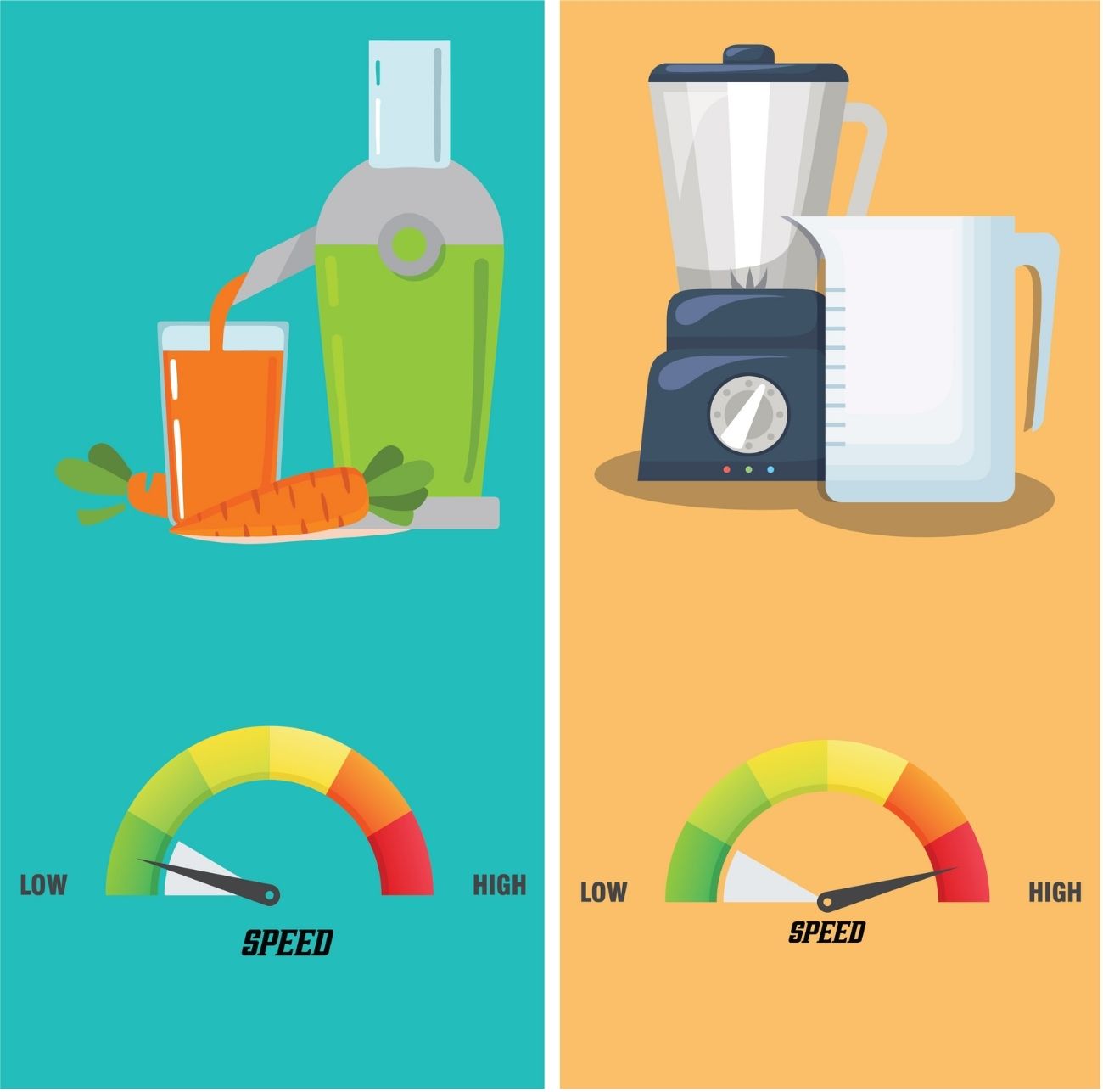 Blended smoothies can fill your tummy quicker
If you are looking to lose weight then making smoothies could really help speed up the process and help you drop a dress size quicker. You might be wondering why, if you make smoothies that have bits in them to 'chew' then it  you should expect to get full quicker than you think due to the digestive enzymes that pre-initiate digestion.If you take about half an hour to get through a thick smoothie with bits in it you will feel as if you have had a three course meal which stops you then from picking through the snack cupboard. The trick to making smoothies this way is to blend your smoothies super thick rather than smooth without bits in.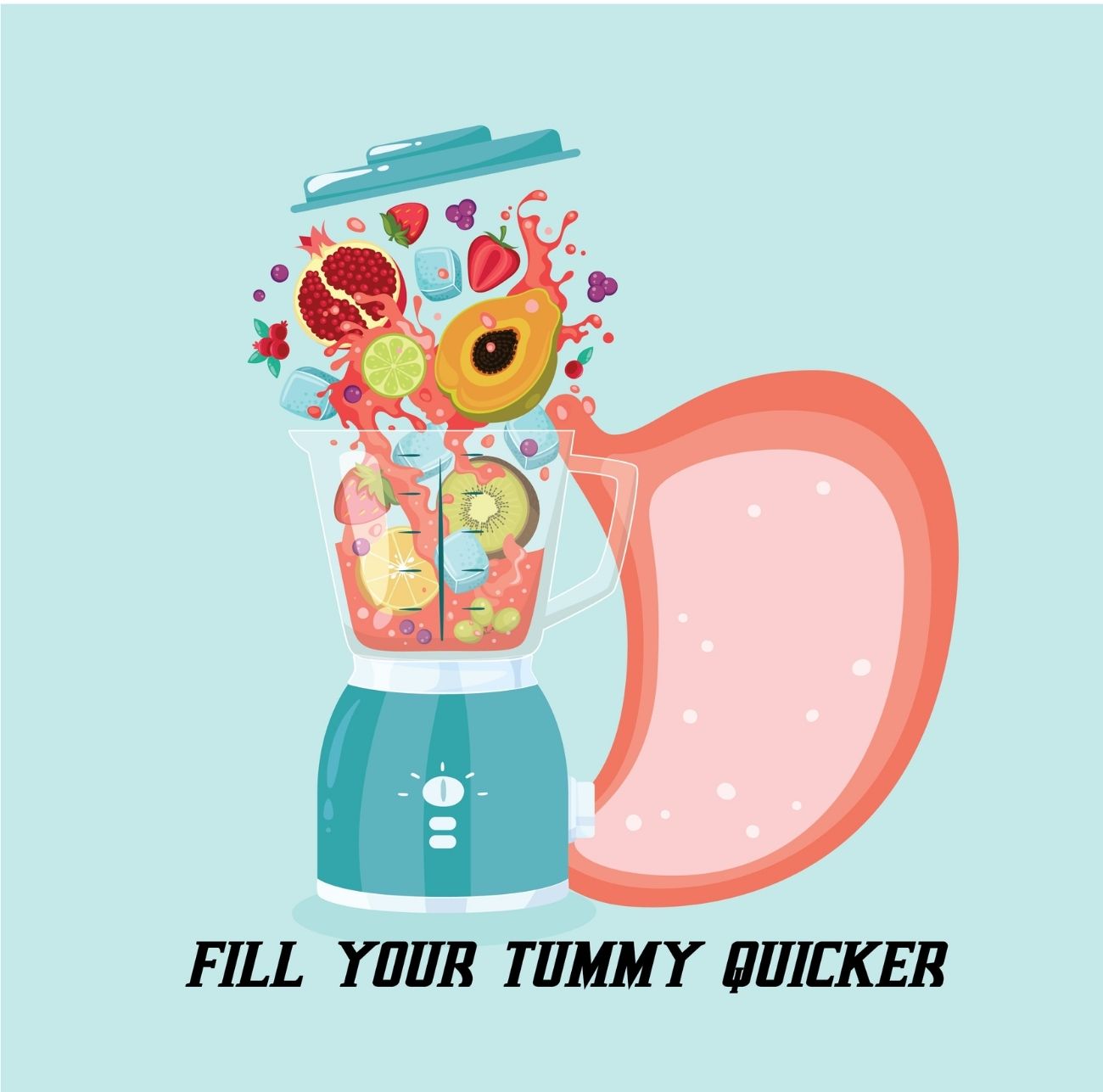 Blending is better for your blood sugar compared to juicing
Probably one of the most important things that people don't know is that when you juice fruits and vegetables juicing eliminates the fiber in the produce and everyone knows that fiber is a great way to lower the glycemic index of a food.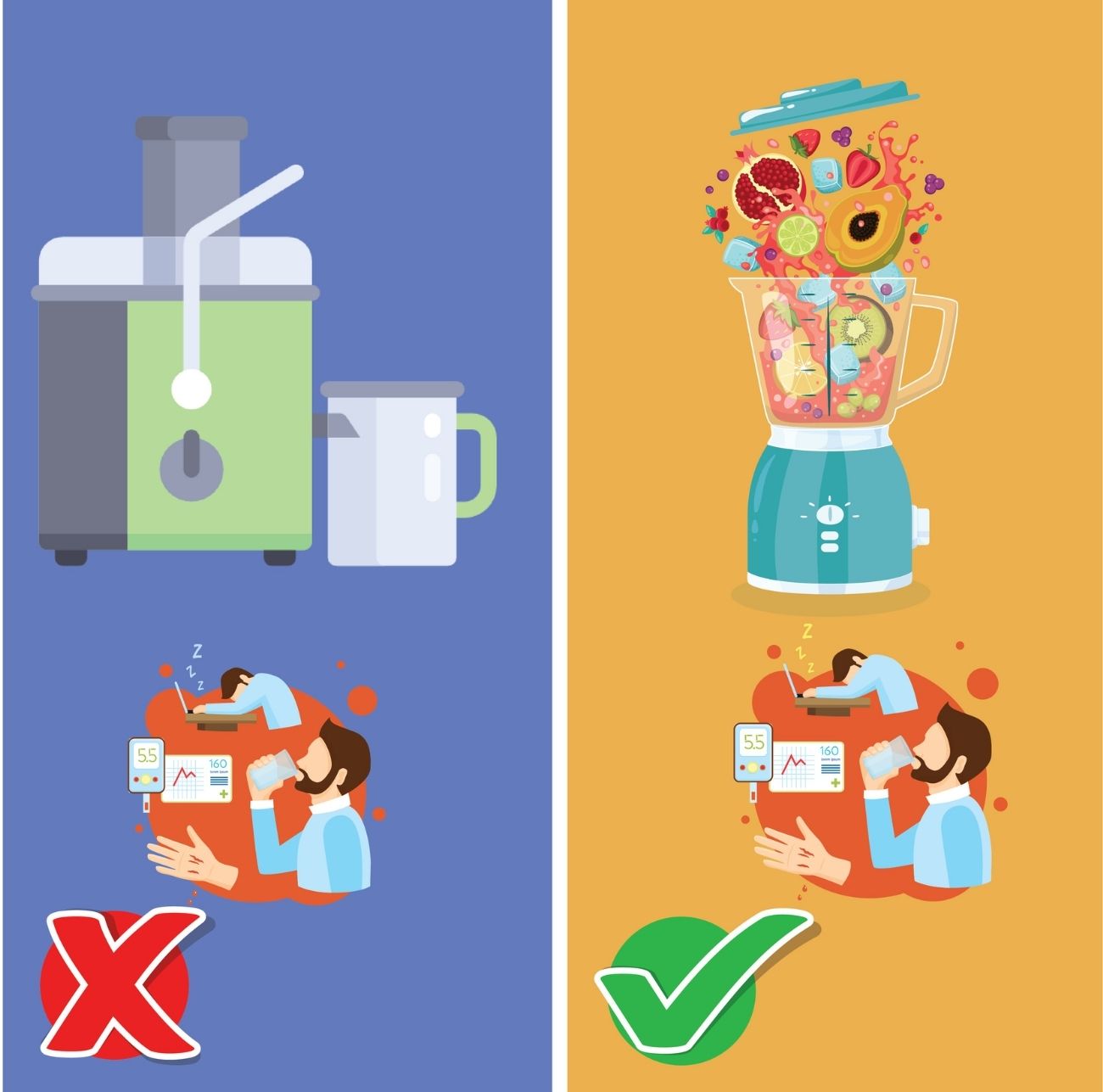 Blending produces less waste
When you have had a little experience with your blender and you get used to what it can and can't blend you can literally blend just about everything from shells to skins which therefore produces less waste. Not only does it make for easier clean up afterwards because all you have to wash is the jar but it keeps all the good nutrients and health benefits in your drink. When you juice something there is always a chunk of leftover skins, seeds and pulp that is only good for the rubbish bin but in these leftovers you will find the most nutrients.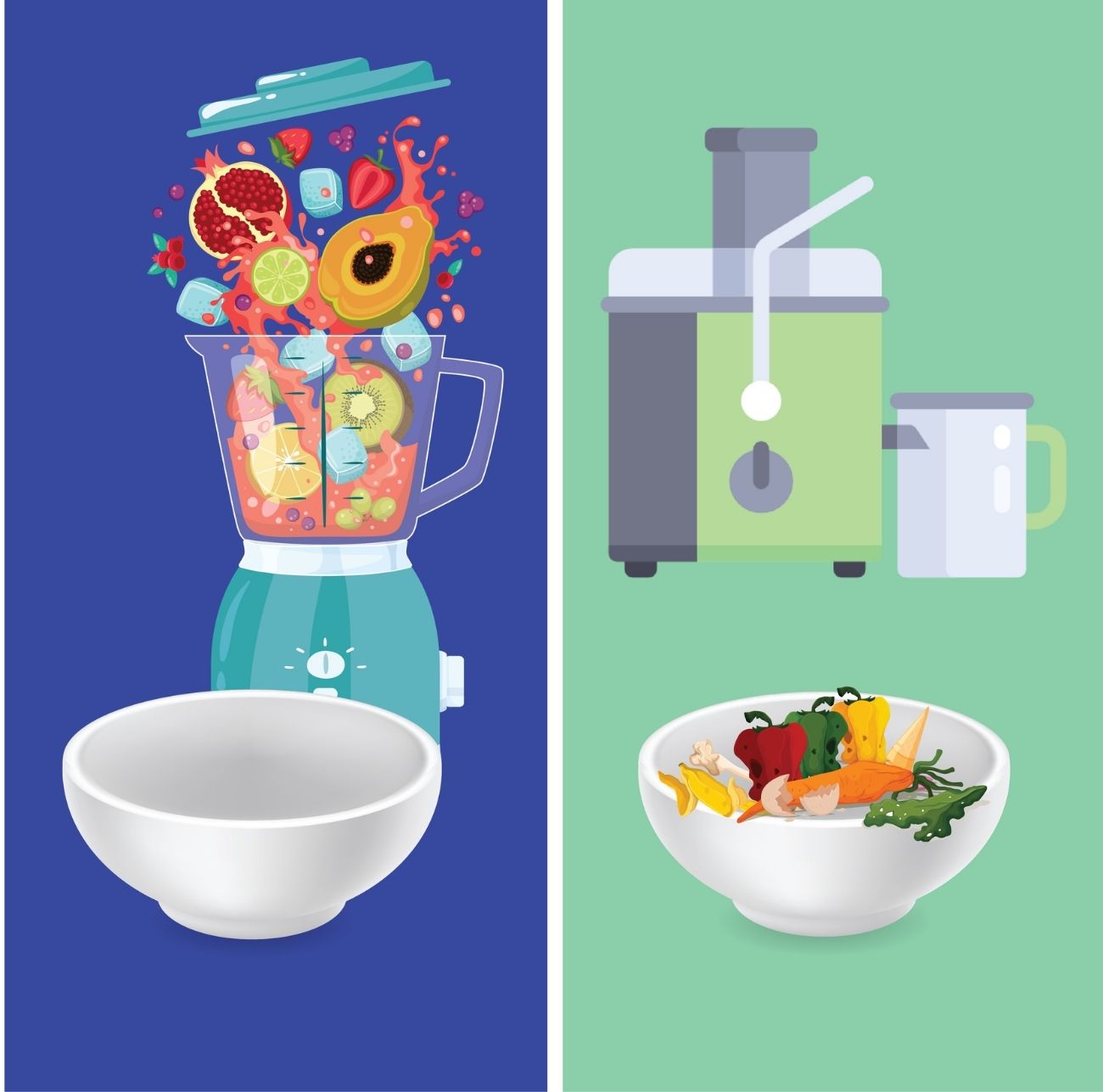 Blending allows you to consume superfoods
It is no secret that not everyone wants to sit and work their way through a bag of flax seeds mixed with protein powder. By blending everything into one drink or smoothie it is more tasty and you can get all the top booster foods in your system in one go. Some superfoods; take for instance flax seeds, cacao, chia seeds, maca and protein powder, are some of the top boosters which are really good for your body but hard to eat on their own which is where the art of blending comes in. Dumping everything in the blender makes it so easy to consume all of these healthy ingredients in one go.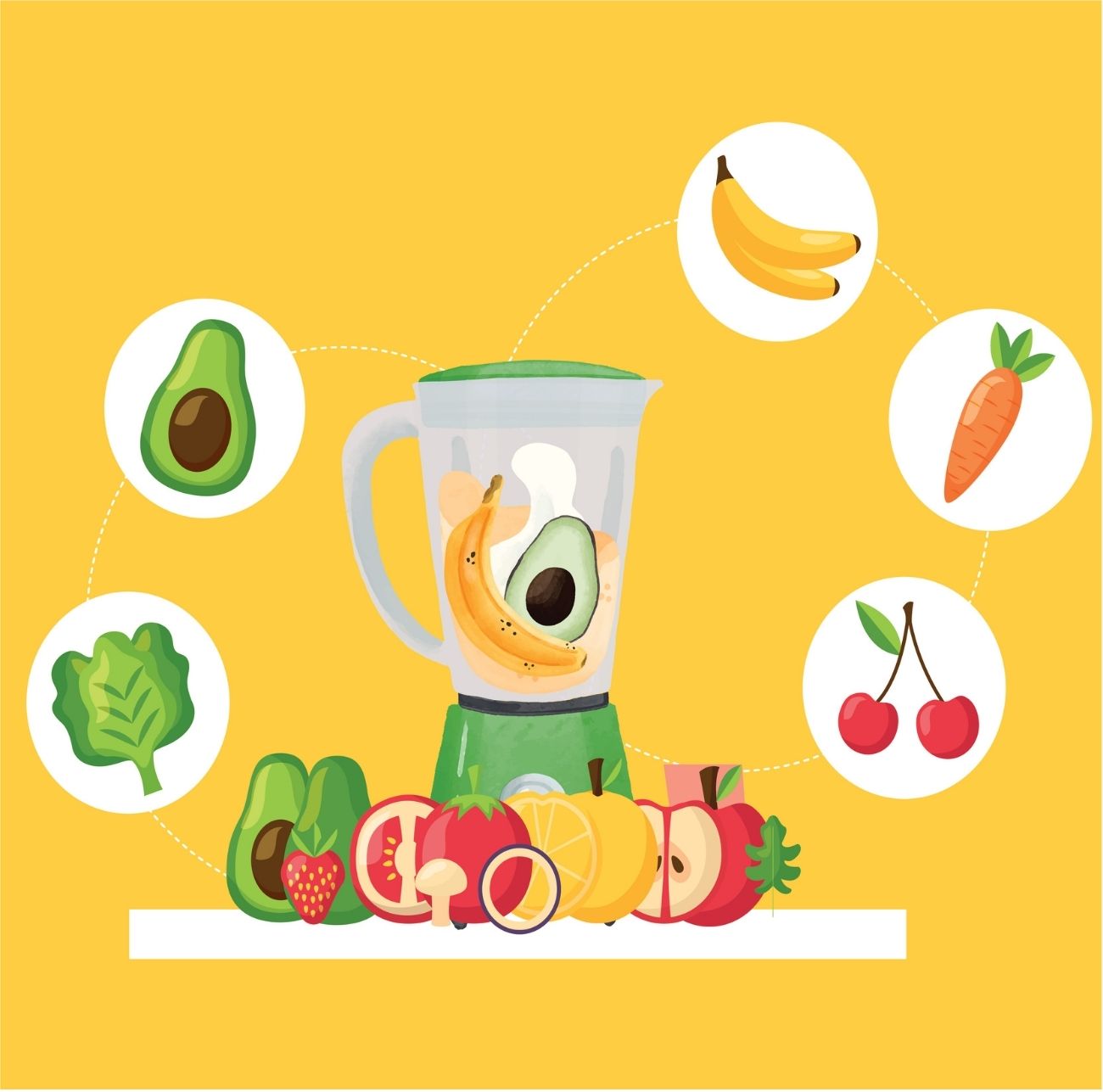 Blending makes it easy for everyone to eat their daily intake of vegetables
If you are someone who is a bit picky with food and this includes the children that think cabbage is snot then you need to find a way to include vegetables in a drink or a meal that is easy to intake. Blending makes it possible to throw in a range of different vegetables, as much as your recommended daily intake, in one go. Our team even came up with some unique recipes that taste so sweet you don't even notice you are drinking kale or choy. It is kind of like eating a salad and a dish of plain vegetables but instead you drink it and it tastes better too.
5 Foods You Can Blend which are Super Health Boosting Foods
Egg shells
It doesn't sound very tasty but they are really, really good for you. Unsurprisingly, there are about 27 elements in eggshells, and that include calcium carbonate. In fact, the calcium from eggshell has proved to be effective for the increment in bone density, stimulation of cartilage growth and reduction of arthritic pain. Make sure you spray the egg with a vinegar and water solution before you drop it in the blender as this will ensure you kill any germs on the outside of the egg before you consume it.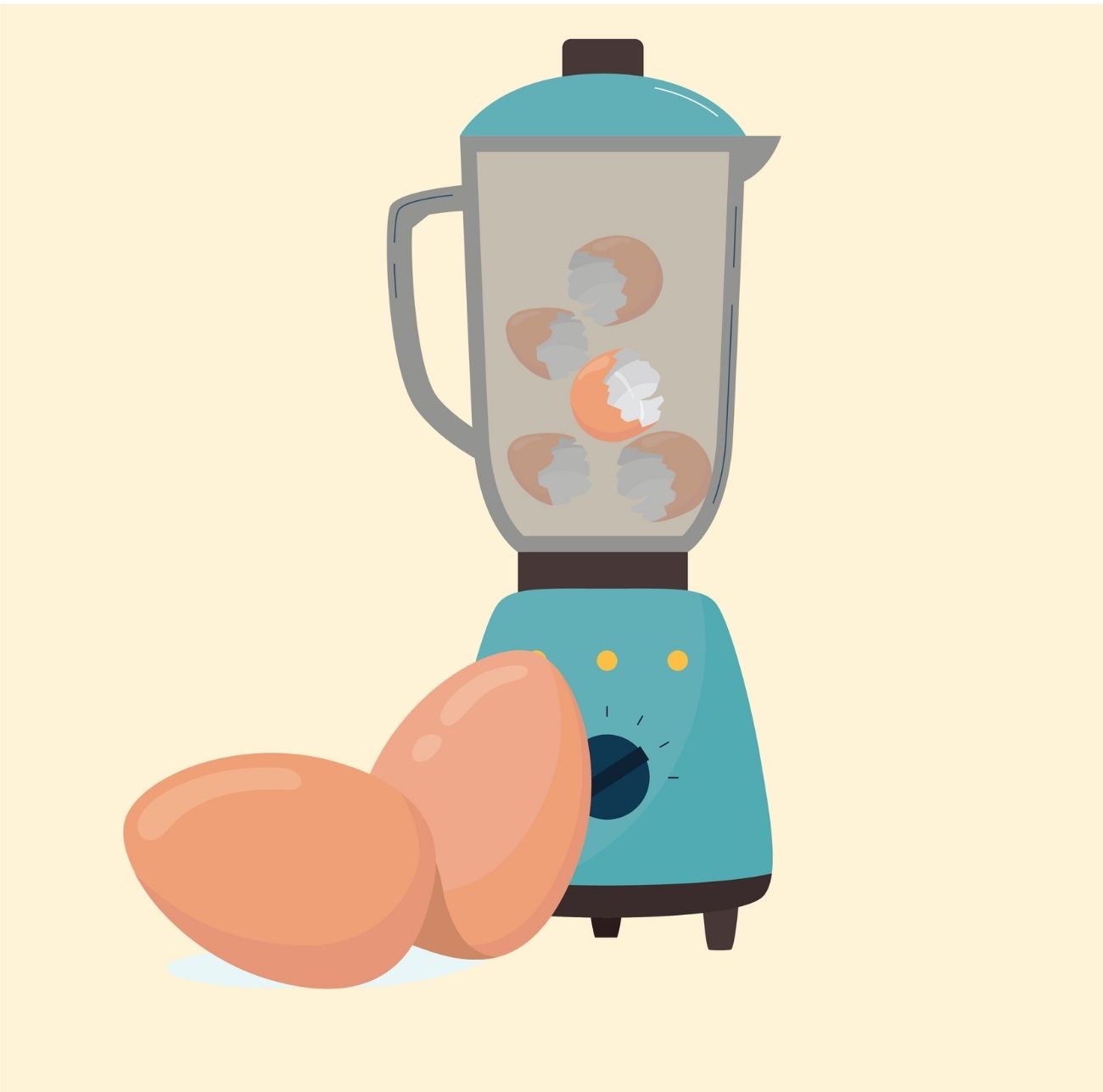 Avocado seeds
For ease of blending just drop the avocado into the blender. You can consume the skin and the seeds and they are really good for you. You'll find up to 70% of antioxidants in the whole of avocado and the antioxidants present in the seeds can help prevent strokes and cardiovascular disease. They also help work on immune functionality as well as joint repair. An average avocado seed possesses more fiber than any food you can think of including oatmeal.
Other places you can find the avocado seeds handy is the healing of inflammation in the gastrointestinal tract, increment in collagen formation, and even skin moist.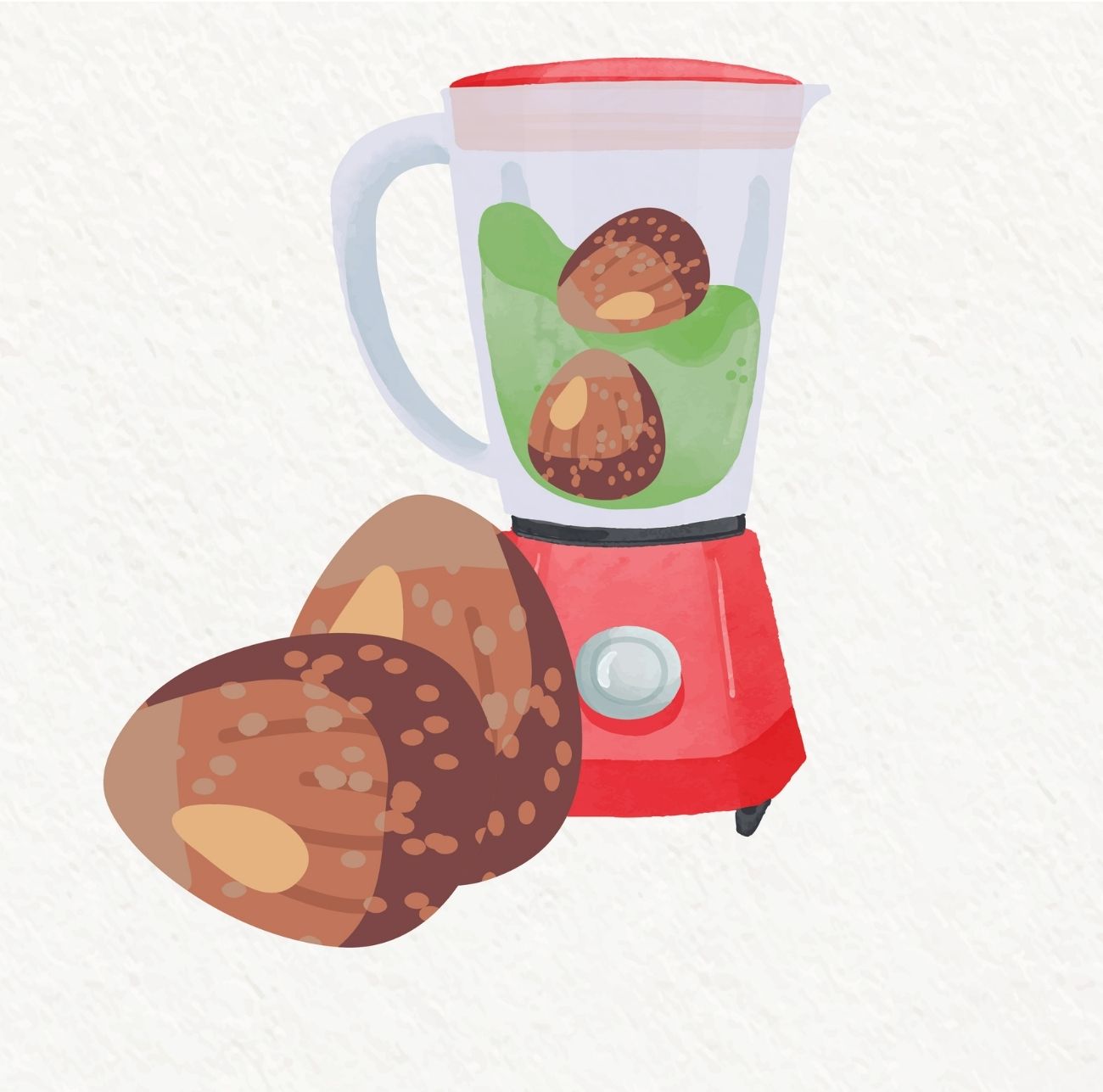 Broccoli Stems
Broccoli steps have a really soft sweet flavor but what people love about them is that they are richer in fiber than any other green part of broccoli. The broccoli stem leaves also possess beta-carotene, even more than the broccoli head or stem.
That's not to say the broccoli heads do not have nutrients of their own. As a matter of fact, the heads are very rich in vitamin B-complex as well as minerals but the stems definitely possess some ingredients that can't be found in the heads. Some of these elements can help protect one from some types of cancer.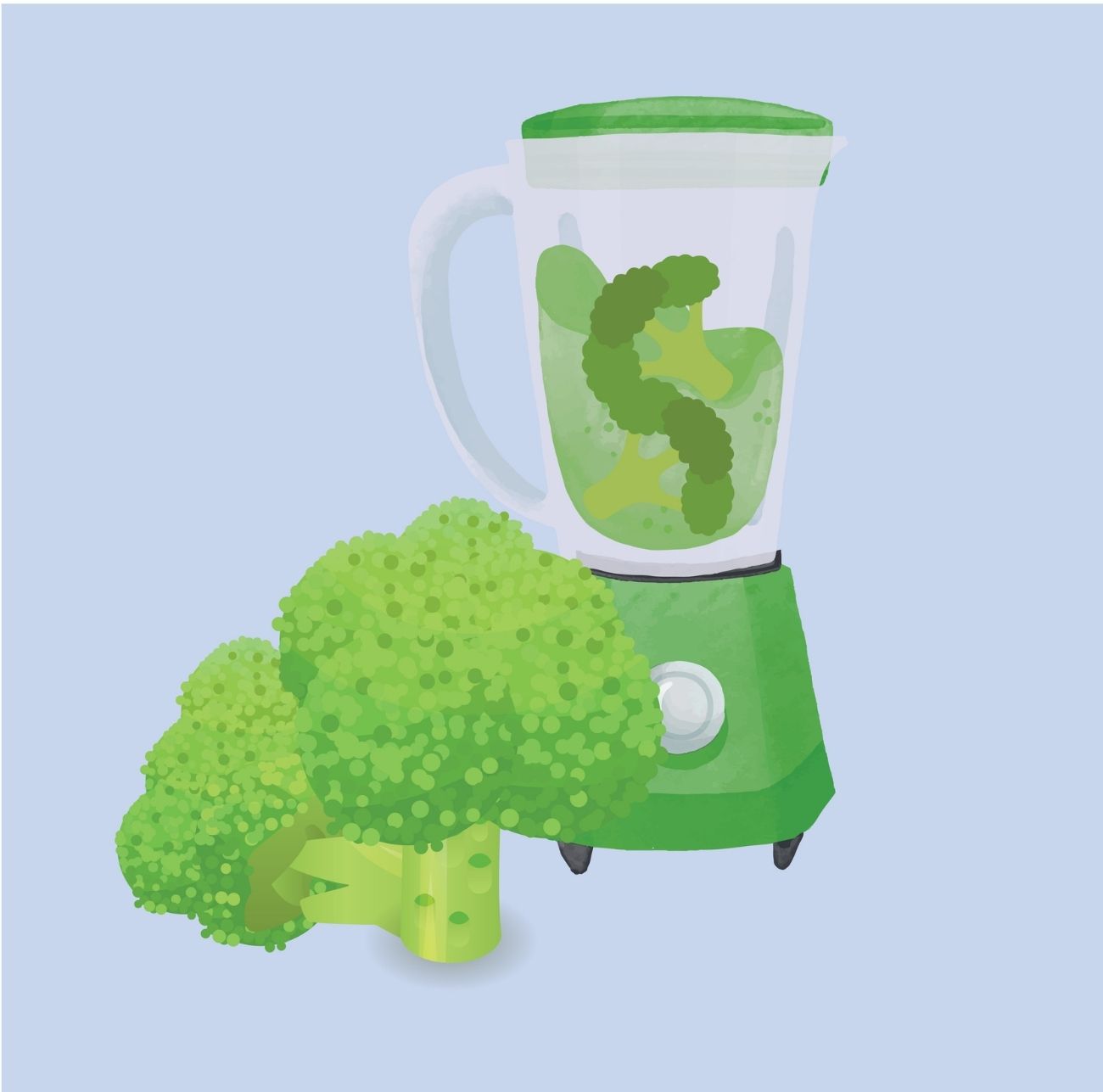 Flax Seeds
We made mention of flax seeds the other time but we couldn't get to talk about their benefits to the human body. As you would expect, Flax seeds are high in omega-3 fatty acid, fiber, as well as lignans (some form of phytochemicals). One tablespoon of a ground flax seed has about 2 grams of unsaturated fatty acids like omega-3 fatty acid, 37 calories and 2 grams of fiber (that's a lot of nutrients for a seed of its size). Overall, flax seeds help relieve constipation as well as reduce the risk of heart disease.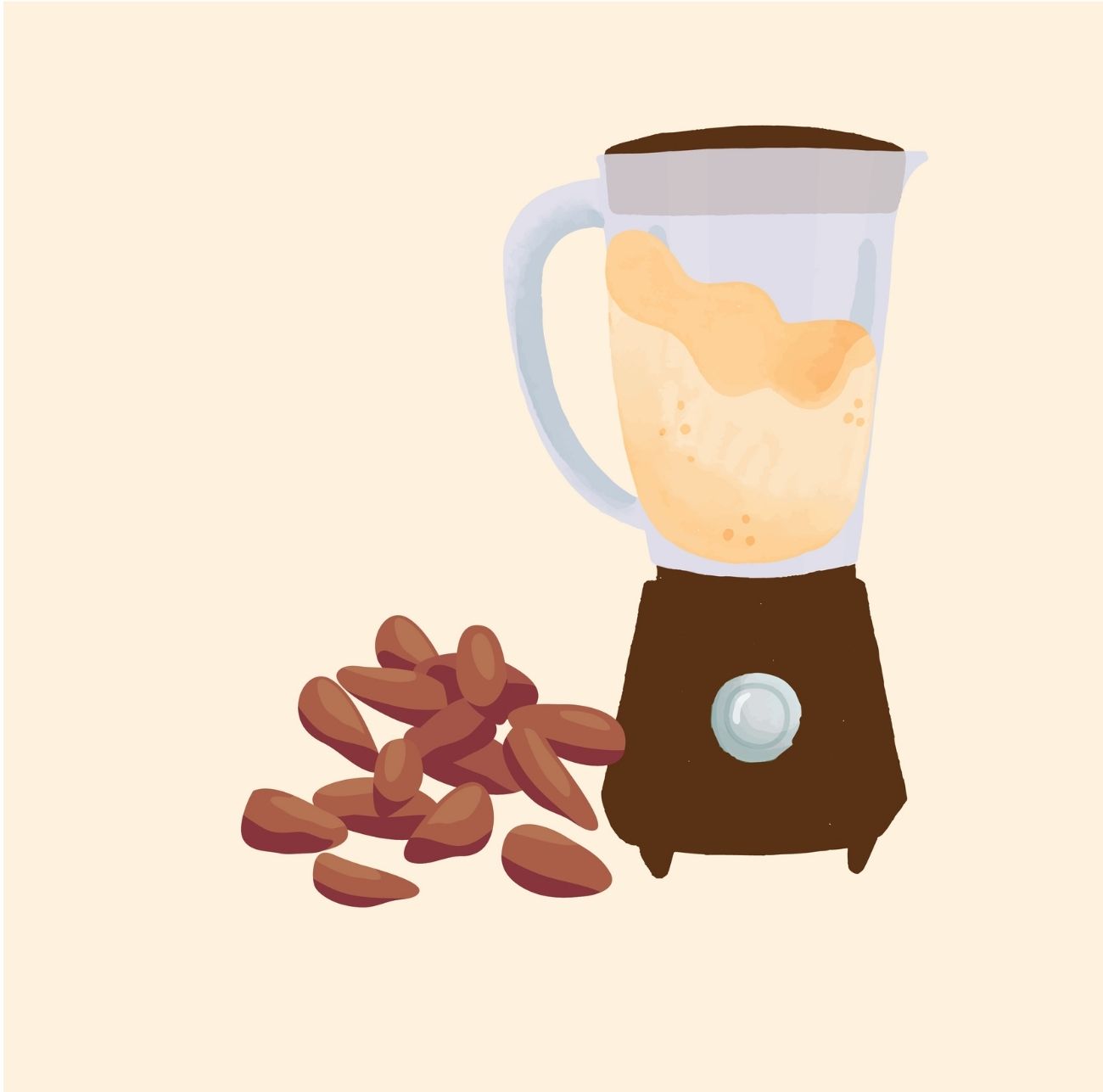 CapraFlex
When it comes to bone healing and digestion, there's no better formula to turn to than the CapraFlex which is widely known being a proven joint and bone formula with important compounds like Chondroitin and Glucosamine, both of which help heal inflammation. Apart from this, it helps people recover faster from bone surgery so it makes every dose important.
FREQUENTLY ASKED QUESTIONS
How much should I spend on a blender?
There's a popular saying when it comes to purchasing home appliances and it's that 'The more money you pay, the more the quality you'll get', and that's a fact. However, how much you should spend on a blender depends on the size of your pocket and what you believe to be quality. You can get a blender for as little as $30 and you can also spend as high as $700 getting a blender. The difference between the two blenders would be the quality.
Are glass blenders better than plastic ones?
Both types have their respective benefits but people seem to prefer glass blenders because  they do not change color, unlike plastic blenders that also attract scratches often. Glass blenders, when handled properly, can retain their looks for longer time than plastic blenders.
Why is my blender not blending?
Some blenders have set not to work under certain conditions. For safety reasons, some blenders do not work if they're not properly covered. Just try to troubleshoot to really know what could be wrong. Some might be blending but not blend properly. In that case, you might have set control to either too high or too low.
WRAPPING UP
Now that you know how blenders can help you get the best results, whether you're blending vegetables, smoothie, or even fruit juice. If you're convinced on which blender you should get, check the table above and carefully browse through each featured product. You can also do more research on each product before deciding on which one to settle for. We hope you try out some of the healthy foods mentioned in this article.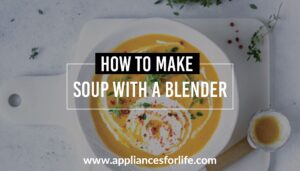 How to Make Soup With a Blender
Although blenders are versatile machines, people have failed to explore how they could do so much more than blending. Let's face it, people may think getting the best value for whatever they spend on acquiring blenders means the blenders being able to serve their basic
Read More »