Crosley freezers are made with the latest technology and enjoy several cutting-edge features.
Crosley 17 cu ft upright freezer gets a good score for reliability and affordability. Offering a 10-year limited warranty is among the best in the industry. Labor and parts are covered in the first year of warranty and taken care of by Whirlpool and Frigidaire. From the second year, the covers are exclusively by Crosley, covering the cost of parts for all appliances, running to the tenth year. 
Crosley appliances are manufactured by the American conglomerate Whirlpool for laundry appliances and Frigidaire for kitchen appliances. However, Crosley doesn't enjoy as much publicity or market share as other Whirlpool products; it still provides the Whirlpool product quality. This makes Crosley a great brand you should consider when buying an appliance. 
Crosley freezers are made with the latest technology and enjoy several cutting-edge features. Walk with me as I take you through the Crosley spec sheet.
Frost Free:
In case you were wondering should I buy Crosley 17 cu ft upright freezer? The Crosley 17 cu ft upright freezer is touted as being frost-free. Then this is as good as it gets. Frost-free freezers are a modern invention to solve the problem caused by the thick layers of frost that develop inside traditional freezers. The design allows frost-free models to work quite well without the need for frequent manual defrosting. While frost-free freezers are convenient household appliances, let us look at the pros and the cons together.
Pros: 
Low Maintenance: 
The biggest attraction of owning a frost-free freezer is there is no need to defrost the unit, which saves you precious time and physical exertion. The requirement is to allow the appliance to thaw out and drain at least once a year or when the frost layer level hits 1/4-inch thick. To manually defrost a freezer requires some weighty, heavy lifting as it is a labor-intensive and time-consuming process that takes as long as 24 hours. Compare this with a frost-free model, where you just need to clean the storage area about once a year. For cleaning, all you need is a simple wipe down with one tablespoon of baking soda solution for each quart of warm water, sufficient remedy to take care of spillage and any odors.
Zero Frost Damage:
Ice crystals can sometimes form on the surface of stored food, triggering freezer burn. The affected food will taste nasty and, more often than not, develop an unpleasant texture. Frost-free models will prevent ice crystals from developing on any surface inside of the storage area, and as a result, frost can't form on your stored food. Additionally, you can protect your food from cold damage by wrapping it in polyethylene bags, plastic-coated freezer paper, or heavy-duty aluminum foil. 
Cons:
Expensive:
You will pay more to purchase a frost-free freezer than your traditional counterparts. Frost-free models are also more expensive to operate. The estimate is that a frost-free freezer will cost you about $219 yearly, while a manual defrost freezer will cost you about $144 yearly. A frost-free model is more expensive because it deploys a heater to melt ice crystals, a fan to circulate cold air, and sensors to monitor frost buildup.
Turbo Freeze:
Turbo Freeze is a feature available on the Crosley 17 cu ft upright freezer. Turbo freeze cools the freezer to the lowest temperature and keeps it constant for 8 hours unless you turn it off manually. When this feature is turned on, the compressor is activated, and the fans run at high speed cooling the storage compartment quickly. 
LED Lighting: 
The Crosley 17 cu ft upright freezer is fitted with a warm, bright LED light that automatically activates when the door opens, allowing you to get in and out quickly. The LED lighting is an excellent choice for dark places like basements and garages. At the same time, it minimizes the duration that you will keep the door open, saving you energy. 
Garage Ready:
This unit is designed to handle hot or cold temperatures outside while maintaining an optimal temperature inside, making it a garage-ready freezer. In simple terms, a garage-ready freezer is fitted with a heater that tricks the thermostat into running the compressor so that the freezer keeps your frozen foods frozen. Should the temperature in your garage go down to below zero on your thermostat, it continues running instead of shutting down the freezer. The garage is known for extremes in temperature as it either can get extremely hot or freezing; a garage-ready freezer, therefore, is one that you can store in your cold or hot garage without worrying about the change in temperatures from 0°F to 110°F. 
Audible temperature alarm:
The Crosley 17 cu ft upright freezer is fitted with an audible temperature alarm. This feature ensures that a high-temperature alarm beeps should the temperature in the freezer start rising, giving you adequate warning to fix the problem before discarding your freezer's contents. And if you accidentally leave the fridge or freezer door ajar, a door-open alarm will remind you to close it. 
Exterior Electronic Temperature Control:
This feature on the Crosley 17 cu ft upright freezer allows you to easily adjust the temperature of your freezer without having to open the door, which makes the freezer destabilize the compartment temperature by releasing cold air. 
Lock with Key:
The Crosley freezer with lock and key allows you to secure your appliance from any unauthorized or unintentional entry.
How good is Crosley 17 cu ft upright freezer?
To effectively answer this question, let us look at the competition.
Midea Upright 17 cu ft Convertible Freezer:
This upright Midea upright 17 cu ft freezer has a 17-cubic-foot capacity and comes with enough shelves and storage space for all your groceries and perishables. With the flip of a switch, you can easily switch between freezer and refrigerator mode. External controls allow you to adjust the temperature without needing to open the door.
In most analyses and expert reviews, the Midea Upright Convertible Freezer, 17.0 Cubic Foot, is highly rated compared to the top appliances in that bracket.
Being a 2-In-1 freezer or fridge, you can switch between freezer and refrigerator with a single click to meet your storage requirements. This appliance is energy star qualified which means that you can realistically save money on energy bills without sacrificing performance. It is factory-fitted with easy-to-use external electronic controls that you can adjust with one touch and monitor at a glance. Its durable metal shelves handle bulky items, and the flat surface means things won't tip over.
Though not a well-known brand, Midea is a top appliance manufacturer, making products for retailers worldwide. It is headquartered in China and has operations in 195 countries and annual global revenue of $22 billion.
If you're out shopping for an upright freezer, Midea is a solid brand to consider. The brand offers freezers in different sizes and designs, with most of its freezers matching what the competition has to offer in terms of all the essential features you can find in an upright freezer. This brand can meet your needs if you're looking for a spare freezer for your basement or garage or if you need a second refrigerator/freezer combination for your kitchen.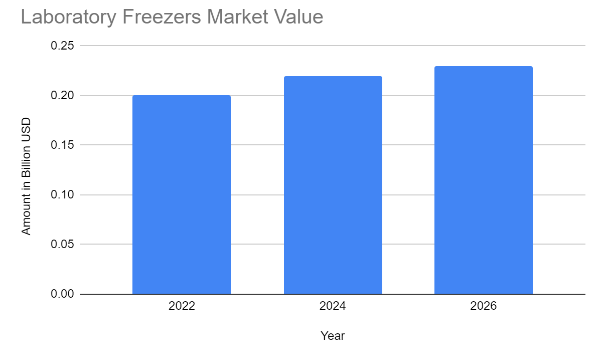 The above graph shows the market value of laboratory freezers through 2026
A key point worth mentioning at this point is that it's important to note that not all freezers and refrigerators are made to be stored in an outdoor area. In this bracket, please include the places in your home that aren't temperature controlled, too, including your garage and basement. Appliances with the capacity to handle extreme heat and cold have special insulation. Read the manufacturer's specifications before buying a machine to ensure it's built for where you want to store it.
Should you find a freezer or refrigerator that can be kept outside, you'll still need to put some safeguards in place. It is recommended to have enough space around the unit to allow air to circulate. It should also be in an area where it is safe from the elements, preferably covered to protect it from direct sunlight and ice and hail.
After you have decided where you can store the freezer, you'll need to find one that fits into the space you have available. While measuring the area, consider the direction the freezer door will open. If you're in a tight corner, having one with the hinges in that corner can make it impossible to open the door. Some freezers let you change the door to open in the other direction if necessary.
Should I buy Crosley 17 cu ft upright freezer?
Here's an essential buying guide when you are out considering whether you should buy a Crosley or not:
Don't get sucked into the dimensions wormhole because looks can be deceiving. Capacity is what matters here. The space is measured in cubic feet, and the more area you have, the more items you'll be able to squeeze inside.

Does your freezer have multiple shelves to help you organize your food? Think about what you'll be storing in your freezer and choose one that has the shelves that will help you manage things. Some have removable drawers that you can use for smaller items like milk or bags of frozen vegetables.

An irreplaceable feature of upright freezers is the convertible feature. The convertible feature allows you to change your unit from a freezer into a refrigerator and back with the touch of a button. 

Olden freezers had to endure ice buildup, but not so anymore as modern technology has unleashed auto-defrost. Before you purchase an upright freezer, confirm it has this feature. Or else you are stuck with the unenviable task of enduring a manual defrost.

Look for an upright freezer with Energy Star technology to keep your power consumption low. 

It is worth mentioning that temperature control is functional. The ability to adjust the temperature of your refrigerator and freezer means you can get items like your ice cream at precisely the density you want. It is helpful to have temperature controls on the outside of the freezer.
Frequently Asked Questions:
Q: Can we move an upright freezer while it is lying down?
A: It should be impossible to transport it in an upright position, so the next best option is to lay it down on the compressor side of the unit. Be careful to secure the door to prevent it from opening.
Q: How long should an upright freezer last?
A: This is determined by several factors but generally at least ten years or more. One of the critical factors is the climate. In humid areas, equipment lasts less than in dry places. Appliances will also be less in coastal regions compared to inland.
Some fridges and freezers from Korean brands now offer ten years warranty. Though this is mainly limited to the compressor, it is still an indicator of the manufacturer's confidence in the quality of its product.
Q: Can you put an upright freezer in a small closet?
A: This is not recommended. With the closed closet door, the freezer will expel heat, but if the door is closed, that freezer will work harder to get colder. Always put your freezer in an area that is well ventilated.
Conclusion:
The Crosley 17 Cubic Feet Frost-Free Garage Ready Upright Freezer has everything you could possibly want from an upright freezer: storage space, electronic temperature controls, and frost-free operation.
This model has enough storage for anyone looking to pack their freezer with food, cold snacks, or frozen fruit. The electronic temperature controls make it easy to adjust the temperature on the door, and this appliance can withstand temperatures from 0 to 100 degrees Fahrenheit, so it's garage-friendly.
ESTIMATED TIME DESIGNING AND UPLOADING THIS ARTICLE
ESTIMATED TIME RESEARCHING AND WRITING THIS ARTICLE