Ergonomics, dimensions, and weight are in a class of their own, setting the dryer apart from its peers. 
A hairdryer, in basic terms, is an electrical device for drying a person's hair by blowing warm air over it. Hair dryers are used to make hair look stylish and better. In this article, I will take you through the Taiff hairdryer, an appliance manufactured and marketed by the leading brand in the niche of hair care equipment. A Taiff hairdryer trumpets two bragging points: lightness and power. Depending on preference, you could pick a Taiff hairdryer for either personal or professional use.  
How good is the Taiff hair dryer?
The Taiff hair dryer holds the unique spot of being the only hair dryer that produces both negative and positive ions. It is fitted with a positive and negative ion generator with a selection switch. One of the key advantages Taiff has is that it offers a wide variety of different hair dryers, whether your choice is for personal or for professional use. Taiff put a lot of investment in tailoring their dryers to meet the needs of the consumer, and therefore, each of the different dryer models brings to the fore unique aspects that make them special and unique. What then makes the Taiff hair dryer tick? 
Design: Taiff hair dryer models enjoy a modern design capped with a premium finish. Ergonomics, dimensions, and weight are in a class of their own, setting the dryer apart from its peers. The dryer has a lighter motor that is comfortable to hold without losing power and depending on the model, the power rating ranges between 1700W to 2600W, allowing for maximum possible airflow. All models come with two temperature options, two speeds, and a cold air jet that provides up to five combinations. 
Technology: Regarding technological development for hair dryers, Taiff leads the pack. Their equipment treats hair at the same time, drying and styling it. Its negative ions seal the cuticles of the hair strands, reducing four to six times one drop of water, enabling its penetration into the strands; the result is moisturized, soft, silky, and shiny hair. Negative ions also neutralize the static electricity in the hair eliminating frizz. The positive ions open the hair strand's cuticle naturally, preparing it and adding value to the results of many treatments.
Opening the hair strand's cuticle was previously only possible using chemical products. Generating over six million ions per cubic centimeter to open or seal air follicles hugely enhances the power. Taiff dryers come fitted with tourmaline, a gemstone that releases negative ions, improving performance when heated. The Taiff hair dryer is equipped with ceramics. When heated, the ceramic emits Infrared rays that hydrate hair while drying it, leaving the hair looking natural and healthy
Personal use: There are Taiff hair dryer models made specifically for home use. These models are quiet, lightweight, and easy to handle, with two temperature options and two cold air jet speeds that allow five combinations.
In this segment, 1700W powered options are ideal for those who want to dry their hair quickly and keep the strands hydrated, soft, shiny, and without the frizz. You may be tempted to consider either the New Smart, Easy, a 1700W powered model for personal use that comes fitted with a professional AC motor, or the Barber style.
For Men: Taiff has an exclusive hair dryer that men can use at home or in the barbershop to dry and style hair and beard. This one is fitted with an impressive chrome finish. 
More power: If your comfort level is more power, then Taiff has 1900W models that stand out for the technology offered. The New Black model comes with standard ceramic coating, providing hydrated and healthy-looking hair. This model is fitted with a safety thermostat that switches the device off should there be a ventilation block. The Red Ion model is equipped with infrared and negative ions providing hydrated, soft, shiny hair and less frizz, as if it had dried naturally. 
Taiff hair dryer reviews:
Taiff hair dryer has received mixed reviews from customers who have purchased and used the appliance. One reviewer said the hair dryer did not damage her hair even though it was powerful. She had curly hair that she wanted to be straightened; previously, the owner of two different hair dryers found Taiff to be better than she had used.
Another reviewer owned a Taiff hair dryer for years before it broke down. However, she was disappointed when she bought another Taiff, which broke down after only four months of use. She contacted the company repeatedly, and she did not get any response.
"I found this dryer extra powerful, and it gets very hot without damaging my hair." A customer from New York said. "It has a lighter motor that is more comfortable without losing the power of 2200W.  I get more shine, softness, and less frizz."
"I find it compact; it is not heavy, fits like a glove, powerful, and gets very hot, this particular Taiff Hair Dryer is a little pricey, but you'll get your money's worth," says Another customer. "This hair dryer is designed to shield hair from damage by extreme heat, with the quickest drying time and easy styling to help add smoothness, increase shine, and reduce frizz. I give it my approval for being one of the quietest hair dryers in the market."
Should I buy Taiff hair dryer?
When shopping for a hair dryer, you will realize that the options available from Taiff are very wide. There are available models with 2000W, 2200W, 2400W, and 2600W, with most models equipped with a professional AC motor. 
If you are interested in the 2000W model, you can make an easy pick from the following options: 
Tourmaline: Which combines negative ion, tourmaline, and ceramic technologies for exceptional outcomes.
Fox Ion and Black Ion: Uses negative ion technology.
RS5 and Style: These are fitted with a professional AC motor. 
The expert advice is to not buy a personal hair dryer with a power rating of more than 2000W and always keep a distance of more than 30cm from the hair to protect your hair fibers. 
You can consider the model with 2100W, which gives you several options to choose from: Fox Ion S, Titanium, Eco, and Kompress all come with a ceramic-coated grid, except Fox Ion S. They all release negative Ions. 
If you are more comfortable with a higher power step, Taiff has a 2200W model, the Fox Ion 3, with negative ions and ceramic coating and comes in three color variations: Soft Gold, Soft black, and Soft Rose. 
The Vulcan and Vulcan Kompress are Taiff models that come with 2400W power, and both offer the high-speed V12 engine and a more increased airflow which is just what you need for great brushing. They are fitted with ceramic coating and release negative ions.
Note that both models are rated for professional use only because they attain temperatures of 250 degrees centigrade. 
This year, Taiff launched the Vis Unique model with a power rating of 2600W, easily the most powerful in the market. The appliance releases negative ions and is suitable for styling hair and chemical processes. 
Taiff products: 
Established in 1988, TAIFF manufactures and designs professional styling tools marketing itself as having an edge on technological advances. TAIFF specializes in hair dryers, flat irons, plates, modelers, brushes, and diffusers and has become the market leader in Brazil for these appliances. TAIFF has earned this position and introduced state-of-the-art styling concepts and tools to many countries worldwide. 
How good are Taiff products?
TAIFF invests heavily in research and development and managing its manufacturing process. Manufacturing is undertaken by utilizing the renowned Japanese cell system. This process allows superior quality control by each working in the cell. The cell system enables an incredibly high level of quality control by each person in the manufacturing process and distribution channel. Taiff also offers a full warranty on products. These factors have granted Taiff success over the years, consolidated by a pioneering spirit and the exploitation of production technology.
Taiff company:
Taiff, the hair dryer manufacturer, is a 30-year-old Brazilian private company specializing in hair products that launched its business with the first portable dryer in 1988. Taiff has grown exponentially to become Brazil's market leader in professional hair styling tools. TAIFF has used its status as a market leader to venture into the world market, exposing its unique state-of-the-art tools and new styling techniques. This status has proven an advantage for Taiff in the competitive professional market because it uses the latest technology to make its tools the preferred option for cosmetologists.
Taiff products review:
Pros:
The Taiff hair dryer treats hair while at the same time styling and drying.

Taiff offers separate models for either personal or professional use.

Their devices have different power ratings from 1700W to 2600W

Taiff appliances come with power cables that have different lengths varying from 1.8 to 3m.

All Taiff models come with a six-month warranty
Cons:
Taiff products are on average more expensive.
The graph above shows global projected revenue from hair dryers Hair Dryers – Worldwide | Statista Market Forecast
How to buy the best hair dryer?
In most practical scenarios, having the right tools makes the difference between a win and a miss. When purchasing a hair dryer, are the things you should look out for to ensure you end up with a win every time:
Look at the dryer's power. Power is what makes sure your hair dries faster. If you want your hair to dry as fast as possible, look for an appliance with a high wattage. You want 1800W or higher for thinner hair. Professional dryers have a wattage of up to 3600, cutting drying time in half. 

If the result you're expecting is smooth hair, then look for a dryer with ceramic, porcelain, infrared, or tourmaline technology. Ceramic or porcelain technology controls the heat of your blow dryer so that it distributes heat more evenly. Plus, they emit negative ions to make drying faster and smooth frizz. Tourmaline, on the other hand, is a mineral that ensures the cuticle is sealed and helps retain moisture leaving your hair smooth. In a nutshell, it fights frizz and helps your hair retain the much-needed moisture. A dryer with the infrared label uses longer energy wavelengths to penetrate the hair and dry it from the inside. 

You need a dryer with a cool shot button to help you set the style. When using a round brush to smooth the hair, you will need the cool shot button once the hair is dry to set the style.

Look for a hair dryer that comes with attachments. It will come in handy at the appropriate time, whether a nozzle or a diffuser. The nozzle will help concentrate the airflow to blow directly to the area you want to smooth, while the diffuser will help spread your dryer's airflow. 

Some dryers have titanium. That means that, like, ceramic, it is used to distribute heat and keep the temperature steady. Titanium dryers tend to be very hot, so they are not recommended for hair prone to damage. Plus, titanium is much lighter than ceramic so you will have the bonus of a light appliance.

How much does your dryer weigh? Look for a dryer that weighs about a pound. A heavier model will wear you out halfway through the process, and you might not completely blow your hair dry.

Cost. The expert advice is to sacrifice and spend more on your dryer by choosing the more expensive models, not the cheap ones. The more expensive dryer will offer quality and keep your hair in great condition. 
What are the best hair dryers?
What hair dryer should I buy?
Best Overall Hair Dryer: BaBylissPRO Nano Titanium. This Nano Titanium hair dryer by BaBylissPRO tops overall because it is easy to use and hold. It dries hair quickly with its powerful airflow and is lightweight. Built for speed, this baby is quiet and has great code length. 
Best Value Hair Dryer: Remington Pro Hair Dryer with Thermaluxe Advanced Thermal Technology. If you're looking to make some savings, here is your winner. Clients are impressed by its speed and air pressure. It comes complete with a diffuser and concentrator as extras. Please be advised some users find it loud and bulky. 
Best Professional Hair Dryer: Dyson Supersonic Hair Dryer. It is one of a kind with the motor fitted to the handle! This sleek dryer is a favorite of professionals; it is super strong and dries hair faster than its competition. The Dyson comes with five attachments, including two concentrators, a diffuser, an attachment for smoothing flyaways, and a gentle air attachment. For extra convenience and simple usage, all the attachments are magnetic. 
Best Hair Dryer for Frizzy Hair: Hot Tools Professional Turbo Ionic DC Blue Hair Dryer. The brand Hot Tools created this compact model, and it is ranked highly for strong airflow. Customers love its small size because it leaves their hair less frizzy. It has received rave reviews for its easy-to-reach controls, its comfortable shape and the fact that it is quiet. 
Best Compact Hair Dryer For Bangs: Harry Josh Pro Tools Ultra Light Pro Dryer. Its ultra-chic, pint-sized, and it comes in a lightweight, compact design that makes it ideal for drying bangs. Though you might find it heavy, you will definitely love how much power it packs. It is also an editor's favorite. 
Frequently Asked Questions:
Q: What is the purpose of using a hair dryer on your head?
It is common to use hair rollers along with a setting solution. Using a cap or dome dryer will dry the hair and set it in about 1 hour. When you follow that up with a blow-dryer, you will straighten the hair or put in a slight curve in the hair. You can also use a dryer to deep condition the hair before rinsing it out. 
Q: Can I use a hair dryer in a moist and warm bathroom after a shower?
Yes, you can. Ensure you dry your hands, so they are not wet and whatever you do, don't drop the dryer into the water. 
Q: Is it dangerous to use a hair dryer for heating a room?
This is a bad idea. A hairdryer will be too noisy and it will definitely shut down when it gets too hot, that is, assuming it is your lucky day or night. It is a definite fire hazard in the event that you fall asleep and leave it on. 
In conclusion, the secret to beautiful hair every day is a great hair dryer for easy blow drys in the comfort of home. As clearly explained in our write-up above, not all hair dryers are created equal. There is also a myriad of factors to consider when shopping for a hair dryer from your hair type to the technology and features of the hair dryer. 
ESTIMATED TIME DESIGNING AND UPLOADING THIS ARTICLE
ESTIMATED TIME RESEARCHING AND WRITING THIS ARTICLE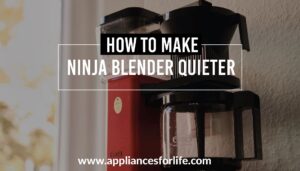 How to Make Ninja Blender Quieter
A kitchen is a place of business for many, and they always want it to be as quiet as possible. In this article, we'll be discussing how to make your Ninja blender quieter. The kitchen is a good place to be for those who love
Read More »