While the open flame guarantees precision and useability, the electric stove is safer and easier to clean.
The 1200mm gas cooktop supplies you with everything you need from your cooktop. You will find models in the market with the following dimensions: 1200mm Wide x 805mm Deep x 372mm High. Cooktops have become popular cooking appliances for their seamless, customized look in modern kitchen designs. The common variety of cooktops you will find in the market are 30" or 36" wide, but they can be as small as 12" wide. The favored design is for installation in a standard 24" deep counter, with cooktop depths varying from 19" to 22". They are either gas or electric with 1-6 burner options. Some manufacturers will throw in an integrated griddle, charbroil grill, or French top burner, with induction cooking being the latest innovation. Regardless of the size of your kitchen, you are spoilt for choice.
Gas cooktop installation:
Gas cooktop installation is a relatively simple job requiring basic tools and readily available supplies. With the right materials and careful reading of instructions, you can safely do the job yourself, saving you hundreds of dollars in professional hookup costs.
We'll show you in this article how to hook up a gas range using a flexible, corrugated connector similar to the one used by a gas clothes dryer.
At most home centers and hardware stores, you will find flexible corrugated gas connectors, gas pipes, and fittings (black). The connectors that are safe and legal to use must either be stainless steel or coated brass connectors. Corrugated connectors made of uncoated brass or other metal are unsafe, and it is advisable to replace those should you have them in your house.
It is important to buy the right connector to ensure a safe installation. Here's what to look for:
Buy a connector marked for the appliance you're installing, should it be a cooktop or a dryer. The corrugated tube of a range connector is 1/2 in. dia. i.d. (inside diameter), and a dryer connector is 3/8 in. dia. i.d. Though these dimensions are not always labeled on the package. Still, they will be marked for either range or dryer.

Buy a connector that includes the end connector fittings you need. The gas line coming into your kitchen is a half-inch black threaded pipe, and the connection to the stove is either a male (external threads) or female (internal threads) 1/2-inches fitting. If you cannot find a connector package with end fittings that match what you need for the gas line, use a black gas pipe fitting on the line to accommodate the end connector fitting. 

Use a connector that's long enough. This will give you enough room to work between the

gas stove

and the wall. The available lengths range from 24 inches to 60 inches.

It is not advisable to reuse a flexible connector. Buy a new connector for your new appliance. Follow the instructions for installing the connector carefully. Here are some additional guidelines:

Do not to twist or force the corrugated connector into sharp bends, which could eventually cause a break.

Take time to check for leaks. You can buy gas leak detectors at home centers, hardware stores, and online.

It's not a requirement to have a range hookup inspected, but  we strongly encourage you to call your local gas company or plumbing inspector to check your work.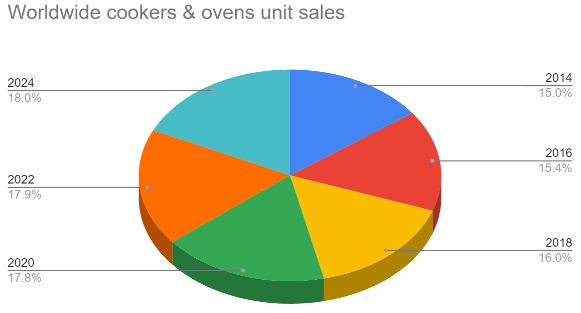 The pie chart above shows worldwide cookers and ovens unit sales from 2018 to 2024. The global cookers & oven unit shipments are forecast to grow to almost 273 million by 2025. From 2012 to 2021, the market has shown continuous growth. In 2022 cookers & ovens shipments are projected to decline, compared to the previous year, due to lessening demand due to the coronavirus crisis. From 2023 onwards the cookers & ovens market is set to grow again.
Which brand is best for cooktop?
Not all cooktops are created equal. While different people swear allegiance to different cooktops, a time usually comes when you have to shop around for a new cooktop. Whereas people tend to prefer the type of stove they learned to cook on, it may be time to look into a different stove or cooktop.
There are three cooktops: gas, radiant electric, and induction. Each has strengths and weaknesses, but all can get the job done properly. While the open flame guarantees precision and useability, the electric stove is safer and easier to clean. Induction cooktops are the safest and most efficient stoves for the environment and utility bills.
Which brand is best for the cooktop? To help you make a decision, here's our breakdown of the best overall cooktops of 2022 based on cost, consumer reviews, warranty, and other important factors.
GE Profile 30-Inch Built-In Touch Control Induction Cooktop
GE's Profile 30-Inch Built-In Touch Control Induction Cooktop is expensive, but it has an impressive list of smart, user-friendly features. This unit also enjoys enviable customer approval ratings making it one of the best cooktops of 2022. The GE Profile has a 12-month warranty, meaning you are covered should you have problems with your appliance. This cooktop comes with mouth-watering smart features, over and above what its competition boasts—including pan detection. The cooktop sizes the heating area to the size of your pans and turns off the burners when the pans are removed.
Pros:
This unit has smart features, including pan detection, sync burners, and control locks

It enjoys a smooth, sleek surface design with touch control available in multiple colors and finishes

It is fitted with GE's Fit Guarantee, or GE will pay up to $100 for necessary modifications
Cons:
Makes available only has four burners

Expensive

You can only use compatible cookware on induction cooktops.
KitchenAid 30-Inch Radiant Electric Cooktop With Five Elements and Knob Controls
KitchenAid's 30-Inch Radiant Electric Cooktop with Five Elements and Knob Controls is affordable and is sold with a five-year limited warranty. For those who feel the five-year limited warranty is insufficient, KitchenAid also offers paid protection plans, which remove some of the limitations of the "limited warranty." These plans cover you for one, three, or five years at relatively low prices. This KitchenAid cooktop has five burners in different sizes and some designed with special features, including an "Ultra Power," a "Simmer Setting," and a "Melt Setting."
Pros:
It has heavy-duty stainless steel knobs that offer flexible control

It is fitted with a 10-inch/six-inch Double-Ring Element that can handle pots and pans of any size

It includes the best warranty on our list
Cons:
What is on offer has limited colors/finishes available

The smart features are few in comparison to other products
Frigidaire Gallery 30-Inch Electric Cooktop
The jewel in the crown of Frigidaire's Gallery 30-Inch Electric Cooktop is a boiling hot 3,200-watt heating element that can boil one quart of water in less than three minutes. The Gallery model is fitted with five burners. Reviewers feel the elements are too close to use all five effectively simultaneously. It comes with easy-to-read front controls. You can customize the controls in either stainless steel or black.
Pros:
It features a 3,200-watt element that boils water in less than three minutes

Frigidaire's "fit guarantee" offers $100 for any necessary modifications if it doesn't fit

Excellent pricing
Cons:
Suffers a spacing challenge as front and center control knobs can get in the way easily
Reviewers say they struggled to clean and maintain the cooktop surface properly
LG 36-Inch Electric Cooktop
The LG 36-inch electric cooktop is intuitive and easy to use and comes with smooth-touch controls. The LG has conveniently centered controls between burners, keeping them out of the way. These controls are integrated into the smooth surface, simplifying cleaning to a simple wipe. This LG cooktop is ADA-compliant, listed at an affordable price, and maintains strong customer ratings.
Pros:
It is ADA-compliant.

It is fitted with smooth touch controls that are easy to read and easy to clean

Quick-changing heat makes controlling the cooktop easy
Cons:
The stove's safety features tend to activate inconveniently when a hot pan is placed back on the stove

Controls can be hard to read when things get messy
Frigidaire 36-Inch Induction Cooktop
This Frigidaire 36-Inch Induction Cooktop employs induction technology and not electric heat. Induction cooktops heat foodstuffs faster than electric cooktops. They are often praised as safer and easier to clean. The surface stays at room temperature with induction technology while the pots or pans heat up. This stops spills from burning into the surface and are easy to wipe immediately or after cooking. The cooktop comes with five burners that provide lots of room.
Pros:
It has five induction burners that cook food faster and easier

Features auto-sizing pan detection, which only sends heat to the appropriate size area

It is affordable.
Cons:
You must upgrade your utensils, as induction cooktops do not work with non-metallic cookware.

The "power boil" setting does not live up to the hype.
Frigidaire 30-Inch Induction Cooktop:
The Frigidaire 30-Inch is the smaller version of the Frigidaire 36-Inch Induction Cooktop. It offers nearly the same menu of great features. Even though the 30-inch only fits four burners, it retains the auto-sizing pan detection to maximize the induction heat straight to the correct size of the pot. It also features Frigidaire's "True Temp Melt & Hold"—a low-heat setting that melts delicate sauces, cheese, or chocolate and keeps them warm without burning.
How do I choose a gas cooktop?
When choosing a gas cooktop, several questions will require your attention. What's your budget? Where will the cooktop be in your kitchen design? Do you have gas or electricity? How will you set up ventilation?
Cost Range
The current market prices range from $300 for a basic four-burner gas cooktop to $2,500 or more for a 36-inch induction or pro-style gas cooktop. Cooktops have a life span of up to 15 years.
Size
Your kitchen will dictate the size of the cooktop that you will choose. It's wise to find an appliance that fits the available opening. Standard widths are 30 and 36 inches, but models can vary by as much as an inch.
What is the best portable gas stove?
1.
PRIMUS FIRESTICK
The best all-rounder camping stove
SPECIFICATIONS
Includes: Stove only Matchless: Yes, with separate igniter Weight: 105g Fuel type: gas canister
REASONS TO BUY
+Fuel efficient
+Simple and effective
+Robust
REASONS TO AVOID
–Requires a shield in windy conditions
Primus is an industry leader in stoves, and the Primus Firestick is a presentation of great engineering combined with the best stove technology. This Portable Gas cooktop is small and light with a stainless steel pot support that folds around the central gas burner like flower petals, offering protection practically and attractively. The regulated valve inside supplies a consistent flame that is easy to control. 
This unit is supplied with a piezo igniter in a separate pencil-style unit and a woolen storage pouch designed to be used as a pot gripper. Overall, the Primer is great outdoor equipment that is practical, easy to use, and reliable. A genuine keeper of a stove that you'll use time and time again. 
2.
PRIMUS LITE+ STOVE
Best all-in-one camping stove
SPECIFICATIONS
Includes: stove, pot with lid, thermal jacket Matchless: yes Weight: 402g Fuel type: gas canister
REASONS TO BUY
+Includes cooking/eating pot
+Insulated jacket keeps heat in
+Clever design offers much greater stability
+Integrated windshields
REASONS TO AVOID
–Not so useful in a group
The award-winning Primus Lite+ remains very popular amongst outdoors enthusiasts. Minimalist camping stoves are typically not stable, but Primus has tackled that head-on with the Primus Lite+. It features a burner specially designed to sit closer to the gas cartridge safely, and the cooking pot also slots directly on top, surrounded by windshields to stop the flame from blowing out. This unit offers great service in the wild, and you will love its stable, efficient setup.
The Primus has retained the strong points of the original bestselling stove, but changes have been made elsewhere to streamline the design for 2022. The 0.5l hard anodized aluminum cooking pot comes with a pouring spout, while the lid doubles as a backpacking mug made with 95% bioplastic. The outer sleeve has a convenient pocket where you can stash a long spoon and includes a new, eco-friendly cork lining that insulates. You will love the sleeve colors, which come in six vibrant colors. 
This unit serves the solo camper, or perhaps two at max. While you can use it with alternative pots, only the provided pot is a specific fit that works well on the stove.
3.
CAMPINGAZ TWISTER PLUS PZ
The best cheap camping stove
SPECIFICATIONS
Includes: stove only Matchless: yes Weight: 274g Fuel type: gas canister
REASONS TO BUY
+Lightweight and portable
+Integrated Piezo lighter
REASONS TO AVOID
– No windshield
–Too small for family camping trips
The Campingaz Twister Plus PZ gives you simplicity and portability. While not exactly small or light, it will still fit in a big pocket and do the job for one or two people. It is fitted with a built-in lighter and has enough fire to boil a liter of water in 3-4 minutes. This Campingaz lacks wind protection, but overall, it is a great stove that is affordable. 
Frequently Asked Questions:
Q: Does a gas cooktop need electricity?
Gas cooktops do not need electricity to work. The electric cord you see on most models is for the igniter, but you can light any of them with a match or a lighter. The pressure supplies the gas in the tank for propane or the pressure in the line for natural gas.
Q: Can you have a gas cooktop and an electric oven?
Yes, you can have a gas cooktop and an electric oven.  
Q: What's the difference between LPG and natural gas cooktops?
LPG is Liquid Petroleum Gas. This is usually propane (C3H8) and is purchased in a canister. Natural gas is from the ground. It is usually methane (CH₄). LPG requires oxygen to gas ratio of about 25:1, and natural gas requires 10:1. This is a significant difference. So, adjustments must be made to account for that difference. Once the oxygen-to-fuel ratios are accounted for, both appliances work equally well.
Conclusion:
Choosing the best gas cooktop does require some level of research on your part. It could also determine whether your food comes out great or burnt. If you haven't decided whether you want to opt for an electric, gas, or induction cooktop, our article should give you a start.
ESTIMATED TIME DESIGNING AND UPLOADING THIS ARTICLE
ESTIMATED TIME RESEARCHING AND WRITING THIS ARTICLE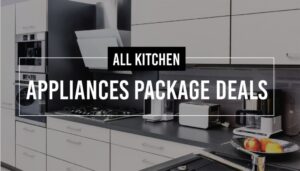 All Kitchen Appliances Package Deals For You
Sometimes, finding cheap appliance bundles might feel daunting, which is why you need to pay close attention to finding the right kitchen appliance combo deals for your home, whether you're replacing old ones or getting your first set for a new home/apartment. In this article,
Read More »