In the world where technology has taken over and almost every device is tech-dependent, it is very crucial that we all embrace the change and get used to how things are even if it's not the easiest thing to do. Having appliances in your house is one of the best things you can do for yourself as long as convenience, ease, and comfort are all concerned – everybody loves to have things (mostly devices and appliances) that make their lives easier. Unsurprisingly, we now have smart refrigerators that can read out cooking instructions (recipes) as you cook, and that only highlights the great changes and improvements that have been made in the appliances industry in the last few years.
It's important that we have these appliances if we truly want to pursue comfort and convenience. As a result, we're not surprised that people are now willing to spend thousands of dollars on modern appliances because they are very convinced these appliances will offer them a lot of comfort and convenience. This has caused the sales of major household appliances to skyrocket not just in the United States, but the rest of the world.
The United States has always been a big market for both small and major household appliances, and in 2020, the country's biggest year yet in terms of the sales of small and major household appliances, over 500 million units of small appliances were sold (514.1 million) while the total units of major household appliances sold in the same year were 62.7 million.
The United States appliances market is largely dominated by American brands such as Frigidaire, GE, Whirlpool, and many more, despite the threat of foreign companies like LG and Samsung (both South Korean brands) of a major takeover. GE, one of the oldest American appliances brands with the great Thomas Edison being one of the founding members, has played a huge role in the development of small and big appliances in the United States over the past few years.
It's sad that when people talk about the best appliances manufacturers in the United States, the GE brand doesn't get mentioned very often, proof that it remains very underrated despite putting out some of the best appliances in the country. When Thomas Edison founded this company over a century ago, it was to push his incandescent light bulbs into the market, but things changed when he met some people that envisioned some new ways for the company to function, leading to the company taking on some new challenges and adventures. Today, the company remains one of the biggest conglomerates in the United States, with products ranging from Aircraft Engines to Energy.
GE washing machines are very popular in the United States, and over the past few years, the brand has made some efforts to cross to the other parts of the world, with GE washers growing popular in countries like Italy, Germany, and the Netherlands. As strong as GE washing machines are, they come with their downsides, and while these may not be much, they are still worth looking out for. Just know that if you have a GE washing machine, it's not abnormal to run into problems with it, so knowing how to repair a GE washing machine or how to fix a GE washing machine will come in handy and save you a whole lot of money as well.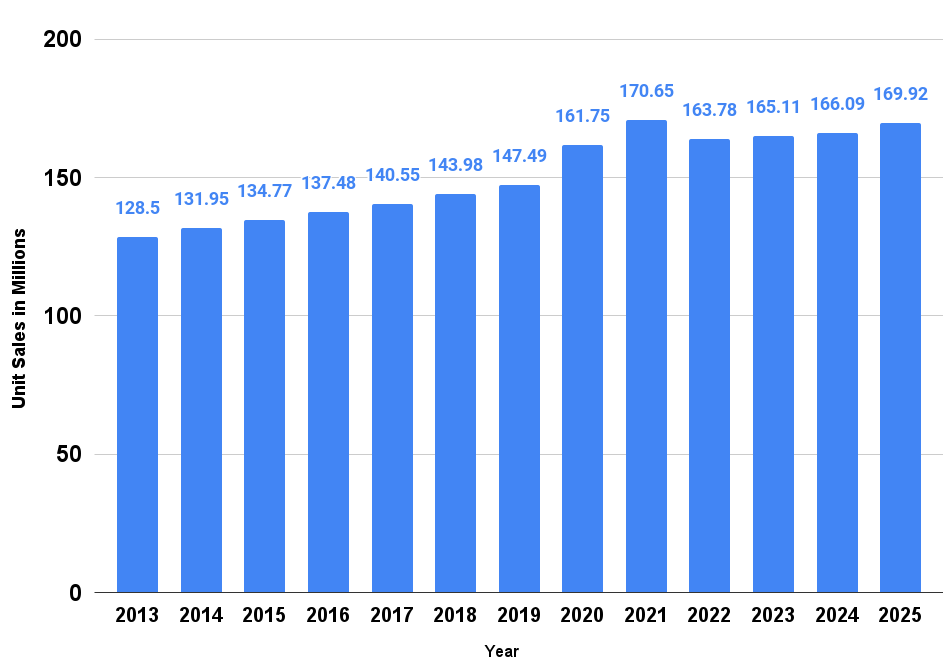 It's no longer a surprise that the washing machine is taking over the appliances industry, and people across the world appreciate the importance of the machine more, which is why they don't mind spending a lot of money trying to get them in their laundry rooms. This chart shows the global washing machines and dryers unit sales from 2013 to 2025 (forecast), and it was created using the information published by the Statista Research Department. These statistics only confirm people's unwavering and continued interest in the best appliances in the world right now, washing machines and dryers, because of the comfort they bring.
In 2013, manufacturers from all across the globe sold a whopping 128.5 units of washers and dryers, which would prove to be a perfect number to build on, as the chart shows that things progressed quite amazingly over the next few years up until 2021. The figures for 2014, 2015, 2016, 2017, 2018, 2019, 2020, and 2021 stood at 131.95 million, 134.77 million, 137.48 million, 140.55 million, 143.98 million, 147.49, million, 161.75 million, and 170.65 million respectively. The figures for 2021 are particularly surprising, knowing that we were just coming out of the pandemic that shook the world so hard that many people thought it was the end of the world.
It is unrealistic to think you'll use your washing machine and you won't encounter a single problem with it throughout its lifetime, although it's not impossible, if you know how to properly maintain your washing machine, which includes regular cleaning. The problem doesn't have to be complicated; it can be a simple problem like the washing machine not spinning or can't come on, which may be a symptom of a more serious problem that could damage the washing machine if you don't make the first move to fix the problem as soon as possible.
For the record, you don't need service appointments for all the washing machine issues you face; otherwise, you'll end up spending a lot of money, a sentiment shared by GE according to a post on the brand's official website.
The truth is, no matter how strong you think a washing machine is or how actually strong it is, you should be prepared to fix some problems because you'll surely run into some with your washer. Knowing why your General Electric washing machine is not working at this point will not only help you avoid some unnecessary headaches; it will also ensure that you limit how often you need the services of technicians that come around for service appointments, saving you a lot of money in the process. Before we get into our GE washing machine troubleshooting guide, let's quickly explore some of the reasons why GE washing machines are regarded as some of the best in the industry right now.
Why Are GE Washing Machines Very Popular in the United States?
The GE brand is one of the oldest American appliances brands, and if you add the fact that it was co-founded by one of the most brilliant inventors the world has ever seen (Thomas Edison), you have a company with proper ideas of how to turn a world into a better place for all to live. The big question, however, remains; do people purchase GE appliances or washing machines because the brand is one of the oldest appliance brands in the United States? Is that reason enough for millions of people across the country to invest their hard-earned money on GE? To simply put it, it's never enough.
Despite being very underrated in the country, GE still contributes a lot to the popularity of washing machines in the United States. People buy GE washing machines because they always get the value for their money at the end of the day, the most important to consider when purchasing any appliance or you're deciding to trust any brand with your investment. If you're considering GE washing machines, below are some of the reasons why people have trusted the brand so much in the past few decades.
GE Washers Are Reliable
According to Designer Appliances, GE remains one of the most reliable washing machine brands on the market, so if you're considering GE washing machines, the first thing you should know about them is that the GE brand is very reliable. If you get everything right, the installation, water hardness conditioners, level floors, and proper maintenance, you can get up to 10 years of use of your General Electric washer, and that's how reliable the brand's washing machines are. It's not hard to find reliable washing machines these days because there are many brands capable of producing reliable washers. However, a brand of GE's reputation understands the concept of excellence, and that's why it'll never compromise quality.
The worst mistake you can make is taking your washer's reliability for granted by not maintaining or cleaning it as you should, which can cause the washer not to spend as much time as it would have if you had taken care of it properly. Even a reliable washing machine needs to be regularly maintained to keep it functioning at the highest level, so you should never take your washer's reliability for granted. If you're big on reliability, though, you should know you can always trust GE because the brand has a lot at stake and won't throw it all away for some silly mistakes.
They're Energy-efficient
Just like Samsung and LG, GE also has a subsidiary that focuses on energy distribution, which is why the brand is regarded as one of the best to ever come out of the United States. In this modern time, it would make no sense for any brand to put out appliances that are not energy-efficient, so since everyone has been forced to raise their standards, you can always count on your GE washing machine not to cost you a fortune to run because it consumes the right amount of everything. According to a CNET post, most GE top-load washers are packed with the best advanced features that help clean your clothes more efficiently.
It's always super amazing when you have a washing machine you can count on to help conserve as much energy as possible because it'll help lighten the pressure on your shoulders when it's time to pay your bills. Energy-efficient washing machines won't consume much water and power, so when it's time to pay your utility bills, you won't have to spend a lot of money because your washing machine is consuming just the right amount of what it needs to function properly. If you're big on energy efficiency, GE should also be your go-to brand.
You'll Enjoy Advanced Features
Sometimes, you can be a victim of your own standards, and that can put you in a lot of trouble if you've set the bar so high that even you start falling below. While this can happen to any brand, GE has ensured that this doesn't have to happen, which is why it keeps coming out with new features that draw more consumers closer to its products, and old consumers can also continue to have the utmost trust in it. All these features will make cleaning very easy and convenient for you, and you'll almost never have to spend any time trying to operate the machine.
GE Washing Machine Troubleshooting
Even if you're the most careful person on earth, there are problems you can't avoid with your washing machine as they'll always come up. It's not unusual for these problems to come up; it's not also unusual for you to always seek professional help once they come up, but if you are on a strict running budget, you should probably know how to troubleshoot your washing machine, even if you're going to need some professional tips later. What some of these problems need are simple fixes, so you must have the right knowledge to know what the problem could be before going ahead to find the right solutions to these problems.
GE Washing Machine Not Starting
Your washing machine may be properly plugged into a power source but won't start for some reason. It's natural to start getting scared when this happens, but if you're calm enough, you'll realize the problem may not be that big after all, and getting the perfect solution won't be far-fetched either.
Possible Causes
The washing machine's lid is not properly closed.

There's an obstruction in the drain hose.
Solution
The solution is very simple. As a safety precaution, most washing machines won't start if their lids are not properly closed, so all you have to do is to ensure the lid of your washing machine is tightly locked.
For the second cause, the process is a little longer than the first as you'll be required to check for obstruction by removing the access panel at the bottom of the washer and locating the plastic draining hose. Make sure there's nothing blocking this draining hose because it can also cause the washer not to start due to the water that may be inside the tub.
GE Washing Machine Making Loud Noises
Generally, washing machines making grinding noise is one of the things people have had to deal with in the past few years. According to a post on Worst Brands, rust is the primary cause of this problem, but it's something people often pay attention to because rust will be the last thing on their minds.
Possible Causes
Uneven floor

Rust

Overloading the washing machine
Solution
If your laundry room floor is not balanced, it can cause the washing machine to vibrate aggressively, and, in turn, it will make annoying sounds. You should try to balance the floor for the washer by getting a platform that the washer will rest on such that even if your floor isn't balanced, the platform will provide the washer the support it needs to function without vibrating.
Most people don't know this, but rust and dust particles can form in the bottom of the washing machine drum, causing the agitator to make a grinding sound as it makes contact with these particles. Getting rid of these rust particles would be the best solution in this case, and if it doesn't work, it might be the right time to involve a technician. Since most modern washing machines now come with stainless steel tubs, you might as well prevent rust from forming in your washing machine tub. We have a detailed guide on how to prevent your stainless steel from rust; read it here.
Lastly, if you own a portable washing machine and you try to act as though the washer can handle large loads, you would have to pay for it by having to endure annoying sounds, or, worst case, damage the washing machine.
GE Washer Drain Pump Doesn't Pump Enough Water
This is a rare problem, but once you notice it in your washer, you need to quickly take action to fix it if you don't want it to damage the washing machine at the end of the day. When your washer's drain pump doesn't pump enough water, the washing machine will drain water slowly, and that can affect its efficiency. The drain pump is a very small but powerful electric motor usually attached to the bottom of the water tank and its job is to take water out of the bottom of the water tank to the drain hose.
Possible Cause
Faulty or damaged drain pump.
Solution
Start by unscrewing the bolts that hold the bottom plate on the washer to gain access to the panel. After unscrewing the bolts, proceed to loosen the two clamps holding the drain pump down before you pull the electric motor out of the washer. If, prior to removing the drain pump, it wasn't connected properly, you should ensure that it is correctly attached to the washing machine. If you're also replacing the old one, make sure the clamps are properly attached before putting the bottom plate back and tightening the four bolts.
Frequently Asked Questions
1. How do I fix my GE washer?
To fix your GE washing machine, you need to first identify what the problem is. If you don't know what the problem is, there's no way you're fixing whatever might be wrong with the washer. If you notice the problem is more than what you fix yourself, you might need to involve a professional.
2. How do you reset a GE washing machine?
To reset a GE washing machine, unplug the washer for exactly one minute before plugging it back. Lower the lid six times within 12 seconds and the motor will be reset immediately.
Conclusion
Since your washing machine is one of the most important appliances in your house, you should always try to pay attention to the signs and symptoms of problems before they develop into bigger issues that may cost you a lot of money. Troubleshooting your washing machine may seem like a big deal until you actually attempt the process and you realize it's not as difficult as most people have made it seem. If you've always wanted a proper GE washing machine troubleshooting guide, we've provided on in this article. However, you can refer to your user manual to learn more about some of these signs, their possible causes, and what you can do to solve them.
ESTIMATED TIME DESIGNING AND UPLOADING THIS ARTICLE
ESTIMATED TIME RESEARCHING AND WRITING THIS ARTICLE