The washing machine industry has experienced some skyrocketing growth in the past few years, thanks to the consistency of top brands like Samsung, LG, Whirlpool, GE, Amana, Hotspot, and many others. It's been a different narrative since compact washers came into play because it opened people's eyes to see the options they never had in terms of compactness or portability because we've all had to deal with large-capacity washers since top-loaders were first introduced. These brands have all come together to contribute to the immense success of the current washing machine market, although many will argue that the effort has only resulted in a massive success for this brand.
Are you looking for the best washing machine brand to trust? Check here to explore the best GE vs. Whirlpool washing machines.
Choosing the perfect washing machine brand to trust when purchasing a new washer is just as hard as browsing through many options online because there are just too many fantastic options you can choose from. People are so used to traditional washers that they have almost forgotten how a portable washer operates, but understandably and justifiably so. People did not pay attention to portable washers until the early 2000s when the need for compact washers for smaller spaces began to skyrocket.
One of the greatest misconceptions about portable washers is that people only opt for them because they can't quite afford the more sophisticated, high-end options that cost a lot of money. Sometimes, people don't choose compact washers because they don't have the financial prowess to purchase a large-capacity option; you don't even need to search very hard on the market before you see a compact washer with a price tag of over $1000. The point is that space, rather than budget, is the most popular reason why people invest more in portable washing machines.
Imagine having enough money to purchase a high-end, large-capacity washer, but you don't have a laundry room that is large enough for the washer to fit and you go ahead to purchase the washer regardless. Want to know the worst thing that can happen? Going ahead to buy the washer then being forced to return it or even give it out to someone that really needs it and losing all your money in the process.
The general rule of thumb is that if you don't have a dedicated laundry room in your home or apartment building, you most likely will need a portable washer, which according to Insider, is a must. The problem with portable washers, however, is mostly with the installation process as many things are needed to make it a successful one. If you want to get the best out of your portable washer, you should ensure to get the best portable washing machine drain hose and a portable washing machine water inlet hose – two of the most important parts of a portable washer.
Getting an inlet hose for portable washing machines is not something most people are familiar with, although it's one of the easiest things anybody can do. However, as much as it's a very easy task, you still need to put some important factors into consideration when buying a portable washing machine hose for the sinks or an extension hose for portable washing machines. When it's time to change the hose on a portable washing machine, you'll need a portable washing machine hose assembly and the perfect replacement hose for your portable washing machine.
Why Do People Need Washing Machines?
There are a lot of things living in the modern world has opened our eyes to see – the need for quality appliances to make life more convenient, the need to always choose comfort whenever we're purchasing appliances for our homes. These days, some folks dedicate special rooms to house their washing machines, and that's because the importance of these appliances cannot be overemphasized. Most folks don't see washing machines as a luxury now, rather, a necessity that will bring more convenience and comfort to the house.
Statistics have it that over 85% of the households in the United States own at least one washing machine. While calls for more high-end washing machines have been put to top washing machine brands because people are now beginning to realize how important these machines are, some folks are still skeptical about washing machines because they are not accustomed to the benefits that come with them. Below are some of the reasons why you need a washing machine in your laundry room.
They Save Time
If you've never washed your clothes with your hands, you may not know how much time using a washing machine can save you or how much convenience it brings. Washing clothes with hands was the only option people had before washing machines were introduced. After the introduction of washing machines, people realized how much they had been missing because washing with hands will need your full concentration if you want the best results, which means you'll be tied down with one thing for an hour or two.
You don't have to wait around your washing machine till it finishes cleaning your clothes, and that's what makes it so unique and different from washing with your hands. Comparing these two methods, you'll realize using a washing machine will save you a lot of time as you can just load your clothes in the machine, start the cycle and let the machine handle itself. Some high-end washing machines with the latest technologies can be controlled on your smartphone via WiFi, so all you need to do is access the app, and you can do whatever you want with the machine from your phone.
They Save You the Stress
Washing with hands was the most effective method until washing machines came along and changed people's perceptions. As effective as handwashing is, it's a very daunting process that consumes a lot of time and causes you a lot of stress. We know doing your laundry with a washing machine will save you time, but the fact that you don't have to be there to monitor the whole operation makes it super fantastic if you consider how much stress you'll be saving yourself.
The steps involved in washing with a washer are very easy, and with the modern machines coming with the latest technologies, you can effortlessly control your washer from your smartphone via WiFi. When you also think of the complications such as skin irritation and rashes – that come with washing your clothes by hand, it won't be hard to decide that using a washer is the best method ever. Once you load the washer with your clothes, start the cycle, all you have to do is to leave the washer to do the job itself.
Energy Efficiency
A lot of people will argue against this point because they believe washing machines consume a lot of energy, which may be true to an extent. However, if you compare the things you would have had to go through if you were to wash your clothes with your hands to what the washer is adding to your electricity bill, we bet you'll almost not think twice before opting for the latter. If you're sacrificing hundreds of dollars for a machine that will bring you convenience, you might as well not look too much into how much it could affect your electricity bills.
The mistake you should not make as a buyer is to go on the market thinking that all washing machines are energy-efficient. You need to do your homework, explore the best energy-efficient washers and ensure they fit into your budget before you make the decision to opt for a particular washing machine. Thankfully, most energy-efficient washers always come with Energy Star ratings, so ensure you go through the product description properly before making your decision.
Tech Features
The good thing about the appliances in production now is that technology has played a big part in ensuring that we all enjoy these machines as much as we can, getting the best value for our money in the process. Most of these washing machines come with hefty price tags because they have some of the best tech-inspired features available in the world today, making them worth every penny of the amount spent on them. Some high-end washing machines come with the child lock feature that protects the washer from being handled by roaming children as soon as the washer begins its cycle.
The child lock system is not the only high-tech feature you'll enjoy when you purchase a washer. The amount of money you're willing to spend on a washing machine will determine the number of high-tech features you'll also get to enjoy, although most of the modern portable washers come with these features too. Some washers come with unique brand signature features like LG ThinQ App, voice commands with Google Assistant and Amazon Alexa, and many others.
They're Easy To Repair
Forget about modern washing machines having the best features of the 21st century or fitting into your laundry room perfectly; will you get the peace of mind you deserve when it comes to maintaining them? Washing machines, especially top loaders, are very easy to maintain as opposed to what many folks think due to their experience on machines generally. Some washing machine issues are so minor that you can get them fixed yourself like removing the agitator from your washer or getting a replacement fixed back into the machine.
It's safe to know that you can't always fix your washing machine issues as some will require you to involve an expert to take a look at them. If this ever happens, don't ever hesitate to include a technician as soon as possible for your safety and to also protect the state of your washing machine. The mistake most folks wait is to try and deal with the technical problems themselves, and this often leads to the damage of their washing machines.
Benefits of Portable Washers
Some of the benefits of owning a portable washer include;
Portable washing machines are a great way to save a lot of money, although this is not the primary reason for the washers' existence. Having a portable washer is a great way to cut down the cost of water and electricity bills as well as detergent usage.

If you own small space, one of the best ways to maximize the space is by investing in a portable washer. We mentioned earlier that not having enough money to afford a large-capacity washer is not the only reason some people opt for a compact washer. Sometimes, it's just the lack of enough dedicated laundry space.

Another important benefit of having a portable washing machine is that it is very mobile. You can take portable washers with you on the road or camp trips with your family, depending on how long you plan to spend away from home. A manual washer can get the job done for you in less than 10 minutes and you don't even need a power source to get running.
Water Inlet Hoses For Portable Washing Machines
Abt 6 Feet Rubber Washing Machine Hose 2-Pack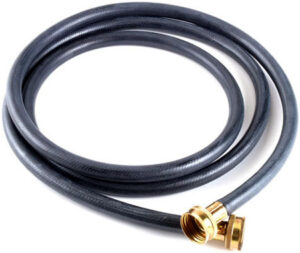 Features
Perfect for cold and hot water

It is the standard rubber hose for most washing machines, but always ensure to check its compatibility with your machine before making your decision

6-foot length

Rubber texture

You can use it to connect your washer to a water source
Whirlpool Model W10623830 Premium Hose Kit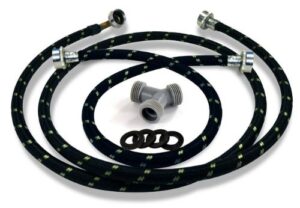 Frequently Asked Questions
1. How can you get a mini portable washing machine hose?
Washing machine accessories can be found everywhere online and even in local stores. You should however ensure that you're purchasing the right hose for your machine because it's very easy to get the wrong one.
2. Is the portable washing machine hose hook hard to find?
Finding replacement parts or accessories for washing machines can be very daunting, especially when you're getting them for a specific washer. You'll need to ensure that the part you're choosing is compatible with your machine before you invest in it.
Conclusion
Getting the perfect water inlet hose for portable washing machines is not a straightforward process, yet, it's not as difficult as most people think. You only need to make sure you search the right platforms and you're doing what's best for your washer by only opting for compactible water inlet hoses.
ESTIMATED TIME DESIGNING AND UPLOADING THIS ARTICLE
ESTIMATED TIME RESEARCHING AND WRITING THIS ARTICLE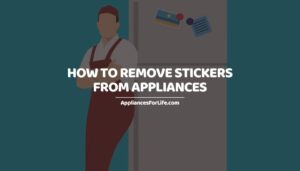 How to Remove Stickers from Appliances
Sometimes, appliances are better off with decorative stickers but not everybody understands that, especially people with young kids at home. In this article, we'll be looking at how to easily remove these stickers from your stainless steel appliances. The new appliances coming through the ranks
Read More »