Freestanding stoves are easy to use because they centralize all cooking to one location, and their installation is simple. 
We invite you, dear reader, to take a dive with us today and delve into Force 10 electric stove reviews. The Force 10 Marine company is a manufacturer of gas and electric cooking appliances designed for the marine market. Aside from the premium price, you will notice something unique about Force 10 equipment, and that is because the designs prioritize form as well as function. This is achieved by selecting materials and features that incorporate quality, convenience, safety, and performance. The market has a wide selection of Force 10 stoves, including propane or electric ceramic top cookers in 2, 3, or 4 burner styles. 
The menu of Force 10 appliances is varied, offering electric cooking appliances, from Ceramic Glass Cooktops to full-size Galley Ranges. These machines are targeted at the rugged marine environment niche. On offer, you will find cooktops with 1, 2, and 3 burners. On the other hand, their ranges are available in 2 and 3-burner models in either glass or coil-element top burner styles. All models are available in either 120 Volt or 240 Volt and enjoy UL, CSA, and CE certification.
Some reviewers say Force10 ware has quality control issues that they have experienced.  One of the Force 10 stove problems is the lack of seamanlike mounts that takes away from an otherwise fine product for live-aboard voyaging boats. 
Why Force 10 Appliances?
You will love Force10's 'patented slide-away oven door', which "recesses underneath the oven to maximize galley space,." This feature is super convenient because it creates additional space in the galley, making it possible to open the oven door without getting strangled by the safety strap.
These machines are fitted with the 'push to spark, electronic' igniters that will make your life at sea easy. Reviewers have observed that you must be prepared to replace the actuation switches at least once a year.
We give extra credit to the designers for the three-burner model for efficiency this is because no matter how many burners you have, you will not be able to fit four pots in the limited amount of space available.
We especially like the different BTU outputs of the three burners (one 8200BTU, two 3400BTU), which make it possible to move pots between burners depending on how much heat is needed at any given time.
Notice how the two small burners do a wonderful job simmering your dishes when turned right down. You will find it hard to resist that urge to throw away your heat diffusers that may have been a necessity with your old stove.
Other features that stand out are the clean design of the top crowned by the hinged and removable one-piece grid over the cooktop, making cleaning easy. Also, the built-in oven heat diffuser plate helps to distribute the heat evenly throughout the oven. 
To ensure pots are held in place on the stove while in rough seas, the pot holder system delivers better results than that on most marine stoves. By a quirk of design, smaller pots tend not to be properly centered on the burner.
Force 10 stove problems
Like any well-made machinery, the Force 10 stove has its share of problems. For one, the 8,200BTU large cooktop burner is underwhelming. Force 10 should have provided a larger burner. Something within the range of 10,0000-12,000BTU. The current large burner takes at least 20 minutes to bring a large pot of water to boil, say for pasta, and will not keep the pot on a rolling boil without a lid on (bad for pasta).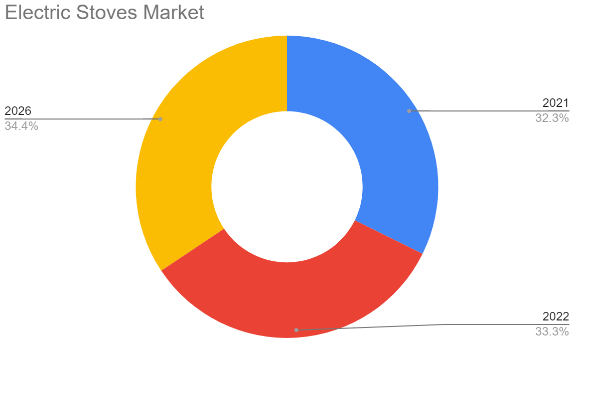 The pie-chart above shows the electric stove market for the years 2022 to 2026
Another downside is that the grill is sized smaller than the ideal. It would have served better was it bigger in power and area. Right now, it will barely cook one 8-oz steak. Anything bigger must be constantly moved around to avoid raw spots.
We were disappointed to note that the oven rack sliders are too wide, for no reason that we can see, limiting the oven width and, as a result, the size of pans that can be used in it. The oven is small enough without unnecessarily decreasing usable space further.
What is the best freestanding electric stove?
Electric, gas, and induction stoves are a package of ease and convenience that combines an oven and a cooktop. Freestanding stoves are easy to use because they centralize all cooking to one location, and their installation is simple. The biggest selling point for these appliances is that they free up more space in the kitchen than separately installed cooktops and wall ovens. Overall, electric stoves hold an edge over their gas counterparts because they make it easier to control low heat, are easier to clean, are less expensive to install, and typically offer more cooking options. So, what is the best freestanding electric stove? Take a look at what we have sampled for you below.
1. Best Overall: GE 30" Stainless Steel Freestanding Electric Range (JB645RKSS)
This 30" GE freestanding electric stove comes with four finishes, a clean ceramic glass cooking surface, and an above-oven control panel; this appliance will make any kitchen look great. The unit reserves bragging rights for its two Power burners that boil water up to 25 percent faster. The other two smaller burners allow for gentle melts, simmers, and warming. When you look into its belly, you will realize that the oven has enough space to bake a meal for a medium-sized family. At the same time, dual-element baking capabilities equip the baking cavity with an upper and a lower heat source, producing even heat and better results. This freestanding kitchen range has convenient features like self-clean and a removable full-width storage drawer.
Finish: Black slate, slate, stainless steel, and white
Oven Capacity: 5.3 cu. Ft. 
Features:
5.3 cu. ft. oven capacity

Removable full-width storage drawer

Self-Clean oven

Dual-element bake

Ceramic glass cooktop

Two 9″/6″ Power Boil elements
2. Best Value: Frigidaire 30" Stainless Steel Freestanding Electric Range (FFEF3054TS)
This affordable Frigidaire freestanding electric range comprises four burners and a keep-warm zone; the stovetop is pleasing to the eye and has great performance. It is fitted with a 3,000-Watt element that boils faster than in the traditional setting, ensuring your food is served quicker. Because the elements are expandable, this appliance will meet varied cooking needs.
The large-capacity oven is fitted with a large window, making it easier to check on the status of your dish without opening the oven door. It also features one-touch self-clean options in 2-, 3-, and 4-hour cycles. Under the oven, the Store-More™ storage drawer provides extra space for keeping pots and pans.
Finish: Black, black stainless steel, stainless steel, and white
Oven Capacity: 5.3 cu. Ft.
Features:
Self-Clean cycle

Extra-Large 12" Element

Large capacity

Electronic kitchen timer

Store-More™ storage drawer

Quick boil

SpaceWise® expandable elements

Keep Warm zone
3. Best Splurge: Whirlpool 30" Fingerprint Resistant Stainless Steel Freestanding Electric Range (WFE775H0HZ)
Whirlpool went into overdrive to present you with this premium unit. This kitchen appliance has safety features like a red glow and a "Cooktop On" indicator light that you will find indispensable in preventing home accidents. Once the stove is switched off, the Hot Surface light will stay on and only go off when it is safe to touch again. Flexibility in dual and warm cook zones makes this cooktop perfect for any home chef, and the ultra-large oven capacity can handle the any-size meal.
This Whirlpool freestanding electric range is overflowing with luxury features. Top on this list is AquaLift®, a first-of-its-kind solution that reduces the time, temperature, and odors associated with the self-clean cycle. Here's how it works, you pour water and activate the cycle. Within the hour, you simply wipe out the remaining water and loose debris, and the oven will be sparkling clean. You will be amazed by Whirlpool's Frozen Bake technology, which cooks frozen dishes perfectly without preheating. The oven will alert you when it's time to check the food once and again when the timer goes off.
Finish: Black stainless steel or fingerprint-resistant stainless steel
Oven Capacity: 6.4 cu. Ft.
Features:
AquaLift® self-cleaning technology

Ceramic glass

Cooktop On indicator light

Hot Surface indicator light

Dual Zone cooking element

Warm Zone element

Control Display

Fahrenheit and Celsius settings

Sabbath Mode

Frozen Bake™ technology
4. Best Double Oven: KitchenAid® 30″ Stainless Steel Free Standing Electric Double Oven Range (KFED500ESS)
The KitchenAid® electric double oven range offers a great way to do more in your kitchen. This electric double oven provides the perfect temperature and five cooking surfaces for you to complete all of your meal prep and cookware needs. It is also easy to clean with its convection fan technology that ensures even heating throughout the entire oven, so there are no hot or cold spots. The electric double oven has an extra-large capacity and separate temperature environments. It can handle large roasts or casseroles perfectly while still providing different temperatures for other dishes. This electric double oven produces flawless cooking results with Even-Heat™ True Convection, which heats the entire oven instead of just one area to ensure heat from top to bottom. A unique bow-tie design and convection fan ensure the entire oven is heated to the perfect temperature.
Finish: Black stainless steel, stainless steel, and white
Oven Capacity: 6.7 cu. ft. total
Features:
Satin Textured Handles

EasyConvect™ Conversion System

Even-Heat™ True Convection

5 Cooking Elements Including a Warm Zone

SatinGlide® Rack

Hidden Bake

Triple-Ring Element

10″ Even-Heat™ Ultra Element
5. Best 30 Inch: LG 30″ PrintProof™ Stainless Steel Free Standing Electric Range with Air Fry (LREL6325F)
LG's InstaView™ refrigerator was a hit among consumers, this range deploys that technology with maximum effect, allowing you monitor cooking without having to open the door or flip a switch. All you have to do is knock twice on the window to turn on the oven light. The PrintProof features Air Fry as well as a new electric cooktop with five available burner options. Included are two extra-large burners ideal for accommodating larger pots and pans. The level of cooking versatility this range offers will blow your mind. Other bells and whistles include the tri-ring element that provides even heating at every level, the let-through electric cooktop cooling that ensures subsequent cooking is more energy efficient and the oven's True Convection™ baking system that deploys a back fan to distribute hot air evenly throughout the oven cavity, so food bakes on multiple levels simultaneously. You can expect delicious food from this machine everytime. Rest assured LG's EasyClean® interior is available on this electric range to work for you. The feature allows for quick upkeep so you can spend the least time cleaning your oven. Should you spill food or ingredients on your appliance, just wipe them up with a damp cloth—no chemicals are required. 
Finish: Black stainless steel and print-proof stainless steel
Oven Capacity: 5.3 cu. Ft.
Features:
InstaView™ Window

Built-In Air Fry with True Convection

ThinQ® Technology with Proactive Customer Care

True Convection

20K BTU Burner

6.3 cu ft. Large Capacity

EasyClean® + Self Clean

3-in-1 Element
6. Best 36 Inch: Wolf Stainless Steel Induction Range (IR36550/S/T)
This Wolf model looks stunning with signature Wolf red control knobs. Considered a luxury range rest assured this is a fixture that will elevate the design of any kitchen. Although it is electric, this appliance features a true induction cooktop that creates heat only under compatible pans. This gives you additional flexibility on pan size and saves energy by not heating an entire element.
The oven comes with adjustable racks and ten cooking modes, including Convection, Convection Roast, Bake Stone, Proof, and Dehydrate. It is manufactured with dual fans that combine two additional heating elements to maintain heat and airflow. The final result is that cold spots are effectively eliminated, producing more consistent, more delicious results — even when using multiple racks at once.
Finish: Stainless steel
Oven Capacity: 5.4 cu. Ft.
Features:
True

induction cooktop

Dual convection controls both heat and airflow

Ten cooking modes including Convection, Convection Roast, Bake Stone, Proof, and Dehydrate

Full two-year warranty

Rigorously tested
Frequently Asked Questions:
Q: On an electric stove, what is simmer?
This is dependent on the type of labeling that your machine has used. If it is low-medium-high, then simmer is on low, or if its numbers, it would normally be 2–4.
Q: At what voltage do electric stoves run on?
The standard power from the mains in residential areas is usually 220–240V. This is therefore the voltage that stoves use. However, it should be noted that it does not make much of a difference as they use resistance heaters. All a voltage of 240 will do is heat a bit faster.
Q: Can an electric stove get wet?
Electric stoves should be/are designed to cope with water spillages, because these are inevitable in the real world.
The stove should not suffer any permanent damage, but you may find that the safety switch (if fitted) will trigger and cut off power to the stove circuit. This will disable stove operation for a period of time (until everything dries up and allows the circuit to be active once again).
Conclusion:
In summary, whereas gas may have its strong points, and induction oozes attractive futuristic undertones, there's still plenty to be said for cooking with radiant electric heat. Electric ranges have the ability to provide a wide temperature range, consistent convection, and even heating.
ESTIMATED TIME DESIGNING AND UPLOADING THIS ARTICLE
ESTIMATED TIME RESEARCHING AND WRITING THIS ARTICLE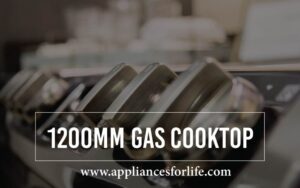 The 5 Best 1200mm Gas Cooktops To Peper Your Kitchen
The 1200mm gas cooktop supplies you with everything you need from your cooktop. Gas cooktop installation is a relatively simple job requiring basic tools and readily available supplies. At most home centers and hardware stores, you will find flexible corrugated gas connectors, gas pipes, and
Read More »