Vitamix and Wolf Gourmet blenders compared
| Image | | | | |
| --- | --- | --- | --- | --- |
| Name | Vitamix 5200 Blender Professional-Grade, Self-Cleaning 64 oz Container, Black – 001372 | Wolf Gourmet High-Performance Blender, 64 oz Jar, 4 program settings, 12.5 AMPS | Vitamix A3500 Ascent Series Smart Blender, Professional-Grade, 64 oz. Low-Profile Container | Wolf Gourmet Pro-Performance Blender, 64 oz Jar, 4 program settings, 12.5 AMPS |
| Dimensions | 8.75 x 7.25 x 20.5 inches | 7.5 x 9 x 20.25 inches | 11 x 8 x 17 inches | 9 x 7.5 x 20.25 inches |
| Manufacturer | Vitamix Corporation | Wolf Gourmet | Vitamix Corporation | Wolf Gourmet |
| Weight | 10.56 Pounds | 15.88 Pounds | 14.92 Pounds | 15.97 Pounds |
| Color | Black | Grey | Black | Grey |
| Ratings | ✸✸✸✸✸ | ✸✸✸✸✸ | ✸✸✸✸✸ | ✸✸✸✸✸ |
| | | | | |
Blenders are undoubtedly an incredible addition to the kitchen and since their introduction of automatic blending, food processing has been significantly revolutionized. Without an exploration of the history books, it may be difficult to have a perspective of how crude and complex grinding used to be several years ago. In those times, there was no glimpse of automatic blending or anything of that sort. Grinding in ancient times was done using grinding stones and subsequently Mortals and Pestles. years later in the 90s, automatic blending began, and since it has disrupted the way we did things in the kitchen and it has even inspired the introduction of some new delicacies.
The idea of processing and purring foods like smoothies, soups, and others that require blending would have been unimaginable without a blender. Try to imagine the making of an onion paste without proper electronic blending-nearly impossible. However, thank goodness for this disruptive technological innovation of the blender. Now we can blend and puree our frozen foods and others without any worries, even though this is only absolutely guaranteed with the best of them. It is important to acquire a  properly functioning blender if one must enjoy all the benefits that come with its use. You do not want to buy a blender now and shortly after your purchaser, buy another without really realizing your money's worth. In the latter sections of this article, I will some of the best Vitamix and Wolf blenders and provide a comparison between these two famous brands but before we do that, let's learn a thing or more about these companies, shall we?
About Wolf and Wolf Gourmet
The Wolf Gourmet is the manufacturer of Wolf blenders. But for some years now, the Wolf brand has been a subsidiary of the Sub-Zero Group. The Subzero Group, headquartered in Madison, Wisconsin was founded in 1945, by Westie F. Bakke. Apart from its supervision of the production of Wolf blenders, it is also into the production of professional-style ranges, cooktops, and grills both for the home and for commercial use. The Sub-Zero Company has been dedicated to the delivery of great standard Home Appliances for a long time now. According to the official company history, Bakke invented the first free-standing freezer in 1943. It also claims to have been the first to manufacture built-in refrigerators, beginning in the 1950s. In 2018, Sub-Zero Group, Inc., launched the Cove brand of dishwashers, the specialist in all things clean. Cove joins Sub-Zero and Wolf, establishing the brands as corporate companions and a complete kitchen family and to date, the Wolf blenders and other subsidiaries under the Sub-Zero Group of Companies are all thriving.
The infamous Vitamix blenders are made by the Vitamix brand. The Vitamix Corporation is a privately owned American company, managed by the Barnard family. The sole business of the Vitamix brand is the manufacturing of blenders popularly and fondly referred to as Vitamix blenders. The Vitamix company was founded by William Grover in 1937 but before this time, Willam Grover had steered the Vitamix establishment in several directions to raise funding for his blender innovation.  In 1921, he started off his career by selling kitchen Appliances, subsequently even, his passion for Health and Nutrition spurred the publication of a book citing natural foods as a cure for many diseases. Finally, in 1937, Papa Barnard introduced the Vitamix blender because he saw them as a big potential nutrient in nutrient-rich but delicious meals that could be made easily and quickly.
The Vitamix company manufactured its first blender-the Vitamix 3600 which was subsequently launched in 1969 for the first time. For a newbie in the business, the Vitamix blender was indeed a model to be emulated. It was indeed the first blender that could make hot soup, blend ice cream, grind grain, and knead bread dough. This is a lot of development from conventional Blenders of time, it was indeed a lot of Vitality quality added. Worthy of mention is the fact that, before the year 1969, Bill Barnard inherited the business from his father and officially changed the name to Vita-Mix Corporation in 1964. Vitamix blenders have been based in Olmsted Township, Ohio since 1948 and it has since then undertaken several community development programs in Ohio. Notable amongst these community development programs is the employment of at least 700 people, most at its Northeast Ohio headquarters and manufacturing facilities.
Why Choose either a Vitamix or a Wolf Blender
Eating healthy at home and keeping your budget trim while you are at it, is a great gain. Foods like Smoothies, Peanut butter, and all the health benefits that come with them would have been unattainable without the use of highly functioning blenders like the Vitamix and Wolf blenders. Indeed, these blenders do so much more than common kitchen blenders. They are considered highly functioning blenders because they combine regular blending with food processing. Hence, they are occasionally referred to as hybrid blenders. A blender like one of these encourages you to use whole ingredients, so you'll be getting in more nutrient-dense foods. Your body will thank you and your wallet, too, if you stick with the home cooking!.
Wolf Blender Vs Vitamix Blender
It is a fact that both Vitamix and Wolf blenders are very desirable brands. They both deliver excellently and they are durable. However, there are a few salient features that set one apart from the other. Some of these features have been highlighted in the section below. Two great Vitamix, as well as Wolf Gourmet blenders, have been thoroughly reviewed below in order to provide an insight into their varying abilities. The next section will help to pick a preference between a Vitamix and a Wolf Gourmet
The Vitamix 5200 is really fantastic for professional use. it is unarguably one of the best blenders of 2022 so far. It is solid, well built, and durable. It can also easily make smoothies, and almond butter, and crush ice conveniently. The Vitamix 5200 has a remarkable build quality. Like the Vitamix 7500, it's mostly made of metal and plastic, which feels very solid and sturdy. The power cable is long and thick, too
The Vitamix 5200 Blender is a black stainless steel blender measuring 8.75 inches in length, 7.25 inches in width, and 20.5 in Height. From that measurement, it is apparent that the Vitamix 5200 Blender has a large jar, a size that is ideal for blending medium to large batches. The motor of this blender runs at 120 Volts, enabling the capacity to crush tough ingredients. The Vitamix 5200 Blender affords a lot of ease at purring with its variable speed control and stainless steel blades. With the variable speed feature, you can easily adjust its speed to achieve a variety of textures using the dial. This adjustment to motor speed can be done at any point during the blend.
The Vitamix 5200 has a 10-setting speed dial. There's also a 'High' speed setting, which activates the highest speed available, and a 'Variable' setting, which activates the lower variable speeds. While there isn't a pulse mode, the manufacturer advises that you use the on/off switch until you get the desired consistency. At the highest speed, the blades in the Vitamix container spin so fast they create friction heat, bringing cold ingredients to steaming hot in just 6 minutes. This blender may be louder at max speed than the Vitamix A2300 but you'll surely get effectiveness in return.
Lastly, the Vitamix 5200 Blender has a self-cleaning feature. With a drop of dish soap, warm water, and up to 60 mins of operation. This machine will run an effective self-cleaning cycle that is completely stress-free.
Pros
Hot blends.

Well-built and easy to clean.

Easily blends fibrous ingredients.

Multiple speed settings.

Large capacity main jar.
Cons
Loud at max speed.

Not dishwasher-safe.
The Wolf Gourmet Blender, High-Performance Blender, 64 oz Jar is a household blender that looks and works like a commercial blender. To put it into perspective, this blender has a firm stainless steel base and incredible blending prowess. To top this off, its motor speed is also incredible, going about 20,000 rpm, amounting to roughly 200 miles per hour, delivering an ultra-responsive blending experience. The motor is optimized for quieter blending. A machine with this much power can blend almost any recipe you commit it to and this is why it is a great choice for Hot Soup, Peanut butter, and Smoothies processing.
Unfortunately, this Wolf blender cannot knead the dough like its close competitors — The Vitamix A3500 and Blendtec Pro 800— Fortunately, however, this limitation is not a big deal for the Wolf Blender, since it's not the primary use of a blender. In addition to this, the Wolf Wolf Gourmet pro-performance kitchen blender is pretty easy to use, the controls are pretty straightforward as there's the bevel, speed dial, start/stop button, and a pulse button. Frankly, this is much simpler than having 20 buttons. More importantly, there's an LCD for your blend details such as the speed, program, and timer.
Another remarkable feature of this Wolf blender is its preprogrammed walkway settings. This Wolf High-performance blender has four different preprogrammed settings and they are-Smoothies, ice crush, puree, and soups. These programs allow for a more efficient blending of these recipes. It has a large container of about 64 ounces. This is large enough to whip up smoothies or milkshakes for a large group. This container is also Shatterproof, it is a BPA-free Tritan copolyester jar that holds water comfortably.
Lastly, the Wolf Gourmet pro-performance kitchen blender is built to provide a long-lasting period of service to its user as it is backed by a FIVE-YEAR LIMITED WARRANTY
Pros 
Conventional stainless steel design with unique knob aesthetics

64-ounce (1.89 L) container capacity

Clear markings in ml, oz, cups

walkaway preprogrammed settings

Responsive 12-speed control with pulse

Durable stainless steel blade

Crazy 2.4-peak horsepower motor

Two-piece emulsion cap assembly

LCD control panel with timer

BPA-free

5-year warranty
Cons
It is quite expensive

It has a bit of a tall profile

It's not dishwasher safe

Food bits can get in-between the dial and buttons

The smoothie function is not that efficient
The Vitamix A3500 is a fantastic blender for professional use. Its jar is also large enough for large-quantity food processing. Other dimensions of the Vitamix A3500 include a Length of 11 inches, a Width of 8 inches, and a height of 17 Inches. Though not completely made of Steel, this blender is still a very sturdy and strong one. With this blender, any user enjoys enormous ease in control, Its control panel has several presets and modes. It is even Bluetooth-compatible, its companion app offers, even more, presets, depending on what you like to blend
The Vitamix A3500 has a very strong build with its base made of high-quality solid plastic with metal siding. The transmission and gears are not one to fall off easily as they are also metal. This makes the blender feel very sturdy overall. It has a thick power cable and its display and speed dial have a premium look and feel. Some, do not like the fact that the Vitamix Ascent A3500 is a large blender. It's about the same size as the Vitamix A2300, and it's quite heavy, however, this blender affords you the opportunity to blend all your recipes at once.
For more ease in use, the Vitamix A3500 also has five different preprogrammed walkaway settings, (for Smoothies, Hot Soups, dip & Spreads, Frozen Desserts, and Self-Cleaning) to ensure convenience and consistent results. Its Bluetooth feature helps it connect conveniently to the Vitamix Perfect Blend App to enable access to Ascent Series A3500's full potential with 17 programs and 500+ recipes both on Android and iOS. There is also the touchscreen control that gives it that sleek look and affords comfortable maneuvering.
Lastly, the A3500 has a programmable timer, built-in to help avoid over or under-processing your custom recipes. Set the timer to the length of your blend, and it will turn the machine off automatically. This blender has a Seven-year limited warranty.
Pros
Very well-built with premium material.

Its self-cleaning features make it easy to clean

It is equipped with modern technologies like its Bluetooth connectivity to any Android or iOS devices

It has preprogrammed walkaway settings

It is durable and can last up to seven years if used responsibly
Cons
It does not come with extra jars or attachments

It may be too large for some Kitchen spaces
The Wolf Gourmet Pro-Performance Blender, 64 oz Jar, 4 is indeed a brand synonymous with outstanding results. The Wolf brand produces Wolf Gourmets in the Pro and High-Performance categories.  These Wolf blenders are kitchen tools that embody the precision control of their larger counterparts. From prepping ingredients to the finished dish, with Wolf Gourmet, the dish you dream of become your exact reality.
As it is common to most Pro-Performance Wolf Gourmets, this one too possesses incredibly high speed providing uses with a fantastic blending performance. To put into perspective, this blender has about  2.2 peak horsepower motor which propels the blades to speeds over 200 miles per hour, delivering an ultra-responsive blending experience. The Motor is optimized for quieter blending. It is equipped with a 64-Ounce Capacity container for sizable recipe blending. Its other dimensions measure  9 Inches in Lenght, 7.5 Inches in Width, and 20.25 in height.
Just like its High-performance counterparts, this blender has four preprogrammed walkaway settings for purring, Smoothies, hot Soup, and Ice Crush. These settings do not only afford walkaway convenience when used, but it also affords consistency in blending outcomes. In addition to these preprogrammed settings, you can also operate it manually. Its Infinitely variable speed control with pulse option lets you blend ingredients to your exact preference.
Although relatively less durable than Vitamix blenders, this Wolf Gourmet Pro-performance blender has a Five-Year Limited Warranty period. Hence, it is also safe to say that it is built to provide years of high-performance blending.
Pros
It is built with steel, hence durable

It is covered with a Five-year guaranty

It is large enough for heavy-duty blending

Very fast motor speed for purring the most difficult recipes

It has pre-programmed settings for simplicity
Cons
It has an only a five-year limited warranty

Wolf Blenders or Vitamix Blenders, which one is better?
Reaching a decision on which blender is better or superior is undoubtedly a difficult task, seeing especially since both brands of blenders are comfortably great qualities. Two Incredibly excellent blenders have been picked from both brands in order to highlight the superiority of one to the other and this approach has helped us to present the similarities and differences of these machines to you.
Warranty
Despite the that the above Pro and High-Performance Wolf Gourmet are significantly made of steel, the Vitamix is still believed to have a longer warranty period than the Wolf Gourmet. Apart from the Vitamix blenders reviewed above, most of the other Vitamix blenders come with a 7-year Warranty. Hence, it is believed that Vitamix blenders are made to last a longer period than Wolf Gourmet blenders that are built with a 5-year warranty.
Winner: Vitamix
Horsepower
Looking at the horsepower, notice that the Wolf gourmet blender takes the day. It may be argued that there isn't much difference between both brands when it comes to horsepower and motor speed, regardless of how little this difference is, however, it still makes some significant functional difference. The Wolf Blender offers 2.4 horsepower while the Vitamix offers 2.2 horsepower. Someone will say that the difference is negligible. Well, they could be right. But on a more practical note, a difference of 0.2 in horsepower could make a huge difference. Therefore, on the horsepower, we give it to the Wolf Gourmet blender
Winner: Wolf Gourmet
General Appearance
From the looks of both blenders, it can be easily argued that the Vitamix is slightly more attractive in its build and structure than the Wolf Gourmet. In addition to the outward appearance of this machine, the Vitamix also gives you more ease in operation. Some users may disagree on the basis that they both have LCD displays, single dials, and the like but it is important to remember that the Vitamix is Bluetooth enabled. This feature helps it connect with any iOS or Android device for ease of operation.
Winner: Vitamix
Origin
Without a doubt, both blenders have excellent and reputable manufacturers, however, several users still have their individual preferences. Most Americans prefer Vitamix because it has it is a US brand and this makes sense because they are almost at the top of the food chain when it comes to the manufacturing of Home Appliances like the blender. Thus, it is understandable if most Americans would choose a Vitamix over a Wolf Gourmet that is China-based.
Winner: Vitamix
Noise
While the two blenders offer noiseless operations, the Wolf blender proves to be quieter than most other brands. Compared to the Vitamix 750 series, the Wolf blender proved quieter. It produces less noise and still delivers efficient performances. Of course, Vitamix also offers noiseless operations. However, we still give it to the Wolf Blender on the noise feature.
Winner: Wolf Gourmet
Ease in Cleaning
The Vitamix clearly takes the day here. Most Vitamix blenders are built with a self-cleaning feature that guarantees total convenience in cleaning. All that is to be done is to drop a piece of dish soap and some warm water in the Vitamix container and by itself, it is made sparkling again.
Winner: Vitamix
FAQs
Which blender is better at grinding?
Vitamix blenders are impressive at crushing hard nuts and so are Wolf blenders, however, is believed that Wolf blenders have faster motor speed even though Vitamix have found to have more consistent results.
Should I start my Vitamix blender high?
When foods like peanut butter and smoothies are processed in a Vitamix blender, it is advisable to start low but eventually dial up to the highest level possible in order to get an even blending result.
Is Vitamix the best blender?
Vitamix blenders are fantastic at purring and crushing ice, they are also quite easy to use and beautiful in their appearance. More importantly, they have a self-cleaning feature and they come with extra jars. To most users, these features are indeed desirable, hence, they are considered the best.
ESTIMATED TIME DESIGNING AND UPLOADING THIS ARTICLE
ESTIMATED TIME RESEARCHING AND WRITING THIS ARTICLE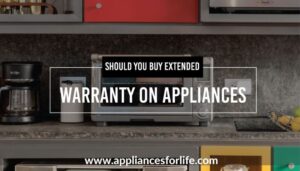 Should You Buy Extended Warranty on Appliances
If you're purchasing appliances, warranties are not something you should overlook as they're very important. Should you buy an extended warranty on appliances? Let's find out in this article. Also in this article, we're going to be looking at the difference between an extended warranty
Read More »