What is Whirlpool Corporation? The Whirlpool Corporation is an American multinational manufacturer and marketer of home appliances, headquartered in Benton Charter Township, Michigan, United States. A Fortune 500 company, it enjoys a $21 billion annual revenue, employs 78,000 people, and has an infrastructure of more than 70 manufacturing and technology centers globally. 
Whirlpool was established in 1911 as the Upton Machine Company; the Michigan-based appliance maker cut their teeth making electric-powered wringer washing machines. Upton merged with the Nineteen Hundred washer company in 1919. According to SuccessStory the new corporation acquired the Seegar Refrigerator Company and RCA shortly afterward. In 1986 General Electric obtained ownership of RCA. Whirlpool Corporation is a multinational giant that is the largest producer and seller of home appliances globally. What brands does whirlpool make? The following are among the number for what brands are whirlpool: Jenn-Air, Maytag, Amana, Roper, Inglis, Brastemp, Consul, Hotpoint, Bauknecht, Yummly, Diqua, Swash, Everdrop, Affresh, Gladiator, Acros, Indesit, and KitchenAid brands. 
What appliance brands are made by whirlpool:
The Whirlpool family bestrides the appliance industry like a colossus, and it is easy to take the scope and breadth of this dominance for granted. To help you get a broad picture of what appliance brands are made by Whirlpool, we shall take a peek into the Whirlpool Group of Companies as we walk you through the studded field of brands and their popular appliances step by step. 
Whirlpool:
Who makes Whirlpool appliances? Whirlpool makes and markets its namesake and flagship brand, Whirlpool, which, with over 100 years of history, has the edge over competitors in terms of experience, innovation, and performance. Among Whirlpool brands, Whirlpool is a first among equals. The company has received awards in recognition of the quality they produce over the years. In 2019, the company received the Product of the Year award in the Netherlands for its FreshCare+ washing machine. Whirlpool offers dependable products with cutting-edge features and warranty. Whirlpool's lineup of popular appliances includes ovens, vent hoods, washers/dryers, french door refrigerators, and dishwashers. 
Maytag:
Who makes Maytag appliances? Maytag has been a part of the Whirlpool Corporation since 2006; Whirlpool makes all Maytag appliances. These brands have been a constant in quality and reliability since their merger. Even though both companies operate separately, each is available to a mass market. Should you ever wonder what appliance brands are made by Whirlpool, Maytag is one of them.
An oft-asked question is, who owns Maytag appliances? Who owns Maytag? Well, the short answer is Whirlpool does. Maytag is renowned for making kitchen and laundry appliances that work well and are dependable. Maytag offers great warranties and customer service, synonymous with quality. 
Maytag's popular products include bottom freezer refrigerators, front load washers with the extra power button, dishwashers with PowerBlast cycle, and ovens. Whether you're tackling grass stains, grease, or dirt, Maytag's kitchen appliances will always tackle them. 
KitchenAid:
Best known for its KitchenAid mixer and other countertop appliances, KitchenAid is a part of the Whirlpool family of brands.  When you hear this information, a number of questions will likely spring to mind: Are KitchenAid and Whirlpool the same company? Yes, they are. Acquired by Whirlpool Corporation from Dart and Kraft in 1986, KitchenAid brand has a diverse menu from small appliances to cookware, dishwashers to double-oven ranges, and whisks to wine cellars — practically all the things consumers need to enrich their cooking experience. 
When did Whirlpool buy KitchenAid? Who makes KitchenAid washers?  In 1986, the KitchenAid company was bought by Whirlpool, and Whirlpool now manufactures almost all of the KitchenAid appliance line.
Inside KitchenAid's basket of innovation are features like an oven-powered grill and stone baker. Targeting customers passionate about culinary creations, the KitchenAid menu of appliances varies from stand mixers and blenders to smart wall ovens, and commercial-style ranges helping create and deliver exceptional results. Popular products include dishwashers, refrigerators, cooktops, and other small appliances. 
JennAir:
What does Whirlpool make? JennAir is a top-performance brand belonging to the Whirlpool stable. JennAir is packaged as a luxury brand and churns out premium features such as Pure Freeze, Twin-Fresh climate control, and wifi connectivity through an available app in an expression of performance and design. JennAir refrigerators, ovens, and cooktops are presented as reinvented statements offering refinement and style while combining luxury and high performance. Popular products include Pro-Style Counter Depth French Door Refrigerator, Pro-Style five-burner cooktop, cooktops, compactors, and the Downdraft ventilation systems. Considered a gem among Whirlpool products, JennAir, owned by Whirlpool, is a preferred choice for many urbanites due to its original appliances suited for smaller spaces. On the flip side, you will not be disappointed if your kitchen is huge. 
Amana:
What are Whirlpool brands? Here is Amana, a brand you will find in the made by Whirlpool stall. Is Amana owned by Whirlpool? Yes. Amana Corporation is an American brand of household appliances that George Foerstner founded in 1934. Originally known as the Electrical Equipment Company, is specialized in manufacturing commercial walk-in coolers. Electrical Equipment Company later transferred ownership to the Amana Society, changing the name to Amana Refrigeration Inc. It is now owned by the Whirlpool Corporation, making Amana and Whirlpool the same company.
Amana is a well-loved brand famous for features like a triple-filter wash system in their dishwashers and humidity-controlled garden-fresh crisper bins. Amana's Flash-Freeze option allows you to flash freeze foods at fast speeds with just the press of a button. Famous for kitchen and laundry room appliances, Amana makes reliable heating and air conditioning units. Popular devices include dishwashers, refrigerators, and air conditioners. 
Who makes Amana dishwashers? Amana products are made by Whirlpool in the U.S, mostly at the plant in Middle Amana, IA.
Inglis:
We cannot talk about Whirlpool appliances without giving pride of place to Inglis. Founded in 1859 in Guelph, Ontario, Canada, by John Inglis and his sons, the company quickly built a reputation for providing consumers with quality and long-lasting products with practical innovation. Inglis Limited is Canada's largest home appliance supplier and is a Whirlpool subsidiary. Inglis Home Appliances was the pioneer of the wringer washer in 1946 and has since built a track record of putting long-term performance first with simple, hardworking, and reliable laundry and kitchen appliances. In the same year, Inglis negotiated with Whirlpool Corporation to manufacture home laundry products. Inglis added production of the automatic washer in 1950. In a major milestone, Inglis produced its one-millionth automatic washer in 1972 and began, in the same year, manufacturing and selling appliances under the Whirlpool brand name. Popular products include dryers, washers, and refrigerators. 
Bauknecht:
Bauknecht Hausgeräte GmbH, now known as Bauknecht, was one of Germany's top makers of household appliances; declared bankrupt in 1982 due to financial problems, it was eventually liquidated and has been a brand of Whirlpool since 1989. All Bauknecht home appliances have been developed and manufactured by Whirlpool since 2012. In a reorganization to minimize production costs, the manufacture of Bauknecht home appliances was transferred to Whirlpool factories in Poland, Italy, France (until 2017), and Slovakia. 
Poland: Refrigerators, freezers, dishwashers, and dryers for linen brand Bauknecht are produced in the Poland Whirlpool factory. 
Italy: Over time, the Italians have hosted many Whirlpool factories. Italy produces the following products for Bauknecht, washing machines, hoods, built-in fridges, hobs, ovens, and built-in microwave ovens.
Slovakia: Washing machines for Bauknecht are produced here. 
Indesit: 
Whirlpool acquired the biggest manufacturer and supplier of kitchen appliances in the UK, Indesit, for 758 million euros in 2014; in the process, it received 60% shareholding in Indesit and its owner, Hotpoint. Indesit Company is one of the leading European manufacturers and distributors of major domestic appliances with eight industrial sites (Italy, Poland, the UK, Russia, and Turkey) and approximately 16,000 employees. The company manufactures home appliances and offers washing machines, dryers, washer-dryers, dishwashers, fridges, freezers, ovens, and hobs.
Brastemp:
When Bolivian-born Miguel Etchenique emigrated to São Paulo, Brazil, and founded Companhia Distribuidora Geral Brasmotor to distribute automobiles in Brazil the story of the Brastemp brand began. The year was 1945. Etchenique and his sons, Antonio and Hugo Miguel, transitioned the company from automobile distribution to refrigerator production, founding the Brastemp brand. A partnership with Whirlpool Corporation awaited in 1957, and in 1997 Brastemp became part of Whirlpool Corporation.
The Brastemp brand remains one of the most recognizable appliance brands in Brazil to date, enjoying a history of originality alongside a reputation for pioneering innovation. When discussing the 10 "Top of Mind" brands in Brazil, Brastemp cannot be missed. At the same time, while remaining a leader in major home innovations. 
Consul:
The Brazilian home appliance maker Consul is a member of the Whirlpool group of companies. The story began in 1947. When his new kerosene-powered refrigerator broke down, Consul Carlos Renaux asked two auto repairmen — Guilherme Holderegger and Rudolf Stutzer — in Brusque, Brazil, to repair it. The mechanics were stumped. Having never seen such a device. To learn how it worked, they resorted to reverse engineering, dismantling the refrigerator and putting it back together piece by piece. This experiment set the stage for launching the first Consul brand appliance in 1950. The rest, as they say, is history. Currently, you will spot a Consul appliance in 60% of homes in Brazil. Their publicity material states, "Consul brand products are designed to make life a little easier for families, so their lives are more enjoyable. The brand translates consumers' needs into relevant products that are reliable and easy to use." Their popular products include refrigerators, ovens, and washing machines.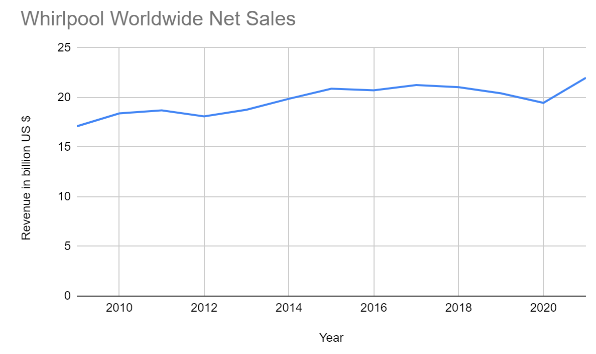 The graph above shows Whirlpool Corporation's worldwide net sales in billions of U.S dollars. • Whirlpool Corporation revenue 2021 | Statista
How good is Whirlpool?
Whirlpool is considered the most reliable appliance brand in the U.S. Giving Whirlpool favor is its consistent performance in addition to providing an accessible user experience. The brand is king across both the kitchen and laundry categories.
Whirlpool factories:
Whirlpool factories span the globe, with manufacturing sites in 33 locations across ten countries in 2021. Most of Whirlpool's manufacturing sites are found in the United States, the company's home ground. It is the only country where Whirlpool has the highest manufacturing locations. Italy, Mexico, Poland, Brazil, and India are the other countries in which Whirlpool has at least two manufacturing locations.
Whirlpool is headquartered in Benton Harbor, Michigan, explaining why the United States enjoys a significant presence in manufacturing locations. Most of the company's sales are from North America, accounting for more than 50 percent. Sales translated to roughly 12.5 billion U.S dollars in 2021. The brand's popularity in both Canada and the U.S is a testament to its strong position in its home market. Whirlpool is the most popular washing machine brand in both countries.
Globally, Whirlpool competes with the Chinese appliance giants Midea and Haier and the Korean conglomerate LG. Its competition in the European market are manufacturers such as Miele, BSH Home Appliances, Electrolux, and Arcelik.
North America: 
North America has nine manufacturing operations in the U.S. and three in Mexico. They are listed as follows:
Benton Harbor, MI – global headquarters
Amana, IA – manufacturing
Cleveland, TN – manufacturing
Clyde, OH – manufacturing
Fall River, MA – manufacturing
Findlay, OH – manufacturing
Greenville, OH – manufacturing
Marion, OH – manufacturing
Ottawa, OH – manufacturing
Tulsa, OK – manufacturing
Mississauga, ON, Canada – Canada main office
San Pedro Garza García, Nuevo Leon, MX – Mexico main office
Celeya, MX – manufacturing
Ramos, MX – manufacturing
Monterrey Horizon, Supsa, MX – manufacturing
North American brands include Whirlpool, KitchenAid, Maytag, JennAir, Amana, Yummly, Swash, Gladiator, everydrop, and affresh. Brands in Mexico include Whirlpool, KitchenAid, Maytag, and Acros.
Europe, Middle East, and Africa:
Europe, the Middle East, and Africa operates in 11 manufacturing and technology research centers in five countries. The region markets Whirlpool, KitchenAid, Hotpoint, Bauknecht, and Indesit brands employing approximately 19,000 people. They are located in the following areas:
Pero (Milan), Italy – Europe, Middle East, and Africa headquarters
Carinaro, Italy – manufacturing
Cassinetta, Italy – manufacturing
Comunanza, Italy – manufacturing
Melano, Italy – manufacturing
Siena, Italy – manufacturing
Lodz, Poland – manufacturing
Radomsko, Poland – manufacturing
Wroclaw, Poland – manufacturing
Lipetska, Russia – manufacturing
Poprad, Slovakia – manufacturing
Manisa, Turkey – manufacturing
Petersborough, UK – main office
Latin America:
Latin America has factories in six locations, enabling Whirlpool, Brastemp, Consul, and KitchenAid brands to reach a client base spanning millions of households. Brazil enjoys the infrastructure of three factories, two administrative offices, four technology centers, and 23 laboratories found in the following locations:
Sao Paulo, Brazil – Latin America headquarters
Joinville, Brazil – manufacturing
Manaus, Brazil – manufacturing
Rio Claro, Brazil – manufacturing
Buenos Aires, Argentina – manufacturing
La Tablada, Argentina – manufacturing and administration
Bogota, Columbia – Columbia main office
Guayaquil, Ecuador – Ecuador main office
Guatemala City, Guatemala – Guatemala main office
Lima, Peru – Peru main office
Asia:
The Asia region is headquartered in Hong Kong and operates in five clusters, i.e. China, India, HTKJ (Hong Kong, Taiwan, Korea, and Japan), Southeast Asia, and Oceania, with six manufacturing locations, two technology centers, two Global Consumer Design Centers and a nationwide network of sales and service outlets throughout the Asia Region. The regional brands in Asia include Whirlpool, KitchenAid, Bauknecht, Ariston, Indesit and Diqua. Here are the locations for Asia:
Hong Kong, China – Asia headquarters and Hong Kong main office
Hefei, China – manufacturing
Shenzhen, China – technology center
Shunde, China – manufacturing
Faridabad, India – manufacturing
Gurugram, India – India headquarters
Pondicherry, India – manufacturing
Ranjangaon, Pune, India – manufacturing
Singapore – Southeast Asia main office
Melbourne, Australia – Oceania main office
Whirlpool fridges:
Whirlpool fridges are innovative, family-friendly kitchen appliances that come with flexible storage. Out of the box, they come equipped with a fruit crisper that is considered highly efficient. Whirlpool fridges have a temperature knob for sensitive food items to customize the temperature. To ensure your fruits stay longer, they have zeolite technology that will prevent your fruits from quick ripening. Among the best fridges in the Whirlpool lineup are the Whirlpool 25.2-Cubic-Foot French Door WRF535SMH Refrigerator which made it to No. 3 for the Best Refrigerators of 2022. It also made it to No. 3 for the Best French Door Refrigerators. The Whirlpool 21.4-Cubic-Foot Side-by-Side WRS321SDH Refrigerator proved competitive in most ratings of the Best Refrigerators of 2022 and was ranked No. 2 for Best Side-by-Side Refrigerators. The French door design, which is very popular with consumers, is considered by experts convenient and offers ample space at eye level to browse fresh foods.
Frequently Asked Questions:
Q: Who makes KitchenAid refrigerators
Whirlpool Corporation manufactures every KitchenAid dishwasher, cooktop, refrigerator, and countertop appliance.
Q: Who bought the Maytag Company?
The Maytag Corporation is an American home and commercial appliance brand owned by Whirlpool Corporation. 
Q: Is GE part of Whirlpool?
No. The two companies may supply similar products to the market but are different entities. Whirlpool home appliances are manufactured by Whirlpool Corporation, an American multinational company with a global reach and many other influential firms under its brand.
In conclusion, for 110 years, the Whirlpool Corporation has been in the business of making kitchen appliances. During this time, the company has extended its footprint far and wide in the process of acquiring quality, classy and urbane brands in the kitchen appliance niche as the Michigan-based corporation attempts to conquer the world. 
ESTIMATED TIME DESIGNING AND UPLOADING THIS ARTICLE
ESTIMATED TIME RESEARCHING AND WRITING THIS ARTICLE