Chest freezers are popular because they give you utility, economy, and efficiency in one package.
Bluelinetech chest freezer is a storage solution for those who prefer to stock up on frozen foods. It is ideal for commercial kitchens, large families, or offices. The chest freezer will not take too much of your space as it is compact and comes with a removable storage basket to assist you with food separation and organization. It is mainly used to store and display packaged frozen products, including pizza, prepared meals, fruits, and vegetables. You can also store many other items that need freezing. Bluelinetech has grown to become a world leader in manufacturing and supplying kitchen equipment. 
Product details:
This ETL Listed ice cream freezer is fitted with an aluminum door frame that ensures your food safety. It is a USA standard Energy certification DOE freezer with super low consumption, low noise, high performance, and is environmentally friendly. 

This chest freezer comes with a three-year compressor and a one-year parts warranty. 

It is equipped with an adjustable temperature range -18°F to 10°F, an Adjustable thermostat, and precision mechanical control to keep most frozen food fresh. It makes manual defrosting easy with its defrosting drain hole inside and a soft open/close mechanism door.

This chest freezer has dimensions of 50″ L x 27″ W x 33.5″ H, 13 cu. ft capacity freezer and comes with four sliding storage baskets. It is designed for fast storage and access, increases the flexibility of space use, and makes your food evenly distributed in the freezer.

It is a well-designed mobile ice cream freezer with curved sliding glass lids and interior LED lighting, offering a compelling way to display or serve ice cream or dessert. This freezer is suitable for your ice cream parlors, sorbet shops, restaurants, and concession stands.
What people are saying:
One reviewer said they could not find a freezer in any store within their locality as they were sold out. They then ordered a Blulinetech on Amazon and expected a delay of several months in shipping. However, it was delivered much sooner than they expected. The first thing they noticed was that this freezer just plugs right into the wall. An extension cord was out of the question for safety reasons. This unit, for them, has lots of room inside and has a raised shelf on the right-hand side for smaller items.
They reported that this freezer is very deep, so you need to keep it organized so you know what's down at the bottom. The reviewer was impressed with the metal interior because it was shiny and easy to clean. The metal interior also makes the freezer seem colder, the metal maintaining the cold well.
On the Bluelinetech chest freezer, another reviewer reported that they ordered this freezer for their garage to store meat for their sled dogs. The freezer was delivered when they said it would arrive. There was no damage, and the manufacturer made the freezer very well. They noticed it has casters on the bottom so the owner can quickly move it.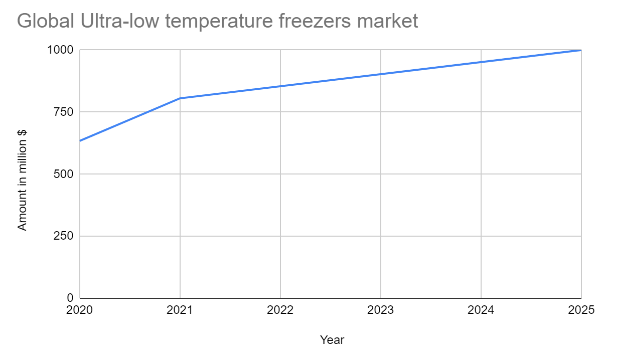 The above graph shows the Global Ultra-low temperature freezer market  report
Chest freezer:
The chest freezer is the most economical. So-called because it is primarily shaped like a large box or chest with a hinged lid that opens upward. When you plan for a chest freezer, remember that it requires adequate space with lots of headroom because of the cover. Chest freezers will vary from compact models as small as 2.1 cubic feet to commercial sizes with more than 40 cubic feet of space. Because of its size, the most common place to find a chest freezer is the garage, utility room, or basement of a house. A chest freezer is large with boxy dimensions, making it ideal for storing bulky items that do not usually fit well into the freezer section of a refrigerator. This economical use of space makes the refrigerator freezer available for convenience foods.
Chest freezers have limited air circulation and an inconsistent temperature since they do not have a fan. However, as long as it can maintain a temperature below freezing, it will not affect the foods negatively. The norm is for meat and other large items to be stored in the lower parts of the freezer since warmer air rises and cold air sinks. That way, they will freeze solidly and stay preserved for months. Most chest freezers are fitted with baskets to store smaller items such as bags of frozen vegetables and pre-cooked meals for easy retrieval and more organized space.
Chest freezers are popular because they give you utility, economy, and efficiency in one package. Because buying in bulk saves money, they will freeze large quantities of food efficiently. Their tub construction also doesn't let much cold air out when they're opened. Additionally, the structure of chest freezers is straightforward, which means that they are often much less expensive than a regular refrigerator.
How good are chest freezers:
Pros:
Chest freezers are generally more spacious than your average upright freezer, most times more by about 20%. 

The chest freezer lacks a self-defrost system. The lack of a self-defrost system ensures the temperature in a chest freezer stays consistent.

Items stored in a chest freezer don't suffer freezer burn as much as those in an upright freezer because the air circulation in a chest freezer is not as much. 

In the event of a blackout, the chest freezer does a better job of keeping your food frozen longer than an upright.

Chest freezers consume less energy than their upright cousins. 

Chest freezers are cheaper
Cons:
Because of their design, it's much harder to find the food you need in chest storage without rearranging and searching.
Bluelinetech manufacturer: 
Bluelinetech is a global manufacturer of commercial freezer and refrigerator manufacturing equipment that has brought quality appliances to this niche sector since 2006.
How good is the Bluelinetech chest freezer?
The Bluelinetech chest freezer is a multi-purpose and highly efficient freezer. It has lots of storage space and will effectively refrigerate packaged frozen foods such as pizza slices. The Bluelinetech manufacturer is known for producing high-quality kitchen appliances. This freezer boasts parts that are equipped with advanced technology and upgraded tools. 
Construction Details
It is considered a premium quality chest freezer that is the perfect solution for low storage requirements, making 7 Cubic Feet of storage capacity available to you. The appliance enjoys a sleek and smooth finish with the interior and exterior walls coated with white metal, making it ideal for service in commercial kitchens.
You can safely secure your food items with its lockable door that comes with a key. The base comprises four heavy-duty smooth-rolling casters and is fitted with a drain hole for manual defrosting and easy cleaning.
Door Sealing
The door is designed for effective temperature retention, with a 75mm thick foam insulation layer and detached door seal, which traps the cool air inside efficiently. Whenever the time for cleaning is due, this seal can be removed easily for cleaning purposes.
Storage Baskets
This unit from Bluelinetech is fitted with sliding storage baskets inside, which are wired and coated with Epoxy so that they can avoid damage from corrosion. The baskets are strong enough to hold heavy things like milk cartons, meat, and fish.
Digital Thermometer
The machine is fitted with a digital thermometer on the top of the inside walls. The thermometer indicates the correct temperature range of the freezer. It is an intuitive and flexible tool that users can adjust to their desired degree.
Energy Efficient
This Bluelinetech deep freezer comes with an A+ energy-efficient motor that unleashes for you all the advantages of powerful cooling. It can reduce your energy consumption by up to 30%, which automatically translates to a reduced carbon footprint.
The best chest freezers:
The amount of food your freezer is expected to accommodate is often so much to make you think your freezer is too small. Frozen foods rule the weeknight meal roost and are a godsend when all you want is to preserve seasonal produce or to pull that tasty ensemble together quickly. Chest freezers differ from upright freezers, like those you likely have attached to your fridge; in one significant respect, a chest freezer opens from the top. The icing on the cake for a chest freezer is that it offers more usable space and saves more energy than your usual upright freezer. The chest freezer will also outdo its upright sibling by maintaining its temperature better even when open because cold air sinks to the bottom of the unit.
The chest freezer allows you to eat seasonally without giving up variety. Whether making soup, lasagna, or grains, you can rely on freezing for much of your cooking throughout the year. A chest freezer makes it possible to process fruits and vegetables at their freshest, making meal times manageable. Size, storage, and upkeep are the key factors to consider in shopping for this appliance. Here's our sampling of the best chest freezers:
Best Overall: Midea Chest Freezer.
The Midea Chest Freezer is a mid-sized appliance with a user-friendly design ideal for those simply looking for a little extra freezer space. This unit comes fitted with two removable storage baskets that make organization easy. When you open the lid, an LED light turns on, allowing you to see what you're looking for. The door has a convenience lock that holds it in place when open, allowing you the freedom to organize the freezer's contents without worrying about who or what will hold the door for you.
This machine is designed with multiple freezer settings, allowing you to change the unit's temperature and the option of converting it to a refrigerator should your needs change. It's also easy to move because it is on casters and is fitted with a drainage hole on the bottom of the unit for easy manual defrosting.
Pros: The Midea chest freezer is ideal for freezing newbies and is full of easy-to-use features.
Cons: This unit lacks an outside power light, so you have no way of knowing if it is on. It is also not fitted with a temperature indicator.
Footprint:

22.1 x 32 x 33.5 inches

Garage Ready:

Yes

Capacity:

7 cubic feet
Best Portable: Whynter 85-Quart Portable Fridge Freezer
The Whynter 85-Quart Portable Fridge Freezer is just what the doctor ordered for those often on the go, keeping food frozen on camping trips, boats, and RVs. It is factory-fitted with two power cords, one for DC, which can be plugged into a car lighter socket, and one for AC, which runs 110 voltage. You can plug in both simultaneously to protect against power loss and for better consistent power. The unit is equipped with an adjustable temperature setting. With one touch, you can adjust it from refrigerator to freezer. To keep your perishables well organized, it comes with two baskets that you can easily remove for access. 
Pros: It is a portable freezer, easy to move, and works on both AC and DV power.
Cons: This item is expensive if you consider its size. Compared to a regular-sized freezer, it offers limited space.
Footprint:

18.3 x 28.1 x 23.5 inches

Garage Ready:

Yes

Capacity:

2.83 cubic feet
Best Small Capacity: Avanti Chest Freezer
The Avanti Chest Freezer is only 16.5 inches wide; it is a  slim chest freezer that is small enough to fit into your kitchen easily. The Avanti has advantages like you will no longer have to go into the basement or garage to access your freezer items. It is fitted with temperature control with seven settings and power indicators for the unit and the compressor, making it a user-friendly freezer ideal for smaller families or couples. If you love smoothies or batch cooking is your forte, you will get tons of use out of this freezer. On the other hand, if you want to store more oversized items, like whole lasagna or large pieces of meat, you will struggle with space.
When it comes to Avanti, size matters because the small size makes it easy to organize, and its removable basket is also remarkable in giving you better access. Avanti ships this with a one-year warranty and is also Energy Star certified.
Pros: It is built in a slim design that is great for small spaces and offers a more extended range of temperature control.
Cons: Because it is made slim, it limits the size of items you can fit inside. It also lacks an outside power light leaving you with no means to tell if it's working correctly.
Footprint:

32.8 x 16.5 x 24 inches

Garage Ready:

No

Capacity:

2.5 cubic units
Should I buy a Bluelinetech chest freezer?
Find that your fridge's freezer is usually crammed on most days of the week with no breathing space for that additional perishable in dire need of freezing. You should consider buying a Bluelinetech chest freezer. This freezer has received rave reviews as compact but still retains the ability to hold lots of food. Many reviewers have expressed satisfaction with the purchase of this unit. It offers you more usable space compared to the upright freezer, costs less, uses less energy, and helps you better avoid freezer burn. 
Frequently Asked Questions:
Q: Does a Bluelinetech chest freezer have a manual defrost?
A: Yes. It has a drain hole inside for manual defrosting.
Q: What should one look for in a Bluelinetech commercial freezer?
A: Check the cooling capacity, door shape, and interiors of the freezer.
Q: How long do Bluelinetech commercial freezers last?
A: The projected lifetime of a Bluelinetech commercial freezer is about fifteen to twenty years, especially the high-quality models.
Conclusion:
A Bluelinetech chest freezer is a convenient appliance to have, whether you like to prepare your meals in advance or buy in bulk. It is fitted with features that you will enjoy and is a definite quality pick when you're hunting for a chest freezer and, at the same time, looking to save money. 
ESTIMATED TIME DESIGNING AND UPLOADING THIS ARTICLE
ESTIMATED TIME RESEARCHING AND WRITING THIS ARTICLE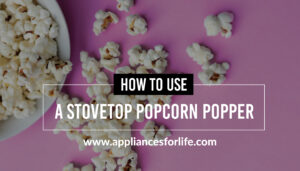 How to Use a Stovetop Popcorn Popper
Although we now live in a modern world, there are things from many years ago we still can't get over. Popcorn is one of those things, and in this article, we'll explore how to use a stovetop popcorn popper. The world has become bigger, and
Read More »