In the world we live in today, washing machines have become an integral part of every home because they make washing easier and more convenient for people; saving them time and efforts in the process. In a world that is evolving into a fully fledged 'tech space', having appliances that make our daily activities easier has now become a necessity rather than an option that it used to be. Automatic washing machines are meant to perform the tasks that would have been performed manually if they (the automatic washing machines) hadn't existed. This means that the only manual input you have to make is to load and unload your clothes once the machine is done with them. Some of them are packed with features that will soak your clothes, wash them, rinse and spin them; and they will be neatly done.
Automatic washing machines come in two types; the top load and front load depending on the position of the washing machine, both positions serve its best to put a smile on your face when doing your laundry.
We are here to help you make the best decision when getting the best quality automatic and automatic washing machine. We have put into consideration all you will need to know when comparing washing machines, so be rest assured we got your laundries covered.
Let's discuss the two types:
Top Loading Washing Machine
Front Loading Washing Machine
Top Load Washing Machine
A top loading machine is a type of washing machine that has an opening through which clothes are loaded and unloaded. For some people, bending their backs to put clothes in their washing machines always seems a bit difficult and that is when they opt for a top loading washing machine which can easily be loaded right from the top without having to bend backs.
Front Load Washing Machine
This type of washing machine allows you to load and unload your clothes from the front side of the machine. Although it might not be an ideal option for people with back issues, most people still prefer it because of its efficiency and the fact that compared to the top load washing machine, it consumes less energy and other resources.
| Image | | | | | |
| --- | --- | --- | --- | --- | --- |
| Item | GE GFW148SSMWW 24-inch Front Loader Fully Automatic Washing Machine | Miele WWH860WCS 24-inch Smart Compact Front Loader Washing Machine | Avanti STW16D0W Compact Portable Washer | GE GNW128PSMWW 24-inch Portable Compact Washing Machine | LG WT7300CW Top Loader Washing Machine with Wi-Fi Connect |
| Manufacturer | General Electric | Miele | Avanti | General Electric | LG |
| RPM | 1400 | 1600 | N/A | 750 | 950 |
| Wash Cycles | 14 | 18 | 6 | 8 | 8 |
| Weight | 166 pounds | 212 pounds | 78 pounds | 99 pounds | 143.30 pounds |
| Special Feature | Internal Water Heater | Water Protection System | Bottom Pulsator Wash Action | Child Lock | 5 Spin Speeds |
| Editor's Rating | ✸✸✸✸✸ | ✸✸✸✸✸ | ✸✸✸✸✸ | ✸✸✸✸✸ | ✸✸✸✸✸ |
| | | | | | |
Looking at the classifications of the automatic washing machine
Semi-Automatic Washing Machine
This semi-automatic washing machine is always packed with compartments and isolated tubs meant for washing and drying. There are usually two different timers; each for drying and washing times, making its semi-automation more obvious. After loading your clothes, you'll need to manually add both water and detergent, after which you'll set the timer to make the machine start working, depending on the volume of the clothes you're loading it with. Once this time gets exhausted, the machine automatically stops and you can then remove your clothes and either dry them in the drier compartment or under the sun.
Fully Automatic Washing Machine
Unlike the semi-automatic laundry machine that requires you to manually add detergent and water; this fully automatic washing machine is fully automated and the only time you'll need to do anything manually is when you're loading and unloading your clothes. A fully automatic washing machine determines the right amount of water that will sufficiently wash the volume of the clothes you have in it as long as you have it connected to a water source. Also, if you have the detergent store in the right storage space, the machine automatically takes the right amount of detergent before washing and giving you the best results conveniently and without stress.
Other Factors
When determining the type to go for, other factors apart from the loading position, water and detergents used also come into play in delivering a great result. These factors are matters of technicality that will help you understand the quality of the machine, capacity, durability, portability and the maintenance.
Cost of Getting the Washing Machine
Sometimes money is the first thing that comes to the mind when you want to choose or decide what kind of automatic washing machine you will be getting. This may also determine how efficient it will be; while there are laundry machines that are cheap but very efficient, there are others that are very cheap but do not have the capacity to do all you may want it for and vice versa.
Considering the Electricity Cost
Energy cost is one of the major things to think about when getting a washing machine. No one wants to end up with a machine that will be high maintenance in terms of monthly electricity bills. Some may rack up high bills for you but many save electricity which makes them the best choice to make. Some manufacturers have taken this into consideration by setting certain features in the washing machines that will assist you in saving your cash for example; Energy saving or stress-free modes, Adjustable foot and Programmable timers. 
The Space
When purchasing the washing machine, you would want a washing machine that saves up space in the room or apartment. No one wants to do laundry in a tight space. The space may also depend on the type of washing machine, for example, the front load machine will require more space than the average top loading machine due to the door swing.
Controllable temperature
Some washing machines have an inbuilt heater, this attribute will help adjust the temperature of the water. This will be very useful during winter; with this feature, you will not have to run away from laundry during winter. Secondly, hot water has been proven to clean clothes better. Some washing machines also have steam settings built in them, which helps fight dirt and stains well.
The Spin Cycle
The spin cycle for drying is estimated per cycle every minute (RPM – revolutions per minute). The higher the RPM, the better and faster it will dry your clothes. In any case, this will largely rely on the sorts of clothes. For delicate garments, the average spin cycle is 300-500 rpm, while for thicker things, for example, jeans are around 1,000 RPM, but this is not set in stone.
Type of Material tub
The tub can be made of plastic, porcelain-lacquer or stainless steel. The first two are less expensive. Plastic tubs are more tough and durable than porcelain-lacquer ones, which could chip and rust. Stainless steel tubs, on the other hand, are the best as they are the toughest and could withstand high turn speeds.
The Wash settings
Most machines have preset wash software programmes, for example, 'delicate wash' for mild garments, and water level options. You can alter and spare most important settings. These can be balanced through turning controls, a touchpad or a touchscreen. The primary kind is the least expensive. The different settings will ensure your clothes do not wear or tear during the wash.
The programmable timer
Time delay enables you to stack the washing machine and begin it later. This is helpful in the off chance that you need to keep noise away at specific times or you prefer the laundry to be done at whatever time you want. The pre-soak equipment enables you to soak the garments or clothes for a predetermined period, after which the wash cycle begins consequently.
The Best Quality Automatic Washing Machines – Just for You: Our Review
Best in the 'Less for More' Category
–
GE GFW148SSMWW 24-inch Front Loader Fully Automatic Washing Machine
The GE GFW148SSMWW 24-inch Front Loader Compact Fully Automatic Portable Washing Machine is a top rated washing machine and the best washing machine for the money which every family should consider buying. Unlike most washers you see in the market, this laundry unit can handle just anything and is very durable, it is cheaper than most washers in the market too. All you need to do is connect the washer directly to your faucet with the included quick connect adapter kit and hoses, plug it to an appropriate socket and get your clothes clean in no time. This machine is unarguably the best front load washer on this list, and rightly so.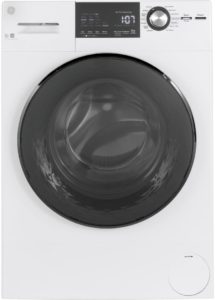 Pros
Compared to other high-end automatic washing machines, it is lightweight and can be moved around the house very easily. You don't have to be worried about space or anything no matter where you live with this washer, be it a condo, dorm room or wherever.

It operates quietly with a very low noise level.

You can see your clothes as they wash, just in case you want to monitor things.
It has 14 different wash cycles; setting it apart from other machines with less wash cycles.
It comes with great washer control features including Child Lock Control, On/Off Control Sounds, and LED Cycle Countdown among others.
Cons
There's almost nothing wrong with this GE compact washing machine according to the reviews and ratings of people who have previously used it.
For a washer of this price, it does what the manufacturers state it will do and even more. The best part is that it is highly durable. It can resist much, can handle heavy-duty and keep on handling it even after three years.
Best in the 'Bulk for the bulk' Category

– Miele WWH860WCS 24-inch Smart Compact Front Loader Washing Machine

Miele is one of the most reputable appliances brands in the world and that's always evident in their products as they're always packed with amazing features. Their products are always perceived to be 'high-end' and that's perhaps because of the features they're packed with, coupled with the fact that most of them are priced highly.

This quality product – regarded as one of the best large capacity washers – comes with an innovative technology designed to give the best and perfect wash with steam in your laundry.

The automatic washing machine is a long-lasting washing machine and has a 2.26 cubic foot capacity which is large  and knowing that it is also a front-load washing machine makes it easy to wash bigger loads of clothes in it with ease making your laundry day stress free. The quality washing machine allows heavy duty clothes, bulky suits, bedding and many other delicate items in the home that are heavy.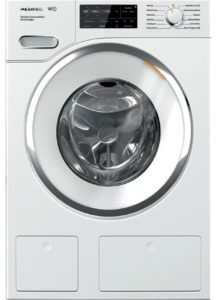 Pros
It permits heavy clothes.

This automatic machine features 18 different wash cycle; leaving you with lots of options when washing your clothes.
It washes with less time.
You could add clothes after the cycle has started.
Cons
It occupies a lot of space.

With its large built and heavy nature, it is not Portable.
As you enjoy the multiple clean cycles washing machine with much comfortability ensure you unload properly after spinning out the dry clothes. 
Best Portable Washing Machine

– Avanti STW16D0W Compact Portable Washer

Make every laundry day stress free with this high-quality automatic washing machine. It is lightweight and space saving with quiet power.

The quality washing machine offers the best cleaning performance of larger machines in a compact size. Apart from being lightweight, it is also quite cheap. This automatic washing machine is ideal for a small apartment, dorm rooms, camping and trips as it is handy.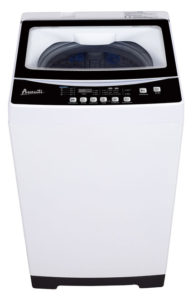 Pros
It is handy and lightweight.

It is easy and quick to clean when you are done with your laundry.

You can store it anywhere, place it anywhere. It's that small so you don't have to worry about space.

It doesn't produce so much noise when working.

A good number of users have been using it for years and have attested to its durability.

It saves water and detergent during use.
Cons
It only permits smaller loads so you can't wash many clothes at once. It also cannot take heavy-duty clothes like your big duvet and blanket.
Despite the cons, this is the best choice portable and compact twin tub washing machine, and you should go for it. It is cheap, it has low maintenance most especially with cleaning after use and on energy bills.
Small but 'Mighty' Category

– GE GNW128PSMWW 24-inch Portable Compact Washing Machine

Get a perfect solution to your laundry with this automatic washing machine. The GE model is another mini washing machine of high quality with unique features and specifications in it. It is fully automatic with a 750 RPM spin speed, making it a great choice among other washers in its class. The washing machine was designed to give great comfortability and make washing an easy task. 

This automatic washing machine has a multifunctional control panel such as the PreSoak, Deep Rinse, Extra Spin, Time Set, Child Lock and other programs on the washing machine. The quality automatic washing machine is compact and lightweight, yet it can handle heavy loads. It also has a digital timer making it easy and convenient to operate and monitor.

This machine is all about safety. As soon as the Child Lock function is activated, all buttons are locked and the washing machine stops spinning and also makes an error alarm if the top lid is opened. When spinning, if the laundries inside the tub are not placed equally, it will cause vehement vibration. Now, the washing machine irregularity adjustment commences naturally to adjust the irregularity situation if vibration is passed a certain level. The base feet can also be changed in accordance with your needs

From reading the above, you know part of the pros, let's go through it all: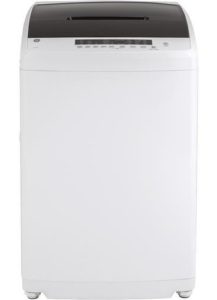 Pros
Gives great comfort with multiple cycles of clothes

It helps you save on both water and energy bills.

It is a perfect washing machine for child safety with its child lock feature.
Cons
Cleaning it can be tiring.
This GE portable compact full-automatic washing machine is a unique washing machine designed for safety, low maintenance and great laundry work. 
Best Washing Machine and Fabric Softener

– LG WT7300CW Top Loader Washing Machine with Wi-Fi Connect

Giving your laundry endless possibilities with this LG top loading washing machine is never a waste of money. The automatic washing machine is the best of the best washing machines recommended to be used at home, other spacious environments with all assurance of powerful performance in every wash. The washing machine is a 5.0 cubic feet sized washer that handles tough materials or items with all convenience, and a maximum of 8 wash cycles both delicate and express wash with an inbuilt LG WT7300CW 5.0 cu. ft. 27 Inch Top Load Washer adjustment to meet your needs. Take a look at everything it has to offer. However, perhaps what people love about it the most is it being a smart appliance. It has Wi-Fi connectivity, thereby making it compatible with voice commands like Amazon Alexa and Google Assistant.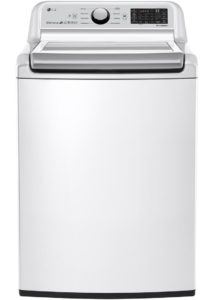 Pros
It has 5 different wash temperatures, you can choose whichever one you want or is suitable for the weather at any time.

It is built to handle the toughest of fabrics.
It has 8 different wash cycles which include; normal, delicates, rinse and spin, clean washer, heavy duty, and so on. It can carry and size load or fabric feel that you throw in it.
Its steel interior is made to resist dents, chips and corrosion.
Unlike most models of the same capacity, this laundry washer can get the work done with a full load in under one hour.
Cons
It is not lightweight, therefore can't be moved around so easily.

Not quick and convenient to clean.
Frequently Asked Questions
1. What are the best washing machine brands?
Oftentimes, people mistake the top brands for the only brands that are capable of making great products but that might be wrong. Every washing machine brand featured on this list is reputable, tested and trusted by those who have previously used any of their products, especially their washing machines. It's safe to say you can trust the brands we've included their washing machines in our article.
2. How long should a washing machine last?
When your washing machine is nearing the end of its lifespan, it starts giving your signs which can cause it not to work properly any longer. However, before this happens, it must have properly functioned for about 10 years if it's properly maintained. 10 years is the average lifespan for a good washing machine and it should really last that long if you properly maintain it.
3. Should I keep fixing an old washing machine that keeps breaking down?
When a washing machine keeps breaking down, it may be a sign that it's already nearing its end and truly, it hurts even more when the machine has served you for so long. However, it's good to resist the temptation of having to always fix it when it begins to have frequent breakdowns. The best thing is to replace it with another reliable washing machine.
4. What should I look for when buying a washing machine?
You can't just make the decision of getting a washing machine without properly putting some things into consideration. Some of the things you should look out for in a washing machine before getting it are; size, efficiency, fully automatic or semi-automatic, price, load capacity, tub material, and many more.
Conclusion
Now that you have a great knowledge about automatic washing machines and the unique features in it. The choice of choosing what kind of automatic washing machine to use will no longer make you confused or bewildered. With the comprehensive know-how of automatic washing machines, you could purchase an automatic washing machine that best suits your needs.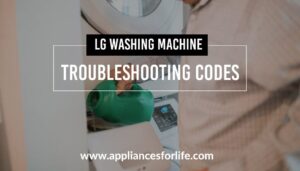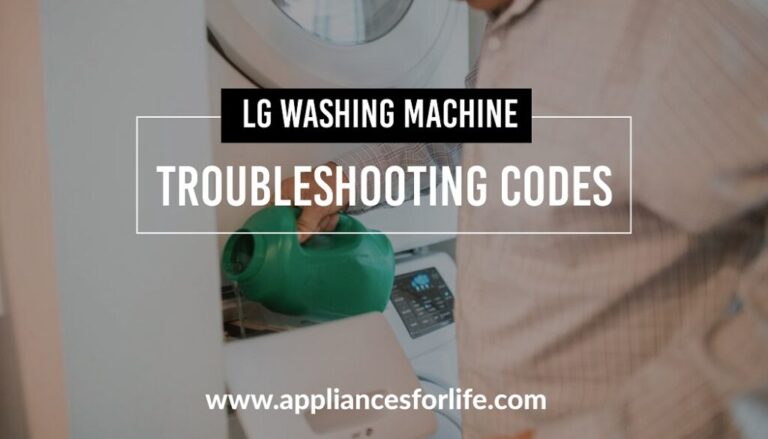 LG Washing Machine Troubleshooting Codes
The good thing about these times is that every modern machine available to us is advanced and user-friendly. If you ever run into trouble with any of them, you'll get codes that indicate a certain problem, but if you can't decipher these codes, you may
Read More »