GE GFW550SSNWW 28-inch Smart Front Load Washer with 4.8 cu. ft. Capacity
American Made Washing Machines Comparison Table
| Image | | | |
| --- | --- | --- | --- |
| Name | GE GFW550SSNWW 28-inch Smart Front Load Washer with 4.8 cu. ft. Capacity | Whirlpool WFW5620HW 27-inch Front Load Washer with 4.5 cu. ft. Capacity | Maytag MHW6630HC 27-inch Front Load Washer with 4.8 cu. ft. Capacity |
| Brand | GE | Whirlpool | Maytag |
| Capacity | 4.8 cu. ft. | 4.5 cu. ft. | 4.8 cu. ft. |
| Color | White | White | White |
| Type | Front Load | Front Load | Top Load |
| Product Dimension | 28 x 39.75 x 32 inches | 27 x 38.6 x 31.5 inches | 27 x 38.62 x 32.93 inches |
| Maximum Spin Speed | 1300 RPM | 1200 RPM | 1160 RPM |
| Weight | 246 lbs | 190 lbs | 230 lbs |
| Editor's Rating | ✸✸✸✸✸ | ✸✸✸✸✸ | ✸✸✸✸✸ |
| | | | |
Washing machines are gaining widespread popularity due to the versatility, efficiency, high-tech features they are packed with, and many more. If you put the washing machines in production today to the ones that were produced many years ago, you can tell the huge difference between them because they're from different times in history. The massive growth the market is experiencing is only proof of how much work some of the top global manufacturers have put in over the past few years.
According to a Biz Vibe post about washing machines, the market value of the washing machine industry was projected to reach $24 billion by the end of 2018. The numbers projected were a major hit as things went from good to better for the global washing machine industry. The numbers were also expected to grow at a CAGR of 5% from 2017 to 2022, and with the year just starting, the numbers have already surpassed many expectations.
Although putting American-made washing machine brands side-by-side with top Asian and German brands like LG, Samsung, and Bosch will only spark controversies about which ones are better, you can't take anything away from American washing machine brands because they're equally fantastic. We're not surprised that the topic 'American-made washing machines 2022' is a subject that has sparked widespread interest and opinions from experts and consumers alike. Many people are now paying attention to washing machines made in the USA because American-made washer and dryer brands are a top choice for many appliance consumers across the globe.
The US has always stood out when it comes to producing world-class appliances with advanced technology. This has made the country one of the biggest appliance manufacturers in the world, with the products manufactured in the country always managing to get the nods over their counterparts from other countries. Washing machines made in the USA are distributed globally, with fellow North American countries, Canada and Mexico, as the chief importer of USA-made washers and dryers.
Do you want to know more about what appliances are made in the USA? We have a detailed article about American-made appliances. Check here to access the piece.
The only major difference between modern washing machines and the old ones is technology. Technology has made a big difference as the need for high-tech washing machines has increased significantly over the past few years. People want access to washers that will clean their laundry effectively while also saving energy, time, effort, and money in the process.
Upgraded technology and efficiency are two of the most significant drive forces behind the rapid growth of US-made washing machines. Lifestyle changes, technological advancements, rapid urbanization are some of the other factors responsible for the immense growth of washing machine manufacturers in the USA. The global evolution of these American-made washing machines has had a huge effect on the country's economy as part of the American government's plan to embrace more use of domestic appliances.
What Washing Machines Are Made in the USA?
If you reside in the US, purchasing the best American-made washers and dryers is an amazing way to support the country's economy. The perk of this process is that you're not only supporting the country's economy but also investing in a superior product that guarantees you the best value for your money. Another good thing about purchasing American-made washing machines is that you can never get it wrong as long as you do your research correctly.
It doesn't matter whether you're choosing a top load or front load washer, you're guaranteed to get your hands on the best American-made washing machine because these manufacturers produce nothing but the best. Some of the best American washing machine manufacturers include GE, Whirlpool, Speed Queen, Hotpoint, Amana, and Maytag. Before we get into the best American-made washing machines in 2022, let's briefly discuss each of these brands and what they're known for.
Maytag Appliances
Maytag is the oldest washing machine brand in the United States but has been acquired by Whirlpool which has claimed ownership since 2006. Maytag was founded in 1983 and has been producing high-quality appliances ever since. The brand is responsible for manufacturing some of the best American-made washing machines and dryers for the past few decades, competing with the likes of GE, Amana, and Hotpoint. What people love about Maytag is that the brand offers a 10-year limited parts warranty as a way of demonstrating its commitment to the quality construction of its appliances in the United States.
GE Laundry Appliances
The GE brand has been around in the United States for many years, making it one of the oldest American washing machine brands in history. While the appliance division of the country is owned by Haier, a Chinese company, GE still manufactures its laundry appliances at the GE headquarters in Louisville, Kentucky. People love the 128-year-old appliance brand because it integrates smart technology into most of its washers. When you invest in a GE washing machine, you'll most likely have access to important features like OdorBlock fans, antimicrobial gaskets, and many more.
Whirlpool
If you take a minute to conduct a simple survey online seeking the responses of experts and consumers alike, you'll realize that Whirlpool may not be the largest home appliance company in the world. Whirlpool got off to a strong start with the production of the first mechanized wringer washer in 1911. The company has not looked back ever since. Whirlpool is considered one of the best American-made washer and dryer brands even outside of the US. The company's main manufacturing center is located in Greenville, Ohio.
Speed Queen
If you're looking for a durable washer that can last you over one decade, the best brand to trust for this purpose is Speed Queen. Founded in 1908 in Ripon, Wisconsin, Speed Queen is famous for producing some of the best commercial-grade washers and dryers in the past few decades. As opposed to what many people think that Speed Queen can only produce commercial-grade washers, the brand has manufactured fantastic residential products in the past and the legacy has been protected by the continuous production of extremely durable washers.
Top 3 Best American-made Washing Machines
1. GE GFW550SSNWW 28-inch Smart Front Load Washer with 4.8 cu. ft. Capacity
GE has been one of the most consistent American washing machine brands of the past few decades, and washers like this GE 4.8 cu. ft. front-load washer is why the brand is still at the summit of the American washing machine industry. There's a lot of things to love about this GE washer such as WiFi connectivity, time saver option, UltraFresh vent system with OdorBlock, and 1300 RPM maximum speed to cap off an amazing product. With all these features, you'll expect the product to come with a ridiculous price tag, but that's not the case at all. This is one of the most affordable GE front-load washing machines money can get you.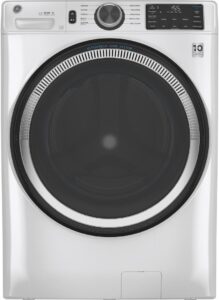 Features
UltraFresh Vent System with OdorBlock
GE is famous for always including some of the best high-tech features in its washers despite selling them at affordable prices. The UltraFresh vent system is one of the many things you'll enjoy when you buy this GE washer. It helps eliminate excess moisture that can build up in the washer to create unwanted smells. With this system in your washer, you can be sure of your washer stays clean and fresh all the time.
Dynamic Balancing Technology
The good thing about having a washing machine with the latest tech-inspired features is that you can get everything done conveniently and faster. GE's dBT system is a time-saving technology that senses and balances uneven loads when the washer is spinning.
Other Features
Microban Antimicrobial Technology

Reversible Door

Built-in WiFi

True 32-inch Closet Depth

Quick Wash Cycle

Time Saver

1300 RPM Maximum Spin Speed

10 Wash Cycles

9 Wash Options
Pros
Extremely affordable

The washer has enough high-tech features

It can be effortlessly paired with a GE dryer

It has the self-clean feature

It cleans efficiently when the settings are correct

The washer smells nice
Cons
The user manual is not comprehensive
2. Whirlpool WFW5620HW 27-inch Front Load Washer with 4.5 cu. ft. Capacity
The Whirlpool brand is known for creating some of the world's most-purchased large-capacity washers with very low price tags. If you're looking for a quality large-capacity washer to invest in, this Whirlpool front-load washer with 4.5 cu. ft. capacity is a great choice to consider. It is one of those washers you can get for less than $1000, and the good thing about having this washer is that it has everything you need in a high-end washer. The washer has fantastic features that help make your laundry easier while also delivering a thorough cleaning to your clothes.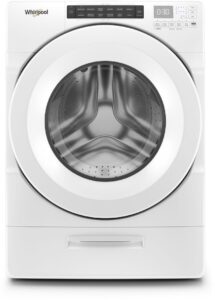 Features
Cold Wash Cycle
One of the best ways to provide the best care for your clothes is to use Whirlpool's adaptive wash actions combined with a concentrated solution of high-efficiency detergent and cold water. The cold wash cycle helps lift stains and soils from your fabrics gently so the quality of the materials is preserved. Because the cycle uses less energy, your fabrics are protected from heat damage.
Load & Go System
It's very annoying if you have to add detergent to every load you put in your washing machine. You can skip those steps with Whirlpool's Load & Go System that has a cartridge that can hold enough detergent to wash up to 20 loads of laundry. The system automatically dispenses the right amount of detergent in your loads.
Other Features
4.5 cu. ft. capacity

Presoak option

Stainless steel drum

Intuitive controls

Closet depth with 33-inch installation depth

Sanitize cycle

Energy Star certification

1200 RPM maximum spin speed

Automatic temperature control

Steam clean option
Pros
It is very effortless to install

Easy operations

It is affordable

The machine has enough space for large loads

It washes very efficiently
Cons
1200 RPM maximum spin speed is not enough for a washer with all these features.
3. Maytag MHW6630HC 27-inch Front Load Washer with 4.8 cu. ft. Capacity
Maytag is one of the oldest American washing machine brands, but the brand is also very underrated. Maytag washers don't get the credit they deserve, and that's sad because the Maytag brand has put in all the work needed to take the center stage globally. With this Maytag washer, things have been different for the company as it's now getting the credits it deserves. Many reviews online suggest that this Maytag large-capacity washer is the real deal despite being priced a little over $1000. With this washer, you'll have access to 12 wash cycles, stainless steel drum, steam clean option, advanced vibration control plus, and 1160 RPM maximum spin speed.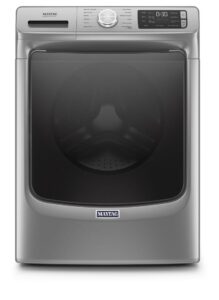 Features
Extra Power Button
Some tough stains can either be fought with hot or cold water, but Maytag can use both in a single load to get you the result you want. The extra power button helps you boost stain-fighting performance on any chosen wash cycle with dual-temperature wash.
24 Hr Fresh Hold
Most modern washers are judged by the number of high-end features they have, and this Maytag washer is no different. This special feature keeps your clean clothes smelling fresh in the machine using an internal fan and intermittent tumbling. These things circulate air through your laundry for up to 16 hours after the wash cycle must have ended.
Other Features
Sanitize cycle

Energy Star certification

Stainless steel tub

Steam clean option

Advanced Vibration Control Plus (AVC+)

Quick wash cycle

12 wash cycles

4 temperature controls
Pros
The machine can handle large loads conveniently

It functions perfectly

People love that it has 12 wash cycles

The installation process is very straightforward

It is energy-efficient

The control panel is easy to operate

Quiet operation
Cons
It may malfunction if you don't install it properly
Frequently Asked Questions
1. Where are Whirlpool washers made?
The company operates from the United States and that's where its washers and dryers are made.
2. Where are LG washers made?
As a multi-national company, it is expected that LG would have many production houses across the globe. However, LG remains a South Korean brand and most of the company's washers are made and packaged in the country.
3. Where are GE washing machines made?
GE's appliance division may have been acquired by Haier, a Chinese brand, but the company is still headquartered in Louisville, Kentucky.
4. Where is Speed Queen manufactured?
Speed Queen remains one of America's most trusted brands for durable commercial-grade and residential laundry appliances. Speed Queen washers and dryers are manufactured in the United States.
5. Are any washers and dryers made in the USA?
Brands like Amana, Hotpoint, Speed Queen, GE, and Whirlpool are all American washing machine brands. All their products are created and packaged in the United States before they're exported to other countries.
Conclusion
With the US government calling on people to invest more in domestic products such as American-made washing machines, it's no surprise that topics like this are attracting widespread interest. American-made washing machines are made with the latest technological advancements. When you invest in one of these washers, you're not only contributing to the economic growth of the country but also improving your domestic lifestyle because that's what these washers offer.
ESTIMATED TIME DESIGNING AND UPLOADING THIS ARTICLE
ESTIMATED TIME RESEARCHING AND WRITING THIS ARTICLE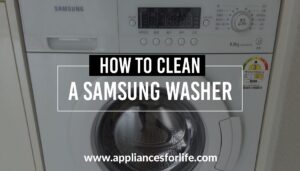 How To Clean a Samsung Washing Machine
Without mincing words, Samsung is one of the best appliance manufacturers of all time, and that's a feat the brand has dearly protected in all its years of providing excellent products and services for its consumers. This article is all about how to clean a
Read More »