Buying and choosing a stove for your kitchen can be quite confusing. There are so many sizes, types and models to choose from that the decision can get overwhelming. A 24-inch stove is in actual fact the average size for a stove and is perfect for both large and small kitchens. They are practical and affordable. Many small apartments and studios choose 20-inch stoves but a lot of people find that even though they are slim they don't quite get the job done. The next size up is 24 inches which gives you just that little extra space you need. 40-inch gas and electric ranges can be a little too big sometimes and a lot of people say they rarely ever use all the space in the oven when cooking. The larger size ovens and stoves are really best left to the pros!
Can't decide which 24 Inch Stove to pick? We have gathered the best 24 Inch Stoves for you! See the comparison chart below:
| Image | | | | | |
| --- | --- | --- | --- | --- | --- |
| Item | AVANTI DER24P3S ELITE SERIES ELECTRIC RANGE | AVANTI GR2415CB BLACK GAS FREESTANDING RANGE | SMEG C24GGXU GAS CONVECTION RANGE | GE JB256RMSS ELECTRIC FREESTANDING RANGE | BERTAZZONI MAST244GASNEE 24-INCH MATTE BLACK GAS RANGE |
| Color | Stainless Steel | Black | Stainless | Stainless | Stainless |
| Style | Freestanding | Freestanding | Freestanding | Freestanding | Freestanding |
| Total Capacity | 2.3 cu. ft. | 2.6 cu. ft. | 2.8 cu. ft. | 5.0 cu. ft. | 2.4 cu. ft. |
| Weight | 119 pounds | 117 pounds | 140 pounds | 150 pounds | 215 pounds |
| Special Feature | Anti-Tip Anchor Bracket | See-Thru Glass Oven | Defrost | Self-clean Oven | 5 Oven Levels |
| | | | | | |
There are many factors to consider when choosing your stove and one of the most important things to think about is if you want an electric or a gas range. Cooking with gas can be risky but so can cooking with electricity and they both have their pluses and minuses. The next most important thing to consider is budget because it is essential picking right the first time otherwise you will end up spending a lot more money than you wanted to – so spend your money right. Here is what we believe is important and what we feel are the best 24-inch stoves this year to buy.
Important Things To Consider When Buying A Stove
As mentioned above it is important to pick a stove which is on the right fuel you need. You can get gas, electric and even dual fuel ranges which give you the best of both worlds. You may even be interested in the types of stoves that offer two ovens where you can bake two different meals at different temperatures but at the same time. Most gas ranges are made for precision because they produce more BTU's and this type of range is mostly used by professional cooks. Electric ovens give you precision on the oven temp but can be annoying if you have problems with your electric and you get power-cuts often in your area.
Think about your needs. Do you cook a lot? Do you cook often and for large groups of people or do you only cook for yourself? You can really narrow down your choice wisely if you know exactly what you are looking for. Do you really need a stove with 6 burners? Do you want white or stainless steel?
Next, you need to consider your budget. Don't go looking at ovens you can't afford but keep in mind that many outlets have sales on during holidays so be sure to wait and shop around before purchasing something.
Standard Features of Stoves
Most new models have a range of standard features and unless you are buying a really old stove then they should have all of these following features built in them.
Multiple and adjustable racks. Most standard ovens, of whatever size, come with two or more racks which can be adjusted depending on what you are cooking. Ovens come with a standard door lock which can be used for example when the oven is in self-cleaning mode. When an oven is set to self-cleaning, the inside of the oven can increase rapidly and this is designed to prevent burn injuries. All of the more modern ovens have a broil feature which allows you to apply high heat very close to the food. This is also known as an upside-down grill! This is a quick cooking method and can be used to brown and crisp off foods as well. Plenty of designs have been made with windows on the oven door so you can check the progress of your food without having to open the door and affect the temperature inside the oven. A lot of people buy ovens without a window but we recommend you get one with. Every oven will also have a standard light which can also be turned on and off manually which helps you to see the food clearly without having to stick a torch in the oven! All these features have been designed to make cooking both simple and swift. Make sure your oven has all these things before purchasing.
Avanti DER24P3S 24-Inch Electric Range With 4 Elements
We really love Avanti because they make top quality products at an affordable price and their designs are seriously luxurious. This model comes in stainless steel with a warming drawer underneath and has a 2.3 Cu. Ft. oven capacity size. This newer model has a backsplash to help keep things clean when frying and boiling and the steel used is of high durability meaning it won't scratch or bend easily. Customers have given this one a thumbs up and if you want to go for all-electric then this is the one to choose. They don't do this model in white yet which is a pain if you are looking for white appliances but their stainless steel models are snazzy and reliable.
FEATURES
ANTI-TIP ANCHOR BRACKET
This Avanti Electric Range features an Anti-Tip Anchor Bracket that helps prevent the range from tipping.
HOT SURFACE INDICATOR
Cooking sometimes might be dangerous if all safety precautions are properly observed which is why this electric range comes with a feature like Hot Surface Indicator to show you when a surface is still hot to touch.
STORAGE DRAWER
This storage drawer helps you optimize the space in your kitchen by giving you an additional storage option to store your pots, pans, and other kitchen utensils.
AVANTI GR2415CB Black Gas Freestanding Range
If you want a gas range which is 24 inches then go for this one. This model comes in black and is modern looking with a slim fit. It comes with automatic electric ignition, a 60-minute timer, a see-through glass door, a storage door and a black splash. Similar in design to the stainless steel model this averages around the same price as the electric version. Customers again have rated this as a top product and we think so too. This is a perfect and practical option for those smaller spaces where you need to fit an oven into.
FEATURES
AUTOMATIC ELECTRONIC IGNITION
With this Avanti range, safety is guaranteed as long as safety features are concerned. The range features an automatic electronic ignition that allows you to light your burners easily and also make the range very safe to start.

SEE-THRU GLASS OVEN DOOR
This See-Thru Glass Oven Door gives you a clear view of what's happening in your oven so you won't have to risk getting injured all in the name of monitoring your food. Also, it helps prevent heat loss; this way, your food will be ready faster than when the oven is being opened every now and then.
OTHER FEATURES
60-minute timer

Waist-high broiler

Bake/Broil Oven for maximum versatility

Oven cavity light with ON/OFF switch
SMEG C24GGXU Gas Convection Range
Going up a little on the price scale we love SMEG for ovens and stovetops. These are easy clean ovens which are coated with grey enamel which is long-lasting, attractive and super easy to clean. They are equipped with flame failure safety devices in case the flame accidentally extinguishes meaning it will automatically cut off the gas supply to prevent harm. They don't have backsplashes but the oven windows are larger. They come made with storage drawers on the bottom and four sealed burners on the top of the stove. SMEG deserves a lot more credit for their appliances. This particular stove has had great customer reviews and SMEG's service is incredible. They are happy to help with all kinds of queries and issues and offer great warranties on all their products.
FEATURES
AMERICAN STYLE CONTROL KNOBS
The front panel of this range houses sturdy control knobs that are regarded as the modern style in most American houses.
AISI 304 STAINLESS STEEL
The AISI 304 Stainless Steel is the most versatile and widely used type of stainless steel in the market. This stainless steel type is corrosion resistance due to its composition which helps provide the overall best performance.
GAS FEATURES
3 cooking modes

Gas Convection Mode

Broil mode

Defrost mode
GE JB256RMSS ELECTRIC FREESTANDING RANGE
General Electric is one of the world's most reputable companies when it comes to producing top-notch home appliances which also include things needed in the kitchen. The GE JB256RMSS is an electric freestanding range that has up to 5.0 cu. ft. capacity which is an outstanding feat for a range of this type. Also, the range features ceramic glass cooktop, self-oven clean, modular backguard, interior oven lights, and front controls.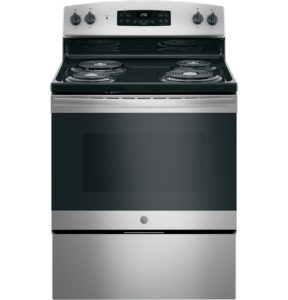 FEATURES
FRONT CONTROLS
The range features easily accessible controls. These controls make controlling the stovetop and oven very simple and easy.
STEAM CLEAN
The range also features steam clean that saves you the stress of having to scrub your oven every now and then with just a 30-minute cycle.
MODULAR BACKGROUND
Although a freestanding range, the modular background is a versatile design that gives you the option of either a traditional look or a flip-down to create a slide-in appearance for the range.
OTHER FEATURES
In-oven broil

Large window

Interior oven light

Front Controls
BERTAZZONI MAST244GASNEE 24-INCH MATTE BLACK GAS RANGE
The style is exactly the same as the gas range but the oven has five different functions. A bottom and upper heater, a bottom heater, a low grill and a top grill. There are heat indicators on the top of the stove which will warn you if the stovetop is still too hot to touch or clean which helps avoid burn injuries. Some of the top features include interior lighting, closed-door grilling, oven light, full-width glass inner door, 4 sealed burners, flame failure system device, cast iron pan supports, 2 wire oven racks, anti-tilt (tipping) bracket and adjustable feet. All Bertazzoni's products are tested for performance and quality purposes meaning you really get the best. You can be ensured you are buying a long-lasting product when purchasing their ovens and stoves.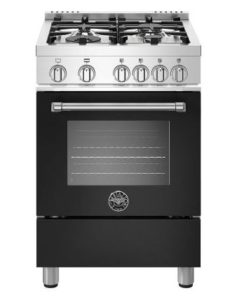 FEATURES
INTERIOR LIGHTNING
To have full visibility while you're cooking, baking, or roasting, interior lighting has been integrated into the range. Also featured are cylindrical lamps that are placed on the rear wall to help reduce the glare on the glass oven door.
OTHER FEATURES
Electronic ignition knob

Cast iron pan supports

Wire shelf
FREQUENTLY ASKED QUESTIONS
1. What size of cooking range do I need?
Without doubts, this is a very important question and one that anyone getting a range should ask themselves. However, the answer to this question is connected to different factors like your budget, the size of your kitchen, the amount of space you're willing to give up for the range, and many more important factors. A report on SearsHomeServices shows that 90% of freestanding ranges/ovens are 30 inches.
2. How do I know when my cooking range needs repair?
There are many ways to know when your cooking range needs repair. Heating issues, glass breakage, non-functional burners, smelling gas, uneven cooking of food; are all things that could happen to show something is obviously wrong with your cooking range. The best thing to do if any of these is noticed is to opt for a repair as soon as possible without taking chances.
What We Think
Making a decision is down to you but we have chosen Avanti if you want something less expensive because they make good quality products which are still stylish. If you want to spend a little more then go for the Blomberg range. Gas is more efficient when cooking but the electric ovens have more features.
In conclusion, we really love all four ovens and couldn't choose between what to put at the top of our list. Depending on personal needs and specification we think these are the best four to choose from. Along with their features and design, these brand names hold high when it comes to customer service as well.