If you need to save on space in your kitchen then a 20 inch gas range could be just what you need. Many city kitchens, apartments and other studio spaces which are tight on space need furnishing with the slimmest appliances available. Most gas ranges come at an average of 30 inches but there are some on the market at 24 inches or even better 20 inches. If you aren't sure on what to buy then read on to find out more about the best gas ranges and the best gas cooktops which range from super expensive to super affordable but are all super efficient and super slim!
The Pro's and Con's of A Gas Range
After hours of research and reading up on slide in gas range reviews this is the following conclusion we have come to. We love gas ranges and for more reasons than one. When our readers ask when are the best appliance sales, we answer – every day – you just need to catch the right time and the right product. The same goes with gas ranges – they are great – you just need to find the perfect product. Gas stoves offer a simply superior performance compared to electric stoves and you can even roast peppers on the flames. They have so many more amazing qualities which will make your meals not only tastier but they will look as if they have been cooked by a pro! Stoves on gas are not only more economical but they are simply more reliable. In the event you have no electric due to wiring or installation problems then you can still cook using the gas. There are only two issues we don't like about gas ranges but they can be simply solved. The first is that gas can smell but if you have a good quality ventilation hood you shouldn't get this problem at all. The second is that they can be harder to install than an electric stove. All you need to do is call up the professionals and they will get it done for you!
The one thing which is really frustrating is if you want a 20 inch gas range you have six models to choose from. Only six companies have designed and made these slimline freestanding stoves. They are Avanti, Amana, Hotpoint, Premier and Summit and they really all look the same. 
Looking for the Best 20 Inch Gas Ranges? See our compiled chart below:
| Image | | | | |
| --- | --- | --- | --- | --- |
| Item | Avanti DGR20P3S 20-Inch Freestanding Range | GE HOTPOINT RGAS200DMWW White Gas Range | Amana AGG222VDW White Gas Range | Premier BHK5X0OP White Gas Range |
| Color | Stainless Steel | White | White | Stainless Steel |
| Style | Freestanding | Freestanding | Freestanding | Freestanding |
| Weight | 120 pounds | 89 pounds | No information | 125 pounds |
| Special Feature | See-Thru Glass Oven Door | Electronic Pilotless Ignition | Drop-Down Broiler | 4 Sealed Burners |
| Total Capacity | 2.1 cu. ft. | 2.3 cu. ft. | 2.6 cu. ft. | N/A |
| | | | | |
Avanti do a wide range of stainless steel, black and white gas ranges. At the top of the list for Avanti we think that the DGR20P3S Freestanding Gas Range is the best. We found this model to be stunningly beautiful and it really emits an elegant feel to it. The stainless steel is super easy to clean and because the steel used is high quality consumers haven't complained of yet that it scratches easily. The oven temperature can be set from 200 – 550 degrees and it can be used on propane gas as well! It has a splash guard on the stovetop and four sealed burners which allow for various cooking options. This is in the more expensive price range but won't break the bank. Avanti have also created less expensive and more affordable freestanding 20 inch gas ranges as well. We also like this variant from Avanti. We really like this affordable model because it comes in white and has a clean look about it. It has two oven racks and a warming/storage drawer on the bottom. It comes again with four burners and a splashback on the stovetop. It can be used on natural gas or propane gas which is also a plus for this affordable and efficient option.
FEATURES
DIGITAL CLOCK AND TIMER
This 20-inch gas range features a Digital Clock and Timer that helps you keep track of time when cooking. This way, you don't have to worry about your food getting overcooked and even gives you an update on how long it takes for a particular food to be cooked.
BACK-LIT KNOBS
These wonderful knobs have light rings that change colors according to the position of each knob. When the knobs are turned off, it indicates blue and when turned on, it indicates red.
AUTOMATIC ELECTRONIC IGNITION
The automatic ignition is a safety measure and it makes the gas range easy to light and safe to start.
This Hotpoint-produced Gas Range is undoubtedly worthy of a place on this list as it is packed with much-needed features like porcelain oven door, electronic pilotless ignition, sealed cooktop burners, and easy-to-use front controls.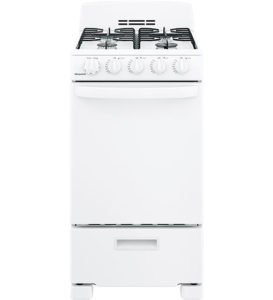 FEATURES
STANDARD CLEAN OVEN
The oven has a really smooth surface coupled with rounded corners, all of which make the oven easy and quick to clean up.
TWO OVEN RACKS AND MULTIPLE RACK POSITIONS
The oven has racks that are big enough to easily accommodate large cookware and the good thing is that they can be placed in several positions.
ELECTRONIC PILOTLESS IGNITION
With this range, you do not need the power-consuming standing pilot as it features an electronic pilotless ignition that provides reliable operation.
FEATURES
DROP-DOWN BROILER
The lower compartment is used to separate broiling with even heat distribution.
LARGE VIEWING WINDOW
The range features a large viewing window that allows you to conveniently watch the food you're cooking inside. This way, you have control over what you're cooking in the oven which prompts several actions from you when necessary.
ELECTRONIC IGNITION
The electronic ignition feature allows you to light the burners up without the need of the power-consuming standing pilot.
Premier BHK5X0OP Gas Range uses the High Grade Stainless Steel style to deliver an extraordinary look which makes it special amongst other gas range products from other brands. This range is built to last and provides many years of exclusive services. It features four different 9,100 BTU sealed burners, with a completely insulated oven to make the energy very efficient for better baking.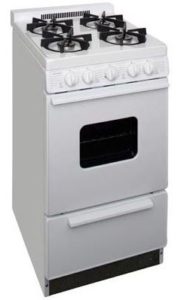 FEATURES
SEPARATE BROILER COMPARTMENT
The ranger gives you access to a separate broiler. All you have to do is roll out the drop door broiler with a smokeless two piece pan and tray.
LINEAR VALVES
These linear valves provide a wide range of selection of exclusive settings between high and simmer on the four featured burners all controlled by large commercial style knobs.
INTERIOR OVEN LIGHT
Have a bright cooking experience with the interior oven light that brightens the inside of the oven up for clarity.
FREQUENTLY ASKED QUESTIONS
Can I replace burners on my gas range?
People live with the fear of not being able to replace their burners if anything ever goes on, and rightly so. The gas range, although effective, is a very delicate appliance and must be treated with utmost carefulness. In the case of burner replacement, disconnect your range from a source of power and gas before going on to remove the burner cap and disconnecting the burner base using a screwdriver. Disconnect the igniters which use a quick disconnect system so you won't have to cut wires. Install your new burner, replace the burner base, replace the cap and grate.
What are sealed burners on a gas range?
Many people wonder what sealed burners are. Sealed burners are burners that are sealed to the base of the range and are most common in residential gas ranges. It has been proved that these sealed burners are easier to clean.
What to Choose
After a lot of research and a lot of reading, trying and testing we feel that the best gas range to choose if you really need one is a 20 inch is avanti or premier. You can choose from a range of colors and designs while still not breaking the bank. If you don't like any of the options available then try and free up some room for a 24 inch gas stove because there are a lot more choices in this size stove.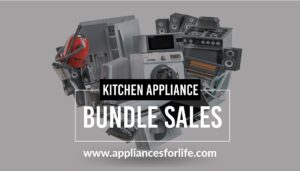 Kitchen Appliance Bundle Sales To Fit Your Home
Starting Out Kitchen appliance bundle sales are a great way to get everything (or almost everything) you need for your kitchen. However, a lot of new homeowners don't know how to shop for major appliances, when to buy major appliances, how to shop smart, and
Read More »