We know that you, like everyone else, are gravitating to a healthy life and that's why we have for you the best juicers on the market in 2021. Because juicers have a fair deal to do when it comes to helping you lead that life. Hot summer days or cold winter mornings, a juicer is going to make your life a lot healthier and easier. No doubt!
Wonder how?
According to "Dietary Guidelines for Americans 2010" most Americans fall short of the recommended intake of 2.5 to 3 cups of vegetables each day. And why does that happen? Maybe it's all the extra cutting and chopping and cooking you have to do to consume your daily quota of veggies and fruits. Or it could be that there are simply not that many great tasting recipes there that really make you say, "Let me look at those veggies and fruits".
That all changes the moment you decide to juice some of those veggies and fruits up and make some delicious brews that will put an instant zing in your day.
Vegetable and fruit juices are low in calories, so this is a guilt-free indulgence. They are highly rich in potassium, folate and vitamins A and C that can help in metabolism and lower the risk of heart attack.
Maintaining a healthy and balanced diet to beat the stress of our lives is what all of us should do and to get there with a little bit of ease, there are certain must-haves, and picking a juicer from the best juicers on the market is one of doing that.
But always keep in mind to take the juice fresh, before it starts changing colors, a mere indication that the nutrients have started oxidizing.
As an Amazon Associate we earn from qualifying purchases. We may earn a small commission for our endorsement, recommendation, testimonial and/or link to any products or services from this website. Thank you, your qualifying purchases help support our work in bringing you real daily gift ideas.
| Image | | | | | |
| --- | --- | --- | --- | --- | --- |
| Item | Aicok Slow Masticating Juicer | Breville BJE200XL | Cuisinart CCJ-500 | Hamilton Beach 67601A | Gourmia GJ750 |
| Manufacturer | Aicok | Breville Kitchenware | Cuisinart | Hamilton Beach | Gourmia |
| Color | Black | Silver | Black | Black | Silver |
| Material | Plastic | Plastic, Metal | Stainless Steel | Plastic | Stainless Steel |
| Wattage | 150 Watts | 700 Watts | N/A | 800 Watts | 850 Watts |
| Special Feature | Reverse Function | Dishwasher-safe Parts | Long Snap-up Spout | Powerful Electric Motor | Large Capacity |
| Weight | 8.23 pounds | 9.68 pounds | 4 pounds | 9.55 pounds | N/A |
| Editor's Rating | ✸✸✸✸✸ | ✸✸✸✸✸ | ✸✸✸✸✸ | ✸✸✸✸✸ | ✸✸✸✸✸ |
| | | | | | |
Why do you need to buy a Juicer?
So yeah, you might be saying that it's great to have those juices in the morning and you can squeeze them by hand. Why do I need a juicer?
We are fairly certain that most won't be asking this question but in case someone is indeed asking we would like to tell you why you need a juicer. Or how a juicer can help your dietary needs, obviously other than the basic thing that a juicer does!
What Is the Key to a Healthy Life?
The key to a healthy life lies in your motivation to live your life healthily. Because it is without a single shred of doubt difficult to live that life. 
There are things that will make you turn your back to the lifestyle the first chance you get.
Keeping a personal juicer at your home will motivate you to take the desired quantity of vegetables and fruit juices every day, which otherwise you would have avoided in your busy schedule. For those of us, who have an aversion to eating a whole fruit in one go, a juicer comes to that aid. You can keep enjoying fresh fruit and veggie juices every day with less effort and good health will soon be on your way.
How Can a Juicer Help You Save Money?
Do you have any idea about the leakage of your savings that canned and packed juices and drinks are causing you?
Every day a couple of bucks or more is what you end up spending on these sugary, preserved drivel. You can definitely do without spending that money.
Saving a few bucks from buying canned juices every day will eventually help you save some big bucks at the end of the month. Of course, that money is not going to buy you a condo, but can definitely buy you a nice treat at a spa or a good dinner in a restaurant.
All you have to do here is be a good judge and buy for yourself the top juicer to buy in the market. And this article where we will help you find the best juicers on the market in 2021 will surely help you find one that suits best for you.
How Can a Juicer Help Beat Your Wicked Sugar Cravings?
Everyone who has had them knows how lethal these cravings are! When it hits you the chances are ten to one that you will fold and sugar will win.
Here is where you need an ally who will help fight you this battle.
Having freshly made fruit juices at home is a sure-fire alternative to beat the sugar craving that we have at times. And what do we need when we need to make those delicious juices? Of course, the best juicers on the market that will get you all the juices, down to the last drop.
How about time?
If there is one thing we all say we don't have, it is time. Life is busy, work is hectic and family is demanding.
You need a juicer that can cut down the time you will take to make your veggie and fruits juice in a jiffy without any of the headaches that come with manual juicing those bad boys. After all, you do not want to compromise on your health or that of your family's just because you are hard pressed for time.
What Are the Basics You Need to Know About Juicers?
Before you make your decisions and choices, you need to have a fairly good idea about the types of juicers and the basics about these juicers so you can make an informed decision.
It's not enough that we give you the best juicers on the market you should also be able to judge for, yourself, as you alone will know your requirements best. As with any other purchase, you need to understand your requirements, your frequency of use etc., before you make the buying decision.
So here we go with the basics about the juicers, the types and how they work. Let's see what catches your fancy.
Centrifugal Juicer
The centrifugal juicer is one of the basic models you can get your hands on in the market and it comes with a grater or shredder disc and  maybe a strainer basket which has straight sides that help hold the pulp in your juicer. It has a relatively low speed of 3,600rpm and is the most economical option.
If you are running on a strict budget, a centrifugal juicer is your choice, but then with most of the centrifugal type juicer models, the kind of juicing you can do is also limited to most soft fruits and veggies.
But there are of course exceptions to every norm.
Centrifugal Ejection Juicer
The centrifugal ejection juicer is very similar to the centrifugal juicer with a small difference that sets them apart. It has slanted basket sides which allow the juicer to self-clean while juicing at the same time. It runs at a moderate speed of 6,300 rpm and comes with a plastic bag to easily dispose of the pulp.
The centrifugal ejection juicer doesn't come as cheap as the centrifugal juicer, and its higher RPM blades ensure that the juicing is more thorough than what you would have with a normal centrifugal juicer.
Masticating Juicer
Here comes the more efficient and expensive type juicer than your basic centrifugal type juicers. The masticating juicers tend to run at slower RPM but it doesn't follow the centrifugal juicers rule of higher extraction at higher speeds. The slower speed of the Masticating juicers and their design allows it to extract more juice while retaining more fiber. It is good to make fruit sorbets, nut butter, and baby foods.
Want to try some juicing with leafy vegetables? Masticating juicer will do that too for you.
Manual Press Juicer
If you didn't get that by the name, this juicer type is manual and it juices out your favorite fruit and vegetable by applying a high amount of pressure with a specially designed press. This type is best for those who exclusively want to juice fruits and since its manual, it is better for soft fruits.
Go for it if you have a pretty good amount of upper body strength.
The manual press juicer also retains a great deal of the nutrition intact in your juice as it uses pressing instead of mashing with blades.
Twin gear Press
Do you want to juice your veggies every day? Then this juicer is highly recommended for you and it has two gears to press the juice out of your fruits and vegetables. So again this one works on the pressing principle rather than the mashing with blade principle – good for retaining nutrients as we have already mentioned.
It can work perfectly to juice out wheatgrass too if you fancy that.
Single Auger Vertical Juicers
Single auger vertical juicers are cold press juicers that work in a vertical design. If you are running a strictly economical kitchen in terms of space and want to save some counter space, then this type of juicers will fit you well.
It is a self-feeding juicer and works at a low speed of 80 RPM.
Now that you know the different types of juicers, their basic working principle and what is the juicing or the requirements that they are suited for, you have started on your journey to making an informed decision about the right type of juicer for you.
What we are going to explore next will help you get more information on juicers and help you judge which among the best juicers on the market is best suited for you.
The first and foremost reason to use a vacuum sealer is to preserve your food, give it more shelf-life than it would otherwise have in the refrigerator or in the kitchen cabinet.
There are certain things that no user manual or product descriptions will tell you and we are here to tell you all that and more.
What Are the Features that You Have to Look for in Your New Juicer?
Before you buy your juicer, you need to better understand your requirements as we said. That will help you understand what the features you want are! So as we are telling you some of the 'must know' features about juicers and as you go through them you can judge what would be the ones that are most important to you and what features are moderately important and what are least important.
So here are some of the features that you need to keep in mind as you go about to buy your new juicer.
What the Juicer Says about its Design?
Looks matter! How many times have you heard this saying in your life? Any number of times is not enough when you have to pick a juicer from the top juicers to buy. You don't want to bring home a monstrosity into your kitchen, just as in the case of any other appliance.
Buy something that has an aesthetically pleasing appearance to make your kitchen look better.
Go for a juicer that is compact and has a few simple parts. It will be easy for you to both assemble and use.  For you don't want to bring something that complicates your already complicated life!
How Fast Does the Juicer Run?
Ask how fast or slow the juicer works before you invest in it. For instance, select a slow speed juicer for soft fruits like berries and a fast speed juicer for harder fruits and vegetables like carrots. The slower the machine spins, the more juice is extracted from the fruits or vegetables, but that is also not necessarily the rule as we have told you there are exceptions to every norm.
As we will show you later on in the article how the fast speed juicer can work just as perfectly to extract every last drop of juice.
Is the Juicer Easy to Clean?
Are you a clean freak? Even if you are not, the bad news is that you will have to clean your juicer pretty regularly. Cleaning a juicer can be a real problem at times that might leave you frustrated unless you buy one that is conveniently easy to rinse.
So while you make your buy, consider the cleaning method and the amount of time it could take to clean the gunk off after juicing. An easy to assemble juicer will be easy to clean as well.
You do not want your juicer to take up any more of your time for your busy daily life than is absolutely necessary.
Does the Juicer Come with a Juice Level Indicator?
Nobody likes to work blind, right? You are better off knowing the amount of juice you have extracted for the day so you can be on top of your dietary needs.
Go for a juicer that shows you the quantity of how much juicing is done. It will be easy for you to keep a tab.
What Size Is the Feeding Tube?
You are always in a hurry for your work and your mornings are hectic, that's the average life. And there you might not have time to cut the vegetables and fruits into small fine pieces to feed down the feeding tube of your juicer.
A large feeding tube will help to make juices from the larger pieces. Which means you can cut them up any which way you want when you are dealing with a larger size feeding tube and expect your juicer to handle the large chunks of fruits and vegetables.
It is convenient and less time consuming and those precious minutes saved in the morning makes you more likely to stick to your healthy food regime.
Does Your Juicer Come with a Drip-stop Pout?
Guess you will never prefer a juicer that will create a mess in your kitchen after your everyday juicing process. So purchase one that will prevent any remaining juice to drip out onto your kitchen counter or the floor once your glass or jug is removed from underneath the spout.
You don't want to be spending time cleaning up your counter and kitchen floor after your everyday juicing now, do you?
This will reduce your overall cleaning time further.
How Easy Is It to Store Away?
Unless you have a king-size kitchen, you should go for a juicer that takes very limited space in your kitchen. Space is always a matter of concern for most of us. Avoid buying anything that will eat up space in your kitchen.
Something that fits into your cabinets is perfect so that you can store them away after juicing.
Does It Come With a Safety Switch?
Almost all the juicers nowadays come with a safety switch. But there are some that come without it too. Whatever be the case, you need to see the locking lid as this means that the juicer will not work unless the lid is securely clicked into place.
Your safety is important.
And you don't want chunks of your veggies and fruits on your kitchen ceiling, right? You can go for some alternate décor that better suits the place!
How do we go about finding the best juicers on the market for you to buy?
There are thousands of models and brands out there, and all those juicers claim to be the best or the top juicer to buy. But we all know that is not the case and we need to work through the clutter of really bad products, some bad products and okay kinds of products before you can find the best juicers for vegetables and fruits.
So this is how we go about doing that for you.
Our automated process of elimination garners information about every single juicer available in the market, which is the first step in our long research process to find the best juicers on the market.
Our set of features and criteria are matched against the features of these models and automatically analyzed to weed out the bad and the ugly from the lot.
We then go on to our manual research to sift through a bunch of features that we think are very important and finally do a great deal of customer research and use the customer feedback to finally arrive at the very few that are truly the top of its class – the best juicers on the market in 2021.
Why Is It Important to Decide on the Very Best?
Well, there is not much of a question here. You absolutely do not want to own an appliance that will cause you more woes than good.
The best juicers for vegetables and fruits that we have chosen are not the kind that would break down and put you through the hassles some of the other models might give you. They will not be a burden to your wallet after you have purchased them.
These top juicers to buy for your kitchen minimizes waste while juicing fruits and vegetables, ensuring that you are not wasting the materials in your kitchen and above everything else, these juicers are meant to save your time and not waste it.
That's how thorough we are going to be to ensure that you are not bringing home a juicer that gathers rust and dust and becomes a pile of useless junk.
The Overall Winner – Aicok Slow Masticating Juicer
The overall winner we have chosen is the Aicok Slow Masticating Juicer which is slow cold press juicer and we have chosen this as the overall winner among the best juicers in the market because of its features, impeccable engineering, design excellence and above all, our customer research has shown that this little work of art has all of them delighted to the tee.
Those who own this juicer use it every day and have said that this is the best juicer they have ever used. The ease with which it can be used and the fact that it has the driest waste after juicing, indicates that this one is indeed the best among the best.
The black and green Aicok beauty falls under the masticating juicer category. Its multiple usabilities makes it a must bring home. After analyzing thousand different juicers among the top juicers to buy, we have found this one winning in all the categories. Hands down! Not a challenger in sight.
Pros:
This juicer will juice any sort of veggies or fruits you want. Doesn't matter hard or soft, this juicer has got your back.

This juicer's yield is many times higher than any centrifugal juicer in the market. That means it's one of the highest efficiency juicers in the market and indeed earns it many brownie points to reach the top.
Its drier pulp is a strong indication as to how good the juicer functions. The juicer creates very less waste compared to others in the class.
It works at 80 RPM/ minute and so helps in keeping your vegetables' and fruits' nutrients intact by allowing minimal oxidation to the nutrients. This is perfect for natural health drinks made from veggies and fruits.
Assembling the juicer is as easy as it can be. It comes with simple design and easy to assemble parts.
Its stable body makes its operation quite smooth and easy.
Cleaning up the machine is just a breeze! Since the parts are easy to disassemble when needed a thorough cleaning is very easy. Its parts are dishwasher safe too.
Unlike most of the centrifugal juicers, this one doesn't create much noise in the kitchen. If you like a noiseless machine, this one is perfect.
It also comes with ETL and UL certification.
It is a cold press juicer so it doesn't destroy the nutrients.
Price wise, this one is slightly on the higher side, but at the very bottom price point of the premium category. We say every penny you spend on this one is worth it.
Cons:
Honestly, we couldn't find any cons about this model. The only thing is that some might find the price to be on the higher side.
Bring home this juicer along with the book "Juicing for beginners". The recipe book by Rockridge Press provides you with many delicious and healthy juice recipes that can fill your day with loads of energy and freshness. You will crave for more and this time around the craving is the healthy kind.
Best in the Value Category – Breville BJE200XL Compact Juice Fountain
The Breville BJE200XL, according to us, occupies the number one slot in the centrifugal juicer category and the best in the value category. The price point is comfortable for those who don't want to spend too much money on a juicer but performs great with all kinds of juicing needs.
Customers who have used it swear by it! That has brought this model to the second highest rated juicer in our best juicers on the market in 2021 list, which is no mean feat. The customer feedback is just as good as the Aicok juicer but the fact that this is a centrifugal and not a cold press, kind of places this one step behind the Aicok slow masticating juicer.
And what is more, we think that you will simply fall in love with its beautiful design at the first sight, just as we did.
Pros:
Its centered knife blade enables cutting and chopping at a very fast rate. Even with the centrifugal action this machine draws out every last drop of juice from the fruits and veggies that it makes short work of in very few minutes.

Its safety locking arm will not let the juicer operate unless covered in place in the vertical operating position. This is one of the other great features of the product that has scored brownie points with us.

The model has an extra-large 3-inch cantered feed-tube which means that no extra small slicing and cutting up is required that will eat up your time.

Its stainless-steel micro-mesh filters work the fruits and veggies sophisticatedly and with refinement. Helps preserve the nutrients to a large extent.

The juicer has a heavy grade polymer body that keeps its shine and polish intact even after a long period of use. The design is great for any modern kitchen.

It comes with a custom cleaning brush to make it more user-friendly and of course, motivates you enough to keep it clean after every use.

Its parts are dishwasher-safe, so cleaning is again a cake walk and not a time-consuming affair.
Cons:
The juicer doesn't work as well with soft items like grapes or herbs as it works with hardier stuff.

The pulps remain a bit wetter than the Chefmos which shows that the machine is slightly lower yield compared to the latter. But it is certainly better than the other models out there in the market especially among the less costly centrifugal juicers.
Best in the Budget Category – Cuisinart CCJ-500 Pulp Control Citrus Juicer
When you are looking for a juicer that is well-priced and right within your budget, Cuisinart CCJ-500 is the one you should look to. The price is a big factor in this juicer's success in the market as people find it more affordable than other juicers that are perceived to be high-end. It is rated 4.5 out of 5 stars by over 10,000 customers and that's to show how much people regard this product.
It's a simple to use and an efficient juicer. This Cuisinart juicer falls under the citrus juicer category, so if you want to juice something else with this one that is going to be pretty difficult.
We do find some problems with the model, but then in this category this model has the best customer feedback during our research.
Pros:
You can extract as much pulp from your citrus fruits as you want with this model, which according to us is perhaps one of the great things about this model.

This model is also very easy to assemble and clean. A great time saver for sure.

The juicer is very lightweight but has ample power to get the job done easily.

Its spin feature extracts juice that normally stays in the pulp. That's a great feature of the model that has earned it well-deserved points.

For juicing lemons and limes every day, this juicer is the perfect kind.
Cons:
The juicer doesn't work fast and it needs frequent rinsing. Of course, the models in this category of juicers have this problem and this model has the least issues in this respect.

Clogging is also an issue with this type of juicers although the Cuisinart reduces the pain points to some extent.
Buy with this juicer a Hiware 50 Oz Glass Drip-free Carafe with Stainless Steel Flip-top Lid that works as a hot and cold glass water pitcher, tea/coffee mug, iced tea and other beverages pitcher is a beautiful and useful pitcher that can store all your colorful drinks in one go. Refrigerate your drink for the next day and enjoy!
First Runner-up – Hamilton Beach 67601A
We are greatly impressed by the Hamilton Beach model, which is on the higher side of the budget and the extremely low point of the midrange or value category juicers.
The juicer has some great features, sturdy build, great performance and quality and above all, our customer survey has pulled up some great feedback from 67601A users.
This juicer comes with a "frustration-free packaging" that gives you an added reason to go for it. Its black color will get you hooked once you lay your eyes on it. We bet! Because we were hooked just as you would be.
Pros:
This Hamilton Beach juicer is easy to assemble and you can store it in any corner of your beautiful kitchen. You just simply insert the strainer and lock the lid with latches.  No special tools are needed for its assembling.

It has got an extra-large pulp bin for easy usage.

Its large, round chute will help you spend less time from cutting the items in small pieces.

The juicer has a highly powerful motor and works really fast to juice veggies and fruits in no time, which is a great aspect about this juicer.

From juicing soft items to hard, this juicer works perfectly. And it keeps the nutrients pretty much intact when compared to other juicers.

It keeps all the leftover pulps extremely dry which means it is highly efficient and reduces wastage.

It has a handy little brush to clean the appliance easily.
Cons:
This juicer doesn't come with a container.

The screen has a tendency to get clogged soon if you do not wash it frequently.

While juicing the fibers, it sometimes can get caught in the cutting teeth.

The juicer can be a bit noisy.
Your tryst with juicing with this juicer can be made even better or more nutritious if you bring home the book "The Juice Lover's Big Book of Juices: 425 recipes for super nutritious and Crazy Delicious Juices" by Vanessa Simkins. Enjoy some nutritious drink with the help of your new juicer.
Second Runner-up – Gourmia GJ750 Centrifugal Juicer
The last on our list, Gourmia GJ750 is an 850-watt centrifugal juicer and without doubt is one of the best juicers in the market which is why it's featured on this list.
So if you are looking for a slightly higher model among the budget models you can choose between the Hamilton and this model.
The juicer is just a few points short of the Hamilton in the race to be the top 5 and you will be as happy with this one as you are with the Hamilton. The customer feedback which is one of our top criteria besides features and quality had been great with the GJ750 too.
Pros:
It has very advantageous multiple power settings for hard and soft fruits and vegetables giving superior extraction.

Its wide mouth juice extractor extracts juice from a whole fruit without any trouble.

This product has a big size container for collecting the juice and coarse pieces. It doesn't let juices overflow.

Washing the juicer is just a five-finger exercise as this is dishwasher safe.

Gourmia is an ETL certified product which delivers safety, efficiency and high quality.

Like many other top juicers, this juicing machine also comes with a safety lock to protect you from encountering unfortunate injuries.

It has a noise reduction exterior which makes it great for the quiet kitchen.
Cons:
It can look older just in a few weeks of using and washing as the plastic has a tendency to wear off its shine.

Its in-built design creates a problem in draining out the water.

Even with the different power settings for juicing hard items, the juicer sometimes faces trouble.
Enhance your good health by juicing your favorite fruits and vegetables every day and for that author, Farnoosh Brock has brought out a delicious book for you. "The Healthy Smoothie Bible: Lose Weight, Detoxify, Fight Disease, and Live Long" is going to give you exactly what you need for your healthy diet. Grab it and give your family a healthy dose of drink each day.
What Do You Need to Know about Some Nutritious Fruits to Juice to Kick Start Your Day?
Did you think that we will leave you without some pointers on what would be great nutritious fruits to juice with your new juicer? Well, we are not.
Here are the top picks for the most nutritious fruit juices that can kick-start your day with the help of your favorite juicer.
Acai berries
The tiny berry that hails from Brazil is said to be a bag of wonders.  Our expert committee recommends it to be taken every day.
Apples
A study out of St. George's Hospital Medical School of London has shown us that taking five or more apples can better the functioning of your lungs. Take your juicer and make your healthy apple drink to keep your lungs healthy!
Bananas
One of the best sources of Resistant Starch, a banana can quickly fill you up and speed up your metabolic rate. For a quick hunger relief, a glass of banana juice will come to your aid, and the perfect juicer in your kitchen is just what you need to make this wonder juice.
Grapefruit
Heard about the Grapefruit Diet? Yes, this is the Superfruit that comes with a whole bunch of goodness in it. High levels of antioxidants keep your cholesterol low and help in keeping your heart healthy!
Blueberries
Is your child forgetting her lessons too often?  Make her a glass of these berries which are rich in high flavonoid levels that boost the function of the brain and memory. And yes, it is good for women as well as it helps in delaying cognitive aging and helps in metabolism.
Would You like Two Top Recipes to Go with Your New Juicer?
Here are a couple of great recipes to start off your new juicer.
Below is a vegetable juice recipe for more energy before starting a successful day, according to Juice Recipes for Your Health.
Original V-8 Recipe
Ingredients
Tomato

Celery

Cucumber

Carrot

Parsley

Green Bell Pepper

Spinach
Instructions:
Gather all of your vegetables.

If needed, shred or cut them up for better results.

Juice them.
Cucumber and kiwi juice recipe
Here is another sweet and tangy recipe which you can make every day and you would still love it.
Ingredients
4 kiwi fruits

2 cucumbers

½ inch piece crushed ginger

Pepper and salt to taste

2 celery sticks as stirrers

2 scoops of crushed ice

1 cup of water
Instructions:
First, peel the fruits and cut them into small pieces.

Chill for 1 hour.

Take your juicer, add crushed ice and water into it.

Drop all the fruits into your favorite juicer and blend at high speed for about 1 minute.

Pour into glass and garnish with sprouts.

Your refreshing drink is all ready to be taken!
Frequently Asked Questions
Are masticating juicers the best?
For some juicing actions, masticating juicers are considered to be the best, especially when they operate on low speed. This is because they help break down the fiber in your vegetables or fruit more thoroughly, thereby giving you more nutrients.
Do centrifugal juicers destroy nutrients?
It's really not as bad as it is being portrayed; and perhaps the right answer to this question is that centrifugal juicers do not destroy nutrients. Naturally, centrifugal juicers are faster than masticating juicers because they (centrifugal juicers) operate at high speed. It is now a popular belief that this speed produces heat in return which is not good for the nutrients.
Does blending remove nutrients?
Blending your fruits doesn't make you get less nutrients than you would if you used a juicer. Instead, you'll have even more nutrients because a blender will blend your fruits and vegetables wholly, making your results thicker and more nutritious.
Happy Juicing Folks…
Buy the best juicers on the market and kick-start your healthy diet immediately. A good juicer will save your time and keep you motivated about going on the healthy track without falling off the wagon.
So happy buying and happy juicing folks…
Time to drink to your health!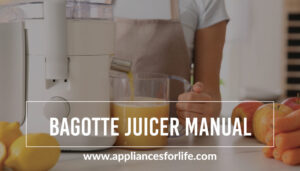 Top 3 Bagotte Juicer Manual Tips
The Bagotte juicer is easy to assemble and disassemble, and all parts can be cleaned except the main unit. The kitchen appliances niche is dominated by big names. Bagotte is, therefore, a brand you're likely unfamiliar with. The DB-001 is Bagotte's entry-level juicer, one of
Read More »