The Essential Question
What are the best appliances to buy for you and your home? People are always in a rush and there is little time to spare for preparing meals, especially if you have kids!
The situation is often that breakfast is eaten on the way and dinner is bought on the car ride home. Lunch is always a sandwich bought from the office or school cafeteria. Time is of the essence but you also need to balance in home cooked meals for healthy living.
You can have nutritious meals even if you are short on time, and without sacrificing delicious taste. You just need the right kitchen appliances to use so that preparation for your meals is convenient and quick at a price you can afford!
What Are The Best Appliances To Buy When Starting Out?
You will definitely need a coffee maker, a blender, and a microwave oven. These three are the basic time-saving appliances most consumers should start with. Here are 5 of the best brands and models per kitchen appliance that you can buy online or in-store:
COFFEE MAKERS
(

T

op Coffee Makers)
| | | | | |
| --- | --- | --- | --- | --- |
| Coffee Maker Brands and Model | KitchenAid KCM1209DG | KitchenAid KCM5912SX | Cuisinart CHW12P1 | Cuisinart DGB62BC |
| Installation | Countertop | Countertop | Countertop | Countertop |
| Material | Matte Charcoal Grey | Stainless Steel | Black Stainless Steel | Aluminium |
| Cup Capacity | 12 cups | 19 cups | 12 cups | 12 cups |
| Editor's Rating | ✸✸✸✸✸ | ✸✸✸✸✸ | ✸✸✸✸✸ | ✸✸✸✸✸ |
| | | | | |
Enjoy your early-morning coffee with the 12-cup drip coffee maker by one of the leading brands in this field, KitchenAid. KitchenAid is quite famous for the exploits in producing quality and affordable kitchen appliances and the new KCM1209DG is not an exception. The coffee maker features a programmable warming plate, removable water tank, 2-hole spiral showerhead, and a dosage ladder.
With KitchenAid KCM5912SX (32 oz.), you're on course to enjoy a smooth coffee time. This coffee maker can serve you up to 19 cups, thanks to the built-in tap which can hold that much, and the carrying handle to make serving easy.
Not all brands can boast of what Cuisinart has achieved in its years of serious exploits in the home appliances market, kitchen especially. In the CHW12P1, you have a coffee maker that features a fully automatic 12 cup coffee maker with a single-side brewer on the side.
This Cuisinart coffee maker is perfect for heavy-duty coffee drinkers. You can program this coffeemaker for 24-hour dispensary and service. It features a signature Brew Pause which allows you to enjoy a cup of coffee without disrupting the rest of the coffee-making process. This coffee maker also features a blade grinder that automatically grinds the whole coffee beans before turning them into a fresh ground flavor.
This personal blender by Breville is indeed one for all jobs and it is available with four different high-speed models; Stainless Steel, Polypropylene, and glass are some of the containers available. The blender features a reinforced clutch that makes sure it doesn't slip. All units of this blender have the on/off pulse switch.
Vitamix 67891 blender is one of the most innovative blenders money can get you in the appliances market today. The blender features the highly-rated SELF-DETECT technology which allows your blender recognize the container and automatically adjust to the size of the container.
Looking for something classic? SMEG BLF01PKUS is one of the best and fastest working 5-speed classic blenders that can whip up your food now.
ADDITIONAL FEATURES
Cord Storage under unit

Metal drive coupling

High/Low toggle.
Cuisinart is one of the world's leading appliances brands, especially when it comes to kitchen items which include blenders and microwaves. With the Cuisinart BPF703BC, the brand has further cemented its place as arguably one of the best in the industry. The blender features a double housing design that keeps operation quiet so it doesn't make your kitchen filled with unwanted noise.
ADDITIONAL FEATURES
Automatic load-sensing technology

Preprogrammed Smoothie and Ice Crush Functions

Quiet double housing design

Electronic touchpad controls – low, high and pulse

4-prong stainless steel heavy-duty blade assembly

Tight-seal lid with 2-ounce measuring cap

Gunmetal finish
The Frigidaire FGMV17WNVF is undoubtedly one of the best and most affordable microwave ovens you can get today. The 30-inch over-the-range microwave in SmudgeProof stainless steel is packed with 1.7. cu. ft. capacity and white LED.
This 950-watt microwave oven requires so little space without sacrificing maximum function.  Cook food and defrost in seconds!
Do you have kids at home who can sometimes be irresponsible with your appliances?  Child lock safety with 1000 watts (that's 10 power levels) for grilling. Consumer favorite.
Final Thoughts
We've given you some great appliances to look at, but we encourage you to continue to research independently!  These are just some of the many great appliances that can be purchased at a price affordable for most consumers.  Good luck, and feel free to click here or here for advice on some larger appliances!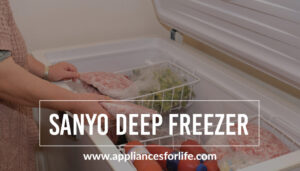 Sanyo deep freezer – good or not?
The Sanyo Deep Freezer has enhanced storage, class-leading insulation, and excellent cooling that combines performance with efficient energy management. Sanyo has put a premium on designing and bringing to the market freezers that can meet the growing demand for energy efficiency while at the same
Read More »