Top 5 Best Washer and Dryer Bundles Under $1000  Comparison Table
| Image | | | | | |
| --- | --- | --- | --- | --- | --- |
| Name | LG WM3488HW 2.3 cu. ft. Compact All-in-one Front Load Washer and Dryer | Whirlpool WTW4955HW 27-inch Top Load Washer with Front Load Electric Dryer Laundry Pair | Amana NTW45156FW 28-inch washer with NED4655EW 29-inch Electric Dryer Laundry Pair | Danby DWM120WDB-3 2.7 cu. ft. All-in-one Ventless Front Load Washer Dryer Combo | GE GFQ14ESSNWW 2.4 cu. ft. Front Load Washer/Condenser Dryer Combo |
| Brand | LG | Whirlpool | Amana | Danby | GE |
| Color | White | White | White | White | White |
| Capacity | 2.3 cu. ft. | 3.8 cu. ft. | 3.5 cu. ft. | 2.7 cu. ft | 2.4 cu. ft. |
| Control Type | Digital and Knobs | Knobs | Knobs | Digital and Knobs | Digital and Knobs |
| Product Dimension | 33.5 x 24 x 25.25 inches | N/A | N/A | 33.46 x 23.03 x 23.46 inches | 33.25 x 23.44 x 25.63 inches |
| Maximum Spin Speed | 1400 RPM | N/A | N/A | 1300 RPM | 1450 RPM |
| Weight | 156.5 lbs | 250 lbs | 265 lbs | 171.96 lbs | 183 lbs |
| Editor's Rating | ✸✸✸✸✸ | ✸✸✸✸✸ | ✸✸✸✸✸ | ✸✸✸✸✸ | ✸✸✸✸✸ |
| | | | | | |
It's that time of the year where people are constantly on the lookout for mouthwatering discounts and sales programs offered by dealerships and manufacturers across the country and the rest of the world. We can take away from people's excitement to get the best deals during this season because the price has always been a significant factor in deciding the quality of the appliance people get their hands on at the end of the day. For many decades, it has been like that, especially in the appliance industry. Top manufacturers have also noticed this, and that's why they always try to edge one another by offering consumers what the other brands can't.
Another thing these manufacturers have done to make some of their products affordable to their consumers is to offer them in bundles and packages. So, rather than purchasing some of the significant appliances separately, which often costs more, you can now buy them in a single package to save a lot of money. This is an approach many manufacturers have adopted. The most popular packages often include the refrigerator, dishwasher, cooking range, and microwave oven.
Check here to read more on all the top appliance packages you can get your hands on.
If you're looking to buy a washer soon, you should know a dryer is also needed, except you have solid alternatives to make up for the lack of a dryer in your space. Rather than purchasing those appliances separately, you can explore the best bundle deals, including washers and dryers in one package. They often don't cost as much as if you were to purchase them individually, which we'll discuss later in this article.
If you're on a budget, the chances are that you're looking for the best washer and dryer sets under $1000 – a common theme among those that fall under the budget category. However, it's also generally believed that the idea of the best washers and dryers under $1000 is not realistic because, individually, these appliances cost as much. If you think it that way, you may have a strong argument, but what these appliance manufacturers are doing these days is way beyond anyone's imagination, and that's only to have a spot in history.
The truth is that exploring the best washer and dryer combo under $1000 doesn't mean that you're looking for an unrealistic deal. These deals exist, and it's what most of these brands do to win their consumers over. If a washer and a dryer cost $1000 combined, some people are always skeptical about the deal because it seems "too good to be true." It takes more than just a leap of faith to invest in such a deal, but if your budget already limits you, it'll almost not matter because you just want to get the next best available deal.
If you've been looking for the best washer and dryer pair under $1000, our washer and dryer bundles under $1000 review will provide you with the best options. While some of these products may not directly fall under $1000, they're still within that price range of up to $1500, but they're the best things you can get on the market. Without further ado, let's explore the best washer/dryer combos for around $1000.
Top 5 Best Washer and Dryer Bundles Under $1000
1. LG WM3488HW 2.3 cu. ft. Compact All-in-one Front Load Washer and Dryer
This may not be the best front-load washer and dryer under $1000 because it's not even under $1000. However, if you can raise your budget to match the asking price set for this combo, it'll be one of the best decisions you'll ever make as far as purchasing a washer/dryer combo is concerned. From the reviews the product has amassed online, you can tell it's a perfect washer/dryer combo and will be worth every penny of the price tag. The fact that you'll have two appliances in one form makes it an ideal option for money, and the price is not all that outlandish for an all-in-one machine.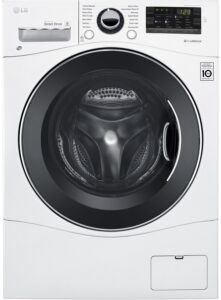 Features
Compact Design
People love the washer/dryer combos because they can have two appliances in one form. This space-saving design has been cited as the main reason people invest in this combo. The extra convenience you'll enjoy having an all-one-one washer/dryer without compromising capacity.
Ventless Drying
If you're investing in a separate dryer, you need to access external venting. However, since this dryer is built with a washer to make it one machine, you don't need external venting to dry your clothes. The machine uses ventless condensing to dry your laundry, eliminating any need for external venting.
6Motion Technology
The 6Motion technology is a unique feature that uses up to 6 different wash motions to give you an excellent cleaning experience. It gently washes your clothes while also keeping a maximized washing performance.
Other Features
LG SmartDiagnosis

14 wash programs

TubClean cycle

White finish

Digital and knob controls

End-of-cycle signal

Internal water heater

Load balancer
Pros
Fantastic customer service from LG

Space-saving design

Convenient washing

The machine comes with enough features
Cons
High maintenance

The manual is not straightforward.
2. Whirlpool WTW4955HW 27-inch Top Load Washer with Front Load Electric Dryer Laundry Pair
If you're ranking the top appliance manufacturers today, you have to rank Whirlpool as one of the top 5. The brand has broken many barriers to get to where it is today, so we're not surprised by the success it's enjoying, as sudden as it may look. The brand has managed to stay at the summit of the industry with productions like this Whirlpool laundry pair which includes a top-load washer and a front-load electric dryer. Despite being a pair, it surprisingly comes with a very reasonable price, which has earned it a top spot amongst the most affordable laundry pairs on the market.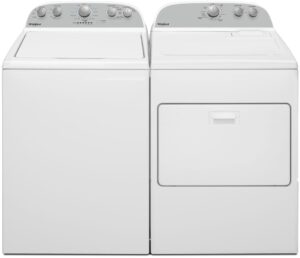 Features
Timed Dryer
With this feature, you can now time how long you want the dryer to operate. The feature helps you run the dryer for a specific period to synchronize the drying and washing process. You can save a lot of time with this fantastic feature.
Dual-action Spiral Agitator
If you're a big fan of washing machine agitators, you will love everything about the top-load washer in this bundle. The washer comes with a dual-action spiral agitator to help you combat the most demanding loads possible.
Stainless Steel Drum
If your washer has a stainless steel drum, you don't have to worry about internal stains because the drum itself is rust-resistant. It also helps deliver premium performance so you can always have the best results all the time.
Other Features
Powder coat drum

Wrinkle shield option

Side-by-side configuration

Vented drying

14 dry cycles

12 wash cycles
Pros
The machine operates quietly

One of the most efficient laundry pairs at the moment

It is ideal for small spaces

The installation process is very straightforward

It is energy-efficient
Cons
You may have to rinse correctly not to be left with soapy clothes

This laundry pair can be better with more exciting features
3. Amana NTW45156FW 28-inch washer with NED4655EW 29-inch Electric Dryer Laundry Pair
Numbers don't lie, and if they're anything to go by, this laundry pair might as well be the best laundry pair money can get you on the market right now. If you're looking for a perfect laundry pair under $1000, you may not come across it quickly because there are not too many of them. Amana has made that breakthrough by producing this washer and dryer two-in-one for less than $1000. We're not surprised that the washer/dryer set has accrued many positive reviews online. It only explains why people are heads-over-heels for the machine.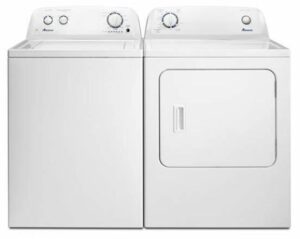 Features
Reversible Door Hinge
One of the things you'll have to find an answer to when purchasing a washer or dryer is where to place the machine in the house. You have to put it where you can easily access it for convenience. To help you achieve that, Amana has included a reversible door swing to give you more flexibility in putting the unit in an ideal place around the house.
Dual-action Agitator
The purpose of an agitator in a washing machine is to bring the effect of handwashing into the machine. While the agitator may operate aggressively, many people still love the component because it helps them tackle tough stains better.
Automatic Dryness Control
The automatic dryness control is a unique feature that uses sensors to help monitor the temperature in the drum and automatically stops the cycle when the fabrics are dry.
Other Features
Wrinkle prevent option

Timed dry cycles

White porcelain basket

Side-by-side configuration
Pros
The machine has an extra-deep basin if you ever need it

Easy to set up

It washes efficiently

An excellent all-purpose washing machine

It is very reliable
Cons
It doesn't have the most straightforward controls to use

It may take multiple cycles to dry your laundry correctly.
4. Danby DWM120WDB-3 2.7 cu. ft. All-in-one Ventless Front Load Washer Dryer Combo
Danby is not the most popular brand on the list, but you'll be wrong to judge its products by their popularity. In-home laundry has been made better with Danby's 2.7 cu. ft. ventless washer/dryer combo. With only 24 inches in width, you can count on the machine to fit into your small space, while you can also trust it to handle heavy laundry because of its capacity. You'll also choose between 14 wash cycles and 2 dry cycles to attend to your different laundry needs.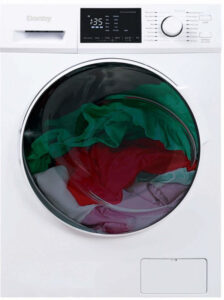 Features
Compact Sizing
For a dryer/washer combo, this is the smallest size you can think of, and it's ideal if you don't have enough dedicated space for a washer and dryer. Rather than having two appliances taking a lot of space in your house, the two appliances have been built together to give you the best performance possible.
14 Wash Cycles
Some of the convenient wash cycles you'll get to enjoy include Normal, Sportswear, Heavy Duty, and many others. You can choose the perfect wash cycle for different laundry needs.
My Cycle
You can customize a cycle to set and remember your favorite wash program. The appliance can automatically set itself to operate with the custom cycle without any external intervention.
Other Features
2 dry cycles

Stainless steel drum

LED lights

1300 RPM dryer spin speed

Emergency door release

Time delay function

Overflow protection

Child lock
Pros
Reasonably priced for a washer/dryer combo

It takes a while to dry, but it dries well

It is packed with enough features to help make washing convenient

Child lock feature

It last longer if maintained properly
Cons
5. GE GFQ14ESSNWW 2.4 cu. ft. Front Load Washer/Condenser Dryer Combo
The final product on our list is the GE GFQ14ESSNWW 2.4 cu. ft. front-load washer/condenser dryer combo. Everything about the product, from pricing to compactness, is plausible. If you don't want to purchase a washer and a dryer separately, this is a great option to consider because it'll save you some space and a few bucks.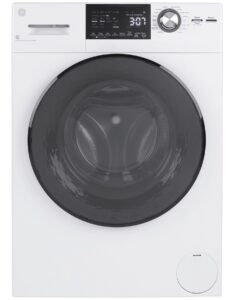 Features
Ventless Operation
GE has included a standard 120v plug-in to make installation very easy. This will help you conveniently install the appliance in a closet without any external vent.
Steam Wash
The GE washer/dryer combo also has a unique feature that penetrates deep into your fabric to help loosen tough stains while giving your materials the protection they need to last longer.
Detergent, Bleach, and Fabric Softener Dispensers
Save a lot of time during laundry with these dispensers that automatically fill your machine with the right amount of detergent, fabric softener, and bleach.
Other Features
All-in-one wash and dry

Auto wash + dry

Sanitize cycles

5 soil level selections

5 wash temperature levels

5 spin speed choices

Inlet fill hoses
Pros
The machine will complete a full wash and dry cycle in over 2 hours.

A fantastic choice for compact space

It operates quietly

It is effortless to operate

It washes very effectively
Cons
You have to wash the machine after use to avoid a bad smell.
Frequently Asked Questions
1. What are the best front-load washing machines under $1000?
Some of the best front-load washing machines under $1000 don't often come with agitators. Read more about them here.
2. What are the best washers under $1000?
Since people are now searching for the most affordable deals, it's no surprise that many appliance manufacturers have now made most of their products affordable. Brands like LG, Samsung, Whirlpool, GE, Amana, and Danby have all adopted this particular approach over the past few years.
Wrapping Up
Finding the washer and dryer bundles under $1000 can be very hard because they're not too many options. However, we've tried to widen the range to go a little above the $1000 mark, leaving us with a broader range of products, some of which were picked to feature in this article. If you're looking for the best washer and dryer bundles, we've reviewed the best 5 options you can get on the market.
ESTIMATED TIME DESIGNING AND UPLOADING THIS ARTICLE
ESTIMATED TIME RESEARCHING AND WRITING THIS ARTICLE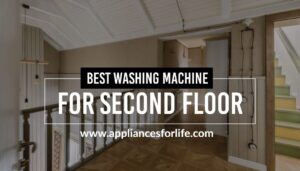 Top 6 Best Washing Machines for Second Floor
If you live on the second floor of an apartment, you need always to have things for the convenience of others. In this article, we'll be exploring the best washing machines for the second floor of an apartment.   Top 6 Best Washing Machines For
Read More »