Top 4 Best Washing Machines without Agitators Comparison Table
| Image | | | | |
| --- | --- | --- | --- | --- |
| Name | Samsung WF45T6000AW/A5 4.5 cu. ft. White Front Load Washer | Electrolux ELFW4222AW 2.4 cu. ft. White Compact Front Load Washer | Bosch WAW2851UC 500 Series 24-inch White Front Load Washer | GE GFW650SSNWW 4.8 cu. ft. White Smart Front Load Washer |
| Brand | Samsung | Electrolux | Bosch | GE |
| Color | White | White | White | White |
| Capacity | 4.5 cu. ft. | 2.4 cu. ft. | 2.2 cu. ft. | 4.8 cu. ft |
| Control Type | Digital and Knobs | Electronic | Digital and Knobs | Digital and Knobs |
| Number of Wash Cycles | 10 | 12 | 14 | 12 |
| Product Dimension | 38.75 x 27 x 31.38 inches | 33.5 x 23.63 x 25 inches | 33.25 x 23.5 x 25 inches | 39.75 x 28x 32 inches |
| Maximum Spin Speed | 1200 RPM | 1400 RPM | 1400 RPM | 1300 RPM |
| Weight | 200 lbs | 133 lbs | 160 lbs | 246 lbs |
| Editor's Rating | ✸✸✸✸✸ | ✸✸✸✸✸ | ✸✸✸✸✸ | ✸✸✸✸✸ |
| | | | | |
The washing machine is one of the essential appliances around the house alongside other household machines like the refrigerator, dishwasher, cooking range, and many more. The appliance gets all the credits it deserves because rather than washing with your hands which takes a lot of time, a washer handles everything automatically and even more efficiently if it comes with an agitator. The agitator operates such that performance is at its highest, but people risk losing their clothes continuously due to its aggressive nature.
The washers in production today are way better than the traditional ones that were made a few years back. While technology plays a big part in the significant changes in that industry, we cannot neglect some of these top manufacturers' hard work and effort. One of the things people have enjoyed a lot in the washing machine is the integration of the agitator, which is now common among modern washing machines, particularly the top load options.
Long before front-load washing machines were introduced to the general public, top-load washers took over the world, and the agitator was one thing that kept sales at the highest level possible. Although agitators are not necessary for many washers, people still want them in their top-load washers because agitators help bring the effect that would only have been achieved using hands into the machine. People think it's the best way to clean dirty clothes effectively. However, the downside of using the agitator is that it wears your clothes out quickly when the wash action is used too often.
People have stuck with washing machines with agitators over the years because they haven't reasonably thought of another way to combat tough stains on their clothes than the agitator automatically. What they don't know is that they'll have to spend more on clothes within this period as the agitator adopts an aggressive wash action, leaving their clothes exposed to early damage. If you're spending an average of $1500 per year on clothes, you'll want to get the best value for your money, and your washing machine, which also costs some money, shouldn't be the reason you spend hugely on clothes yearly.
If you're considering a new washing machine, you need to have your mind put together about whether or not you need an agitator in your washing machine. If you're not handling clothes with tough stains (let's say there are not many children around the house), we don't believe you need a washing machine with an agitator. Similar to washers with agitators, you need to get accustomed to the pros and cons of washing machines without agitators.
You should be worried about your investment if you consider that you may be spending a lot of money on clothes if you continuously use the agitator in your top-load washer. This is why some people consider investing in a top load washing machine with no agitator. There's nothing to worry about with these machines as gentle cleaning is guaranteed, giving your clothes the protection they need.
Best Washing Machines without Agitators
1. Samsung WF45T6000AW/A5 4.5 cu. ft. White Front Load Washer
Samsung has been one of the biggest appliance brands globally for the past few decades alongside LG, Frigidaire, Whirlpool, and Bosche. The brand's consistency has been highlighted as one of the main reasons the brand has been at the summit of the appliance industry for many years now. The truth is that productions like this Samsung front load washer will only make people trust and love the Samsung brand more. The front-load washer is the cheapest option but has the most advanced technologies. People love the product because not only is it available – it also manages to come with the latest technologies anybody would want in a washing machine.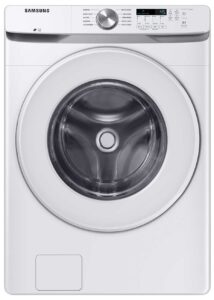 Features
Vibration Reduction Technology+
It's hard to find a washer in this class with some of the best technologies you can find in a washer, but Samsung has done an excellent job by including the Vibration Reduction Technology+ feature in this 4.5 cu. ft. front load washer. The technology helps reduce noise and vibration to enjoy quiet operations from the washing machine. This means that you can wash any time without the fear of disturbing anyone.
Energy Star Rating
At the price this washer comes with, this is quite a bargain as it also comes with an Energy Star rating, making it one of the most energy-efficient washers on this list. EPA recognizes the washer because it also comes with the latest tech innovations that help it achieve energy efficiency.
Self Clean+
Another thing you'll enjoy in this washer is the Self Clean+ feature which helps keep the washer fresh all day. Any time you activate the feature, it helps clean 99% of bacteria that can form in the washer drum, but after it has notified you every 40 wash cycles that it's time to clean the washer.
Other Features
4.5 cu. ft. drum

Innovative VRT Plus technology

Smart care

Space-saving design

Pairs with Samsung dryers perfectly
Pros
Energy Star certified

It has a very decent price tag

Enough capacity and features to handle heavy washing

It comes with lots of intelligent features

Fantastic design that adds more beauty to your space
Cons
The washer may leak if you don't install it properly

The installation process is a bit complicated
2. Electrolux ELFW4222AW 2.4 cu. ft. White Compact Front Load Washer
For some reasons, mostly budget and space, many people prefer to opt for compact washers. The washer might not be the best option in terms of funding because it is slammed with an outlandish price tag. However, if you're looking for something very compact that also manages to have some of the most intelligent features you need in a washer, this might be an ideal option for you. Its perfect rating online shows just how much people love it.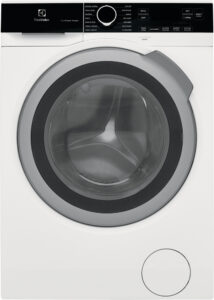 Features
12 Wash Cycles
What this machine doesn't have in affordability, it makes up for with enough wash cycles. The cycles include the unique steam refresh cycle that can quickly remove wrinkles from lightly soiled items without the need to wash them.
Stackable Design
Those looking for the best washers to help them maximize their space should seriously consider purchasing this washer. The compact washer has only 2.4 cu. ft. capacity, making it one of the best portable washers on the market at the moment. However, it may be considered too expensive for a compact washer.
LuxCare Wash System
Every washer brand has a unique technology that makes it different from the others, and Electrolux is not about to be left behind. The washer has the LuxCare Wash System that offers a thorough clean, thanks to the feature temperature controls and wash actions.
Other Features
Steam refresh cycle

Deep clean sanitization cycle

Energy Star certified

Perfect Balance System and second-floor guarantee

Compact design

Stainless steel drum

Auto temperature control

Electronic controls

1400 RPM max spin speed
Pros
A very compact front load washer

It operates quietly

It washes efficiently

Excellent options to choose from with 12 wash cycles and 14 preset options

It comes with enough features
Cons
Too expensive

The door may take up to 6 minutes to open once it's closed.
3. Bosch WAW2851UC 500 Series 24-inch White Front Load Washer
Bosch has been one of the most consistent appliance brands of the past decade. This has taken the brand's reputation further up, making it compete with the likes of Samsung and LG for the top spot. This Bosch washer may set you back by over $1000, but if you can cough it out, it will be one of the best decisions you'll ever make as far as purchasing household appliances is concerned.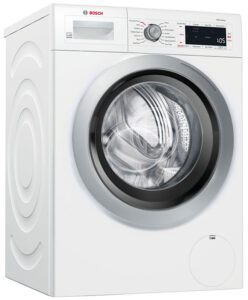 Features
Home Connect
This is a remarkable innovative feature included in this Bosch front load washer to make it accessible and operable from anywhere you are. Once you have the app on your smartphone, all you have to do is get the machine running from anywhere you are on your phone.
AquaShield
Water damage is a pervasive problem with washing machines. When there's a tiny crack in the hose responsible for the water supply, it begins to reduce the quality of the operation provided by the machine because there's no adequate water supply. To prevent that, Bosch has packed this machine with an AquaShield hose that protects your machine against water damage.
EcoSilence
Everyone loves it when their washer can operate as quietly as possible. Bosch has introduced the EcoSilence motor to provide that ultimate silence to deliver quiet yet long-lasting and efficient performance.
Other Features
14 wash cycles

SpeedPerfect feature

10 wash options

Door lock

Internal water heater

Timer

1400 RPM spin speed
Pros
Enough features to make up for its small capacity

Digital controls

Clear timer

Quiet operations
Pros
Too small and too expensive
4. GE GFW650SSNWW 4.8 cu. ft. White Smart Front Load Washer
A good washer is defined mainly by factors including price, features, size, and sophistication. With this GE washer, you have one of the best front load washers available on the market at the moment. If you see a washer that ticks all the boxes like this washer, you have no reason not to invest in it as quickly as possible.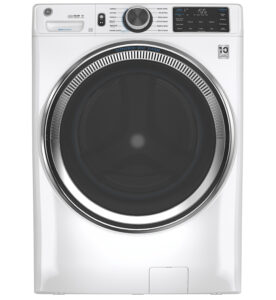 Features
SmartDispense Technology
Many people have trouble manually adding detergents in their washers, and that's why manufacturers have come up with a unique technology that will handle that manually. This GE washer also comes with the same technology that saves you time by automatically dispensing detergent whenever the machine needs it. The technology can hold up to 32 loads of detergent.
Built-in WiFi
You can always keep an eye on your laundry from anywhere you are as long as your smartphone is connected to GE's application for the washer via WiFi. The extra convenience this brings is one of the reasons why a lot of people love it.
Dynamic Balance Technology
Another common problem with washing machines is that they can be very noisy, especially when they're spinning. GE anticipated this problem and has included this technology to help steady the washer to make it operate quietly and efficiently.
Other Features
UltraFresh Vent System with OdorBlock

Microban antimicrobial technology

Sanitize + Allergen

Quick wash cycle

PowerSteam

Reversible door
Pros
Fast 1300 RPM spinning speed

The machine cleans very fast

It smells nice after every wash cycle

One of the largest-capacity front load washers

A great vent system
Cons
Poor electrical design

Can't wash heavy clothes
Frequently Asked Questions
1. What is a washing machine agitator?
The agitator is included in the washer to help bring the effect of washing with hands which many people still believe is more effective. The concept is an amazing one; however, the aggressive operation of the agitator has thrown its usefulness up for debate amongst experts and consumers alike.
2. Can you add an agitator to a washing machine?
The agitator often comes with top load washers, and it's always integrated when building the machines. You can't add an agitator to a machine that is not made to work with one. It's very understandable if you're replacing a damaged one, but adding an agitator to a machine that is not meant to work with one is almost impossible.
3. How do I load a washing machine without an agitator?
Knowing how to load a washing machine without an agitator is not the most challenging task in the world. It is the usual way to load any washer, although you may have to read the user manual to get used to some details. Other than that, you shouldn't have a problem loading your washing machine.
Conclusion
Purchasing a washing machine will always be considered a big step because you're spending a lot of money on a machine that's supposed to give you results in return. These results may be convenience, comfort, or any other perk that comes with using a washing machine. One of these things includes an agitator that helps replicate the effect of handwashing in an automatic engine like the washer. However, the component doesn't come without a drawback. It operates aggressively and puts your clothes at risk of getting damaged early enough. To avoid that totally, people have looked to invest in some of the best washing machines without agitators, which we've reviewed thoroughly in this article.
ESTIMATED TIME DESIGNING AND UPLOADING THIS ARTICLE
ESTIMATED TIME RESEARCHING AND WRITING THIS ARTICLE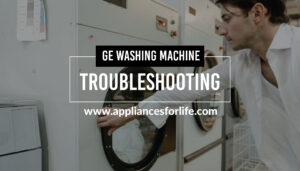 GE Washing Machine Troubleshooting
Running a washing machine is not as hard as many people think, especially when you have the right one in your laundry room. However, it also comes with its downsides, one of which is how to troubleshoot it when problems arise. We'll be using our
Read More »