Kitchen Appliance Package Deals

Getting Started
All kitchen appliances package deals are a great way to buy what you need as a new homeowner or apartment owner while also saving money. There are many things to consider when making a list of things you need for your new home, and arming yourself with information is critical to making the best choice for you.
Purchasing your appliances individually is most likely to result in more expenses, and that's if it doesn't take more time too. Looking at your kitchen and thinking a refrigerator is needed, so is a range, a dishwasher, microwave, cooktop; anything you can think of, and try to have the slightest imagination you will go through getting these appliances individually. In order to save yourself the stress and unnecessary expenses, there are readily-available appliance packages that include all the appliances your kitchen needs, and it's just about you finding which one best suits your home.
BENEFITS OF KITCHEN APPLIANCES PACKAGE DEALS
Because the kitchen is a very important part of any home, people always love to make it look as best as they possibly can and that's enough proof that it's a part of the home they indeed really cherish.
Let's take a quick look at some of the benefits of opting for kitchen appliances package deals;
1. THEY HELP SAVE MONEY
Appliances can be generally expensive, especially when you're someone who prioritizes quality. It costs you more when you purchase high-quality appliances but with these kitchen appliances package deals, you have the opportunity to choose multiple quality kitchen appliances and get them once and for all for a discounted price.
This way, you have saved yourself a few bucks which could prove to be vital in your bid to get another thing next time.
2. THEY HAVE THE SAME QUALITY
If your own style is getting affordable kitchen appliances without compromising on the quality of the products you're getting, then you should opt for these package deals. With these package deals, you get to have kitchen appliances with the same quality, style, and finish. Additionally, you are most likely to stick with a brand you've known for a while, and also purchase the same set of appliances from them, afterall, you count on them because they make only quality appliances.
Having now talked about the benefits of getting kitchen appliances package deals, let's delve right into the package deals we think will be ideal for your home.
Below are five top quality all kitchen appliances package deals to suit your cooking and storage needs:
All Kitchen Appliances Package Deals: The Approach
When looking for what you may need in your new kitchen, you should always have a concrete list to guide you so you don't overspend or forget something you need. It's also a good idea to keep a list of things on the website you plan to purchase them from saved in your phone or on a sheet of paper so you won't lose it.
Always keep in mind what your budget is when browsing the web for all kitchen appliances package deals, it's easy to get caught up in window shopping and spend more than you intend. Your budget should reflect how much money you have to spend on kitchen appliances, which brands you like the best, and any shipping costs you may have to cover depending on where you buy your package deal from.
Questions To Ask
Once you've determined your budget, consider which deal will help with most or all of your kitchen needs. You should then ask yourself these questions:
Did the house or apartment come with a stove, refrigerator, or dishwasher?
Before deciding on whether or not you should get a new set of kitchen appliances, you must have thoroughly assessed the apartment to know which appliances came with it. Sometimes when you're moving into a new home, you will be lucky enough to find appliances that are already integrated into the setting of the house. However, that is not always the case which is why you need to pay attention to the things that are readily available before you set out to get new things. Also, even if there are appliances in the home and they're as good as you want them to you, there'll still be a need for some little changes which largely depend on the size of your pocket at that particular point in time.
What appliances do I need after making an assessment of my new home?
After making a thorough assessment of your home, you should have a list of the appliances you really need in the house. This will make you consciously aware of the things you should get so as not get lost when you're window shopping.
Is there a specific brand that I want?
Everyone has that particular brand they're very much in love with and that's what they always love to fill their homes with. If your favorite brand is Samsung, then you should look out for Samsung kitchen appliance package deals.
Which brand will last the longest?
There's a reason your favorite brand is your favorite; could be the quality of their products, the color, or the finish but it'll be good if in the end, you opt for a brand whose products will last the longest. Of course, you can find everything you need (style, quality, color and finish) in the products manufactured by your favorite brand. However, if this is not the case, just ensure that no matter what you, never compromise on the quality and longevity of the appliance package you're opting for.
What do other people say about these kitchen appliances?
This is one of the most important things to know about the kitchen appliances you're going to be putting your money on; other people's opinions. Get to hear from people who have previously bought and used these products through their reviews of the products you're interested in getting. If anything is wrong with these appliances, you'll be aware and look for the best possible way to go about it.
Can I get them in an adequate amount of time?
Before you confirm your order, make sure you are on the same page with either the retailers or manufacturers as to when your appliances will be delivered. If the time given is convenient for you, then you can proceed to seal the order. Otherwise, you can openly discuss the urgency and ask if something could be done about it.
Do I have to assemble anything?
It is also important to know if you'll be required to assemble any of the appliances you'll be purchasing. This way, you've already put yourself in control and if there's a need to assemble, you can have a professional in that field come help out if you don't want to bear the risk of doing it yourself.
Time To Shop
Now that you've asked yourself these questions you can move on to the next step, which is window shopping! Window shopping is when you go into stores and on websites and do research on brand reviews, prices, and instructions to get a familiar feel for the products you're thinking about purchasing. Things you should examine while window shopping include:
Brand Reviews
Prices
Instructions
Brand Reviews
Perhaps the most helpful tool in your arsenal, these are direct reviews of the products you're thinking of purchasing from other people who have bought and tried them.
When you look on a website to buy your all kitchen appliances package deal, you will most likely see what rating the deal has based on consumer reviews. This is a digital form of word-of-mouth because if the consumer completed a thorough review, you will know if they still have the appliances, any pros, any cons, and any other critical information relating to the product.
Prices
Kitchen appliances are definitely a solid case of "getting what you pay for". If you get something that seems too good to be true then it probably is. If you get something that is out of your budget limits, you may feel dissatisfied with your purchase upon arrival to find out the product doesn't work as you thought.
Instructions
You also want a package deal with appliances that is easy to use and durable. If you find yourself having to jump through hoops just to cook chicken, then that may not be the appliance deal for you.
Patience is very important when making a major appliance deal purchase. Never make an impulse buy because you might regret it later. Always research something at least three times using three different resources and advice from people or resources you know and trust.
Know Your Home Too!
Always take measurements of how wide your doors and hallways are so you don't scuff or scratch your walls or door frames. A good and thoughtful purchase will not cause your house or apartment damage. Always think ahead to make sure that once you purchase something, you won't have to spend extra money on something that could have been avoided.
All kitchen appliances package deals are not created equal, and relatively simple things are commonly overlooked. Noise does matter. You want to pay close attention to how many decibels your appliances have because you don't want to purchase something that you never want to turn on.
Always remember to buy appliances that fit your house or apartment theme. You may want stainless steel appliances versus all white appliances or vice versa, what's important is that you identify what will fit your kitchen theme and stick to it!
Last Steps
When buying your appliances, you should do these things before finalizing your purchase, according to Deborah Baldwin of This Old House:
Check all doors to make sure they open and close properly.
Ask how they are supposed to work if you are window shopping in-store.
Make sure all of what is listed is on or in your appliance such as stove racks, refrigerator door shelves and drawers.
Ask the store representative what else you would have to buy if you purchase the all kitchen appliances package deal and see if it will fit in your budget.
Always ask what the service numbers are in case any of your appliances need to be repaired in the future.
Parting Thoughts
Now that we've given you the plan, it's time to go out and put it into action! Always remember to get reviews from reliable sources and stay true to your budget, these two tips alone will usually save you a ton of time, stress, and money in the future! Happy shopping!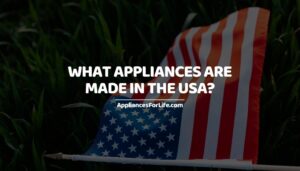 What Appliances Are Made in the USA?
The United States of America doesn't often get the credits it deserves when it comes to the production of kitchen appliances. Some of you might have noticed that most of the appliances you have in your homes often come with the "Made in China" tag,
Read More »