SAMSUNG vs LG Refrigerator Comparison Table
| Image | | | | |
| --- | --- | --- | --- | --- |
| Name | Samsung RF23M8070SG/AA Black Stainless Steel 4-Door French Door Refrigerator | LG LMXS28626D Black Stainless Steel Smart Wi-Fi Enabled 4-Door French Door Refrigerator | Samsung RS22T5561SR/AA Stainless Steel Counter Depth Side-by-Side Refrigerator | LG LSXS26396S Smart Side-by-Side Refrigerator with InstaView Door-in-Door |
| Manufacturer | Samsung | LG | Samsung | LG |
| Material | Black Stainless Steel | Black Stainless Steel | Stainless Steel | Side-by-side |
| Total Capacity (cu. ft.) | 22.6 | 27.8 | 21.5 | 26.1 |
| Child Lock | Yes | Yes | No | Yes |
| Special Feature | High-efficiency LED Lighting | Door Cooling Plus | Family Hub | InstaView Door-in-door |
| Editor's Rating | ✸✸✸✸✸ | ✸✸✸✸✸ | ✸✸✸✸✸ | ✸✸✸✸✸ |
| | | | | |
For many years now, people have often compared Samsung and LG refrigerators to know which one is better. The competition, however, has remained healthy as both brands have been able to maintain their respective reputations that have kept them so long in the appliance industry. These two brands, for many years, have been two of the biggest brands in the world, drawing comparisons from consumers. Their refrigerators are often mistaken for one another, thanks to the identical functionalities and designs. Thankfully, each brand has its unique brand tag that allows customers to clearly tell which appliance belongs to a particular brand.
A lot of people are stuck between these two brands, not knowing the differences between the refrigerators both brands produce. Some people have wondered if Samsung and LG are the same company. There are lots of similarities between these two brands. Firstly, they are both South Korean companies. Secondly, they focus on the same industries ranging from home appliances to smartphones and gadgets. With these similarities, we won't blame you if you don't get to tell the difference(s) between these two brands, which is why we're writing this detailed guide on Samsung vs LG refrigerator reviews, giving you all you need to know about the refrigerators produced by both brands.
When you take into account how both companies like their refrigerators to be made for consumers, it might be hard to tell the difference. With technology now at its best, at least just yet, both brands have successfully incorporated the latest tech innovations into their refrigerators. Smart features? You can bet on it! LG and Samsung refrigerators come with smart features that give you total control over these appliances, making you control them from your smartphone if you want.
With both appliances offering similar products such as refrigerators, it is very ideal to know the differences between the refrigerators produced by both brands, but before we get into all of that, let's take a quick look at the brief histories of both brands (Samsung and LG).
A brief history of Samsung
Samsung is a global company founded in 1938 by Lee Byung-Chul in South Korea. Headquartered in Seocho District, Seoul, South Korea, Samsung's network is global, with a wide range of products and services such as automotive, consumer electronics, telecommunications equipment, home appliances, medical equipment, and many more. According to a Wikipedia post, Samsung is the largest South Korean business conglomerate and the 8th highest-valued global brand.
When the company was founded over 83 years ago, only a few people could have predicted the massive success it enjoys today. Samsung Electronics, the sub-company under the Samsung Group was the world's largest information technology company in 2017 in revenue. Samsung has been a big presence in the appliance industry, ranking it as one of the biggest appliance brands ever. If you look back, you'll realize you've used at least one Samsung product over the years.
A brief history of LG
LG, just like Samsung, is a South Korean brand founded by Koo In-Hwoi in 1947 in South Korea. It is also headquartered in Seoul, South Korea, and its subsidiary, LG Electronics has made waves all over the world as one of the world's most reliable appliance brands. Only a brand as good as LG could have survived the test of time, having existed for over 74 years, producing some of the best products for people consistently. With goods and services ranging from telecommunications equipment to electronics/appliances, it is quite hard to mention the top guns in the game without ever mentioning LG.
For all it's worth, it is only normal for comparisons to be drawn between Samsung and LG, being two of the world's biggest electronics companies. LG means "Life's Good", and the brand is doing a lot to ensure that it lives up to the name by providing appliances that will make life better for everybody. LG is leading the charge when it comes to tech integration. The brand has successfully honed its ability to combine technology with traditional philosophies that best match the expectations of the modern era.
Samsung versus LG refrigerators
Refrigerators from both Samsung and LG are the best refrigerators you can get on the appliance market, no doubt. Both brands are good at what they do, and this explains why they're two of the biggest appliance brands in the world today. In terms of innovation, Samsung is leading the charge, with LG lurking just behind. If you haven't previously used a refrigerator from any of these brands, you might be stuck on which brand to go for, and settling for one might be daunting. With that in mind, we'll help you solve the mystery by discussing the different important factors you need to put into consideration when purchasing a refrigerator, as well as our verdict of which brand edges out in that particular category.
Budget
Before purchasing a product, one of the decisive factors people always look at is the price of the product. A lot of people also have a particular budget and won't compromise that figure for anything. It's important because this is what the other factors are attached to; features, designs, surface finishes; all these other factors come together to determine the price of a particular product. If you're looking to get a new product and you've nailed down your interest in Samsung and LG, it might be hard to get the one that offers the most budget-friendly refrigerator. However, through research, we have been able to find out that LG edges out in this category because it offers consumers more budget-friendly options below the $2000-mark.
A Samsung 4-door French refrigerator can cost as high as over $3000, sometimes, $4000. That's not to say LG doesn't have refrigerators that cost that much as well. The point is that LG makes refrigerators that are well within everybody's budget, making these refrigerators affordable. Let's take a look at these two French door refrigerators by Samsung and LG;
This Samsung counter-depth design with a black stainless steel finish is a great option for those looking for something stylish and of class as well. Samsung continues to have its name featured on top of every list of "the best" and this beautiful refrigerator is a testament!
FEATURES
FLEXZONE DRAWER
The FlexZone drawer features an adjustable smart divider that allows you to keep things in the refrigerator as organized as possible. The drawer is also packed with four different temperature settings, leaving you in total control of your refrigerator.
TWIN COOLING PLUS
The Twin Cooling Plus feature gives the freezer and refrigerator compartments their unique temperature settings. This means that both compartments don't depend on the same temperature source.
HIGH-EFFICIENCY LED LIGHTING
French door refrigerators are quite popular for the beautiful lighting system that comes with them and this Samsung refrigerator is not an exception.
With 28 cubic feet of space, you can store virtually anything because there's enough storage space. If you're a family person, you're probably going to be storing lots of food items, and with this refrigerator, you have just the perfect opportunity to do that. The Wi-Fi-enabled refrigerator is also a great smart refrigerator that allows you to connect the refrigerator to your smartphone using WiFi.
FEATURES
MULTI-AIR FLOW SYSTEM
The Multi-air Flow System in the refrigerator has different air flows your food needs to stay fresher for a long period. It helps to maintain great temperature and humidity levels; just exactly what your food needs.
DOOR COOLING+
Apart from the cool air coming from inside of the refrigerator, this Door Cooling+ provides additional cool air from the refrigerator door to keep the content on the door fresh for a longer time.
2 FREEZER DRAWERS
We're all used to having one freezer drawer in most of the refrigerators we get but this LG refrigerator comes with two. This allows you to have more storage space for perishable food items.
Style
If you don't pay attention to details or you're the surface person, it'll be hard to tell the difference between Samsung and LG refrigerators, because both brands offer similar styles. Despite their huge similarities, a lot of people believe Samsung edges out in terms of designs and style. This factor is opinionated and a lot of people would take sides for so many reasons ranging from brand loyalty to pure sentiments. However, in terms of style and designs, only a few brands can match what Samsung can do.
Everything about this refrigerator just seems right. From the design to the innovative features that come with it, Samsung has only done itself well by producing a refrigerator in this class. Any spot this refrigerator is placed in the house will definitely be lifted because that's what it brings to the table.
FEATURES
FAMILY HUB
Family Hub is an innovative feature by Samsung that keeps you right on top of every situation through your smartphone. You can plan your meals through the different apps using the Family Hub that features up to six dash buttons. You can also play music and watch your favorite TV show using this feature that comes with the Samsung refrigerator.
FINGERPRINT RESISTANT FINISH
It is normal for stainless steel appliances to be susceptible to stainless steel; at least that's what we all think. However, Samsung doesn't agree with that and believes you don't have to go through moments of frequent cleaning of fingerprints and smudges on your refrigerator.
LED LIGHTING
The LED lighting system will light up your refrigerator as soon as the doors are opened, offering you a great view of the refrigerator, making it very easy to spot items.
Just like Samsung, LG is also famous for producing industry-best refrigerators that will lift your kitchen space and make it more valuable. LG has a special way of combining technology with design, and that's what inspired this refrigerator with the InstaView feature. This feature gives you visible access to the inner compartment without having to open the door, thereby reducing the loss of cold air. This energy-saving feature will also help you keep your food fresher for a longer period.
FEATURES
DOOR-IN-DOOR DESIGN
This refrigerator is designed with adjustable bins that can easily be moved to accommodate drinks and snacks of different sizes.
COLD SAVER PANEL
The Cold Saver Panel helps keep cold air inside the refrigerator where it's most needed. This way, you can be confident that your fresh food items will remain fresh while also helping you save energy.
Frequently Asked Questions
Are LG and Samsung refrigerators reliable?
LG and Samsung are two of the world's most reliable appliance companies. This is a claim backed by facts produced by Consumer Reports and Family Axis, who both rate LG and Samsung as two of the most reliable refrigerator brands of the last 10 years.
Where are LG and Samsung refrigerators made?
Being South Korean companies, most Samsung and LG refrigerators are made in South Korea. However, with their growing reputations in the market, some other models are also made in China.
Are LG and Samsung the same company?
No, they're not. Both just happen to be South Korean companies headquartered in the same city (Seoul).
Final Thoughts
In a highly competitive industry like the appliance market, comparisons will always be made between the biggest companies to know which one is better than the others. With LG and Samsung the two of the biggest appliance brands, it is normal that topics like "Samsung vs LG refrigerators" will almost never go away as long as both brands keep producing the best refrigerators for their customers. If you're stuck between the two big brands, we hope we've been able to solve the mystery of choosing the best refrigerator for your home. However, you can make further research about both brands to learn more about the refrigerators they both offer and which one is the ideal one for you.
ESTIMATED TIME DESIGNING AND UPLOADING THIS ARTICLE
ESTIMATED TIME RESEARCHING AND WRITING THIS ARTICLE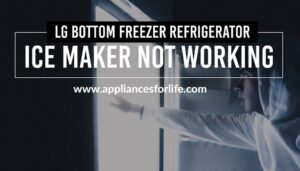 Lg Bottom Freezer Refrigerator Ice Maker Not Working
Most bottom refrigerators come with an ice maker and water dispenser that make them even more attractive and useful. In this article, we are going to be discussing the different possible causes of your LG bottom freezer refrigerator ice maker not working like it's supposed
Read More »