The implementation of stainless steel into different kitchen appliances we enjoy today is what we should be thankful for because not all industries have the same privilege. Stainless steel is a special metal that industries like the automobile industry have found very difficult to implement in their products. Let's face it, it is a privilege we've grabbed with both hands and whether there's another surface finish in the making, coming to knock stainless steel off the perch is still yet to be known. With stainless steel appliances around the house, you can be confident of longevity. One of the reasons why a lot of people often opt for stainless steel despite the hefty price tag is its durability. A stainless steel appliance can have a life expectancy of 5-7 years on the minimum, making it the best surface finish for long-term purposes. Naturally, a lot of people invest in stainless steel appliances because they don't see themselves spending the same amount of money, maybe more, in at least 5 years. However, the longevity of a stainless steel appliance largely depends on how it's maintained. Maintenance is one of the major factors to how long a stainless steel appliance will last. With that in mind, it is important to know the basic cleaning steps, which include knowing how to remove grease from stainless steel.
Don't be fooled by the term "stainless" which many people have literally found peculiar to stainless steel. What it means is that there's an element called chromium oxide in stainless steel and its job is to protect the surface finish against things like rust, corrosion, and many more. Unlike regular metals that are susceptible to rust and corrosion easily, the chromium oxide layer protects stainless steel from these elements but that doesn't mean that it can't be affected. Grease is a strong semi-solid lubricant that can cause your stainless steel appliances different kinds of problems, some of which will cause you to spend a lot of money if you don't pay proper attention to them. The knowledge of how to remove grease from metal is what's going to help you get through that difficult spell and you might not know how much you're saving in the process until it happens to you.
Stainless steel appliances have changed the concept of a modern kitchen and rightly so. These appliances are leading the charge to make us realize how a modern kitchen should look because they make it look so gorgeous. However, grease can be a rather stubborn substance that poses a great threat to the existence of stainless steel. While knowing how to remove grease stains from stainless steel is important, it is even more important that you deal with it most safely without causing further damage to your stainless steel appliances.
How popular are stainless steel appliances?
Over the years, stainless steel appliances have grown in popularity, with Houzz reporting that about ¾ of homeowners plan to continue to use stainless steel appliances. The reason why stainless appliances are so popular is not far-fetched. Stainless steel itself is perhaps the most durable metal in the world and the fact that not all industries are willing to take the risk of implementing it into their products with fears of a dip in sales due to hefty prices which are likely to be slammed on these products to keep productions afloat, is enough reason for those who have the privilege to have it in their spaces to appreciate it. Despite the existence of different surface finishes people can choose from, their taste for the kitchen of their dreams filled with sophisticated stainless steel appliances. Despite the emergence of new trends like matte black and other popular surface finishes, stainless steel has managed to retain the top spot as the most popular finish on the appliances market. Popular appliances website, Home Light, conducted a survey recently and 75% of the 435 top Home Light agents in the United States admit that stainless steel remains the most in-demand finish among consumers.
Check out our best-rated kitchen appliance brands to know which brand you should always opt for when making a purchase decision.
Pros and Cons of Stainless Steel
With the growing popularity of stainless steel in the appliances industry, some have wondered why despite many other options, stainless steel has managed to remain a popular choice, an easy one as a matter of fact. The truth remains that there are many reasons why a lot of people find stainless steel appliances appealing. From the refrigerator to a cooking range, it's quite hard to neglect how valuable people consider the stainless steel finish.
We are going to be looking at some of the reasons why stainless steel remains a popular option and some other reasons why you should have a rethink if you're planning to purchase a stainless steel appliance.
Pros
It resists germs
One of the reasons why stainless steel is a popular metal is that it is non-porous. Being an alloy, stainless steel is no home to germs and bacteria. This is why stainless steel is a very popular material in industrial spots and factories. With this surface finish in your kitchen, you can be confident that your kitchen will be germs-free. It is the recommended surface for those who have kids at home because kids can be very playful and will always touch the stainless appliances at every opportunity they get. Having germ-resisting metal like stainless steel will ensure that germs don't stay long on your appliances.
It is easy to clean
Another thing people love about stainless steel is that it is very easy to clean. One of the many advantages of having stainless steel integration in kitchen appliances includes easy clean-up. When you have stainless steel appliances in your space, you only need a little effort to round up the cleaning. Cleaning is an integral part of maintenance and with stainless steel appliances, things have been made very easy. Basic things like dishwasher soap and water can do the trick and have your appliances sparkling. Fingerprints and smudges are some of the most common stains with stainless steel appliances and as long as you clean them with recommended products or methods that won't cause scratches, your appliances will be sparkling clean.
It matches your home decor
One of the things people look out for when purchasing new appliances is how well they can complement the decoration of their spaces, which is a very important thing. If you're purchasing with this in mind, we highly recommend the stainless steel surface finish. It doesn't matter the existing color combinations you already have in your space, stainless steel appliances will perfectly match these colors without obvious changes. Also, if you have other appliances that don't have the stainless steel finish, your stainless steel appliances will match each finish you have in your space and that will give your space a whole different look. This will be one of the best decisions you'll ever make and it'll be very nice to always have your kitchen look great, provided you regularly clean these appliances.
It increases your home's value if you're a homeowner
Everybody knows how reputable stainless steel is and it's something that has been affiliated with the elites. So, if you're looking to sell your house later, one of the best ways to sell high is to have stainless steel items/appliances in it. These appliances increase the value of the house by a great percentage and you'll be amused by how much buyers will be willing to put on the line to secure the house. With stainless steel appliances in the house, you can never get it wrong.
Cons
It is susceptible to stains
If you think because it's called stainless steel, it can't be stained, you're very wrong. The greatest misconception people have about stainless steel is that it doesn't get stained at all. The reason why it's called "stainless" is due to the presence of chromium oxide layer that gives it the protection it needs against corrosion and rust, both of which can be caused by little stains such as grease stains which can build up to the point of damaging the chromium oxide layer. Fingerprints and smudges are two of the common stainless steel stains and truly, these stains can be very annoying, especially when you have kids and pets at home. Regular cleaning is needed to keep your stainless steel appliances clean to avoid little stains building up to the point where they can cause damage to your appliances.
It is expensive
This is the most obvious downside and that's why we've decided not to talk about it first because it's a fact everybody is aware of. If you're buying stainless steel appliances, you might find it difficult to do at first because of the initial cost prices which are always outlandish. Although they will prove you wrong in the long run due to the low maintenance cost and durability, it is still quite difficult for some people to be set back by the hefty initial prices, especially those who are on a budget. Regardless of the heavy price tags, stainless steel appliances are still your best bet if you're purchasing for long-term purposes. Durability is one of the reasons why a lot of people still decide to opt for stainless steel appliances, regardless of how much they cost. They know they won't be purchasing the same appliances for another 7 years at least.
How to degrease stainless steel
Without doubts, stainless steel products have the best return value which is an interesting point to consider when making a purchase. Picture a scenario where you make a purchase of a stainless steel appliance and you maintain it just like you should. With basic cleaning methods like combining dish soap with water, you can get rid of grease, although you might need stronger methods to combat stronger grease stains. Tougher grease stains might need you to combine stronger cleaning substances like vinegar and baking soda to get the perfect results.
In the end, protecting your stainless steel appliances' chromium oxide layer is the priority because it's the protective layer. To do this, you need to know how to remove burnt grease, baked-on grease, or other grease stains from your stainless steel appliances. We've rounded up the three best methods to use when cleaning heavy grease on your stainless steel appliances.
Dish soap and water
The best way to get rid of grease is when it's just starting to form before it finally settles in. Soap and water are basic things you can easily find around the house and that's what makes this method the easiest. You'll need soap and water accompanied by soft clothes or a non-abrasive scrubber.
DIRECTION
STEP 1: The first step is to mix soap and water in a clean bowl. You might want to get this done in the sink so you can be in total control of how much water and soap goes into the bowl. Make sure the mixture is bubbly and you can do this knowing that soapy water won't cause your stainless steel appliances any harm.
STEP 2: Dip a clean microfiber cloth or towel into the water and wipe the surface of the affected stainless steel appliance(s) in the direction of the grain. The grain is usually particles that form lines moving in a particular direction. It's very important to clean in the direction of the grain to avoid scratches which can also give a different look to your stainless steel appliances. Alternatively, you can clean with a non-abrasive scrubber if you can't easily get a soft towel.
STEP 3: Don't wait until the soapy water settles into the stainless steel before you start planning to clean it off. Place the same cloth you used in applying the soapy water on the stainless steel appliance under running water and wash the soap off the surface of the affected appliance(s). Don't forget to also wipe in the direction of the grain to avoid scratches.
STEP 4: This might be the last step but it's the most important. Use a fresh cloth/towel to dry the surface you've just cleaned. Also, remember to wipe in the direction of the grain to prevent water stains.
Hot water and detergent
This method is used for tackling heavier grease and the good thing is that it is also basic; very basic as a matter of fact! The things you need include a mild detergent, hot water, a soft nylon scrub brush that won't cause scratches on your stainless steel appliance(s), and a soft cloth.
DIRECTION
STEP 1: Get a clean bowl and mix a mild detergent and hot water in it. Get the mixture to form soapy water because that's what you really need to get the process going.
STEP 2: This is where your nylon scrub brush comes into play. Whatever you do, always ensure this nylon scrub brush is soft enough not to cause scratches on the surface you're trying to clean. Put it in soapy water and gently scrub the greasy surface in the direction of the grain. This is to ensure that the brush doesn't scratch the surface of the stainless steel appliance you're cleaning.
STEP 3: Put a soft cloth under warm running water and gently use this cloth to wipe, again, in the direction of the grain to remove the soap from the surface of the appliance you're cleaning.
STEP 4: Dry the surface with a soft cloth in the direction of the grain. Ensure there's no moisture left on the stainless steel to prevent rust once the moisture comes in contact with air.
Frequently Asked Questions
1. Are there commercial degreasers for stainless steel?
Yes, there are commercial degreasers for stainless steel and the best ones can be found on Amazon and across different convenient stores in the United States.
2. How do you get baked-on grease off stainless steel?
Baked-on grease is tougher grease stains that can be corrected by hot water and mild detergent just as we've discussed earlier. For tougher stains, you can use baking soda and water while you round off the process with white vinegar.
3. What should you not use on stainless steel?
In a bid to try and correct a group of stains on your stainless steel appliances, you need to make sure you're using the right tools to prevent further damage. Steel wool, abrasive cleaners, and chloride-based cleaners will only further damage your stainless steel appliances.
Conclusion
Grease is not a harmful stain but when you leave it to build up, it'll greatly affect your stainless steel appliances. It is then important to always have different corrective measures at hand to immediately deal with these situations when they arise. Stainless steel appliances often come with high price tags and you need to maintain them the right way to ensure that they meet the life expectancy of each of these appliances. Don't forget to always wipe in the direction of the grain when you're cleaning. Don't also forget that cleaning tools like abrasive wool, hard brushes, and chloride-based cleaners will only worsen the situation by damaging the chromium oxide layer present in stainless steel.
ESTIMATED TIME DESIGNING AND UPLOADING THIS ARTICLE
ESTIMATED TIME RESEARCHING AND WRITING THIS ARTICLE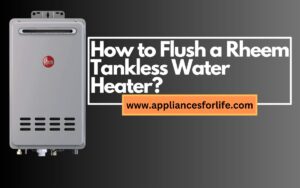 How to Flush a Rheem Tankless Water Heater
What makes a home modern in the world we live in today? Is it defined by the number of chic pieces of furniture in the living room? The automation of voice control that makes you say a word, and your window blinds open up? Or
Read More »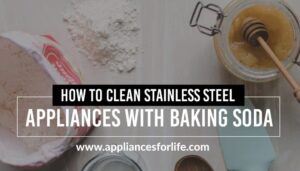 How to Clean Stainless Steel Appliances with Baking Soda?
We all know that some stainless steel stains can be stubborn, thereby we equally need tough cleaning methods to combat them. In this article, we'll be learning how to clean stainless steel appliances with baking soda. Every cleaning method comes with its up and downside.
Read More »