The new appliances coming through the ranks these days are often packed with energy rating stickers, which are very amazing because they give you an insight into how much each appliance will affect your electricity bill at the end of the day. Apart from energy rating stickers, you might have different concepts of your own and it's even more interesting when you have children at home. The Refrigerator would be the most targeted appliance in the home. The kids always love to impose their ideas on you even in your space and one of the best ways to do that is to get creative with the stickers they put on your stainless steel refrigerator. Other appliances like coffee makers, dishwashers, washers, and dryers around the household are also some of the most targeted appliances. Kids love to do it (adding stickers) but sometimes, they begin to get bored of them and it's only a matter of time before you start thinking of getting rid of these stickers. Every appliance has a unique surface that is so special that you'll want to help retain its beauty. If you're not careful with how you remove sticker glue from stainless steel or other surface finishes, you'll end up damaging them and that means more money to try and correct the damage which can even result in having to replace them.
Naturally, stickers are built with pressure-sensitive adhesive. This means that if you try to remove stickers from stainless steel in the wrong way, you'll have to bear the consequences. Stickers usually leave a gummy residue behind which must also be cleaned to make sure no chances are taken. Leaving the residue without trying to clean it means you've successfully created an environment for dirt to dwell in. It automatically becomes a perfect spot for stains of any kind and that can cause you a lot of trouble in the long run, especially when you have stainless steel appliances. It is then very important to know how to remove sticky residue from stainless steel appliances, or any other surface finishes without running the surface.
Before going into how to safely remove stickers and sticker residue from your stainless steel appliances, let's take a look at some of the most popular stainless steel appliances that are susceptible to stickers.
Popular Appliances for Stickers
Stickers look so good on appliances, no doubt. Whether it's an energy rating sticker or cartoon characters that kids find relatable, stickers always look so amazing on kitchen appliances. Like we pointed out earlier, kids love to place stickers on refrigerators because they are always in their reach. Some adults also like stickers on their appliances because they might just look boring sometimes. Some of the appliances people can easily place stickers on include;
Refrigerator
The refrigerator is a very popular appliance around the house, one of the most important ones as a matter of fact. It will go down as one of the greatest inventions of all time and what makes it a popular spot for stickers to be placed is because it's always within an arm's reach. When you have kids in the house, they can easily walk to where the refrigerator is and place their stickers as high as their hands can get. Some adults enjoy doing that as much as the kids and sometimes, put stickers that have pictures of the ones they cherish most in their lives on the refrigerator door and other spots on the refrigerator. This makes the refrigerator one of the best spots for stickers around the house.
Microwave Oven
The microwave oven often comes with an energy rating sticker, like every other electrical appliance. These stickers are necessary but you will, at some point, get tired of them. Getting these stickers off your microwave oven can also be daunting because you want to make sure the gummy residue that is often peculiar to these stickers doesn't have a place to stay on the finish. Older children can also make the microwave oven the perfect spot to place their favorite stickers.
What is an energy rating sticker?
The energy rating label is a very popular label that is attached to different electrical appliances to show the energy efficiency of each product. This gives customers proper insight into the energy efficiency of the products they're looking to purchase and also the chance to compare different products to know which one will be best for you. When purchasing electrical appliances, energy efficiency is a big deal because you're purchasing for the long term. The truth is that the energy efficiency of the products you're looking to purchase will affect your electricity bills as long as you're running them regularly.
They often come with electrical appliances because manufacturers are under an obligation to add the label to each appliance so consumers can compare and determine which one will cost them more money in the long run. The label displays energy consumption figures of the energy each appliance will consume for a year in "kWh" based on average usage assumptions.
According to a Wikipedia post, electrical appliances that carry the energy rating label make up for 25% of the most energy-efficient products.
Benefits of stainless steel appliances
Over the years, stainless steel appliances have gained so much popularity and have risen to the top spot, overtaking surface finishes like matte black and many more. The big question is "why do people choose stainless steel?" Stainless steel is the go-to option for so many people but the most important part of the finish is the presence of a chromium oxide layer that gives stainless steel the protection it needs against stains and stain-related elements like corrosion and rust. This is one of the many benefits people enjoy when they invest in stainless steel appliances because, in value, it gives them the best return on investment.
They are hygienic
There's a reason why most factories and health centers make stainless steel items and appliances a priority. It is hygienic because of its non-porous nature which makes it a great surface finish. The presence of the chromium oxide layer protects all your stainless steel appliances against the likes of rust, discoloration, and corrosion. Stainless steel is a great finish to have in your space because it's not an ideal spot for germs and bacteria to dwell.
They add value to your space
When you are a homeowner and you hope to sell your home someday, stainless steel appliances leave you a step ahead in the negotiation process because buyers will find your home very valuable. This is why a lot of people believe investing in stainless steel appliances will never put their investment in jeopardy. The appliances industry has been able to do what most industries have found difficult to do because they are often expensive.
They complement other appliances
Another important thing people love about stainless steel appliances is how they complement the other surface finishes in their space. We understand that stainless steel appliances are a bit more expensive than the other finishes and it might be a bit difficult to fill your space with stainless steel appliances. If that's the case, a single stainless steel appliance can bring out the beauty in the other finishes because that's what stainless steel does!
They are easy to clean
The greatest misconception people have about stainless steel appliances is that they don't get dirty. That's not why stainless steel is called stainless steel. Just like every other metal, stainless steel is also susceptible to stains, albeit the little ones. The most common stains with stainless steel appliances are fingerprints and smudges, which can easily be cleaned using safe commercial cleaners or basic tools like water and dish soap or detergent. This, and many other reasons are why people heavily invest in stainless steel appliances.
Downsides of stainless steel appliances
Although stainless steel is the best surface finish you can get your hands on in the appliances market at the moment, there are things you should also seriously consider before investing in it. Just like every other thing in life, stainless steel has its downsides but the good thing is that the benefits outweigh the aforementioned. That's how you get to know how good of a material it is. When you're comparing and contrasting, at the end of the day, good material is one whose pros greatly outweigh its cons. That's the case with stainless steel. Let's explore two of the cons of stainless steel;
They show stains far too easily
If you've used a couple of stainless steel appliances and items before, you'll know this is one of the most obvious downsides of stainless steel itself. Despite being a beautiful finish, you'll have to deal with constant cleaning of fingerprints and smudges. You'll find this particularly hard to keep up with if you're not a fan of cleaning. It's even worse when you have kids at home and they have easy access to where your stainless steel appliances are placed in the house. Thankfully, it is one of the easiest materials to clean, especially the smudges and fingerprints. There are many commercial products for fingerprints and you can also use detergent and soft towels, both of which can easily be found at home.
They are initially expensive
If you pay too much attention to the initial cost of a stainless steel appliance, you might be put off. The truth is that stainless steel itself is a rare material (not in all sense) and we've only had the privilege to enjoy its integration in our most important appliances in the house. As a result of that, stainless steel appliances usually come with hefty price tags but when you look at the running cost, you'll realize they're worth every penny spent on them. A stainless steel appliance has an average life expectancy of 5-7 years. This means that they are built for the long-term and if maintained right, you won't have any reason to replace them for that period.
How to remove sticker residue from stainless steel
Stainless steel is a special finish; an expensive one, so when you have some of your appliances come with it, you should treat them with utmost care. Most manufacturers are under obligation to display the energy efficiency of a product, thus leaving you to deal with an energy rating label. However, you might not be a fan and have other ideas which are different from the manufacturers'. In this case, removing sticker residue from stainless steel requires technicality. If you get it wrong, you might pay a big price at the end of the day because the sticky residue will only serve as a great spot for stains.
To make sure this is done perfectly, we've rounded up the best way to remove sticky labels from stainless steel appliances.
White vinegar
We all know that white vinegar is one of the most effective natural cleaners you can get your hands on at little cost. For many years, vinegar has been playing a huge role in the household, health-wise. It has also become one of the most popular cleaners to remove labels and get sticker residue off stainless steel.
WHAT DO YOU NEED?
¾ cup of white vinegar

Microwave-safe bowl or saucepan

Cotton towel
DIRECTION
STEP 1: Prepare your microwave-safe bowl and put ¾ cup of white vinegar in it. Heat in the microwave until you have a warm mixture. Alternatively, you can use a saucepan if you don't have a microwave. Just ensure that you heat over a low flame.
STEP 2: Get a soft cotton towel that is large enough to cover the area where the sticker/label is placed. Dip the towel into the warm vinegar and let it rest on the affected area for a couple of minutes to allow the vinegar to penetrate the sticker and its residue. The sticker will be saturated and that will make it very easy to get off your stainless steel appliance.
STEP 3: To get off the sticker residue just in case any is left on the stainless steel surface, add a little elbow grease to the affected part of your stainless steel appliance. It will totally get rid of any residue left on the surface.
Frequently Asked Questions
1. How do you remove stickers from the refrigerator?
The vinegar method we've just discussed is by far the most effective to get stickers off your stainless steel refrigerator without leaving any residue behind.
2. Does vinegar remove adhesive?
When you dilute the vinegar with water (most especially warm water), it perfectly works for stickers and labels placed on appliances without causing further damage.
3. Does olive oil remove adhesive?
Yes, it does.
Conclusion
The common mistake most people make is to think commercial products are the answers to every cleaning problem in the house. While they are a great option, it is very great to opt for the natural, risk-free methods, especially when dealing with problems like stickers on stainless steel appliances. White vinegar should be your best bet in situations like this. However, you can learn more about vinegar and how it can affect your stainless steel appliances before using it.
ESTIMATED TIME DESIGNING AND UPLOADING THIS ARTICLE
ESTIMATED TIME RESEARCHING AND WRITING THIS ARTICLE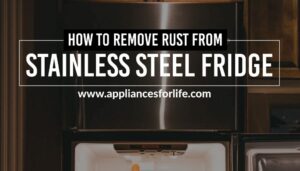 How to Remove Rust from Stainless Steel Fridge?
Stainless steel fridge has always proved to be a great option around the home for many reasons. In this article, we'll be exploring the different ways to remove rust from a stainless steel fridge and leave it with the natural beauty the stainless steel material
Read More »