The microwave, despite its size, has managed to be one of the most important kitchen appliances in history. Not only has it made cooking easier for people. It has also given a different meaning to what a modern kitchen should look like. We've all had the privilege to enjoy some of the most important tech-inspired inventions over the years. The kitchen, regarded as the busiest place in the house, has become a great spot for many appliances. This is because cooking activities go down and you can't afford to take chances with cleaning. There's no other way to ensure an appliance lasts longer than maintenance. Regular maintenance will put you right on top of every situation and will even make an appliance that is not so durable last longer than it should. Since your microwave is one of the most used appliances in the kitchen, you might as well get used to cleaning it regularly because you can't keep it away from stains for too long except when you barely use it. In a matter of minutes, your microwave can go from being sparkling clean to a messy appliance. Rounds of leftovers and burnt food can cause this to happen quicker than you can ever think of. Nobody likes to cook in a dirty environment so once you notice these stains, it's very important to attempt to get rid of them as soon as possible. Why? If you give these stains a chance to build up, they might destroy your microwave oven as a result. That's not the end of it. You put your food in the microwave to process. Leaving stains in and around the microwave is not healthy and might cause you to start reacting to some of the things you eat as a result.
There's no blueprint or laid-down rules as to how you should clean your microwave. Don't get it wrong. There are many methods that will cost you far less than what you'd spend if you opted for commercial products. The greatest mistake you can make with your microwave is letting the little splatters sit in there for a long time. We won't sit here and talk about how easy cleaning is, especially if you do not like it; nobody does. Cleaning can be tedious, we understand that but it's very important if you don't want to spend all your savings buying kitchen appliances. Regular cleaning will make sure you can always have your microwave to count on whenever you need it. It will help you maintain the unit and keep the taste of your food just like it should be. Later in this article, we'll be discussing the different methods to clean your microwave using microwave cleaner products and other domestic cleaners.
Before we get into that, let's briefly discuss the factors you need to seriously consider before buying a microwave (for those who are in the market for a new microwave).
Factors to consider before buying a microwave
Since the microwave went from a reheating appliance to an appliance that can do so much more, its stock has risen greatly in the appliances market. Its compact design is one of the things that make it a great appliance. With all the features manufacturers pack with it now, it has now become very important for every household to own a microwave. Its versatility is another thing people have lauded. There are so many options on the appliance market now, whether you're shopping online or offline, so you need to really take your time and put some things into consideration. If you go to the market without nailing your search to some certain details, you're going to have a hard time buying the right microwave. Below are some of the things you need to put into consideration before opting to buy a microwave;
Your budget
If you're opting for a new microwave under any circumstances, your budget is one of the first things you should consider. You don't want to start shopping and look lost in the process due to the prices you're coming across, some of which will be outlandish. You need to look at your pocket and decide on how much you're willing to part ways with to land a microwave. Thankfully, there are many budget-friendly microwaves under $100 that also have great features. You will find this particularly helpful if you're on a budget. However, if you have the financial capacity and you can't afford it regardless of the price, you can proceed to the next steps without worrying about this factor.
The size of your kitchen and dinner plates
Another important factor you should consider while purchasing a microwave is the size of your kitchen. The kitchen is a very useful place and while some people have large kitchens, others don't enjoy the same privilege. If you belong in the latter category, then you need to properly manage your space. Can your space take a 5 cu. ft. microwave? But that shouldn't be the only question. Do you really need a 5 cu. ft. microwave? The size of your dinner plates is another thing you need to look into because they're the ones you're going to be putting in the microwave. Measure them and make sure the microwave you're getting is big enough to accommodate them comfortably. It's very important to get these things right if you don't want to make the wrong purchase.
The features you want in a microwave
The microwave you're looking to buy should have all the features you want in an ideal microwave, although this might be hard if you're on a budget. If you're new to using a microwave, you should make sure you purchase the one with the 'Auto Cook' option. With this option, you have to activate the feature and your food will be automatically prepared, depending on the kind of dish you choose on the auto cook menu. Also, if you have small children at home, you might have to go for a microwave with a child lock feature, although most microwaves come with it, even the budget-friendly ones. The child lock feature will only grant access via a password to unlock. Other features you can consider include preheat, pre-programmed settings, automatic defrost, and many more.
The power capacity of the microwave
If you're going to be doing more than just reheating and baking potatoes, you should know you'll be opting for a more powerful microwave. But if you're only going to be preparing food for yourself and one other person, you don't need a powerful microwave, though it has to be energy-efficient. Just bear in mind that the higher the wattage, the more powerful the microwave, and that means more functionality.
As an Amazon Associate we earn from qualifying purchases. We may earn a small commission for our endorsement, recommendation, testimonial and/or link to any products or services from this website. Thank you, your qualifying purchases help support our work in bringing you real daily gift ideas.
Best Microwave Cleaners
However daunting cleaning a microwave is, the methods are always very effective, making the process worth it in the end. Commercial cleaners are going to be reviewed as well as some basic natural ways that have proved to be very effective over the years.
This Angry Mama microwave cleaner is a mixture of vinegar and water, and from what customers have said about it, it's one to have in the house. It is perhaps the best cleaner for the microwave. The steam produced by Angry Mama will ease stubborn stains in your microwave, making them very easy to clean.
To use this commercial cleaner, add vinegar and water to the heat-resistant and dishwasher-safe package, put in your microwave, and heat it for about 7 minutes.
MiracleWipes has made a name for itself producing some of the best microwave and cooktop cleaner wipes which are used to remove food and grime residues. The multipurpose wipes can comfortably clean microwave doors, granite countertops, chrome, ceramic ranges, and glass cooktops among many others. It is ideal for spills, fingerprints, splattered foods, and oil residue. Another thing you'll love about the product is that it is well packaged, making it very easy to get the wipes out and dispose of them as soon as you're done using them.
Other methods you can use
Apart from the two commercial products we've reviewed, there are other great ways to remove stains from your microwave. These methods are effective, and some of them you must have used for cleaning before because they are popular cleaning methods. The good thing about these methods is that they are safe compared to other commercial products.
Water and Vinegar
There's a reason why it's advisable that every home should have vinegar at home, whether white or apple cider. It's a very versatile substance that cleans not just your appliances but the body if used properly. To clean your microwave with it, add water to a microwave-safe bowl and fill it halfway before adding a tablespoon of white vinegar. Proceed to set the microwave on high for about five minutes and let the walls of the microwave steam up. In the process, the stubborn dried-on gunk on the walls will be loosened. Give the microwave a minute to let things cool down before taking out the bowl. Get a damp paper towel and clean the inside of your microwave until you're satisfied. Thankfully, the turntable can be taken out, so just wash it as you would wash your plates.
Baking soda
Whenever vinegar is discussed in relation to cleaning, baking soda often makes the list as well because both are very effective cleaners. To use baking soda, add water to a small, clean bowl and add the right amount of baking soda to form a paste. Once you have the right consistency, apply the paste to the affected parts of your microwave, whether on the wall or the turntable and let it sit for five minutes. After five minutes, get a wet sponge or a damp paper towel to wipe the baking soda and its residue until you're satisfied with the result.
Lemon
If you're cleaning your microwave with lemon, cut it in half and place both halves on a microwave-safe plate. Run the microwave on high for about a minute after you must have added a tablespoon of water to accompany the lemon in the microwave. This will steam the microwave and make the wall easy to clean. Once the microwave is safe to touch, get a paper towel and clean it until you're satisfied with what you see.
Frequently Asked Questions
1. What is the best way to clean the inside of a microwave?
All the methods, both commercial and basic, are very effective for cleaning the inside of a microwave.
2. How do you degrease a microwave?
Vinegar, baking soda, and cleaning wipes are all effective substances to degrease a microwave.
3. How do you remove odor from the microwave?
Removing odor from your microwave is the same thing as cleaning it when put in simpler terms. Vinegar, apart from being a great cleaner, is also ideal for removing odor.
Conclusion
A lot of people say cleaning is daunting and we can't help but agree with that. However, if you cherish the appliances in your kitchen and you don't want delivery companies taking frequent trips down to your doorstep, delivering new appliances which you've just spent a chunk of your money on, you might as well get used to cleaning. Your microwave is an important appliance in the house despite its size. Thanks to technology that has birthed new features that now make it more than just a reheating element. Since you're going to be processing food with this oven, you need to make sure it stays clean at all times. This will promote hygienic cooking, leaving you and your family healthy, while also making you spend less in the long run.
ESTIMATED TIME DESIGNING AND UPLOADING THIS ARTICLE
ESTIMATED TIME RESEARCHING AND WRITING THIS ARTICLE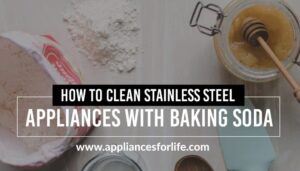 How to Clean Stainless Steel Appliances with Baking Soda?
We all know that some stainless steel stains can be stubborn, thereby we equally need tough cleaning methods to combat them. In this article, we'll be learning how to clean stainless steel appliances with baking soda. Every cleaning method comes with its up and downside.
Read More »