The blender plays a more important role than it'll ever get credit for around the house, and that's what makes it the most underrated kitchen appliance ever. When you have a blender in your kitchen, the concept of food processing automatically becomes an easy one as you can now try different things in the comfort of your kitchen without having to stress much. If you want to know how important a blender is in the house, compare the period you didn't have a blender to when you started using it, and note the difference between those two periods.
Things are different from the way they were many years ago because technological advancements have been made, and most of the appliances we have today function differently from the ones that existed many years ago. More sophistication has been added to food processing machines like the food processor, hand mixer, and blender, and that has made them more popular than they've ever been. That's not to say these appliances didn't carry out their respective responsibilities just as they should back then, only that this time, they do it better.
Ninja has revolutionized the concept of food processing in every household, and the investment the brand has made into creating high-end blenders has been lauded by many across the globe. Ninja's commitment to designing the best blenders of every era has catapulted the brand to the summit of the food industry, making it the go-to brand for anyone who wants a high-powered blender. Today, you can't talk about the best blenders on the market without mentioning Ninja blenders because of how they're built; strong and reliable.
As great and reliable as Ninja blenders are, a lot of people think they're not the easiest blenders to clean, and rightly so. Generally, cleaning can be daunting, and when it comes to the machines we use in the kitchen, as difficult as cleaning might seem, we just have to get through with it regardless. As a result, people have since been looking for instructions on how to clean Ninja blenders in a bid to help them keep their blenders clean at all times.
When you own a Ninja blender, you'll be confident because having a Ninja blender means you're in possession of an efficient and reliable helping hand in your kitchen. When it comes to power, durability, and energy efficiency, only a few blenders can contend with Ninja blenders, which is why they're regarded as the best you can get your hands on at the moment. However, just as we mentioned earlier, cleaning a Ninja blender might be daunting, which is what our Ninja blender cleaning instructions will take you through.
Sadly, you need to properly maintain your Ninja blender to keep it working as efficiently as you'd love for it to be working. Being a valuable kitchen appliance, it needs that extra care just as you would give to other important appliances in your kitchen. To clean your Ninja blender, you'll need to also learn how to clean the Ninja blender base, how to clean the Ninja blender handle, how to clean the Ninja blender lid, and also how to remove the pitcher from a Ninja blender base.
According to Tools Lane, proper maintenance and cleaning of your Ninja blender will not only make the machine function as efficiently as it should but will also give you enough confidence that your health is in good hands. If you've just bought a Ninja blender and you're wondering how you can effectively clean it so it can continue to perform at the highest level possible, we'll be discussing the three best steps on how how to clean a Ninja blender below, but before then, let's quickly take a look at some of the benefits of modern appliances.
Benefits of Modern Appliances
Modern appliances play a huge role in our world, and the good thing is that they get due credit for the good job that they do. Technology has ensured that we have efficient appliances in our homes today, and although most of them may be priced higher than conventional appliances, they're always worth every penny spent on them. In the world of smart appliances, we know we have evolved to a point where things can only be better as far as modern appliances are concerned.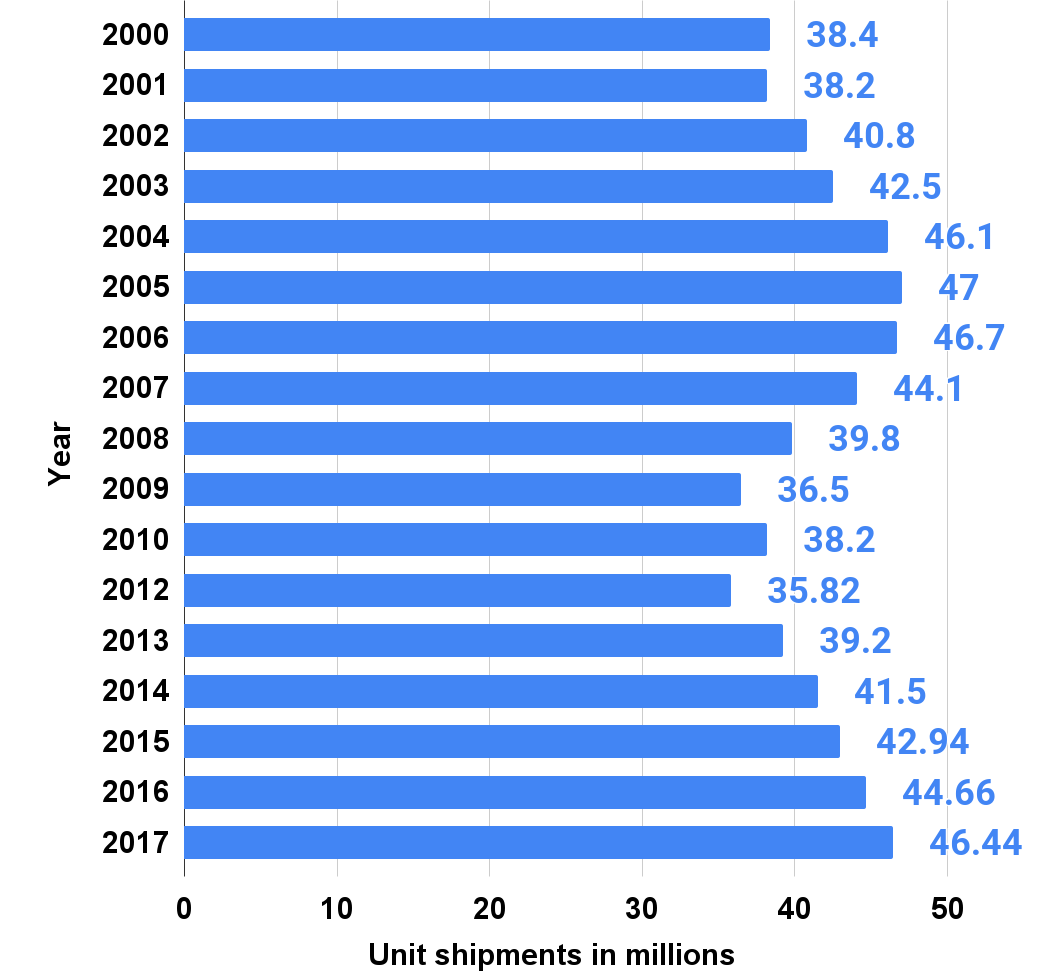 Thanks to the information provided by the Statista Research Department, we were able to create the chart above and it shows the unit shipments of appliances into the United States in millions from 2000 to 2017. This shows just how much people in the United States love major household appliances, and how much they're actively investing in them. Only in 2018, 46.44 major appliances were shipped into the United States.
They've grown to be very popular over the past few years, especially in a country like the United States which happens to be the biggest appliance market in the world with a market value of $37.8 billion. People's appreciation for these appliances has made them very popular not just in the United States, but across the world. If you're skeptical about investing in some of these modern appliances, below are some of the benefits you'll enjoy if you ever invest in them.
Energy Efficiency
If you're looking to purchase a modern appliance, you shouldn't look too much into its initial price as it will put you off. You should rather focus on how much you'll be saving on electricity over the appliance's lifetime because modern appliances are built to be energy efficient. If you pay too much attention to their initial costs, you may be discouraged from ever purchasing them because some of them come with outlandish prices.
Most modern appliances are Energy Star appliances (they come with Energy Star stickers that show just how much energy they'll consume over a given period). According to Energy Sage, investing in Energy Star appliances will significantly reduce the pressure on your electricity bills, leaving you with what you can afford at the end of the day.
Reliability
Compared to conventional appliances that have quite a reputation for not being reliable, reliability is what you'll enjoy if you ever invest in modern appliances. Modern appliances are built with the best materials, so you don't have to worry about them getting damaged even before the end of the given estimated life expectancy. Whatever money is spent on acquiring modern appliances, you'll always get the best value for it at the end of the day because they will last longer.
Best Value
If you're looking to get the best value for your money, the best appliances to invest your money in are modern appliances. They are the best set of appliances to have around the house if you ever want to sell your house in the future. Packing your house with modern appliances will help you negotiate a high selling price when it's time to sell it.
Modern appliances are built with surface finishes like stainless steel, matte black, black stainless steel, and other quality materials that help add more value to your space. When you have a stainless steel cooking range, refrigerator, microwave oven, and other appliances; they'll help make your space look more beautiful, and as a result, help you sell your house at a higher price if you ever wish to.
How To Clean a Ninja Blender
If you have a Ninja blender in your house, you have one of the most efficient blenders on the market at the moment because Ninja blenders are super and reliable. As great as these blenders are, it can be very hard to clean them. Sadly, they need great maintenance to keep them in great shape, and also provide you and your family a great health safeguard.
Thankfully, cleaning a Ninja blender doesn't have to be as hard as it usually is as there are some great methods you can use to easily clean a Ninja blender. We're going to be discussing two of the most effective methods for cleaning a Ninja blender.
Using The Dishwasher
Most Ninja blenders are safe to be cleaned in the dishwasher but to erase all doubts, always try to read the product description properly to know if the particular Ninja blender you have is dishwasher-safe. This is one of the easiest ways to get your blender cleaned without stressing too much as the dishwasher will be the one to handle all the cleaning.
STEP 1: The first step of every cleaning process as long as electrical devices are concerned is to always unplug the machine from a power outlet to prevent electric shocks when you're handling the machine. The same rule applies to when you're cleaning a blender. If you forget to unplug the blender from a power outlet, it may lead to multiple electric shocks when the machine comes in contact with water.
STEP 2: After unplugging the blender from a power outlet, the next step to take is to disassemble the blender into parts because you can't just throw it into the dishwasher to be cleaned without disassembling it. If you've never disassembled a blender, you should try to follow the guidelines from the manual to help get you through the process without getting hurt.
STEP 3: Put all the parts of the blender into the dishwasher and set to wash just as it is on the manual that comes with the product.
STEP 4: Once the dishwasher has finished washing the blender parts, ensure every part of the blender is dry before you keep them or assemble them back to form the blender. If you allow moisture on the blender parts, it can lead to condensation, which is just perfect for bacteria to grow.
STEP 5: Now that the parts have been cleaned, it's time to move on to the base of the blender for proper cleaning too.
Self Cleaning
This is also one of the easiest methods you can get with a Ninja blender because there are models that come with cleaning cycles. These cleaning cycles will automatically clean your blender once the buttons have been activated. However, if yours doesn't come with the feature, you can try the steps below;
STEP 1: Add two drops of dishwashing liquid and a cup of water to the blender jar.
STEP 2: Lock the lid on the blender and pulse for about thirty seconds to get the desired result.
STEP 3: Self-cleaning doesn't affect the base of the blender so you're going to have to remove it and clean it separately.
Frequently Asked Questions
1. How do you clean the base of a Ninja blender?
Cleaning the base of a Ninja blender is an easy thing to do according to the Ninja brand. All you have to do is to wipe the motor base clean with a damp cloth.
2. How do I make my blender not smell?
A smelly blender is not a good thing, and if you leave it to linger for a long time, it can start causing some health problems. Lemon is an ideal odor remover, so you can put a bit of it in the blender when cleaning it.
Conclusion
Ninja blenders have formed quite a reputation for being some of the best and most powerful blenders you can get on the market right now. They've become so popular that they're now regarded as the "Ferrari" of blenders, and that's to show how much investment the Ninja brand has made into making its blenders grow that popular. However, cleaning is what you may have a problem with when you invest in Ninja blenders because people have complained about cleaning difficulty. In this article, we've discussed the two most effective cleaning methods for your Ninja blenders. You can research more at your leisure to learn about other effective ways to clean a Ninja blender, but before them, the ones we've discussed in this article are just as effective as any other methods you'll find.
ESTIMATED TIME DESIGNING AND UPLOADING THIS ARTICLE
ESTIMATED TIME RESEARCHING AND WRITING THIS ARTICLE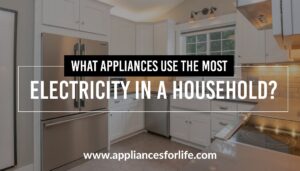 What Appliances Use the Most Electricity in a Household?
Electrical appliances have become a must-have in every home and they've become popular in recent years, especially the modern ones with new tech-inspired features being packed with them. As a result of that, the energy consumption in every home has increased greatly, which has left
Read More »