We are fortunate enough to live in an age where impossibility is no longer a common word as everything has been made possible. Lots of decades ago, a lot of people would have argued that there would be a time where you could control your home from a refrigerator app on your smartphone. The good thing about how far technology has brought us is that the kids growing up now won't understand what it's like to say something is "impossible" to do because they witness different possibilities every day. The highlight of technology is more than having refrigerators come with in-door water and ice dispensers. It is more than having modern refrigerators that come with different designs, styles, and surface finishes that add beauty to different households.
These days, we now have Wi-Fi-enabled refrigerators with touch screens that allow you to control your home from an app through your smartphone. These refrigerators also come with alarm systems that will notify you if refrigerator doors are left open or display error codes when something has gone wrong with them. We have a full guide on what error codes on LG refrigerators mean and how they can be cleared. Click here to read the full guide.
More like smartphones, smart refrigerators are basically internet-connected refrigerators, or in simpler terms, refrigerators with internet access through Wi-Fi. In a modern world like the one that we live in now, it is only normal that technology has taken us to a point where we now have access to user-friendly appliances that can be controlled through our smartphones. A smart refrigerator features an internal camera that leaves you in total control of the content of your refrigerator such that when you're shopping at the grocery store, you can easily activate the camera to see what and what you'll be needing at home by giving you full access to the inside of the refrigerator.
A lot of people have often asked the question "What does a smart refrigerator do?" Without doubts, there are lots of benefits that come with digital refrigerators, and how they make life easier for those who purchase them is just so amazing. It keeps your family more organized especially if you have a large one. You can set daily goals for every member of the family and even leave notes for the kids if you won't be around by the time they return from school. Generally, you can get to do a whole lot with a smart refrigerator in your house, but before we get into the benefits of a smart refrigerator, what is a smart refrigerator?
What is a smart refrigerator?
The basic and simplest definition you can give a smart refrigerator is a refrigerator with internet access via Wi-Fi and can allow you to control things from your smartphone. A smart refrigerator comes with many features that include an alarm system that would alert you if you forget to close the doors, and even error codes that always indicate that something is not right with the refrigerator. Tom's Guide defines a smart refrigerator as the one that's connected to the cloud, while Life Wire thinks a smart refrigerator is the one that comes with a touchscreen interface. Both definitions point in the same direction but more so, we can confirm to you that some smart refrigerators come with apps that allow you to connect to other smart devices in your home such as your smart TV, smart air conditioner, and many more.
The features that come with each smart refrigerator depend on the manufacturer. As of today, there are many smart refrigerator manufacturers but the most notable ones are LG, GE, and Samsung, all of which are known for their exploits in the tech space. A refrigerator that comes with a smart screen gives you access to a lot of exciting things, including warning messages, error codes, and even recipes from the internet to make cooking easier for you. You have no idea how much money a smart refrigerator can save you. A conventional, not-so-modern refrigerator will not alert you if the refrigerator doors are left open, and that will negatively impact your electricity bill because the refrigerator will have to work harder to regain lost cold air. With a smart refrigerator, it won't even get to that because you'll be alerted immediately the refrigerator senses that its doors are open. The other things you can do with a smart refrigerator include calendar entries which usually appear on the refrigerator's screen, as well as sending and receiving notes from friends and family members.
Samsung's smart refrigerators usually come with the brand's smart app called "Family Hub." With this app, you can do a lot of things from the app on your smartphone as it is directly connected to the refrigerator. They also come with a large screen that displays the calendar as well as the notes you send and receive from people. That is not to say that all smart refrigerators come with all these features we've highlighted so far. Depending on the manufacturer of the smart refrigerator you're looking to get, features will definitely vary. What they all have in common is that they usually come with an app that is peculiar to the particular refrigerator brand. Just as Samsung has an app called Family Hub, LG's app for its smart refrigerators is called the ThinQ App which even allows you to control your refrigerator and other LG smart appliances in your home using voice commands.
What can you do with your smart refrigerator?
Smart refrigerators have gained popularity over the past few years, and despite some of them coming with outlandish prices, people have not stopped purchasing them because they know just how much smart refrigerators can make life easier and more comfortable for them. With your smart refrigerator, you can do a lot of things that would ease the amount of manual effort you would have had to invest without a smart refrigerator. Below are some of the things you can do with your smart refrigerator;
CREATE PROFILE AND SEND PERSONAL NOTES TO FAMILY MEMBERS
Smart refrigerators aren't just called smart for no reason. One of the many things you can do with a smart refrigerator is to create profiles for your relatives so sending personal notes and to-do lists will be very easy for you. This way, the refrigerator screen is doubling as your smartphone because that's the same thing you can do on your smartphone. This feature helps you keep things organized and keep your family in order with everyone knowing what's expected of them.
ACCESS THE REFRIGERATOR WITHOUT OPENING THE DOOR
Apart from being able to check the content of the refrigerator from your smartphone with the help of the camera in the refrigerator, some smart screens like LG's InstaView give you clear visible access to the inside of the refrigerator without having to open the door. This way, you're conserving energy because each time you open the refrigerator door, the unit works harder than it should, to recover lost cold air which has been lost in the process of you opening the door.
STREAM YOUR FAVORITE TV SHOWS
We discussed the numerous possibilities in the world we live in now, and you don't have to miss your favorite TV shows even when you're in the kitchen. A smart refrigerator is usually compatible with other smart appliances in the house like the smart TV. You can cast your favorite show from a smart TV regardless of its location in the house. You can now watch your TV shows and programs from your kitchen through the refrigerator with more or less a computer screen.
USING THE WHITEBOARD TO LEAVE NOTES FOR YOUR FAMILY
The functionality of a smart refrigerator goes beyond all the things we've discussed so far. Some smart refrigerators come with a whiteboard that will allow you to leave notes for your family if you're going out and you need to leave information for them. The whiteboard is a fancy board that can also display pictures and many more.
HAVE THE REFRIGERATOR READ OUT RECIPES
Cooking doesn't have to be daunting, especially if you're trying something new and you need recipes to get through it successfully. You can browse different recipes from the refrigerator's screen and once you find the recipes you need at that time, you can have the refrigerator read them out to you so you won't be distracted as you try the recipes out. Apart from letting you access thousands of recipes online, you can also sync your grocery list to your smartphone in real-time.
Benefits of a smart refrigerator
IT SAVES ENERGY
One thing about smart appliances is that they are modern appliances and one of the biggest benefits of modern appliances is that they are energy efficient. Most of these appliances come with alarm systems that will notify you if the refrigerator doors are open. This way, you will be kept on your toes and that will save you a lot of money as the refrigerator will be forced to work harder if the doors are open because it will want to recover lost cold air. Additionally, smart refrigerators come with apps that give you total control of the refrigerators including temperature settings.
MAKES YOUR KITCHEN A FUN PLACE TO BE
There are lots of fun things to do on your smart refrigerator such as streaming your favorite TV shows by casting your smart TV on your smart refrigerator. One of the biggest advantages of a smart refrigerator is that it connects well with other smart devices in the house and that's what makes a smart refrigerator a fun thing to have in the house. Apart from streaming your favorite TV shows, you can also stream music while cooking your favorite meals so cooking doesn't have to be boring. Also, if you're trying to cook a new meal, you can have your refrigerator read out recipes to you, and watch step-by-step tutorials if you're trying to try something new in your kitchen.
HELPS YOU KEEP YOUR FAMILY ORGANIZED
Having a smart refrigerator will help you keep your family organized because you can create profiles for each family member and send personal notes to them so everybody knows what's expected of them. Smart refrigerators also feature a unique whiteboard where you can leave notes for your kids if you're not going to be home for a few hours.
Frequently Asked Question
1. What are the features of a smart fridge?
Smart refrigerators from top brands like LG and Samsung have grown to be some of the most popular refrigerators in the industry. These refrigerators let you stay connected through your smartphone, which means that you can control a lot of things even if you're not close to them. Some of its greatest features include the touch screen that displays your favorite TV shows and also allows you to check out your favorite recipes on YouTube.
2. Are smart fridges worth it?
Yes, they are. Brands like LG have made their commitment to producing affordable smart refrigerators, unlike other brands that slam outlandish prices on their smart refrigerators. They always prove to be the best in the end because of the great features that come with them.
3. What does a smart refrigerator do?
A smart refrigerator does a lot of things apart from its basic duty, which is to help preserve food items. These days, there are a host of things you can do with your smart refrigerator, and that explains why they've grown so popular in recent years.
Conclusion
Having a smart refrigerator in your kitchen always proved to be the right decision because they come with lots of features that will make your kitchen a fun place to be. Thankfully, brands like LG and Samsung are the frontrunners when it comes to the production of smart refrigerators and they've made their smart refrigerators very affordable. These are the refrigerators that are much needed in a modern home, and it's a good thing to have them to make our lives easier and more comfortable.
What does a smart refrigerator do? If you've always looked for the answer to this question, we hope we've been able to provide that in this article.
ESTIMATED TIME DESIGNING AND UPLOADING THIS ARTICLE
ESTIMATED TIME RESEARCHING AND WRITING THIS ARTICLE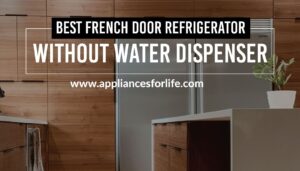 Best French Door Refrigerator without Water Dispenser
French door refrigerators have risen to the summit of the appliances market. Demands have been on an all-time high lately, so if you're looking for the best French refrigerators without water dispensers, this is the right piece for you. In this article, we're also going
Read More »