The importance of technology cannot be overemphasized in the world that we live in today. Moving from the traditional ways of getting domestic chores done to having a handful of modern appliances that help us make these domestic chores look as easy as anything else. Human beings have evolved over the years, leaning further towards comfort and convenience. We can't deny that having these appliances in our different homes hasn't lifted some pressures off our shoulders, and the need to manually want to make the house look as tidy as possible. These days, we now have high-end appliances that will quickly get things done for us with little or no manual efforts.
LG, one of the most innovative brands in the world, has been right in the middle of this huge development. According to Residence Style, we now use more home appliances to get through our daily activities in one piece. Ordinary words can't do justice to how much these appliances do in our daily lives, and how much pressure they take off us every single day. From the beginning of the Stone Age when humans started using tools, we've leaned further towards the easier ways of getting our domestic chores done rather than going the traditional way. With talks of Artificial Intelligence throwing us into extinction and making us totally "useless", technology has really taken us to a place where we would never have thought we could get to.
Kitchen appliances, particularly, play a huge role in giving a different concept to the house generally. This has made the appliance industry one of the biggest industries in the world, raking in millions and billions of dollars in revenues and turnovers annually. The modern appliances now come with different high-end features that help make things even easier and more convenient. Take the refrigerator for example. It now comes in different types and styles that will make your space more beautiful while not forgetting its basic responsibility, which is to keep your food items fresh and consumable.
It is only normal that technology has evolved so much that modern appliances now come with different warning signs that keep us aware of what's happening with our appliances. LG always makes sure that their refrigerators come with error codes that are visible on the display panel to let you know things are not right with your refrigerator. It is very important to know what these error codes stand for and how they can be cleared from the display panel. From LG refrigerator diagnostics codes to beep codes and troubleshooting codes, these codes will always be displayed if things are not right with your LG refrigerators so they can quickly be corrected.
Since we've been discussing modern appliances and how much they bring to the table of every modern household, we might as well look at some of their advantages, before we jump right into how to reset the error codes on your LG refrigerator.
Advantages of Modern Appliances
We all know the roles of the appliances we have in our different homes and how much they do to ease the pressure on us. Gone are the days when modern appliances were viewed more as a luxury than a necessity. Especially in a busy world that we live in with so much work to do, the last thing you want to do is spend eternity doing what can be done by appliances in a shorter period, with fewer efforts. Having them to help us get through each day without adding to the stress we have to go through outside our domestic lives means more than we can ever imagine. Let's look at some of the advantages of the modern appliances we all enjoy today;
They save us time
Modern appliances are much more efficient than traditional appliances and can save you a lot of time if you put them to good use. It is always hard to combine our domestic lives with work sometimes but having modern appliances in your space can make it easier. With the modern, high-end features that come with modern appliances, they can get our daily tasks done in no time, and the good thing is that they require little to no human efforts to do this. The goal is to spend less time in the kitchen as you'll need the time for other productive things in the house and outside it. Having these appliances in the house will help you achieve just that, and that's a good thing to know because you use those extra minutes and hours on something worthwhile.
They add beauty to your home
We are all well aware of how functional these modern appliances are but apart from doing their jobs very well, they still manage to add beauty to your space. Modern appliances are built in different styles and designs which are two of their biggest factors. The reason is that these appliances come in different surface finishes like stainless steel, matte black, black stainless steel, and many more. If you're a homeowner and you hope to sell your house someday, having these appliances in it will definitely help you hold on for a higher purchase price. We can't also deny the fact that consumers are drawn to some of the designs and styles of these modern appliances, which are some of the reasons why they're purchased in the first place. So, having modern appliances in your house will make it look more beautiful.
They are energy efficient
Most of the modern appliances in production today don't consume as much energy as the traditional appliances, and that will lift a huge weight off your electricity bills. Despite being packed with energy-consuming features, most of these appliances come with an Energy Star rating, which means that with all the extra features that come with them, they won't consume as much energy as traditional appliances. This way, you can be confident that how often you use them won't have much impact on your electricity bill at the end of the day.
To know which of your home appliances consume the most energy and how you can minimize energy consumption, read our full guide here.
They last long
Durability is one of the biggest advantages of modern appliances and that's why most of them have a life expectancy of 12 to 15 years if they are properly maintained. Appliance manufacturers have also taken note of this factor over the years and have invested more efforts into producing durable appliances that will last for many years as long as consumers handle them properly.
Heather G. Haight of Medium advises that when you're purchasing a new appliance, you should always count on the guarantees provided by the manufacturers. It is always good when you have an appliance you can count on for the next few years because these appliances cost a lot and shouldn't be changed every year or two years.
HOW TO RESET ERROR CODES ON LG REFRIGERATOR
We pointed out earlier that a big brand like LG knows the importance of tech integration in modern appliances and that's why we see their refrigerators display error codes when something is not right with them. This way, you are alerted to correct this error as soon as possible before it causes major damage to the generator. There are many different error codes display on the display screen of your LG refrigerator and the sooner you can decipher them, the better for all parties because in some cases, you might only have to make a few tweaks, and in other cases, you might need to involve a technician who knows these error codes as well as the possible solutions like the back of his hands.
LG refrigerator error code Er FF
This error code is one of the most common error codes in LG refrigerators and it's usually displayed when the freezer fan has encountered some issues. Sometimes, the issue is basic, and you might only have to get the dirt off the freezer fan to clear the error code, and in other cases, the problem might be so serious that you might have to involve a professional.
According to Remove and Replace, some LG French door refrigerators might display this error code if the gaskets around the doors are damaged or coming out of the refrigerator doors. Most of the time, the first thing to check is the freezer fan motor. If the freezer fan is frozen, it cannot function properly, and this code will be displayed.
SOLUTION
STEP 1: For safety reasons, the first step to take when troubleshooting your refrigerator or trying to clear an error code is to unplug the unit from the power source. Make sure you do this for your LG refrigerator before embarking on any reset process.
STEP 2: The next big step is to open the refrigerator doors for at least 8 hours so the unit can defrost, but don't forget to leave clean foams or towels in the compartment so they soak up the frost melts.
STEP 3: After this 8-hour period, get the soaked towels and foams out, and make sure you clear every other moisture left in the freezer and refrigerator using a dry towel.
STEP 4: Plug the unit back to a power source and wait for about 24 to 48 hours before it becomes fully operational. You can then observe its functionality but always ensure that the refrigerator and freezer doors are properly levelled and closed. Also, make sure the vents in the refrigerator are not obstructed by anything.
LG refrigerator error code Er 15
Thankfully, this error code is pretty much straightforward and when you see it pop up on your display screen, you should know that it has to do with your refrigerator ice maker if your unit has one. This error code pops up when there's a disconnection of the ice maker sensor or the ice maker fan motor is not functioning as it should.
Sadly, there's nothing you can do to clear this error code than to involve a technician to help you handle it. According to LG, this kind of error code will require repair service.
LG refrigerator IF error code
The IF error code, which can sometimes be displayed as F1 is an error code that indicates a problem with the ice maker fan. It might be as a result of frost or ice buildup around the ice maker fan which causes it not to function properly.
SOLUTION
STEP 1: Unplug the unit from the power source and clear all your food items from the refrigerator, and all ice from the ice bin.
STEP 2: Leave the unit open for up to 8 hours, and ensure that you leave a dry towel to help soak up defrost as it melts.
STEP 3: After waiting for 8 hours, use another dry towel to clear up any moisture left in the unit before plugging it back to a power source and allowing it to run for about 24 to 48 hours before being fully operational.
LG refrigerator error code dH
This error code can be displayed in three ways. It all depends on the model of the refrigerator you're using. FdH, rdH, or ErdH are the three variations. These error codes are displayed to indicate that the refrigerator has used more than an hour trying to defrost. The refrigerator is built such that during defrost, a preset temperature has to be reached. If this doesn't happen within an hour, the code will be displayed.
SOLUTION
The best thing to do to reset this error code is to turn off the unit for about two minutes which will make the unit reset. This should clear the error code, but if it doesn't, it might be right for you to involve a technician because the unit obviously needs a repair.
LG refrigerator error code dS
Your LG refrigerator will display this error code in three variations; ErdS, FdS, or rdS, and this usually happens when there's a disconnection of the defrosting sensor in the unit. Sadly, there's nothing you can do by yourself to reset this error code except you opt for repair service.
LG refrigerator error code 67
Your LG refrigerator will display this error code on the display screen when there's a problem with an object inside the refrigerator and a gap in the door which will stop you from closing the refrigerator door properly. If this error code ever pops up, it means that the refrigerator needs a repair service for the code to be cleared as there's nothing you can do by yourself to correct this error.
LG refrigerator error code CF
Your LG refrigerator features a fan at the bottom of the refrigerator that discharges heat from the condenser. When the feedback signal is less than 65 seconds during this fan's operation, the CF error code will be displayed. If this error message pops up, it means that you will need a repair service to get it cleared.
LG refrigerator error code 22
An error code displaying 22 is indicating that there's a problem with the refrigerator compressor relay, and you'll definitely need a repair service to get it cleared as there are no troubleshooting steps you can take on your own to correct the error.
LG refrigerator error code FS
This error code will pop up when there's something wrong with the freezer sensor, and unfortunately, there's nothing you can do to correct it on your own except that the unit will require repair service to function as it should concerning the error code.
Frequently Asked Questions
1. How do I reset my LG refrigerator?
Resetting the control panel of your LG refrigerator is more like a walk in the park and doesn't even take time at all. All you have to do is open the refrigerator door, press and hold the ICE PLUS and REFRIGERATOR buttons for about 5 seconds. You will hear a beep in confirmation that the unit has been reset.
2. Why is my LG refrigerator displaying error codes?
For your LG refrigerator to display error codes, something must have gone wrong with the refrigerator. We have highlighted some of these error codes above and how they can be cleared. For those who do not have any troubleshooting steps, the best thing is to opt for repair services so these error codes can be cleared.
Final thoughts
Modern refrigerators are good in so many ways. They help you store your food items, keeping them fresh and consumable. However, issues can come up anytime with these refrigerators but in this article, we've been able to touch on how to reset error codes on your LG refrigerator if these. These error codes are there to alert you that something has gone wrong with your refrigerator. In this article, we've highlighted some of these error codes and how they can be cleared.
ESTIMATED TIME DESIGNING AND UPLOADING THIS ARTICLE
ESTIMATED TIME RESEARCHING AND WRITING THIS ARTICLE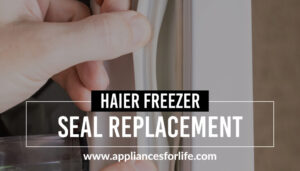 Replacing  Your Damaged Haier Refrigerator Door Seal
A refrigerator door seal is oftentimes called refrigerator door gasket. The major function of a refrigerator door gasket is to help it lock appropriately. Without a good gasket, the cold air that preserves your produce will innevitably leak out. On the other hand, the hot
Read More »