As well all know, stainless steel is one of the most durable metals you can ever get your hands on. This is why stainless steel appliances are so popular and that includes your stainless steel as well. In this article, we'll be discussing how to remove heat stains from your stainless steel cooktop.
We'll also be discussing what sets the stainless steel cooktop apart from the other metals.
Cleaning is an essential part of maintenance which is the key to the longevity of any appliance. Your kitchen appliances are so sensitive to stains that when you leave certain stains on them for too long, they get destroyed. For this reason, cleaning your kitchen appliances regularly has now become a necessity and not optional. One advantage stainless steel has over other metal types is that it is always able to resist rust and corrosion. This is why you see a lot of stainless steel appliances in different homes because they are the best for domestic usage. The presence of chromium oxide in stainless steel makes it resistant to both corrosion and rust. Despite having 'stainless' attached to the name, stainless steel appliances are not immune to stains. It's even more complicated with a cooktop because it has to do with the food you consume so cleaning has to be a top priority.
Cleaning your stainless steel cooktop regularly will not only ensure that you use it for a longer period. It will also ensure that you stay right on top of germs because that's how important cleaning can be. What can destroy the beauty and brightness of your stainless steel cooktop are stains and one of those stains are heat stains. Also when cleaning, you need to be careful of what you're cleaning with because some cleaning materials can do a lot of damage to your cooktop. Getting the right methods to clean your stainless steel cooktop is just as important as cleaning it at all. This article is a detailed guide on how to get rid of heat stains from your stainless steel cooktop and we urge you to read it till the end.
The kitchen is one of the places in the home that should be taken care of properly because that's where cooking activities go down. The quality of food you consume will have a direct effect on your health, hence the need to be careful is very important. In this article, we'll be looking at how you can get heat stains off your stainless steel cooktop and also while stainless steel cooktop is always seen as the best as long as you find it affordable.
WHY DO PEOPLE ALWAYS CHOOSE STAINLESS STEEL COOKTOPS?
If you've ever wondered why stainless steel cooktops are so popular in the market, here are some of the reasons;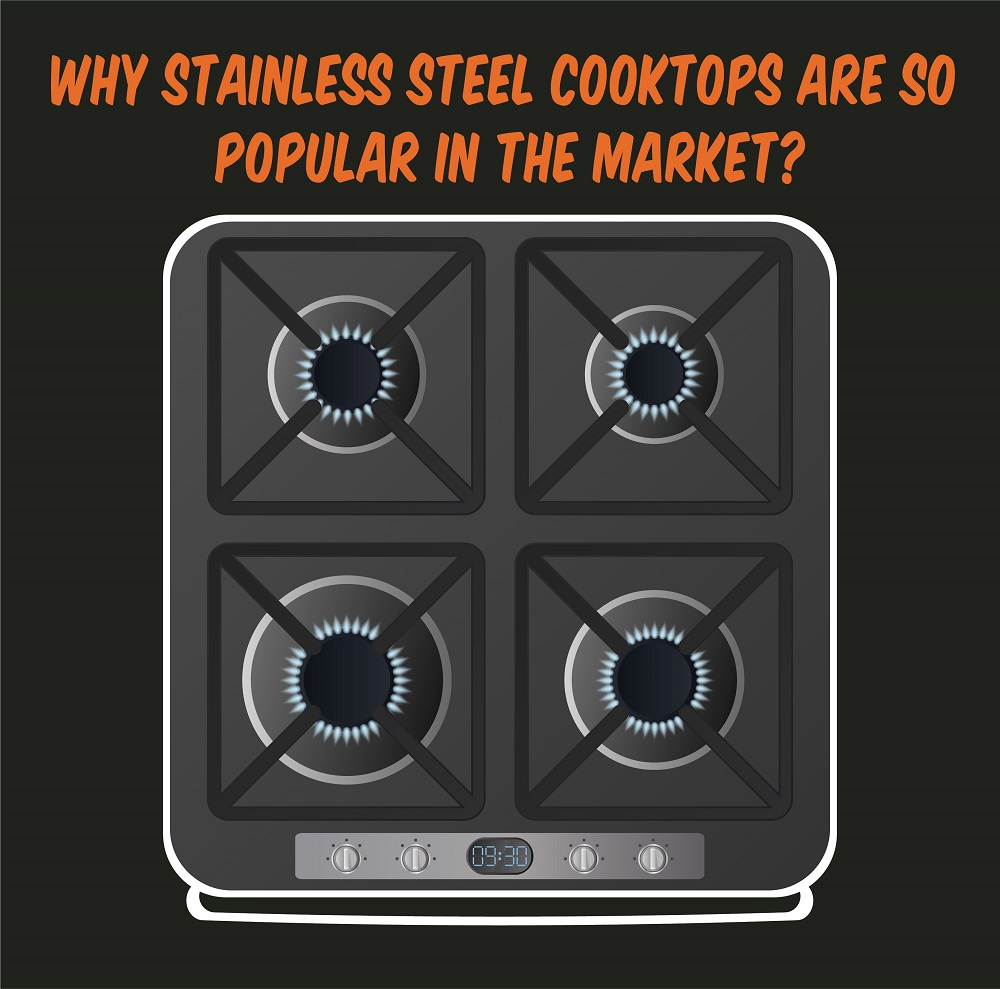 THEY ARE EASY TO CLEAN
One of the reasons why a lot of people for stainless steel cooktops is because cleaning is not complicated with them. As a key part of any maintenance process, cleaning should always be viewed as a priority and one of the things that motivate people to clean as fast as they can is when they know what they're cleaning is easy to clean. Depending on the type of stain, cleaning a stainless steel cooktop can take as little as 5 minutes with basic things like dishwasher detergent and water. The smoothness of the stainless steel material makes every appliance made with it always easy to clean and that includes your cooktop.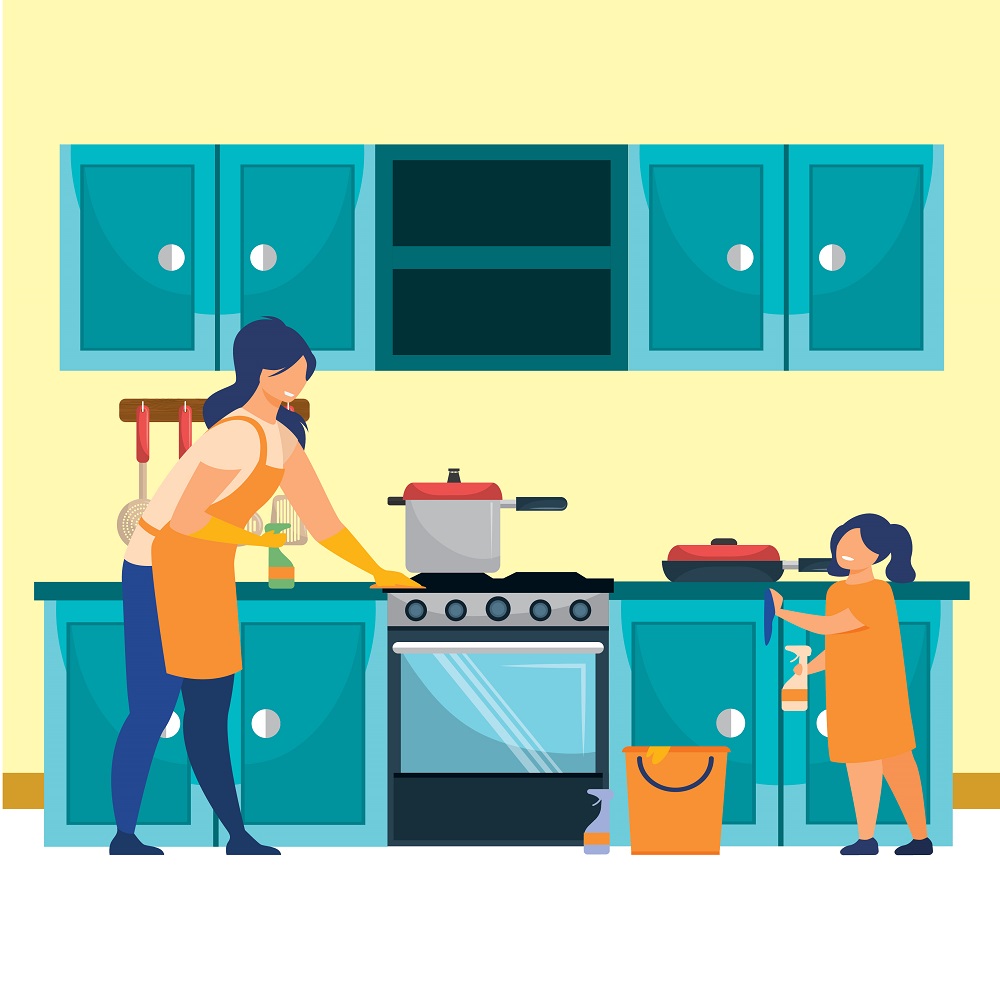 THEY ADD BEAUTY TO YOUR SPACE
Another amazing thing about stainless steel cooktops is that they give your kitchen a whole different look and make it look more beautiful. Some people even purchase stainless steel cooktops for how beautiful they can make their kitchens and how perfectly they can complement the other appliances. Regardless of what material your countertop is made of, a stainless steel cooktop will always blend with all types of the countertop; granite, stainless steel or marble.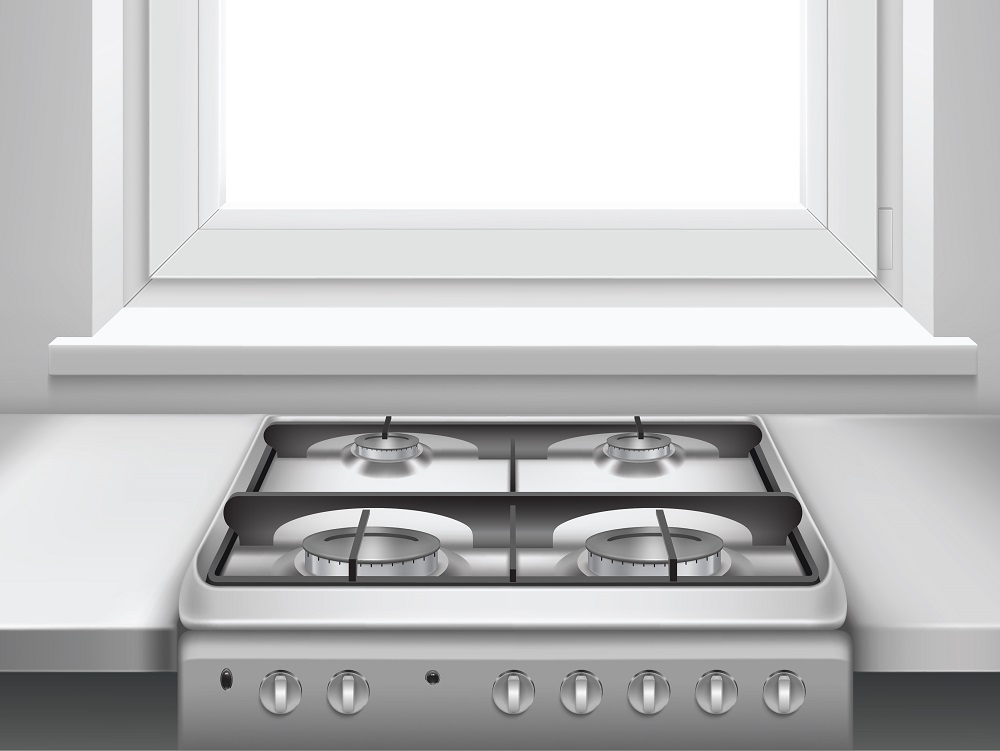 STAINLESS STEEL COOKTOPS ARE DURABLE
The presence of chromium oxide in stainless steel means that anything made of stainless can resist rust and corrosion except the chromium oxide wears off. The chromium oxide won't wear off unless it comes in contact with a strong chemical substance which paves way for rust and corrosion. One thing that can prevent this chromium oxide from wearing off is regular cleaning and with this, rust and corrosion won't be able to affect your cooktop.
The kitchen itself always needs appliances that are strong and durable, and that's what you'll get when you invest in a stainless steel cooktop. Stainless steel is the perfect material for the kitchen.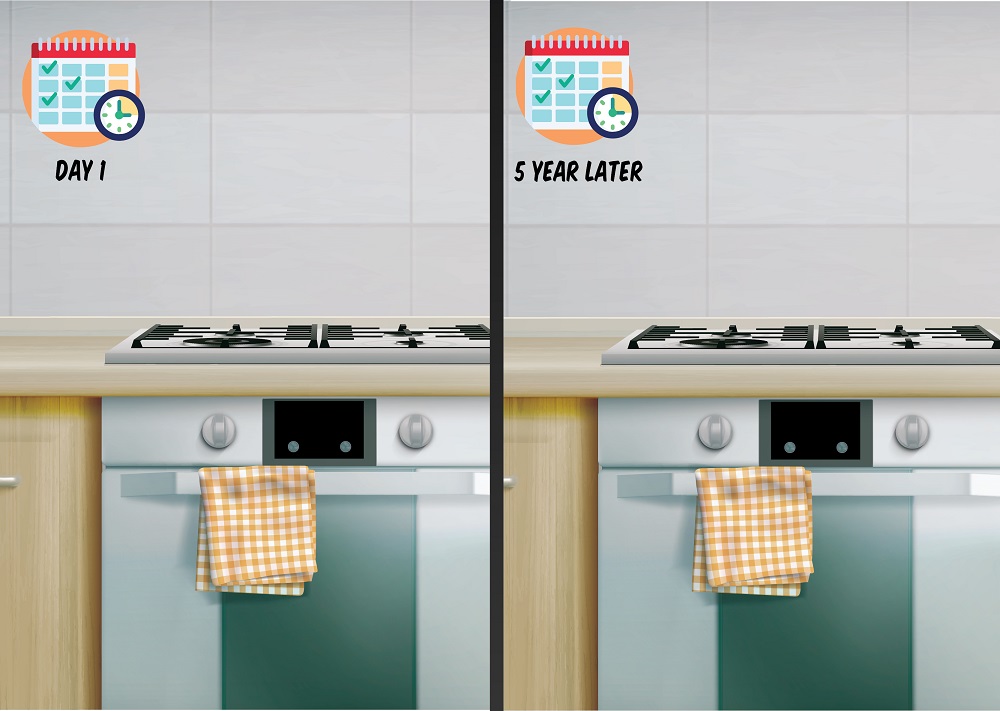 THEY RESIST GERMS
The kitchen is a very delicate place; perhaps the most delicate place in the house, hence it needs to be looked after properly. Stainless steel on the other hand has germ-resistance properties and this is why germs can't thrive on or around them. Most of the food you eat in the house will have to go through your cooktop so you should rest assured that as long as you clean your cooktop regularly, not even germs can survive on it.
This chart shows the different appliances brands and how their ranges/cooktops are consumed in the United States in 2015. General Electric had the biggest share of ranges and cooktops used in the United States in 2015 by a country mile while Whirlpool followed next on the list. This chart was first published by the Statista Research Department in 2016.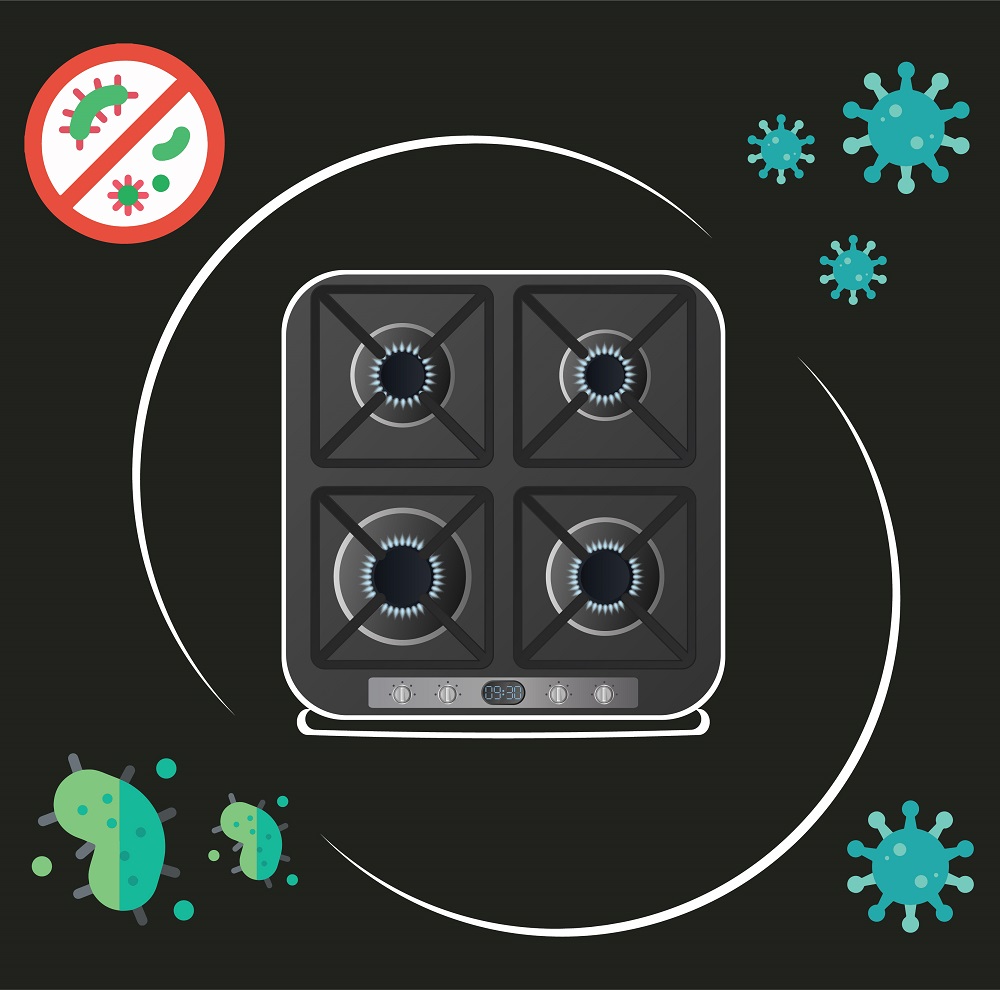 PRECAUTIONS
Before we get into the different methods you can adopt when cleaning your stainless steel cooktop, let's discuss the necessary precautions you should take before or when you're cleaning your stainless steel cooktop;
1. If you're dealing with heat stains, then you should ensure that you wait for the cooktop surface to cool off before engaging with it. This is to ensure you don't suffer burns while trying to clean your cooktop. This is a very important precaution because burn injuries can last for days and are always quite painful.
2. Don't use oven cleaners on stainless steel. Oven cleaners are strong and abrasive and will only destroy the quality of your stainless steel cooktop. Oven cleaners can also have a lasting effect on the chromium oxide present in your stainless steel cooktop. This is one of the first steps to cleaning your stainless steel cooktop without scratching it.
3. No matter how tough the stains on your stainless cooktop are, never give in to the temptation to clean it with bleach or cleaning products that have chloride in them.
This is a Statista Research Department statistic that shows the commonly upgraded kitchen appliances in the United States in 2020. As shown in the chart, dishwashers were upgraded more than any other appliances in 2020 while refrigerators and freezers were not too far behind.
HOW DO YOU REMOVE HEAT STAINS FROM YOUR STAINLESS STEEL COOKTOP?
Keeping everything in your kitchen clean is a great step to healthy living and that's the truth. The state of your kitchen as mentioned earlier will have direct effects on your health because that's where you cook the foods you consume. A stainless steel cooktop is also prone to stains and that's why you need to know the different methods involved in cleaning it properly. Some mild stains can be cleaned with just water and soap while some need more powerful natural cleansers like baking soda and vinegar, or a combination of both for tougher stains.
DISH SOAP AND WATER
Heat stains are not always tough, especially white heat stains, therefore they can be cleaned off with just dish soap and water. The combination of soap and water (hot water works more effectively) is one of the most effective basic cleaning methods that anyone can use without too many precautions.
DIRECTION
STEP 1: The first thing you should do is ensure that the cooktop surface is cool enough to be engaged with. If the cooktop is still hot, wait till it cools off before you start the cleaning process.
STEP 2: Disassemble the cooktop and remove the cooktop grates so there will be enough room for you to do the cleaning.
STEP 2: Add water to a big bowl and add a good quantity of dishwasher soap to it.
STEP 3: Soak the cooktop surface with the right quantity of your mixture and leave it for a couple of minutes.
STEP 4: Clean off with a nylon scrubber and do this until you have your cooktop looking sparkling clean again.
BAKING SODA AND DISH SOAP
If you try the first method and it doesn't work out, it means you're dealing with a tougher heat stain. In this case, try using this method. Baking soda is a natural cleanser and it works very effectively but works even more effectively when you combine it with dish soap to make baking soda paste. The combination of these two cleaners will combat those heat stains and leave you with a sparkling cooktop once again.
DIRECTION
STEP 1: Add your dish soap into a bowl and add a good amount of baking soda to the bowl. Mix until you have a perfect consistency.
STEP 2: Add this paste to the affected area and let it settle in for a couple of minutes. This is to ensure that the stains on the surface are given enough time to wear off.
STEP 3: Use an old toothbrush to scrub the affected area gently. Make sure the toothbrush you're using is a soft one and won't leave scratches on the cooktop.
STEP 4: Take a wet towel and use it to clean the leftover baking soda paste on your cooktop.
Frequently Asked Questions
1. How do you remove heat stains from stainless steel cookware?
Heat stains are common stain types and can affect any cookware including stainless steel. The methods we've discussed in this article (baking soda + dish soap, dish soap + hot water) can work effectively on your cookware as well. Read more on how to remove stains from stainless steel cookware here.
2. Can I clean my stainless steel cooktop with abrasive cleaners?
No, it will only damage the surface of your cooktop. Abrasive cleaners are hard so when you try to use them on your stainless steel cooktop, you'll be left with scratches on your cooktop and too much of those isn't okay for your cooktop.
Conclusion
Having a stainless steel cooktop in your kitchen will not only add beauty to your space but will also make your kitchen more valuable. We've discussed some of the reasons why people often opt for stainless steel cooktops and now we understand why. Always remember to take the necessary safety precautions so you don't get hurt in the process of cleaning your cooktop. The good thing about these heat stains is that they are easy to get rid of and the methods we've listed above will help you achieve just that.
ESTIMATED TIME DESIGNING AND UPLOADING THIS ARTICLE
ESTIMATED TIME RESEARCHING AND WRITING THIS ARTICLE