Best French Door Refrigerator with Water Internal Dispenser Comparison Table

| Image | | | | |
| --- | --- | --- | --- | --- |
| Name | Samsung RF27T5201SG 27 Cu. Ft. Fingerprint Resistant Black Stainless Steel French Door Refrigerator | Samsung RF28T5101SR 28 Cu. Ft. Fingerprint Resistant Stainless Steel French Door Refrigerator | LG LRFVS3006S 30. Cu Ft. InstaView Door-In-Door Refrigerator With Craft Ice Maker | Frigidaire Professional 21.6 Cu. Ft. Stainless Steel French Door Refrigerator with External Water and Ice Dispenser |
| Manufacturer | Samsung | Samsung | LG | Frigidaire |
| Number of Door Shelves/Bins | 6 | 6 | 3 | 2 |
| Weight | 295 lbs | 278 lbs | 341 lbs | 347 lbs |
| Sabbath Mode | Yes | Yes | Yes | Yes |
| Special Feature | Fingerprint Resistant Finish | High-efficiency LED Lighting | InstaView Door-in-Door | SpaceWise Freezer Organization System |
| Editor's Rating | ✸✸✸✸✸ | ✸✸✸✸✸ | ✸✸✸✸✸ | ✸✸✸✸✸ |
| | | | | |
The world can't deny the good things technology has brought along and today, we can now see tech integration in almost everything we interact with daily. This has changed how we live positively as we now enjoy comfort and convenience in the best possible ways because these appliances exist. One of the best appliance inventions would be the refrigerator. They've survived the test of time, after only being released commercially in 1913 to be what we all enjoy today. One of the most popular refrigerator types we have today is the French door refrigerator. A French door refrigerator has now become a trend, with the high demand making it one of the most sought-after refrigerator types in the world. Giant appliances manufacturers have taken advantage of the refrigerator's popularity to add more tech-inspired features like an internal water dispenser which means that you have two different appliances in one body. A French door refrigerator features two doors that can be opened outward. These doors are accompanied by a split in the middle and you can have the option to open either side of the door at once or both together to have a clearer view of the inside.
A conventional side-by-side refrigerator usually has a freezer on one side and a refrigerator on the other side but that's not the case with a French door refrigerator. A French door refrigerator features both its refrigerator and freezer in the same space, with the freezer taking a more background role as it can be found on the bottom of the unit but still in the same space. The concept behind the French door refrigerator is to utilize space which is something other refrigerator types lack. This creates more room for fresh food items to be refrigerated and one of the things you'll love most about this refrigerator type is that you can easily find what you're looking for.
With increasing demands for French door refrigerators, we've compiled a list of the best French door refrigerators with internal water dispenser but before we take a look at them, let's take a look at the pros and cons of french door refrigerators and why we think they're the best fit for your space.
Pros and Cons of French Door Refrigerators
Pros
Wider Shelves
We mentioned earlier that one of the things that set a French door refrigerator from the other refrigerator types is its wider shelves. The doors of a French door refrigerator are packed with larger bins which means that you have enough room to store things without even using up space in the refrigerator itself. These shelves can help your jars, canned items, milk, and many more. Another thing about a French door refrigerator is that the top shelf is adjustable, further leaving you in total control of your appliance.
Easy Access to Your Food Items
With no side-by-side concept, everything is easy and clear with the French door refrigerator. If you have a large family, you'll likely be filling your refrigerator with food items which is quite normal. What a French door refrigerator gives you is easy access to your food items due to its large layouts and bigger space. Getting your groceries out won't be hard with a French door refrigerator; you can easily just reach out and get whatever it is you want out. When you open both doors at once, you'll have clear access to the content of the refrigerator and that means you don't have to search hard to get whatever it is you're looking for.
Bottom Unit Freezer
If you're able to get your hands on a bottom freezer French door refrigerator, some of which come with an ice maker or internal water dispenser, it'll be one of the best purchase decisions you'll ever make. The bottom unit freezer keeps your food items frozen and safe. You'll also have more room for storage, although this is very opinionated. Some people still prefer to have their freezer compartment side-by-side with the refrigerator which is very understandable. French door refrigerators are built in so many ways and this is just one of them.
Add Value to Your Space
If you find a big, sleek refrigerator appealing, then a French door refrigerator is the perfect refrigerator for you. Its high-end look makes your space more valuable, compared to other refrigerator types. Although some people find its big size a problem, especially when they have a small space. However, if space isn't an issue for you and you want something that can complement the other appliances in your space perfectly, then don't hesitate to opt for one of these.
Cons
Some Consider Its Size Too Big
People with smaller kitchen spaces and layout would rather French door refrigerators came in smaller sizes. People in this kind of situation often always opt for smaller options that would fit perfectly in their space.
Too Costly
With all the tech features that come with a French door refrigerator, it is only normal that they are priced higher than other conventional double-door refrigerators. However, some people can't fork out these high prices slammed on French door refrigerators. The good thing is that it'll be worth every penny spent on it in the end because you'll get good value for your money. If you're a fan of convenience and value, and you have the money to spare, then this might be the right investment for you.
The Best French Door Refrigerators With Water Dispenser
With convenience right on top of the list of the things you can enjoy in a French door refrigerator, we've researched the best and most reliable French door refrigerators with water dispensers in different categories. We'll be looking at the best overall, the best budget, the largest capacity, and the most sophisticated French door refrigerators with water dispensers.
Samsung is regarded as a giant appliances manufacturer and the brand continues to produce high-end appliances to further cement its place at the summit of the best appliances manufacturers. Samsung RF27T5201SG is a high-end fingerprint-resistant french door with a lot of features, ranking it as our best overall entry on this list. The 3-door refrigerator comes with an external water and ice dispenser as well as sleek-edge doors and sophisticated handles. Its sleek design makes it a great fit for every kitchen and can complement all other appliances in your kitchen space, thanks to its stainless steel finish.
FEATURES
LARGE CAPACITY
This refrigerator has a huge 27 cu. ft. interior that is big enough to accommodate almost everything. This allows you to purchase as many things as possible, thereby reducing how often you visit the store.
VERSATILE WATER DISPENSER
The water dispenser that comes with this French door refrigerator also doubles as an ice dispenser and that's an amazing feat. You'll get access to filtered ice and water with this design that can fit into different dispenser types.
LED LIGHTING
The LED lighting gives the interior of the refrigerator a different look, lighting it up whenever the doors are opened to help you spot whatever it is you're looking for in the fridge.
FULL-WIDTH DRAWER
With the refrigerator's full-width drawer, there's always that extra space to store your beverages and keep everything organized for easy access. There are enough storage options with this French door refrigerator and this fill-width drawer is just one of them.
RT28T5101SR is another Samsung French door refrigerator that comes with an internal water dispenser. It's one of the best modern refrigerators you can get your hands on and the fact that it has a stainless steel finish makes it even more appealing. You can be confident it'll complement other stainless steel appliances in your space. It's our choice in the best budget category because it's an affordable refrigerator.
FEATURES
INTERNAL WATER DISPENSER
The internal water dispenser featured in this Samsung French door refrigerator is one of the reasons why we love it and rate it as the best in the budget category.
FINGERPRINT RESISTANT FINISH
Stainless steel appliances are always susceptible to stains, especially fingerprint stains. With the fingerprint-resistant finish, the number of stains will be reduced so you won't have to spend the whole time cleaning.
LED LIGHTING
The LED lighting will keep the interior of your refrigerator illuminated so you won't have a hard time spotting the things you need to take out.
Without being told much about this LG French door refrigerator, you could tell how smart of a fridge it is with the popular InstaView Door-in-Door feature. These amazing tech features just happen to be perks as this refrigerator is primarily featured on this list due to its large capacity of 30 cu. Ft.
FEATURES
BEST-IN-CLASS CAPACITY
30 cu. ft. refrigerator means that there's more than enough room for all your food items to fit in. It also features a Slim SpacePlus Ice System which is a feature that was built to make the most out of your shelf space, leaving more room for door bins.
INSTAVIEW
This is one of the refrigerator's most exciting features and we love it. LG has successfully combined tech with creative design to achieve this tinted glass panel that gives you easy access to the interior of the refrigerator without having to open the doors. This means that your food will stay fresh longer because of the reduced cold air loss.
SMART COOLING
This feature is exclusively for LG consumers and it helps extend the life of your vegetables and fruits by keeping them fresh. The feature uses different sensors to control the cooling system while there's also door cooling that distributes cool air to every area of the fridge.
Our choice for the most sophisticated category is this 21.6 cu. ft. Frigidaire stainless steel refrigerator. Its professional-grade design sets it apart from the others we've discussed so far. It features door bin liners, edge-to-edge glass shelving with metallic trim, and smoky door bins.
FEATURES
CRISPSEAL CRISPERS
This is one of Frigidaire's most popular features as far as refrigerators are concerned. Frigidaire's CrispSeal crispers will help you keep your fruits and vegetables fresher for a longer period. This will save you a lot of money in the process.
SMUDGE-PROOF STAINLESS STEEL
Fingerprints stains are a common thing with stainless steel appliances but this refrigerator has been built to withstand fingerprint stains to make cleaning easier for you.
AUTOMATIC ALERTS
There's almost nothing better than getting warning signals from your refrigerator anytime something's wrong with it. With this Frigidaire French door refrigerator, you will always get alert when something goes wrong with it. This top-rated French door refrigerator keeps you right on top of every situation.
Frequently Asked Questions
1. Do French door refrigerators have more problems?
Because French door refrigerators cost a lot, they don't usually develop problems but when they do, the cost of repair is always costlier than the average repair cost for traditional side-by-side refrigerating units. Some of the problems your French door refrigerator is most likely to develop include crushed ice maker, loud noises, freezer not maintaining the right temperature and many more.
2. Which refrigerator brand is most reliable?
There are so many reliable refrigerator brands out there and they include some of the big names we've discussed in this article. Frigidaire, Samsung and LG are seen as some of the most reliable refrigerator brands in the appliances world.
Conclusion
Getting your hands on the right French door refrigerator with a water dispenser might be daunting but we've done the hardest part by doing our research to come up with this list. Every French door refrigerator featured on this list is top-notch and we've discussed them in different categories to help you make the best purchase decision. However, it won't be bad if you do a little more research based on your concept since you best know what you want; better than anyone else. We hope that you find this list helpful and together with your research, you can get your hands on a quality French door refrigerator with a water dispenser.
ESTIMATED TIME DESIGNING AND UPLOADING THIS ARTICLE
ESTIMATED TIME RESEARCHING AND WRITING THIS ARTICLE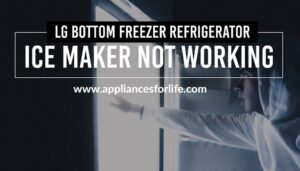 Lg Bottom Freezer Refrigerator Ice Maker Not Working
Most bottom refrigerators come with an ice maker and water dispenser that make them even more attractive and useful. In this article, we are going to be discussing the different possible causes of your LG bottom freezer refrigerator ice maker not working like it's supposed
Read More »