Juicers are different to blenders and give a whole new meaning to smooth juice. When choosing one there are so many things to consider it can become quite a daunting and exhausting experience. As ever, our team is here to help and we are committed to making your experience as stress free and easy as possible. First of all we have actually come to the conclusion that juicers that work on a slow juicing process are better than the quicker ones because they help keep the nutrients in the juice. We also have worked out that a quieter model is better if you have a kitchen space which is near other areas because the noisy models can wake up sleeping babies, drown out conversation and get so annoying that they end up being left in the cupboard and never get used.  When you buy a juicer you want something that is practical, has different juicing functions, has a wide spout for whole fruits and vegetables, has a good warranty on it and is good value for money. You might not believe there is such a juicer out there but we have come up with more than one! Read on to find out more.
As an Amazon Associate we earn from qualifying purchases. We may earn a small commission for our endorsement, recommendation, testimonial and/or link to any products or services from this website. Thank you, your qualifying purchases help support our work in bringing you real daily gift ideas.
See the Best Juicers for Whole Fruits and Vegetables
| Image | | | | | |
| --- | --- | --- | --- | --- | --- |
| Item | Breville BJE200XL Compact Juice Fountain 700-Watt Juice Extractor | Hurom H-AA Slow Juicer, Matte Black | KitchenAid KSM1JA Masticating Juicer and Sauce Attachment | Omega Compact Slow Speed Nutrition System Juicer | Picberm Centrifugal Juicer with Wide Mouth and Brush |
| Manufacturer | Breville | Hurom | KitchenAid | Omega | Picberm |
| Material | Plastic | Plastic | Plastic | Plastic | Plastic |
| Color | Black | Matte Black | Silver | Silver | Silver |
| Wattage | 700 watts | 150 watts | N/A | 200 watts | 400 watts |
| Standout Feature | Safety Locking Arm | BPA-Free Parts | 3 Pulp Screens | Quiet Motor | Juice and Pulp Separation |
| Weight | 9.68 pounds | 10.6 pounds | 4.8 pounds | 13 pounds | 6.03 pounds |
| Editor's Rating | ✸✸✸✸✸ | ✸✸✸✸✸ | ✸✸✸✸✸ | ✸✸✸✸✸ | ✸✸✸✸✸ |
| | | | | | |
Breville BJE200XL Compact Juice Fountain 700-Watt Juice Extractor
Coming up first on the list is Breville Juice Fountain. The first thing that grabbed our eye is the design and the price. At first we thought maybe the retailers had made a mistake but they proved us wrong and at an amazing 4.6 out of 5 star review from over 9000 customers we thought we had to try it out for ourselves.
To wrap up this juicer in a few sentences we love that is has centered blade assembly, it operates for maximum extraction but on a slower setting, it has an extra large three inch feeding tube so you can get chunks of fruit and veggies in there and it is dishwasher safe with a one year guarantee.
We also couldn't help but notice that it is compact in size compared to other models meaning it will take up less counter space but gets the task of juicing done just as well. The cutting discs are made from titanium which makes it extra durable and has an added stainless steel micro mesh filter. It doesn't leave the pulp as wet and soggy but more like sawdust which really helps to clean up after juicing but also means you are getting the best out of your food. The overall stainless steel appearance makes it modern and classic for any kitchen decor and is easy to wipe down in the event of a juicing disaster!
A great recipe to begin with!
Try this juice drink that will give you wings – For a quick boost try this juice packed with some superfood ingredients! Great for those mornings when you don't feel like going to work!
Ingredients –
1 medium beet (beetroot)

1 cup (150 g) blueberries

1 cucumber

1 handful of spinach

1 handful of arugula (rocket)
Directions –
Wash the fruits thoroughly. Peel the beet. Juice spinach and arugula first then add berries, cucumber and lastly beet. Enjoy!
You can also use these substitute ingredients as well –
Beet –

red cabbage, tomato

Blueberries

– blackberries, purple grapes, red grapes

Cucumber

– zucchini, celery

Spinach

– chard, kale, romaine

Arugula

– kale, collard greens, mustard greens
Hurom H-AA Slow Juicer, Matte Black
We are totally in love with this golden rose slow juicer by Hurom. They design their juicers with function and health in mind so you can get the best out of juicing. We also couldn't hide the fact that you can make ice cream from frozen ingredients with this model! Although more expensive it is worth the investment if you are planning on using it several times a day and you need it to be durable, long lasting and able to get through your fruits and vegetables.
If you are looking for both modern and stylish beauty then this is the one to go for because its streamlined look which is slimmer at the back means it will fit perfect onto any countertop space. It is designed with smooth curves which give it a unique look and it is made from materials which won't rust. It rotates at a speed of 43 revolutions per minute which will ensure that your juice retains all the healthy ingredients and natural nutrients it should. Hurom have spent decades optimising their juicers so you can get the best tasting juice when using them. This particular model comes with a control lever and both fine and coarse strainers so you can control the amount of pulp you want depending on personal tastes. You will get bone dry pulp every single time which means no extra waste either it is a juicer that is versatile. It will juice fruits, vegetables, leafy greens, nuts and even soybeans so you can create healthy juices, milk and even tofu. Did we mention it also makes ice cream?
Make Ice Cream in your Juicer
Before making your banana ice cream, make sure you have your frozen banana ready. Once this is ready, you can proceed to add to your juicer and process until you have a really smooth texture. Without added sugar or cream, you already have your banana ice cream with just a simple yet brilliant method. Then you can move on to bigger and better things like these.
All you need for this juice is your choco-coco mixed in carob powder and coconut.
This Berry Banana juice is a whole lot of creamy juice and we bet you'll love it a lot. Put some berries in your banana ice cream and add them to the juice just like the way you do the bananas.
Process your banana first, then proceed to process your cashew and if you want, cashew too.
Use the pecan as a topping and add a little honey plus cinnamon on top of the mixture.
Make a great dessert by chopping the peaches and mix them in the whip.
Chop your fresh apples and mix with mashed graham crackers.
After you must have had your banana readily available, you can go ahead to top it with strawberries, caramel sauce or chocolate sauce.
KitchenAid KSM1JA Masticating Juicer and Sauce Attachment
KitchenAid is one of the most respected electronics brands in the United States of America and deservedly, the brand has emerged as one of the leading global brands as far as kitchen appliances are concerned. Founded in 1919 in the United States, KitchenAid has somewhat made a name for itself by producing only solution-filled products and that's why the brand has been away to break into the international scene without compromising on its core values. This juicer is yet another result of KitchenAid's simplicity and excellence. It might look simple but you don't want to look down on the amazing features this juicer is packed with.
The amazing thing about this juicer is that it is very compatible with other KitchenAid stand mixers, which is an amazing thing. It also comes with a juicer attachment and 3 pulp screens which are Low Pulp and High Pulp Juices, as well as Sauces and Jams.
Let's have quick look at some of its features to give you a deeper insight of how much of an efficient juicer you're parting ways with your money for;
FEATURES
Waste container
3 pulp screens
Pitcher
Extra wide feed tube
Compatible with Power Hub
Efficient slicing blade
Juice and sauce attachment
Omega Compact Slow Speed Nutrition System Juicer
Omega might not have the popularity of KitchenAid or the global recognition of Breville when it comes to making juicer and other kitchen appliances, but what this brand has done; how far it has come. The brand is also increasingly gaining popularity and it's only a matter of time before they match up with the likes of Breville and KitchenAid. This Omega compact juicer is packed with 200 power watts, ranking it among the most efficient juicer money can get you in the market today. Not only will you enjoy this juicer's efficiency which is seen in the smooth juicing results you'll always get; it also operates quietly which means that you don't have to wake the kids up when operating this juicer. That's super cool.
Compared to some other Omega juicers, this compact juicer comes in a relatively smaller size and that's a good thing for people who love to juice on holidays. It operates on a low speed of 80rpm and what does that mean? It means that minimal heat will be produced and this will result in high oxidation which is a very important health factor. With this juicer, you don't have to worry about your fruits or vegetables losing nutrients. It has a high level of nutrients and vitamins retention without compromising on the taste of your juice.
FEATURES
Great size
80 RPM low-speed operation
Nutrition system
200 power watts
Compact design
Nutrients and vitamins retention
Picberm Centrifugal Juicer with Wide Mouth and Brush
This is the least known brand on this list but there's a reason it's featured in this article. It deserves a place on the list and rightly so. Everything about this juicer seems to be intriguing, starting from the price. It is the cheapest product on the list but you'd be wrong to think this juice extractor wasn't packed with a host of amazing features. A new product but the 5 out of 5 stars rating on the product page shows how coveted this product is in the market, and how appreciated it is amongst those who have tested its efficiency. This particular juicer comes in two power options:400 and 600 watts, and both are great color choices, although some people will opt to go for the one with higher power wattage.. The difference between the two options is the price, as the one with higher power wattage is priced a little highly than the other one.
When it comes to totally separating pulp from juice, this juice extractor is one of the juicers you can solely count on. Another thing you'll enjoy about this juice extractor is that it retains almost 100% of the nutrients and vitamins from your juices and vegetables to give you an amazing juicing experience.
FEATURES
150 power watts
Operates at 16,000 – 19,000 RPM for softer foods
2.4-inch wide chute
Quiet operations
Free of toxic substances
BPA-free food-grade plastic
Easy assembling and disassembling
Frequently Asked Questions
Which juice has the least sugar?
Fruit and vegetable juices come with natural sugar and that's why some of them taste sweet even without you adding any sugar to them. However, the amount of sugar in each juice varies and according to experts, Lime and Lemon juices have the least sugar of all fruit juices. Coincidentally, they are both great for early-morning consumption and can even be taken in place of water.
Which fruit juice has the most sugar?
This is a very good question, right? Knowing the fruit juice that has the most sugar right after knowing the one that has the least is not so bad. The fruit juice that has the highest sugar content is grapefruit and although it is also highly nutritious, you might want to watch how you consume it, especially in the morning and late at night.
Should I peel the carrot before juicing it?
This is mostly down to your personal choice as you won't have added nutritional benefits in your juice if you peel, neither will you be harmed if you leave it unpeeled. The only effect it might have might be on the appearance and the taste which is still down to your preference.
So Much to Make With A Juicer
If you do decide to get a Hurom model juicer then be aware that it is basically the Mercedes benz in the juicing world and there is so much more you can do with a juicer than just juice. We have already stated above that you can make ice cream with it – it will come out the pulp tube though and aside from this and juice there are also so many other great things you can make. A good way of making use of the leftover pulp is to make face masks with it. You can make salsa dips, milk from nuts and even dog treats. Pulp burgers are also becoming more and more popular and sorbet and evening cocktails won't go amiss either.
Don't forget that blenders work differently to juicers and if you are trying to choose between the two then we recommend both because they both function in two entirely different ways.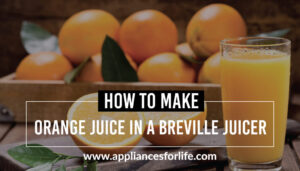 The Best Ways To Make Orange Juice in a Breville Juicer
It is no news that homemade Orange juice has several health benefits. Orange fruits originated somewhere in Southeast Asia. Indeed, the date is as far back as 4,500 years ago. The scientific name for oranges is Citrus Sinensis, one of the most popular citrus fruits.
Read More »