The best cold press juicer is what you'll need to create healthy options for your snacking needs, and it's something good to have when you're on the go. Warm weather is on its way, and you want to be a healthier, better you before it comes so you can grace the world with the best you!
You need to know what your budget is and what you need your juicer to do, as well as how frequently you'll use it so you can ensure longevity and plan your next purchase accordingly. It's also good to know what to not do with your juicer so it lasts you for as long as possible!
Below are some choices for the best cold press juicer to fit your needs.
As an Amazon Associate we earn from qualifying purchases. We may earn a small commission for our endorsement, recommendation, testimonial and/or link to any products or services from this website. Thank you, your qualifying purchases help support our work in bringing you real daily gift ideas.
Best Cold Press Juicers
| Image | | | | | |
| --- | --- | --- | --- | --- | --- |
| Name | Jocuu Slow Masticating Cold Press Juicer with Two Speed Mode | Amzchef Slow Masticating Cold Press Juicer with High Nutrients | Tribest GSE-5000 Cold Press Masticating Slow Juicer | Koios Slow Masticating Juice Extractor with Reverse Function | Breville BJE430SIL Juice Fountain Cold Juicer |
| Manufacturer | Jocuu | ZG Kitchenware | Tribest | Koios | Breville |
| Color | Gray | Ivory White | White | Red-Black | Silver |
| Material | Plastic | Stainless Steel and Plastic | Plastic | Stainless Steel | Plastic |
| Standout Feature | Safe Feeder Chute | 7 Spiral Masticating System | Bio-ceramic Magnetic Twin Gears | Higher Nutritional Value | Cold Spin Technology |
| Wattage | 150 Watts | 150 Watts | N/A | N/A | 850 Watts |
| Weight | 10.28 pounds | 10.43 pounds | 17.2 pounds | 9.68 pounds | 11 pounds |
| Editor's Rating | 🌟🌟🌟🌟🌟 | 🌟🌟🌟🌟🌟 | 🌟🌟🌟🌟🌟 | 🌟🌟🌟🌟🌟 | 🌟🌟🌟🌟🌟 |
| | | | | | |
Jocuu Slow Masticating Cold Press Juicer with Two Speed Mode
This 150-watt cold press slow juicer – which can also serve as industrial cold press juicer – is must-have for everyone who loves to have their juices filled with vitamins and nutrients. The 2-speed juicer has the capability to extract maximum nutrients from both vegetables and juices as it can conveniently separate the pulp from the juice in order to get high purity juice, as well as reduce oxidation.
This juicer comes in 4 color options and they are; Gray (the one we're reviewing now), white, premium blue and green; all of which come with the same price tag.
This juicer comes with a safety feeder chute that helps remove both the skin and the seeds from the fruits and vegetables when cutting them so you can have an uncompromised taste. The low-speed motor works on 60 RPM and that gives you a slow and safe environment when juicing.
To cap it all up, let's talk about the cleaning brush that comes with the package. With this cleaning brush, you can easily clean some parts of the juicer that are not detachable. And for the detachable parts, you can clean them in your dishwasher as they're all dishwasher-safe. The conclusion is that without doubts, this whole fruit cold press juicer is one of the top rated cold press juicers on Amazon.
FEATURES
One-button disassemble
Reverse function
Two-speed regulation
Soft and hard modes
Safety feed chute
Quiet motor
Two-speed program
Amzchef Slow Masticating Cold Press Juicer with High Nutrients
This Amzchef slow masticating and cheap cold press juicer has everything you need in a juicer, ranging from size to the great features this juicer is packed with. One of the most talked-about features is the 7-spiral masticating system which helps ensure that the juicer produces maximum juice yield with less oxidation in order to preserve the nutrients in your fruits and vegetables. It is designed in a way that the nutrients retention and juice yield is now up to 90%.
Just like the other Jocuu juicer, this cold press juicer also has a small feeder chute that comes in handy when cutting your fruit. What it does is that it removes both the skin and seeds from your fruits so your juice can have the perfect taste.
Other features include the reverse function which helps your juicer out whenever a fruit or vegetable substance gets stuck in it. There's also an intelligent protection chip that makes your juicer stop for every operation of 20 minutes.
FEATURES
7 spiral masticating system
Small feeder chute
Low motor speed
Reverse function
Intelligent protection chips
Safety lock design
BPA-free materials
Dishwasher-safe detachable parts
Cleaning brush
Tribest GSE-5000 Cold Press Masticating Slow Juicer
This might as well be the most high-end cold press juicer on this list but people don't really know because it is designed by a brand we are not familiar with. The juicer features bio-ceramic magnetic twin gears that give you fresh juicing results by preserving healthy living enzymes, as well as nutrients and vitamins.
The manufacturer claims that this juicer is nothing like any masticating juicer you've seen before (we'll leave you to decide that if you decide to own one) but what we know is that it is packed with every function you need in a masticating juicing machine. With this juicer, you're in total control of your juicing activities as you can easily adjust the pressure required to eject pulp so the juicer can effectively give you the best juicing results without jamming.
FEATURES
Pocket recesses and cutting
Stainless steel twin gears with special points
Low-speed motor
Koios Slow Masticating Juice Extractor with Reverse Function
This Koios slow masticating juicer ranks 25th among the best masticating juicers on Amazon and that's to show how good and efficient the juicer is. It comes with an 80 RPMS slow-squeeze technology which makes the juicer minimize oxidation in order to preserve more nutrients in your juice content. It features an auger which is made from a strong plastic known as polyethylene; a substance that makes the juicer survive even under high-pressure circumstances. When it comes to pricing, this cold press juice machine is one of the most affordable cold press juicers on this list as you don't have to break the bank to get it.
Another thing most people love about this juicer is the chamber assembly that houses the AC motor assembly, auger, spinning brush and the juice strainer. This compartment is detachable which makes disassembling and reassembling very easy.
FEATURES
Multi-application
Quiet and convenient operations
Dishwasher-safe parts
Easy clean-up
Higher nutritional value
ETL, FDA-certified
Lifelong consultation and customer service
Breville BJE430SIL Juice Fountain Cold Juicer
Coming right at the end of our list is the popular Breville BJE430SIL juice fountain cold juicer which some might say is better than the rest of the featured juicers by a country mile. In terms of popularity, it might be miles ahead of others because it is made by a well known brand but not just that; this Breville cold press juicer is everything a juicer should be like.
It is packed with a cold spin technology that gives the juice free flow through the stainless steel cutting disc which is supported by the highly-rated Italian-made mesh filter to ensure that the temperature is moderately set to get the best juicing results. With safety also in mind, a safety locking arm has been integrated into this juicer and that is to stop all operations as soon as the juicer is without a cover. This way, the juicer doesn't function unless the cover is properly installed and that is one of the best safety precautions in a juicer; especially the one made by a reputable brand like Breville.
FEATURES
Safety locking arms
70-ounce juice jug
Stainless steel micro mesh filter basket
Italian-made mesh filter
2-speed electronic control
3-inch extra wide whole feed chute
850 power watts
3.4-lite pulp bin container capacity
Health Benefits
You might be asking yourself why you need a juicer, and what health benefits it could possibly have. Look no further. According to Doctor Oz, juicing is a great way to get more nutrients from fruits that may not be your regular preferences. The nutrients from these fruits you would use in your juicing recipe can help protect you from cardiovascular disease, cancer, and inflammatory diseases, according to Doctor Oz.
Fiber is what everyone needs to keep their digestive system working and to help detoxify your body and ensure regular bowel movements. People who ate a lot of fiber tended to live longer, according to Kristen Kirkpatrick, MS, RD, LD of Doctor Oz.
According to Dr. Mercola, juicing can help to promote weight loss due to the increase in the intake of nutrients and consuming the right amount of carbohydrates. Juicing can boost your immune system because of the phytochemicals (good chemicals) you would get from the fruits and vegetables you consume through juicing.
Once your body has the nutrients it's supposed to have, then you will have more energy due to juicing which exposes you to all the fruits you need but don't normally eat. Juicing can also help with brain health so start juicing!
Best Cold Press Juicer Qualities
There are certainly some qualities to consider before making a health-conscious purchase so you get your money's worth out of your best cold press juicer. Some of the things you need to consider before purchasing a cold press juicer include:
Juice quality

Produce versatility

Ease of use

Cleaning

Noise

Add ons

Price
Now that you know what to look for, you won't have to make an impulse buy that you may later regret. You want to make the most out of your juicer, to get the most for your money!
What Mistakes Might You Make?
According to James Colquhoun of Hungry for Change, there are certain things you need to avoid doing with your juicer that could sabotage your healthy juicing efforts. Remember, you want a better you! Colquhoun states that you should avoid making these mistakes:
Drinking too much juice

Using fruits and vegetables that have too much sweet taste

Consuming your juice too fast

Not using enough green vegetables when you're juicing
Now that you know these common mistakes you could make while using the best cold press juicer, you need to know how to safely juice.
Safety While Juicing
According to Doctor Oz, there are some things to remember when juicing for health:
Make only as much as you will consume so leftover juice doesn't harbor bacteria and give you food poisoning.

Wash your fruits and vegetables adequately to remove any dirt, bacteria, or pesticides so your body doesn't absorb the chemicals and bacteria.

Make sure your cutting board and utensils are clean.

Consume at least 2,000 calories a day if you're going to do a juicing cleanse so you don't cause yourself major health problems by starving yourself.

Eat fiber so your digestive system can work at its best.
Recipes
What good is it to have a juicer if you don't know what to do with it? Below are some great recipes to switch it up so you're never tired of using the best cold press juicer you can find.  Mixing up recipes is a great way to never get tired of your purchase. Spontaneity and healthy living: what a combination!
Ingredients:
1 teaspoon of honey

¼ of fresh lemon

1 peeled orange

8 ounce of green tea

4 carrots

1 apple
Directions:
You'll need to first process the 8 ounce of green tea separately from your juice by steeping for about 3 minutes at 180 degrees. You'll need to be careful with the steep time so the green tea doesn't turn out bitter.

Put 1 teaspoon of honey in the tea.

Clean your fruits and vegetables thoroughly so you don't have dirt in your juice.

Process the fruits and vegetables in your juicer

Mix the juice content with the green tea and mix well before serving.
Ingredients:
7 medium-sized carrots

1 cup of strawberries

1 apple
Directions:
Put your selected fruits and veggies in a clean bowl and rinse well

Put your veggies and fruits in your juicer and process until you have a great consistency, then you can stir and serve.
Ingredients:
4 cups of spinach

3 stalks of large celery

2 leaves of kale

1 peeled lemon

4 apples
Directions:
Clean all your ingredients before processing them in your juicer. Once you have a great result, mix well and serve.
Frequently Asked Questions
1. Cold pressed and regular juices; which ones are better?
Cold pressed juices are made from cold press juicers which use pressure to get the maximum juice content and nutrients from the source (vegetables or fruits) while regular juices are made from either centrifugal juicers or other juice extractors (not cold press) whose processing often leads to heat and oxygen exposure, reducing the nutrients in the juice content.
2. Why are cold press juicers expensive?
Cold press juicers are not so expensive and most of them are always fairly priced (always within something you can conveniently afford). However, if you see an outlandishly-priced cold press juicer, it must be perceived to be 'high-end' with some not-so-common features. Also, the prices can also be determined by the manufacturers' reputation.
3. Can I freeze my cold-pressed juice?
Yes, you can and there won't be loss of nutrients.
4. What are some of the benefits of cold-pressed juices?
The most important benefits of cold-pressed juices is that the nutrients in them are 100% intact. Other benefits are some of the benefits you can get in any type of juice including overall health improvement, boosting up the immune system, and many more.
You've Got The Juice
Now that you have the information needed to: buy your juicer, juice properly and safely, and prepare recipes to juice, go out and purchase the best cold press juicer to fulfill your healthy needs! Remember it is absolutely essential to identify what you want out of your purchase in order to get the best cold press juicer for you! Happy healthy eating!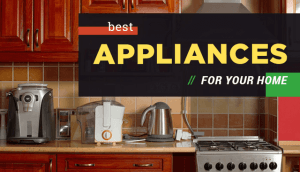 What Are The Best Appliances To Buy For Your Home?
It's not always easy finding out what the best appliances to buy in the market are, especially when you're on a budget but in this article, we'll be helping you solve that mystery by recommending some of the best budget-friendly kitchen appliances you can get
Read More »