Things To Consider Before Buying A Juicer.
Ultimately, we want to realize our money's worth when we purchase a new home appliance, and this is why concerns about the quietness or otherwise of a juicer are never far-fetched. This section centers on providing information on the factors to consider when going for a new juicer
The Fruits, Vegetables, or Greens you Plan To Juice
To get your purchase right, it is important to try and speculate broadly what percentage of each following you plan to juice- Soft Fruits, Citrus Fruits, Hard Fruits, Vegetables, and/or Leafy Greens. Good news and Bad news- Mother nature has blessed us with some amazing variety of produce I mean, there are beautiful as well as ultimately healthy fruits and leafy greens out there. The bad news is that no juicer is designed to excel at all of these amazing products.  And this is the reason why it is important to broadly identify what you primarily plan on juicing, as this may determine the best juicer for your needs. To put into perspective, if my routine is 10% soft fruits, 25% leafy greens, and 65% hard vegetables and fruits, the best bet for me is a masticaticating juicer because it is fairly suited for my needs.
Time to make a Juice and the quantity of juice to be made 
You must ascertain how much time you are willing to spare for juicing. And to do that, you should understand that time spent juicing is a function of the number of ingredients to be juiced. Hence, you need to answer the questions such as how many times per day or week you plan to juice and what quantities of juice you will need to make. Also, you need to determine if you are making juice for just you, your partner, or even your entire family. 
Now that you have answered the questions above, know that you have an option of picking a Masticating juicer and another option of picking a centrifugal juicer. There is a third option in manual juicers, but it is not in contention here because it is not as efficient as the electric juicers listed above. Masticating juicers produce the highest quality juice, but they can be slow. At least relatively slower than high-speed Centrifugal juicers. Therefore, it only adds that if you are willing to make a lot of juice quickly and you are willing to not bother too much about quality, centrifugal juicers may just be the real deal for your juicing adventures. On the flip side, if juice quality is your primary concern and you plan to juice mainly vegetables and leafy greens, then a masticating juicer is by far the best choice. The bad news is that a masticating juicer takes 60-100% more time to make juice than a centrifugal juicer.
Juice Yield Level 
The juice yield is a good way to measure the quality and effectiveness of a juicer. If you check online, especially on Youtube, you will see many videos comparing the juice extraction ability of various juicers. You will discover that while some juicers can only extract 20% of juice from a Carrot or Leafy greens, others can do one better by extracting as much as 30% from the same ingredients. But of course, you know that if you prefer a higher juice yield, you may have to pay more for it. To put into perspective. Angel is one of the best juicer brands, and its extraction is top-notch. Angel Juicers can extract 25% more juice from carrots and 30% more from leafy greens.  Twin gear masticating juicers give the highest Juice yield and produce dehydrated pulp, while centrifugal juicers give the lowest yield and produce the wettest pulp.
Your Budget
Sometimes a sad truth, but very often in life, we get what we pay for, which also applies to juicers. Hence, oftentimes, the performance of your juicer is a function of the price you pay for it. With a higher price comes a higher juice yield, many interesting features, a product with easy maintenance, and a better warranty. If you plan to make juicing a key part of your diet and health regime, we recommend not skimping on the price. Many people go for centrifugal juicers as cheap as $200 and think they have their negotiation skills on point, but eventually, they become quickly disheartened with the pain and effort required just to assemble the juicer. 
Warranty
Juicers come with varying warranties. You will see that most high-speed centrifugal juicers come with only 1-5 year warranties as the motors can burn out; on the other hand, masticating juicers come with substantial 10-year plus domestic warranties on the motor and 5-year plus warranties on the parts. Ensure to check where warranties are serviced and what the warranties do and do not cover. 
Ability to Juice Leafy Greens 
In my opinion, the juice extraction from leafy greens is just to be the ultimate test of juice extraction for modern juicers. For your information, leafy greens include Spinach, Kale, Chard, Cabbage, etc. Imagine being able to get some fluid out of a Cabbage. Incredible!. Arguably, the greatest benefit of juicing is the capacity to extract raw live juice from leafy green vegetables. Now, you understand why this feature is crucial when picking your juicer.  Centrifugal juicers are very poor at juicing leafy greens and, in effect, simply cannot juice them. Our advice is to stick with masticating juicers (single gear = good, twin gear = best) which are excellent at extracting leafy green juice.
The time It takes to assemble, disassemble and clean a juicer
The assembly and disassembly of your juicer are necessary from time to time. If cleaning a juicer is important to you, you may need to take it apart and bring it back together, when it is time for cleaning. The time it takes to assemble, disassemble and clean a juicer is exaggerated in many marketing brochures. Hence what you find there may not be what you encounter in actual fact. Ordinarily, when you've used a juicer a few times, you become proficient at assembly, disassembly, and cleaning. Yes, it is possible to find juicers with more parts,, but ultimately, you are talking about seconds to rinse and clean these parts under a running tap. Hence, do not always be over swayed about what you are told about a juicer- especially how it can be quickly and dramatically taken apart and put back together.
Additional Features and Accessories
Many juicers now come with a variety of food processing features. For example, many can now make oils, nut butter, ice creams, sorbets, pasta, crushed ice, coffee, soya, almond milk, and a host of other grinding and mincing features. Ultimately we recommend your Juicer for Juicing, and experience tells us that most of these other food processing features could be done using a cheap food processor, and using your juicer regularly as a food processor could deteriorate its juicing performance nonetheless, keep an eye out for the product descriptions to see what accessories come with the juicers and if accessories can be purchased separately.   
Design, Ergonomics, and Aesthetics 
This may seem a bit far-fetched, but to get the most from your juicer, it is recommended that you keep it visible in your kitchen otherwise, it may end up unused in a cupboard somewhere, and trust me, when the design is beautiful, you'll always want to flaunt it. Many juicer designs are just incredible; most leading manufacturers have tried to design a range of styles and colors for a contemporary kitchen environment. Consider the color of other appliances in your kitchen, the size, and shape of your juicer, and make sure to consider having space around your juicer for the collector bowls and the products you are juicing. Also, consider the space above your juicer where you need to access the hopper to feed production. On the other hand, some juicers are quite large, while others have either horizontal or vertical persuasion. Make sure you consider your juicer's dimension before making your pick. And remember,  the space for the accommodation of your juicer also has to be considered.
Types Of Juicers
You may see a lot of 'Centrifugal' and 'Masticating' in the preceding section. Well, if this seemed like jargon to you, do not worry. This will be demystified. Centrifugal and Masticating juicers are only some of the juicers we have. Others include manual juicers and Twin Gear Juicers.
A. Centrifugal Force Juicer
A centrifugal juicer is relatively fast, which is why it is called a 'fast juicer.' This Juicer is the most popular type of home juicer. They are the biggest selling point because they are fast and affordable.
Centrifugal Force Juicers work by taking fruits and vegetables through a feed tube and directly in contact with a blade that shreds them at 6,000-14,000 RPM. The juice is thrown by the centrifugal force of the spinning basket towards the sides and pushed through a sharp screen into a jug or glass. The juice from a centrifugal juicer tends to separate quickly and includes up to 30% solids, including skins, seeds, and stems.
Pros 
They stand upright, taking minimal space
They tend to be the least expensive juicers in the market
Cons 
The speed of rotating blades generates excessive heat, reducing the quality of juice produced.
More oxidation takes place-creating too much foam on top of produced juice.
They don't handle leafy greens or wheatgrass very well
Masticating Juicer
They are relatively slower than their centrifugal counterpart. They are called slow juicers for that reason. They are slow because they use a slow auger/gear to crush fruits, vegetables, and leafy greens. These crushed ingredients are forced against and through a sharp screen at 80 to 100 RPM. Many brands of masticating juicers market them as "cold-pressed," while they don't contain a press.
Pros 
They are a perfect fit for leafy greens because they have higher juice yield than centrifugal juicers
Less oxidation than centrifugal
They can process frozen fruits for instantly frozen treats
Juices tend to last longer than centrifugal
Cons 
There's a smaller chute, so they require more prep work
They're more expensive than centrifugal
They can be hard to clean

They're slower because they take more time to extract the juice
Juice contains a high amount of solids or "pulp" and indigestible fiber, making your system work harder to absorb nutrients.
Note: This juicer is ideal for those looking to maximize their juices' nutrients and is willing to spend a little more time doing it.
Twin Gear Juicers
As the name implies, Twin Gear Juicers uses two gears(augers) that spin, pulling your fruits and veggies in and then chewing them up.
Pros
Believed to extract more nutrients than centrifugal or slow juicers

They can make baby food, nut butter, sorbets, and pasta

They're quiet. Hence, if you are looking for a quiet juicer, it is a good fit
Cons
They're more expensive than a centrifugal or slow juicer
They take up more counter space than a centrifugal juicer
They're harder to clean than single-gear machines
Omega NC800HDS Masticating Juice Extractor
This juicer is famous for its incredible abilities-It and is a top juicer on the market. It extracts every juice from your fruits, including your leafy greens, and it does this with ultimate quiet. This masticating juicer is expensive, but you will most certainly get your money's worth after short use. The top performance of this juicer has indeed made it industry-leading for at least 15 years. Its compact form allows for easy storage, but it weighs quite a ton-18.7 Pounds. It is strong and sturdy with a stainless steel finish. This stainless steel finish also makes cleaning quite convenient, you can clean its stainless steel body with baking soda, and it will be shiny.
Because this juicer uses a low speed of 80 RPMs, it produces long-lasting juices. Its slow speed results in minimal heat buildup and oxidation, promoting healthy enzymes and consequently enhancing healthy juicing- This feature is particularly a characteristic of many masticating juicers. In addition, it is equipped with a dual-stage masticating extraction that helps get all the juice out. This juicer is relatively the best at producing healthy and delicious juices. It Extracts the maximum amount of nutrients, vitamins, taste, and juice from minimum amounts of fruits, vegetables, leafy greens, and wheatgrass.
The adjustable end cap has settings for maximum juice output and extraction. Enjoy continuous juicing with automatic pulp ejection, and most importantly, it has a quiet yet powerful motor with gear reduction equivalent to a 2 HP motor. Bye and large, if you are wondering how to make juice in a juicer without hassles, this juicer is your guy
There is a popular belief that the best home appliances brands are in the United States. While this may be correct to an extent, it is not true. Whirlpool, Maytag, and even Sears are doing very well, but there are also great home appliances brands outside the US. A Breville Juicer is not an appliance made in the US, but it is great. The Breville BJE530BSS Juicer has an aesthetic finish- Made with brushed stainless steel. It does not weigh too much. It is at least 1 Pound in weight. The Breville Juice Fountain Cold Plus is a simple, no-nonsense juicer with an innovative and unique space-saving design offering a super-sized 70fl oz of juice goodness; This juicer features dual speeds, lightning-quick operation, and a whole fruit chute. It also has cold spin technology, which is why it is one of the best juicers on the market. Like the previously discussed Breville juicer, It has an  Italian-made precision mesh filter that'll help you avoid damage to vitamins and minerals from heat and processing.
One of its best features is its space-saving design; With the pulp bin behind the product base, the Juice Fountain Cold Plus features a new and unique space-saving design for better use of your countertop space. It is also equipped with a short-time prep system with a unique 3.5-inch extra wide chute feed that allows you to juice whole fruits and vegetables without pre-cutting.
FAQs 
Why are some Juicers so loud?
When picking the right juicer for yourself, its noise level is a thing to consider. The type of juicer you get will largely determine the amount of noise you expect. Most Centrifugal juicers are loud. They are loud because of their incredible blade speed but masticating juicers, on the other hand, are not so loud because they are relatively slower. Therefore, you may want to go for a masticating juicer when you are ready for your purchase
What are the best juicers in the market?
'Best' is certainly relative- My best may not be yours. But to know the best for you, you may need to answer some questions and determine what purpose you need your juicer to serve. There are fast juicers, usually centrifugal, and the relatively slow category also masticating juicers. However, despite its speed, the first category is quite loud and gets hot pretty often- Heat is not good for the quality of your juice, and you may like some quiet. Masticating juicers are the opposite of this. They may be slow, but they can juice in large numbers and they are also quiet. So, take a pick! 
ESTIMATED TIME DESIGNING AND UPLOADING THIS ARTICLE
ESTIMATED TIME RESEARCHING AND WRITING THIS ARTICLE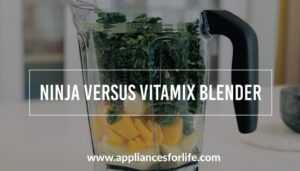 Oftentimes, we've seen people compare the best brands across different industries to try and find out which one edges out the other. As a result, topics like "Ninja vs Vitamix blenders" are becoming increasingly popular as comparisons are being drawn between these two powerhouses to
Read More »