Starting Your Search
Good kitchen appliance brands aren't hard to find these days with the internet as prevalent as ever. You can buy anything and everything online! And of course, everyone requires kitchen appliances that are reliable and not too costly. It is better to be practical because hard-earned money must be spent wisely.
Here we focus on all your kitchen appliance needs such as coffee makers, oven toasters, microwave ovens, blenders, gas range or cooking stove, food processor, ice maker, hot plates, waffle iron, among others. These things will make cooking a breeze as well as give your kitchen a warm and pleasant atmosphere.
The Truly Good Kitchen Appliance Brands
So now, what are the truly good kitchen appliance brands for all of these tools that will still fit in the budget? Here we're going to focus on 3 of the big players in the kitchen appliance market:
Samsung

LG

GE (General Electric)
For your frugal shopping purposes, here are the better appliances that you might want to consider for your kitchen (these include cooking and non-cooking appliances):
SAMSUNG
1. Stove

– Samsung NX60T8751SS 30-inch Smart Slide-in Gas Range
This particular Samsung gas range has a perfect 5-star review from users who have acquired the same, evidence that it is one of the good kitchen appliance brands. Described as one of the smartest gas ranges you can get your hands on in the market today, Samsung has done a lot to include amazing tech features in the range to aid easy usage and convenience. Samsung's exclusive Smart Dial is a new feature that helps simplify the oven settings with just a single dial and saves your cooking preferences for use in your subsequent cooking.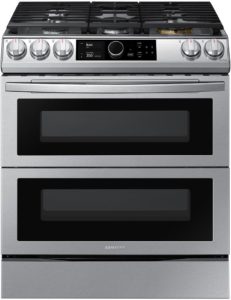 FEATURES
FLEX DUO
Being a gas range that comes with a big oven, you can make the most of the oven space by separating the full oven into two smaller ovens to achieve the results you want at that particular time. Every good range gives you an option to multi-task and that's exactly what you're going to be getting when you opt for a gas range as good as this Samsung NX60T8751SS slide-in gas range.
TIME SAVER
Everybody wants a range that'll help make the cooking process faster (that's what a cooking range should do anyways, right?) but this range offers something different; something faster than usual that can save you time and efforts. It distributes heat evenly which in turn helps cook food faster than other conventional gas ranges.
OTHER FEATURES
Air Fry

Fingerprint-resistant finish

Illuminated knobs

Wi-Fi connectivity

Child safety lock

Self-clean

Storage drawer
2. Microwave Oven

– Samsung MS14K6000AS 22-inch Countertop Microwave
Samsung is known for offering some of the best microwave ovens at reasonable costs. Take note, this particular 22-inch oven is a top seller and highly regarded in the market as one of the very best. It features an eco mode that helps you cut down excessive usage of energy so you won't have to worry about your electricity bills piling up. Let's take a look at some of its other features;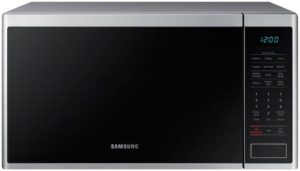 FEATURES
SENSOR COOK
This microwave oven features a sensor cook system that automatically adjusts cooking time so you'll get the desired cooking result.
TRIPLE DISTRIBUTION SYSTEM
It also features a triple distribution system that helps distribute heat to every cooking point evenly so food can be cooked faster and thoroughly.
OTHER FEATURES
10 power levels

1000 watts cooking power

Child lock

Auto defrost

Great turntable size
3. Refrigerator

– Samsung RF27T5501SR 36-inch Smart French Door Refrigerator
This 36-inch, 26.5 cu. ft. feet French door refrigerator worth every dime spent to get it; every dollar. People who purchased this particular refrigerator have only this to say: 5 stars! With this refrigerator, you have something that can serve you for a very long time because its powerful 26.5 cu. ft. capacity is just the right capacity you need for your refrigeration.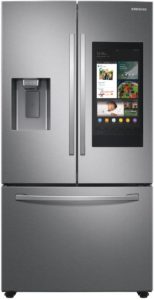 FEATURES
TECH INTEGRATION
In a world where technology is right at the forefront, you'll hardly see an appliance brand that believes less in tech integration. Samsung has been a strong believer in the possibilities of technology and they have invented Family Hub which lets you connect with your loved ones, even with the devices in your home, including this refrigerator. You can monitor your home, adjust the thermostat, and do many more with this feature.
FINGERPRINT RESISTANT FINISH
The finish on this French-door refrigerator is fingerprint resistant which helps keep it clean at all times.
OTHER FEATURES
Adjustable spill-proof shelves

Door alarm

Water filter indicator

Ice maker

LED lighting
LG
1. Stove

– LG LSG4513ST 30-inch Slide-in Gas Range
If you are looking for a stove that works marvelously at a fraction of the cost, then this is the kitchen range for you. It has a large capacity, convection oven that cleans itself–good kitchen appliance brands have that self-cleaning option–and comes at a pretty decent bargain.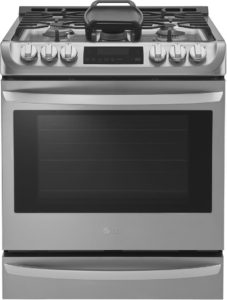 FEATURES
EASY-CLEAN FUNCTION
This gas range features an Easy-Clean function that allows you to clean your range in just 10 minutes. To do this, you only have to take these three steps; add water to the oven interior, activate the Easy-Clean function, and lastly, wipe off any leftover.
NUMEROUS COOKING MODES
Also featured are different cooking modes to make your cooking more convenient and they include Bake, Convection Bake, Favorites, Delay Bake, Broil, Convection Roast, Proof, Warm, Pizza, Delay Clean, and Multi-Rack Convection Baking. With all these modes, you can be rest assured that cooking will be less stressful than it used to be for you in the past.
OTHER FEATURES
Glass touch controls

Automatic safety shut-off

Front tilt control knobs

Ultraheat 18,5000 BTU power burner
2. Microwave Oven

– LG LMC2075ST 24-inch Countertop Microwave
LG is quite popular for making powerful appliances and when it comes to kitchen appliances, they're up there as one of the best to ever grace the industry. Naturally, a countertop microwave of this type is always outlandishly priced but that's not the case with this one. It comes with a price tag that is generally affordable, much to the surprise of the public because of the amazing features this microwave is packed with.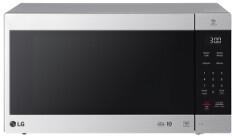 FEATURES
7 SENSOR COOKING OPTIONS
With this microwave oven, you are in total control of what you cook with these 7 sensor cooking options which include Bacon, Soften Butter, Fresh Vegetable, Frozen Vegetable, Rice, Potato, and Frozen Entree.
4 DEFROST OPTIONS
Just like you have sensor cooking options, there are also defrost options to help you adjust the oven's temperature according to what each food needs. These options include Meat, Fresh, Fish, and Poultry.
OTHER FEATURES
SmoothTouch glass touch

LED interior light

Easy clean interior

Hexagonal stable ring

Smart inverter
3. Refrigerator

– LG LFCS22520S 30-inch Freestanding French Door Refrigerator
LG is one of the leading brands in refrigerators due to their tendency to be pioneers in innovation. Packed with a huge 21.8 cu. ft. capacity, this French door refrigerator is one of the most sought-after refrigerators in the market. It features LG's exclusive ice maker that's capable of producing about 2.8lbs of ice daily, and also stores up to 12lbs of ice. The organization of the options you have in this refrigerator makes the features even more accessible. Other features include door bins, 2 drawers, tempered glass, and many more.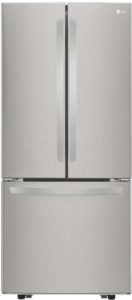 FEATURES
LINEAR COMPRESSOR
The best appliances have the best features, and a proven brand like LG knows that better than anyone else and that's why this refrigerator comes with a linear compressor that counteracts quickly in cases of temperature fluctuations. This way, your foods are kept fresher and last longer.
2 CRISPER DRAWERS
There are two drawers dedicated to the storage of your vegetables, beverages, and fruits. With these drawers in place, you'll have more room to store other things.
OTHER FEATURES
Smart cooling system

Energy star certified

Hidden hinges

LED lightning
GE (General Electric)
1. Stove

– GE JGS760SELSS 30-inch Gas Range with 5 Sealed Burners
You didn't think we would conclude this list without including General Electrics, right? GE is one of America's most successful electronics brands, and for years, it has been on the same level with the likes of Samsung and LG, fighting for that top spot. In terms of tech-inspired appliances, GE makes sure each of its products is built in the modern way, including this 30-inch slide-in gas range with front controls. Let's look at some of its features;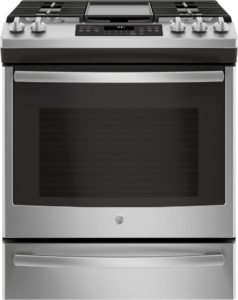 FEATURES
POWER BOIL BURNER
The power boil burner lets you boil water faster than on any other cooking element on the gas range. Even if you need hot water to make your pasta dishes, this power boil burner will get it done faster.
EDGE-TO-EDGE COOKTOP
The edge-to-edge nature of this cooktop leaves you with enough room to cook with even large pots and pans and also switch them between the different burners
OTHER FEATURES
10,000 BTU oval burner

Auto self clean

Audible preheat signal

Auto recipe conversion

Dishwasher-safe grates
2. Microwave Oven

– GE PEM31SFSS 24-inch Countertop Microwave
GE microwave ovens are in the $300-$400 range but this one is spot on when it comes to budget. It can be a countertop oven or you can also opt to use its hanging feature to free up space. (Good kitchen appliance brands like GE will always find ideal innovations to make cooking stress-free.) It has 10 power levels and with a child lock feature to eliminate accidental use. This electronic microwave oven is compact at 1.1 cu. ft. and is running on 800 watts.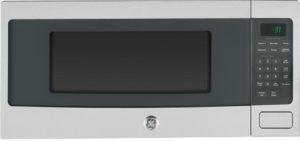 FEATURES
CONTROL LOCKOUT
This feature is one of the many safety features packed with this microwave oven. It helps prevent the microwave from being accidentally activated.
SENSOR COOKING CONTROLS
The sensor cooking controls in this oven include Defrost (weight/time), Potato, Beverage, Popcorn, Vegetable, and Reheat.
OTHER FEATURES
On/off turntable

Kitchen timer

Express cook

Electronic digital display with clock

2450 MHz frequency.
3. Refrigerator

– GE GNE27JYMFS 36-inch Freestanding Refrigerator
This GE refrigerator is also an Energy Star Certification holder. New but super cheap compared to other models that came out recently. It has four available colors with a capacity of 27 cubic feet and a water filtration system that eliminates some pharmaceuticals like ibuprofen, trimethoprim and a lot more. It has an easy access drawer for your snacks and beverages. GE is proudly American-made.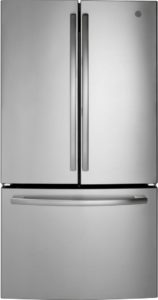 FEATURES
INTERNAL WATER DISPENSER
Water filtration is important in any refrigeration system and that's one of things you'll get with this refrigerator. It comes with an internal water dispenser that uses an XWF replacement filter to deliver filtered water with just one touch.
FACTORY-INSTALLED ICEMAKER
With this refrigerator, you can enjoy as much ice as possible.
OTHER FEATURES
Quick space shelf

Turbo cool setting

LED lightning

Full-width deli drawer

Spill-proof shelves
FREQUENTLY ASKED QUESTIONS
Are high end appliances worth all the money?
The truth is that if you can afford to buy high-end appliances, do not hesitate after you must have confirmed the state and condition they might be in. They are mostly always worth the cost and they make your home look more elegant, especially if you've got flair for luxury touches.
Are French door refrigerators hard to maintain?
French door refrigerators are becoming very popular, especially in this modern age. It's a no-brainer; they come with super features that can be hardly found on any other refrigerator type. Many people believe they're hard to maintain because the cost of repairing when issues come up is a little bit on the high side. However, these issues are rare but if they do come up, you'll have to part ways with a chunk (not enough to buy a new one) to make the repair.
You're On Your Way!
Good kitchen appliance brands doesn't necessarily mean expensive appliance brands. Cheaper brands like Samsung, LG and GE have that feature factor, elegant look, and customer service while still being price savvy.
It is not only possible but a very real possibility that by using the information provided here you will be able to find appliances that suit your needs at a price you can afford!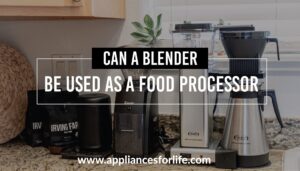 Can a Blender Be Used as a Food Processor
For every homeowner or anyone who's in charge of a family, food processing is always seen as a big deal, and rightly so. Food is one of the most essential things we need to survive as humans. Moreso, food is needed to keep both our
Read More »